This is AI generated summarization, which may have errors. For context, always refer to the full article.
Plenty of new movies playing this week – there's the new Vhong Navarro starrer, Hollywood blockbusters, and thrillers and comedies, too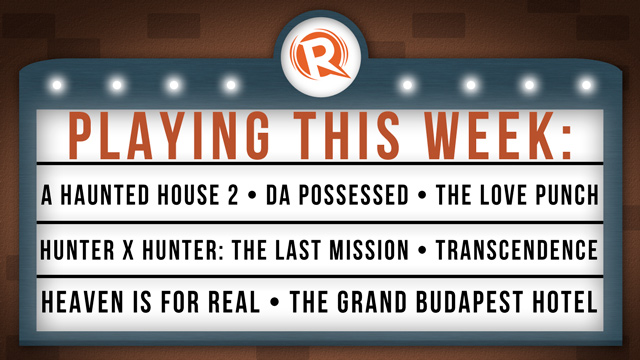 MANILA, Philippines – If you're looking for more things to do come Holy Week and the days following Easter Sunday, here are the movies that will be playing this week: 
A Haunted House 2
Pushing the limits of the horror-comedy genre, A Haunted House 2 follows the story of Malcolm, who, after exorcising his ex's demons, is attempting to start afresh with his new girlfriend and her children. However, shortly after moving into their new home, an undeniable presence of something paranormal begins to make itself known. Co-written by and starring Marlon Wayans. Directed by Michael Tiddes. 
Da Possessed
Starring Solenn Heussaff and resident funny man Vhong Navarro, Da Possessed features the misadventures of a cowardly man who unsuspectingly releases three vengeful spirits. Bent on wreaking havoc, the spirits take turns possessing his body to cause hilarious mischief against the family he works for. Directed by Bb. Joyce Bernal.
Heaven is For Real
Based on the extraordinary true story turned novel, Heaven is For Real follows the story of Todd & Sonja Burpo whose lives are turned upside down as their young son Colton begins to recount incredible details of heaven after a near-death experience. With courage, love and intensity, Todd must now find it in himself to share his son's story with the world. Starring Greg Kinnear, Kelly Reilly and Connor Corum. Directed by Randall Wallace.
Hunter X Hunter: The Last Mission
Tensions rise within the Hunters Association as corruption is revealed. In this action adventure anime flick, it all comes down to Hunter's choice which will decide whether his friends will be saved. Starring Megumi Han, Mariya Ise, Ichiro Nagai, and Daisuke Namikawa. Directed by Keiichiro Kawaguchi.
The Grand Budapest Hotel
In this Wes Anderson comedy, we follow the antics of Gustave H, the world's greatest hotel concierge, and his new protégé, the lobby boy. Gustave enrages a prominent family after inheriting a priceless Renaissance painting from a deceased guest. Film buffs can look forward to seeing how Wes Anderson puts his signature touch on this peculiar new flick. Starring Edward Norton, Ralph Fiennes, F. Murray Abraham, Mathieu Amalric, Adrien Brody, and Saoirse Ronan. Co-written by Wes Anderson, Hugo Guinness, Stefan Zweig.
The Love Punch
Featuring Emma Thompson and Pierce Brosnan as a divorced, middle-aged couple scheming together to get back their stolen the retirement money, The Love Punch will take you on a hilarious whirlwind adventure across Europe. Watch as these witty characters struggle with their undeniable chemistry and inadvertently rekindle the old flames. Directed and written by Joel Hopkins.
Transcendence
In this sci-fi drama, Johnny Depp stars as Dr. Will Caster, one of the leading artificial intelligence specialists in the world whose work involves making a machine which fuses together collective human knowledge with a full spectrum of human emotions. Seen as a threat, Caster is attacked by opposing parties which backfires horribly. As a result, his consciousness is uploaded into the machine which evolves into something uncontainable. Raising up questions of morality in science, Transcendence touches upon some of our modern fears: to be faced with machines we cannot control. Starring Johnny Depp, Rebecca Hall and Paul Bettany. Directed by Wally Pfister. – Rappler.com