Robin Williams' co-stars in 'Good Will Hunting,' 'Dead Poets Society,' 'Hook,' 'The Birdcage,' and more remember him with love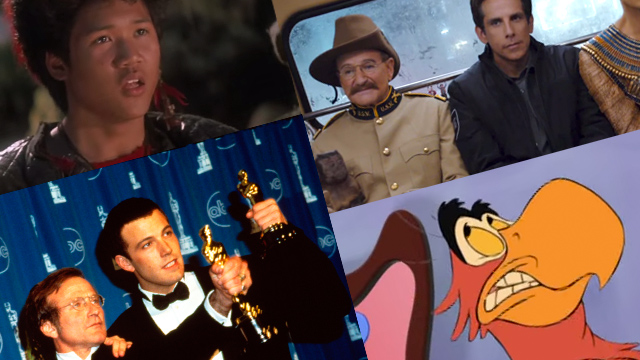 MANILA, Philippines – Hollywood is still reeling from the death of Robin Williams, a legend and a screen icon known for his distinct, high-energy comedy as well as the sensitivity with which he approached his dramatic roles. 
Movie studios, directors, industry colleagues, his family, and his fans – and even the President of the United States – have released statements or taken to social media to express their sadness over Robin's death, an apparent suicide. (READ: Real Patch Adams pays tribute to Robin Williams)
Williams was found dead on Monday, August 11 (August 12, Manila) at his home in Tiburon, Northern California. 
Statements released from his co-stars in his iconic films as well as his more recent projects, however, shed light not on his personal problems, but on the profound impact he had on them. (READ: Robin Williams' most memorable film roles) 
Sharing the spotlight
In Aladdin, comedian Gilbert Gottfried voiced the brash parrot Iago, the assistant to the villain Jafar. Writing for CNN, Gottfried said that he never met Robin while Aladdin was in production because the actors would record their parts separately. "So when I saw the film for the first time at the premiere, I was able to laugh along with the rest of the audience at Robin's performance. I had never heard it before," he said. 
Gilbert also recalled how Robin would frequent comedy clubs, but that he would always be gracious to the other performers. "All of a sudden, the club door opened and Robin popped in," he said, narrating one such experience. "The people in charge of the club said, 'OK, we're putting Robin on next.' I couldn't really argue with that; he was certainly a bigger name than I was. But to my amazement, Robin told them, 'I have a bunch of people in the audience tonight, and I would really like to make sure they see Gilbert first.'"
'Death of my childhood'
This was not a one-time incident. Writing for TIME, comedian Jim Norton gave anecdotes about Robin in a similar vein.  
"Robin and I had the same managers for the past decade, and one brought him and Billy Crystal in to watch as a surprise on the night I was doing a Jimmy Kimmel warm-up set at the Comedy Cellar," he wrote. "I was nervous and my set was mediocre, but Robin treated me as if I'd just blown away his Live at the Met special."
 

 

"…with his passing… I can't help feeling like it's the death of my childhood. I guess we can't stay in Neverland forever, we must all grow up."

 

– Dante Basco, Rufio in Hook

 
Robin's Hook co-star, Fil-Am actor Dante Basco who played Rufio in the movie, wrote a farewell letter to Robin on his blog. His letter reveals special moments spent with Robin discussing a common love for literature.
"…I was fortunate to spend private times, many mornings in the makeup chair, (which with my tri-hawk hair took hours), just talking about poetry… And soft spoken and introspectively we would discuss Walt Whitman and Charles Bukowski," he wrote. 
"…but with his passing, I can't help to feel, along with my generation… I can't help feeling like it's the death of my childhood. I guess we can't stay in Neverland forever, we must all grow up."
Ben Stiller, who last worked with Robin on Night at the Museum 3, which would be one of Robin's final movies, remembered the first time he met Robin – and typically, the story is hilarious.  
"I met Robin when I was 13 at the Improv. I was there with my parents who were maybe performing and it was crowded and I heard this voice behind me saying 'Stay close to your mother you'll be safe! Stay close to your mother you'll be safe!" Stiller said, according to Rolling Stone. "I turned around and it was Robin."
"He made many, many film crews laugh out loud before the audiences ever saw it," he added. 
Nathan Lane, who starred with Robin in The Birdcage, emphasized again his former co-star's tremendous talent, which often resulted in having those around him in stitches.  
"One day in 1995 while riffing in the character of a snobby French toy store owner, Robin made me laugh so hard and so long that I cried. It seemed to please him to no end. Yesterday I cried again at the thought that he was gone," he said in a statement. 
Father figure
For all his awards and accolades that attest to his uncanny skill as an actor, industry folks continue to remember Robin as a kind of mentor, a father figure.  
"Heartbroken. Thanks chief – for your friendship and for what you gave the world. Robin had a ton of love in him. He personally did so much for so many people. He made Matt and my dreams come true," wrote Good Will Hunting writer Ben Affleck on Faceook. 
"What do you owe a guy who does that? Everything."
In a statement, Matt Damon, who co-wrote Good Will Hunting with Ben, echoed those sentiments. 
"Robin brought so much joy into my life and I will carry that joy with me forever," Damon said in a statement to E! News. "He was such a beautiful man. I was lucky to know him and I will never, ever forget him."
Matt and Ben won Oscars for Best Original Screenplay for Good Will Hunting, while Robin won a Best Supporting Actor Oscar for his role in the movie. 
Though she had never met him, actress Jessica Chastain had previously said that Robin played a part in making her dreams come true – by sending her to college at the prestigious Juilliard school via scholarship. 
For Sarah Michelle Gellar, who co-starred with Robin on TV's The Crazy Ones, he was the ultimate father figure. 
"My life is a better place because I knew Robin Williams," Sarah Michelle said in a statement to People. "To my children he was Uncle Robin, to everyone he worked with, he was the best boss anyone had ever known, and to me he was not just an inspiration but he was the father I had always dreamed of having."
August 12, 2014
Mara Wilson, who played Robin's young daughter in Mrs Doubtfire when she was only about 6 years old, also tweeted that she was heartbroken over his death. 
Very sad, very upset, very glad I did not have to hear about this though Twitter. Probably going to be taking some time off it for a while.

— Mara Wilson (@MaraWritesStuff) August 11, 2014
Josh Charles, who starred as one of the young students taught by Robin Williams' John Keating in Dead Poets Society, made a reference to the film's signature scene as he bid the actor farewell on Twitter. 
Your humor, like hot jazz, was topped by your sensitivity, compassion & kindness. Standing on my desk for you, always. #RIPRobinWilliams

— Josh Charles (@MrJoshCharles) August 12, 2014
In the movie, the students stood on their desks as they said goodbye to their beloved teacher, as the ultimate sign of affection and respect. 
These are only a few of several statements released by his friends, co-stars, colleagues, and fans around the world. Many more tributes continue to pour in. 
As the students in Dead Poets Society believed in John Keating, it's evident that the world believed, and still believes, in the greatness of Robin Williams. – Rappler.com
Photo of Ben Affleck and Robin Williams via Shutterstock