Cebu-born Clint Ramos created the costumes in 'Respect,' the biopic on the late Queen of Soul's life
Dear readers, on this column's first anniversary since its move to Rappler, thank you!
***
Cebu-born Clint Ramos could not believe his ears – Oprah Winfrey, no less, and Jennifer Hudson – were raving about his costumes for Respect in the famous talk show host's prime time special.
On that recent show, OWN Spotlight: Oprah and Jennifer Hudson, where the actress talked about playing Aretha Franklin in the coming biopic, the host said to her special guest, "Let's talk about the clothes, y'all. Okay, I don't know who was in charge of the wardrobing there but…"
"Clint Ramos," Jennifer offered the name of the movie's Filipino-American costume designer. "Oh, round of applause," Oprah replied as she and Jennifer clapped. "It's amazing," Jennifer agreed.
"I couldn't believe it," Clint shared his reaction when he watched the special featuring the two Oscar and Golden Globe winning women.
I recently talked via video call with the University of the Philippines and Philippine Science High School alumnus who, in 2016, became the first Filipino and Asian – and the first person of color – to win the best costume design of a play prize (for Eclipsed) in the Tony Awards, theater's biggest honor, in 2016.
"I said, wow!" continued Clint about the exchange between Oprah and Jennifer. He was calling from his Boston studio, whose walls are lined with his costume sketches.
"I was flabbergasted. I didn't have words for it. I always tell my friends that I slowly died. I went to heaven because I wasn't expecting them to talk about the work and also to call my name out."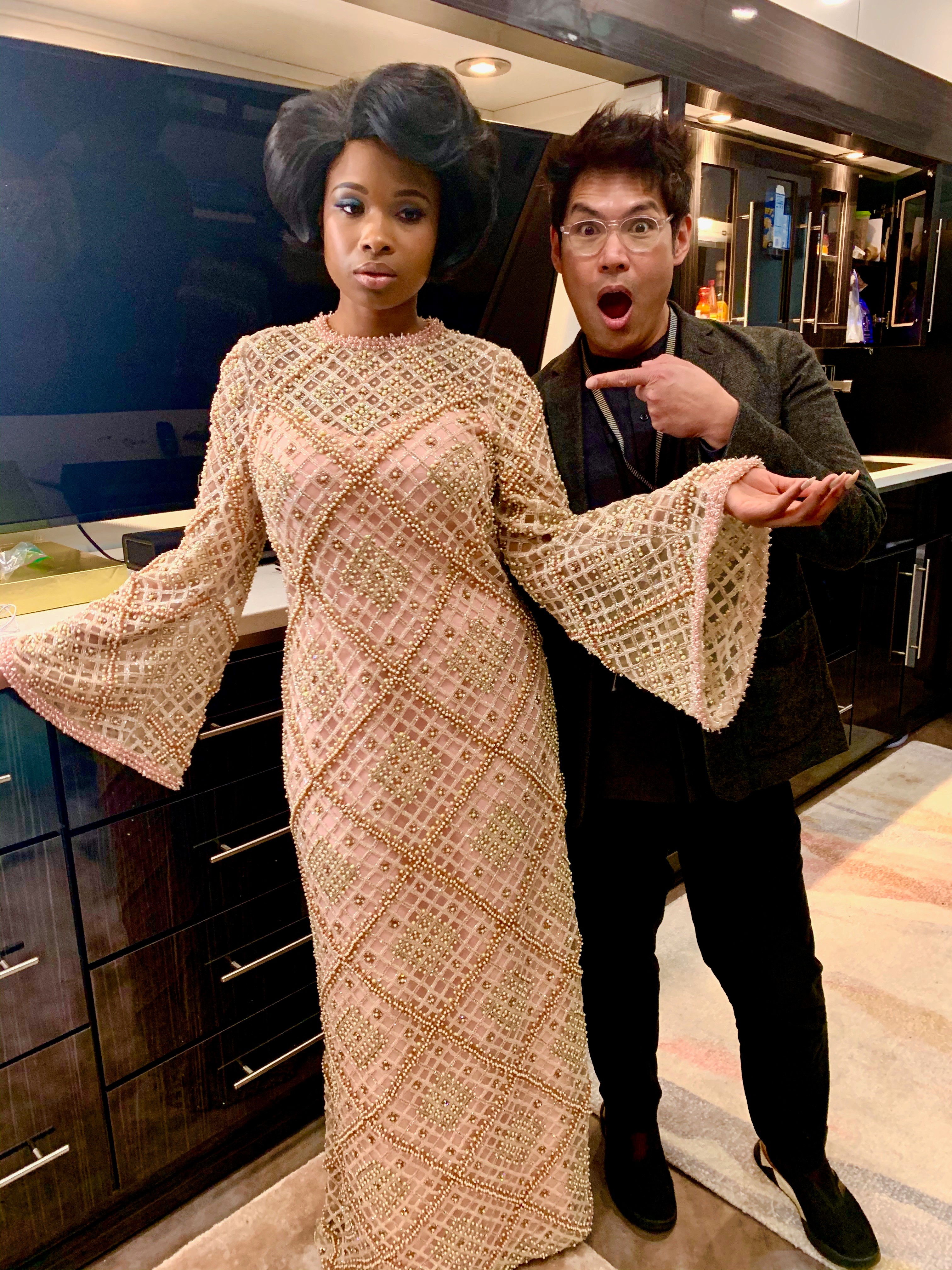 "Usually, folks behind the screen and the stage never really get mentioned with anything. So, it was a wonderful surprise."
The Cebuano, who counts Chris Millado (his drama teacher in Pisay) and the late Tony Mabesa (Dulaang UP) among his mentors, is truly blazing the trail for talents of color in costume, set and production design in film and theater.
I also asked Clint, who was recently in Los Angeles, for his reaction upon seeing the huge Respect billboard, showing Jennifer in one of his costumes, on famed Sunset Boulevard. Up close, the Respect billboard is indeed gigantic and dwarfs the adjacent Candyman billboard.
"It's the biggest high one can get," Clint replied. "Part of what I always focus on in design is the details. Particularly with film because you never know when they'll do a close-up of anything. So, that dress was a prime example."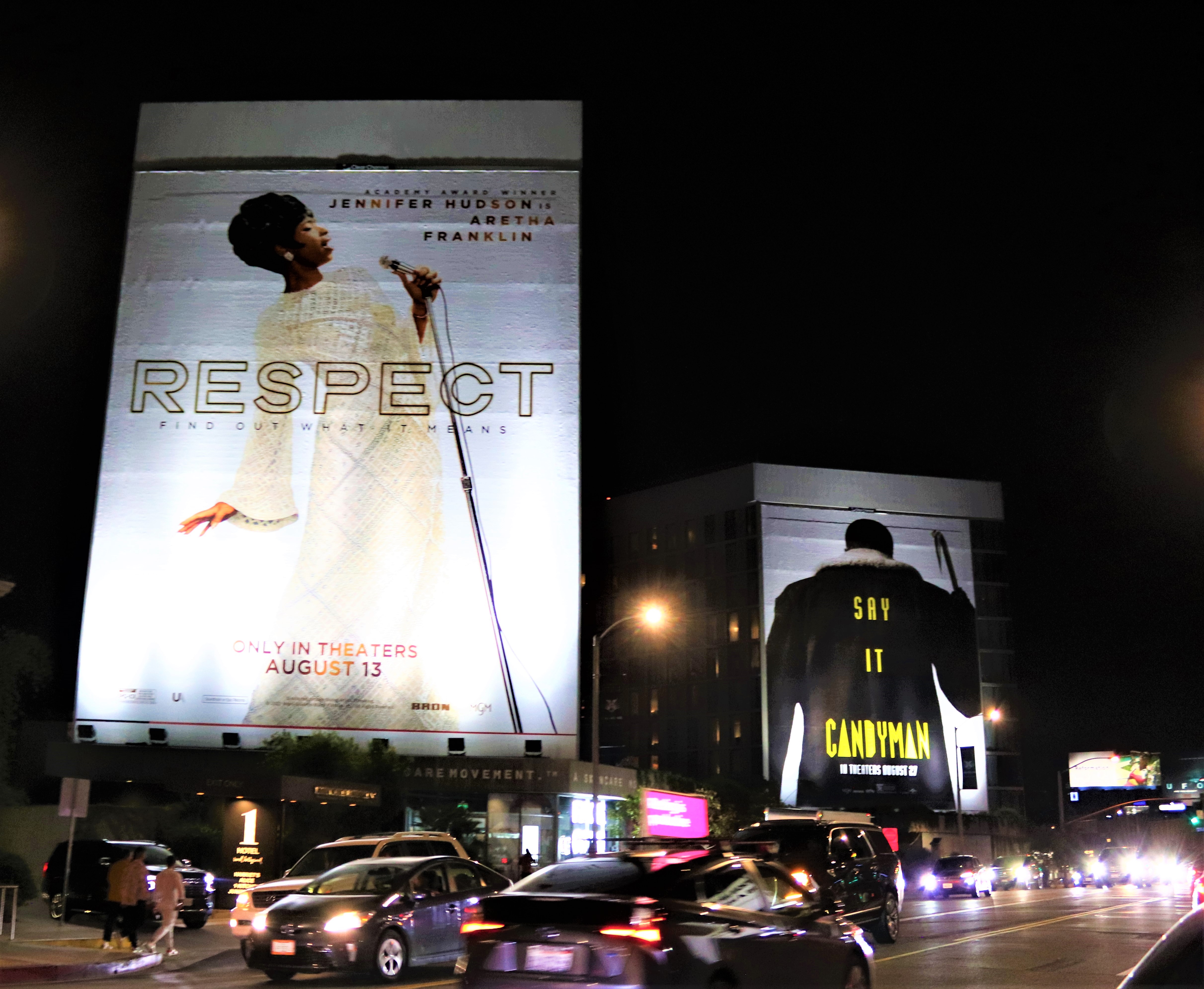 "Everyone involved with making that dress was really concerned about the details. Each bead was placed on that dress by hand. Thank God we did that because it (photo of the dress) is blown up to these gigantic proportions (on the billboard). I'm just glad that we took care of that."
"It's overwhelming to see your work that big in a city where thousands of people actually drive by. We've been seeing posters, or the same sort of image on posters, in the subway in New York."
"I'm in Boston right now filming another movie but friends have been constantly sending me images. It's also great to see that there's a lot of press that's going out there to promote the movie, particularly since it is opening on August 13."
Clint also served as the costume and production designer of Lingua Franca, director Isabel Sandoval's acclaimed indie drama about an undocumented Filipina transwoman who falls in love in New York.
He also recounted his reaction upon seeing Jennifer wearing one of his costumes on the set for the first time.
"It was very moving and emotional. We spent so much time fitting Jennifer. We had so many meetings and just hours and hours of work with Jennifer months before we started filming."
"So, on that first day that she wore the costumes, it was overwhelming. It was a combination of almost a year's worth of hard work. And then we had 60 more days of shooting after that. I had to experience that every day."
The assistant professor of design and head of design and production at Fordham University added, "The first gown that she actually wears is that gold gown for the Rockefeller Center scene that she wears with a fur coat. So, that's the first costume."
"That was amazing because that was the first day we shot in New York City. It was very cold that night. But I remember just looking at her and saying, wow. It was deeply moving. We had worked so hard on all of those clothes and particularly that one."
"There are so many so I feel this is like Sophie's Choice," Clint answered when I asked him which costume excited him the most. "I think the dress that Jennifer wears in the poster – we call that the Amsterdam dress. A lot of people worked on that so I'm very happy with that."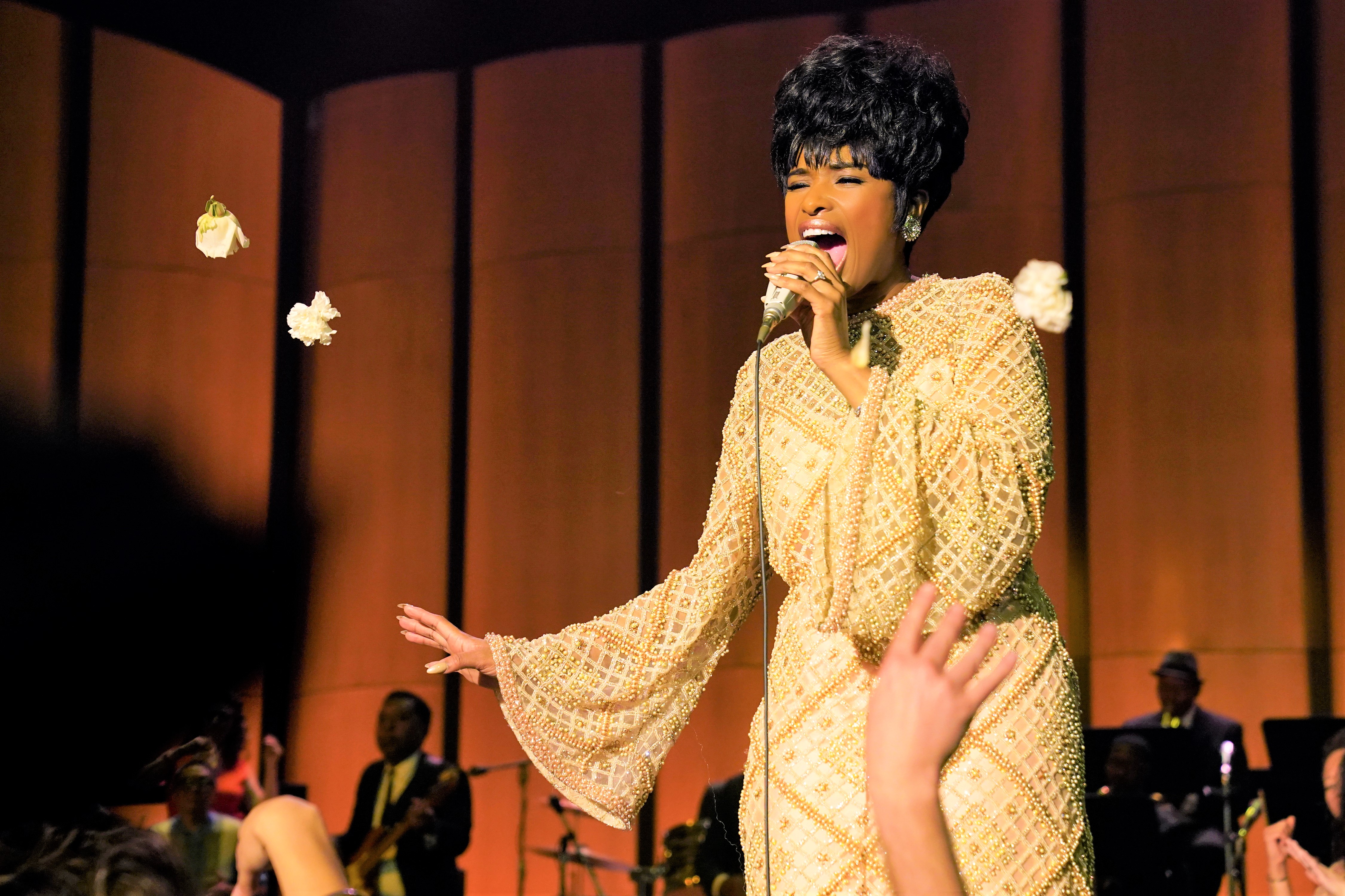 "It fits Jennifer like a glove. It's a very detailed dress. It's also very heavy. It's around 50 pounds or something like that. There's a lot of those beads. So, that would be the high part."
"And then this vintage slip that I found that Jennifer wears when Aretha is down and out and she is visited by the spirit of her mother. I love that because it conveyed so much of who she was at that particular moment. So much vulnerability."
"So, I was very happy with those two. I'm happy with all of the costumes but those two were really among those killing moments."
When I visited the Respect set in Atlanta, Georgia in January last year, at first, I did not know that Clint was the costume designer. It was the perfect day to be on the set – Jennifer filmed a scene where she sang, yes, Respect, one of Aretha's iconic anthems, in the Madison Square Garden (an Atlanta stadium subbed for the arena).
During a shooting break, Jennifer sat down for an interview with the visiting journalists. I asked the former American Idol finalist, who went on to become a respected actress, how it felt to wear the gowns and dresses as the Queen of Soul.
"Oh my god, I feel like the Queen when I put the dresses on," Jennifer gushed. "One of the moments for me was for a birthday scene. She had on a gown and this huge fur coat. I was like, okay, no wonder she was the Queen because I feel real royal right now."
"And that gave me a huge sense of a personality. You can't imagine how much putting on someone's clothing can teach you about them. It made me understand her presence or regal-ness, her character, that image of royalty that she had."
When I asked Jennifer who designed the costumes, she replied, "Clint Ramos." It turned out Clint was on the set that day so I met him in person for the first time.
Back to our video conversation, Clint reacted to Jennifer's answer about wearing his costumes. "Wow," he began.
"That was the idea because they threw a 25th birthday party for Aretha at the Rockefeller Center. She's in this gold gown and a fox fur coat, which was actually owned by my mother (Erlinda Boiser Ramos). That was my mother's coat."
"And so, knowing that Jennifer reacted that way, it makes me feel so happy. It makes me feel like I did my job because I think she is the queen of soul. I wanted Jennifer to feel that, that is the first gown she put on. That's tremendous. That means the world to me."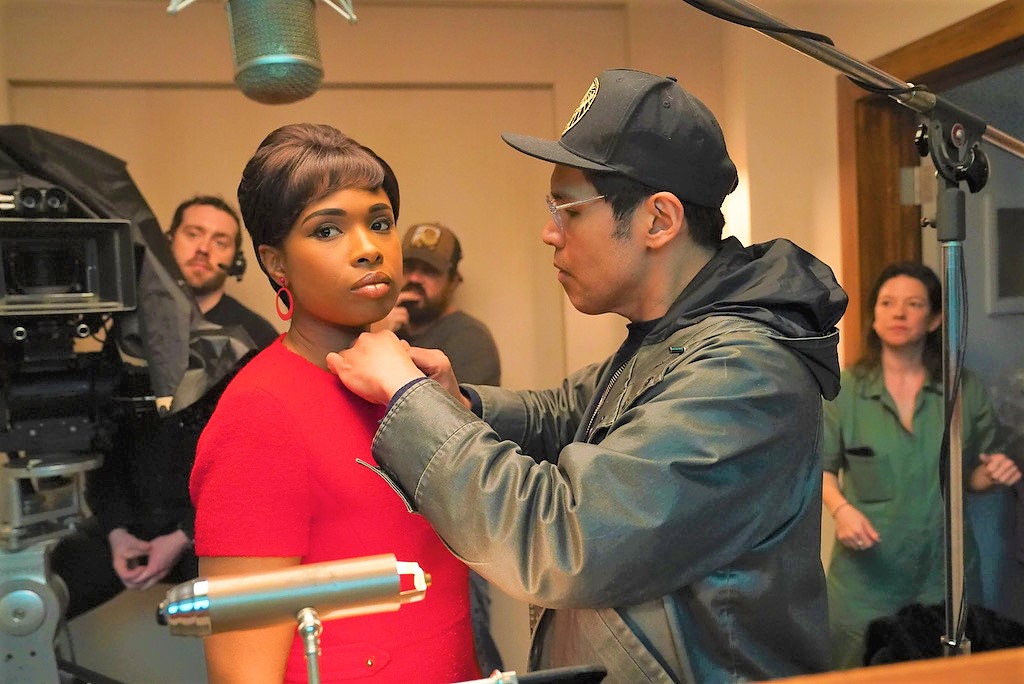 Liesl Tommy directs the legendary singer's biopic, which also stars Forest Whitaker, Audra McDonald, and Marlon Wayans.
On how Clint paid homage to the Queen while also reimagining for the medium of film, he explained, "Aretha was such a visible image for a lot of us. The movie basically culminates in the Amazing Grace concert in 1972. So, I've researched everything prior to that year from her childhood to that year."
"Part of what I was trying to do was consider that Jennifer is playing her. I didn't want to replicate what Aretha wore or what Aretha looked like. I don't think it was about copying but it was about reinterpreting a lot of the concert wear through, I would say, a contemporary eye."
"But also with Jennifer in mind all the time. Jennifer and Aretha are completely different body types. They're completely different, they look different. But it was, how do I extract the essence of Aretha and impose that on Jennifer?"
"So, that's the reinterpreting part. The imagining part is there's a lot of things in the movie that we don't have photographs of, just because they were private moments in her life. And particularly before she was 18 years old, we have very few photos."
"So, a lot of that I had to imagine just with the knowledge of the period and from the research about Detroit and her family. So, I had to read a lot about that, do a lot of that research and imagine what she would have been wearing during that time."
"A lot of the reimagining also happens when we're with her alone, when she's going through her demons, when she is going through something that's really deeply personal – the breakup of relationships, when she sees her mother in that visitation."
"So in a lot of that, I took creative license, just working primarily from a point of sociology and psychology. She's in this emotional state and what would a human being in her position wear and what would they look like? So, a lot of it was like that."
The Fil-Am, who serves on the American Theatre Wing's advisory committee, shared what he learned about Aretha in his research for the biopic.
"Unlike her contemporaries like Diana Ross or those Motown women, Aretha was not a mannequin. The clothes didn't wear her. She wore the clothes, she let her humanity shine through."
"In spite of all of the glamor that was infused on her, she was very proud of her body and her body shape."
"She wasn't ashamed of the way she was shaped. That's always refreshing, particularly for somebody who was built like her. I remember reading articles where she would criticize these designers."
"Way before we all got into body positivity and body shaming, in the 70s and 80s, she would literally call out these designers. I remember Calvin Klein and Valentino and she would say, 'Hey, stop making tiny clothes. Make clothes for real women, go up to size 14, 16.'"
"She would call them out. That, to me, was really bold. That said to me she wasn't ashamed, she was proud of her body. I also learned through just looking in my research that Aretha was not a person who followed the trends."
"Aretha dressed according to how she felt, what her emotions were and particularly what her politics told her to dress as. So if you look at the trajectory of Aretha, just in terms of clothing, the way she appeared, you can see, in those particular moments, what she ultimately really cared about."
"So you see the very early 60s, she cared so much about what her father perceived her to be. She's very prim and proper. Her father was trying to grow her to be the black Judy Garland. She was very proud."
"Then you see her break away from that, also in the 1960s, when she marries Ted (White). She gave [a sense of] freedom, sexuality and sensuality. She dresses very provocatively, hugging her body and everything."
"Then as you go through the decades, you even see when she really becomes vocal and political during the 1970s, when she made bail for Angela Davis. She dons the afro and becomes really Afro-centric."
"To me, that said here's a woman who actually uses clothing to express truly how she feels and what her beliefs are. That's revolutionary. But she wasn't like a mannequin. She wasn't just for style. It's like, I'm going to use the way I appear to express who I am and what I believe in."
Several of the costumes are on display at the Grammy Museum in Los Angeles.
"It was, again, overwhelming," Clint said. "Also, it makes me very proud. I didn't do this work alone. There were hundreds of people who made them – from the beaders, sewers, all in the costume shops, to all of the people who worked on them in Atlanta."
"I think people, when they see the movie, will see that not only did we dress Aretha in period clothing in five decades. We also dressed thousands of people as background players. So, I got a lot of help. It makes me very proud that their work is also on exhibit for the world to see."
Growing up in the Philippines, the future costume designer was inspired just watching her lawyer mom dress up. "My mom taught me everything about my style," Clint proudly pointed out.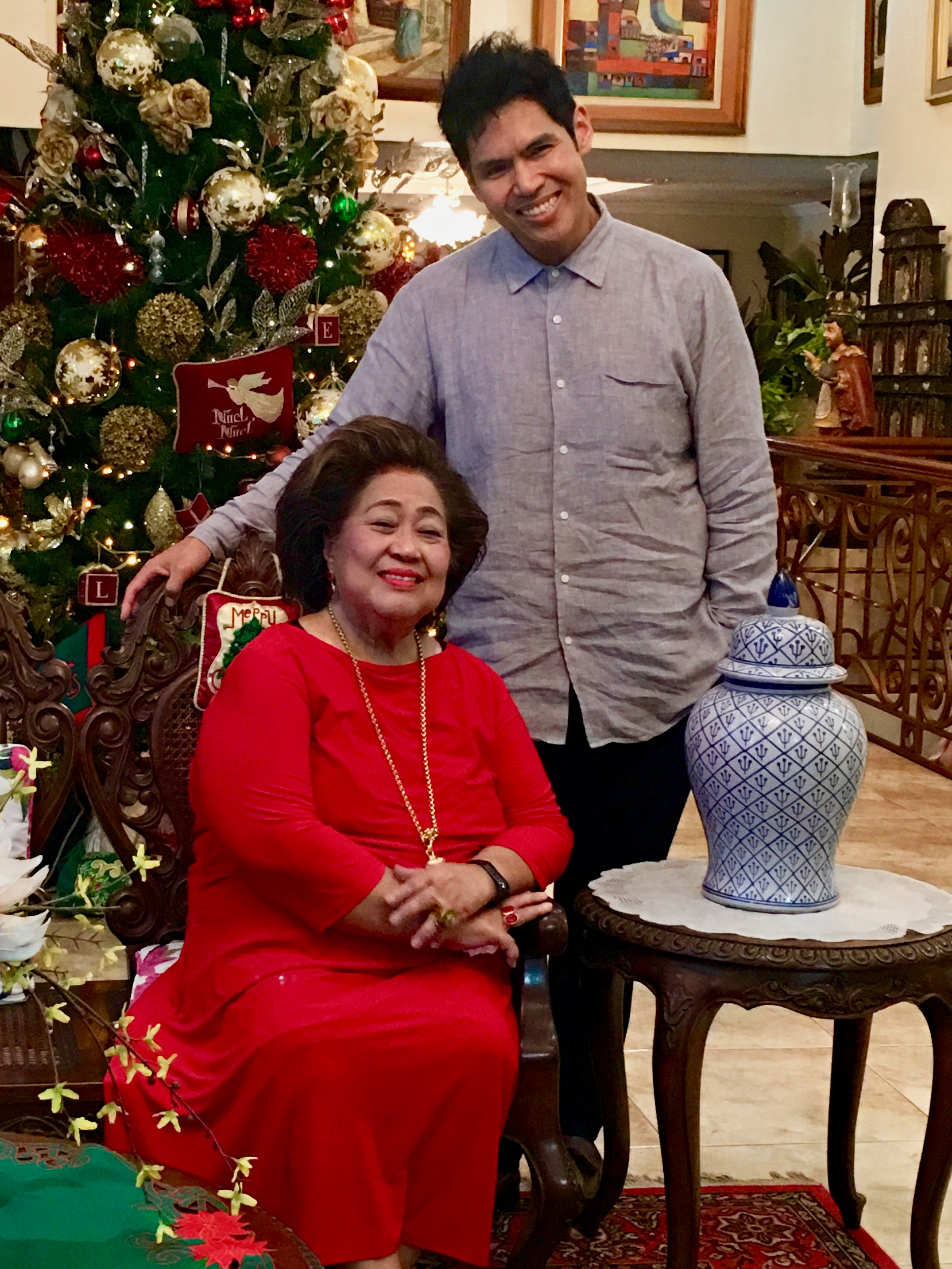 "She's in Cebu right now. I haven't seen her in a bit because of the pandemic. She taught me everything about taste and all that stuff."
"She loved dresses and jewelry. She still does to this day. She no longer wears the fur coat because she's there (in Cebu). She never allowed herself to be seen in public or even also in private where she wasn't put together."
"I'm sure that's typical of Filipino moms but my mom was extreme about it. I remember as a child, one of my favorite things to do was hang out in my mother's bedroom and literally watch her dress."
"You're like, oh my God, she's going to put that on, oh my God, look at that, she's going to put that on, oh, wow. Then you've watched the transformation happen."
Erlinda must be excited to see her son's work in Respect, not to mention her fur coat that Jennifer wears in that one scene.
Clint said, "I was hoping that my mom would be at the premiere in Los Angeles but she cannot travel because of COVID. She was looking so forward to it."
"Aretha Franklin was during her time. So my mom knows every Aretha song by heart. She knows the period style. That was also extra pressure. I wanted to make sure that I got the 1950s, 1960s and 1970s correct."
"Because my mother actually would call me and say, 'Yeah, no, that's not correct.' I wanted to make sure that was perfect. She's my biggest muse."
A passionate advocate for equity in cinema and theater, Clint wrote a guest column for Deadline.com and pointed out that he is "unable to muster a wholehearted sense of hope."
I asked him to elaborate. Clint obliged with, "We all know, both in Broadway and in Hollywood, that all of us are fighting for a more equitable field. Where we are all being treated fairly and justly. It's not that this is something new. I've been fighting and advocating for this for a long time."
"To truly work towards what the best ideals of this country are, we have to reflect that through equity, diversity and inclusion. That means we include more people, more stories, particularly of people who are marginalized, people of color, women, trans and gender non-binary folks, everybody who has been overlooked."
"Hope comes with work. There have been changes that happened, particularly during the pandemic. I feel like people think that it's just a trend. I feel like we have to work to keep the hope alive."
"So when I said I'm having a hard time mustering hope, I feel like people are actually not making it a priority. It ought to be a priority. Particularly when I wrote that piece, it was during the rise of API (Asian and Pacific Islander) hate and violence."
"It had just been, I think, three or four weeks when that Filipino woman was beaten down New York City on her way to church. I feel this happens because there is no representation. We are not looked at as human beings because we're invisible."
"Visibility is important. Social justice is important. So hope comes with work. We all have to always remember and not forget that what we want, this equitable landscape, particularly for the arts, requires work and everybody to sign on."
This genial talent with the most fetching smile credited a Filipino quality that helps him survive the long hours, disappointments and work pressure in stage and movies.
"It's just a lot of work," he admitted. "You average 16-hour days. Filipinos have prepared me for that work ethic. I also feel that something that's really important, that I want folks to really understand, is that Filipinos seek joy all the time."
"We find something to laugh at all the time and smile at. I'm sure folks say, 'Oh yeah, you're a very smiley people.' Yes, we are. But it doesn't mean that we're not serious."
"That's because we actually seek joy. That's something that really prepared me for a lot of the heartache that this business gives you. But also, it prepared me to be more productive and work with people because we seek that joy and we find that joy."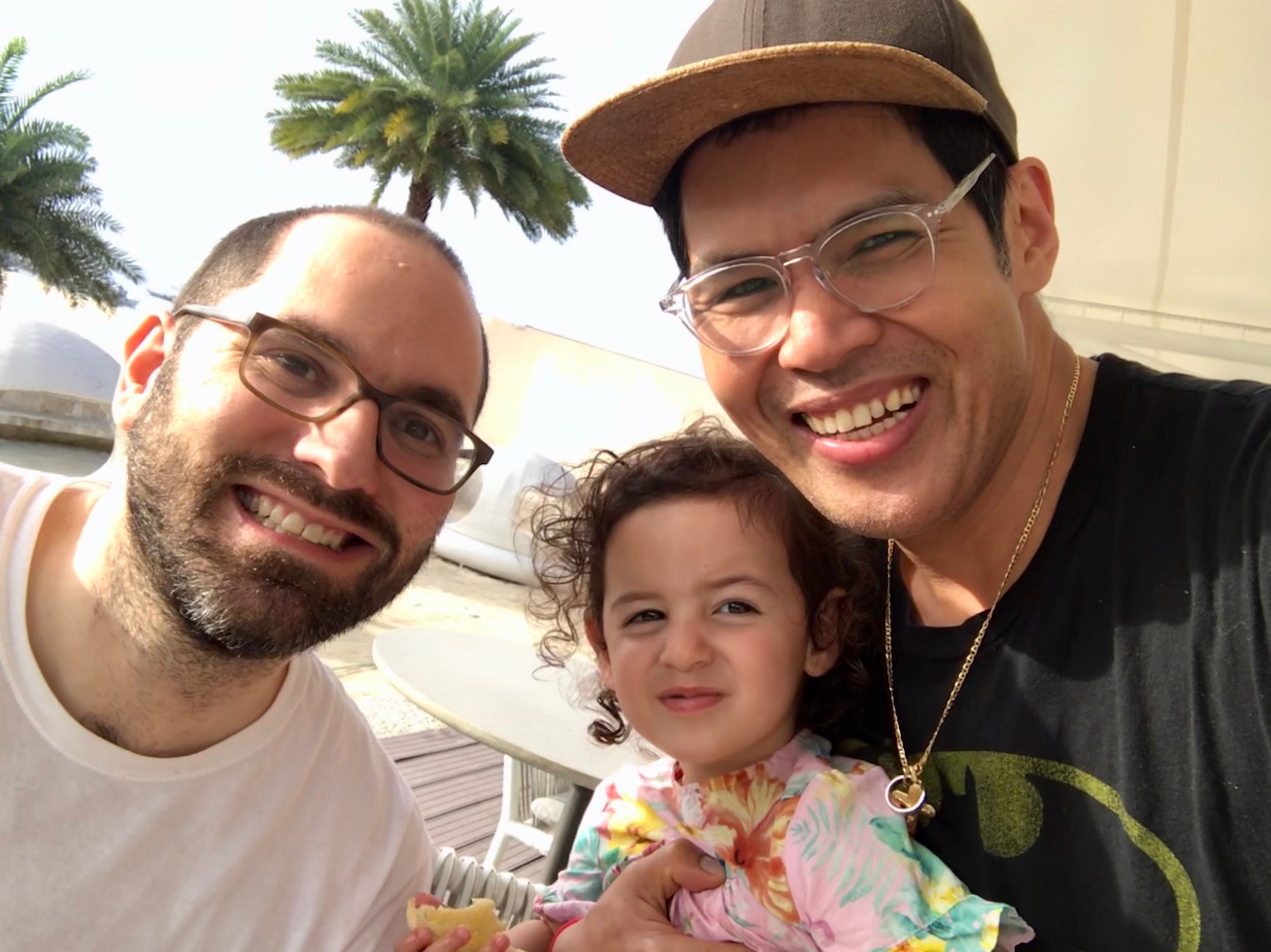 On the personal side, Clint, his husband, Jason Moff, and their lovely daughter live in New York.
Clint has not one but two pending Tony nominations – best scenic design of a play (Slave Play) and best costume design in a play (The Rose Tattoo).
I saw in person on Broadway his Tony-nominated work (best costume design in a musical) in Once on This Island, which featured Lea Salonga as the goddess Erzulie and a Filipina nurse.
Clint's many credits include Burn This (with Adam Driver and Keri Russell), Sunday in the Park With George (Jake Gyllenhaal), The Elephant Man (Bradley Cooper), Here Lies Love (David Byrne and Fatboy Slim's musical on Imelda Marcos) and Angels in America.
Looking ahead, Clint shared, "I'm working on a movie right now." Too bad he can't talk about this project yet but it's definitely an exciting one.
"I'm also the producing creative director of Encores! So you'll see a lot of me producing, transitioning more into creative producing. I'm creative producing Billy Porter's production, The Life. It's a musical."
I brought up Billy's Filipino connection. The actor stole the red carpet scene in several ensembles by Francis Libiran.
"Yes, that's true," Clint said. "We actually talked a lot about them. Billy's a good friend. We've been friends for a long time. He and I are concocting this revival of The Life that we're bringing to Encores! at City Center (New York)."
"There's a couple of shows going to Broadway. I can't really talk about it right now but there are two musicals. One I can talk about – The Outsiders, based on the S.E. Hinton book that Francis Ford Coppola made a movie out of."
"That's being made into a musical. I'm designing the sets for that. And I'm just looking forward to more work and more art. It's a busy time."
I can just picture Clint smiling and working his way through these many productions and possibly picking up awards and nominations in the process. – Rappler.com