The actress reveals the secret to making both personal and professional success with husband John Krasinski (hint: it involves whiskey)
"God, I don't know because this idea of couple goals, which John and I… so embarrassing because we operate just like any other couple does," said Emily Blunt, opening up about her marriage to actor-director John Krasinski.
"I value him so much, he values me so much, not just in a personal sense but in a professional sense," added the British actress in our New York interview right before the coronavirus pandemic struck in March last year.
A Quiet Place Part II, which Emily stars in and John directs, was scheduled to open also in March 2020 but the COVID-19 health crisis delayed the movie's release several times.
Now finally slated to open late this month in the US, the drama/horror/sci-fi and the original film make a worthy beginning of Emily and John's legacy as a talented married couple in Hollywood.
With solid performances by Emily, back as ever vigilant mom Evelyn Abbott, and John as the director, A Quiet Place Part II moves up the couple's creative filmmaking niche in Hollywood.
"We seem to be very aligned creatively," said the Golden Globe and Screen Actors Guild Awards winner of John, whom she married in George Clooney's Lake Como, Italy villa in 2010. "That helps."
"We watch films in the same way, we respond to scenes or performances identically, like what moves him seems to move me. And so there's a fluidity about us working together that it works for us."
With a laugh, the actress quipped, "And we drink a lot of whiskey. This film should have been sponsored by Macallan 12. It was our way of unwinding. It takes the edge off."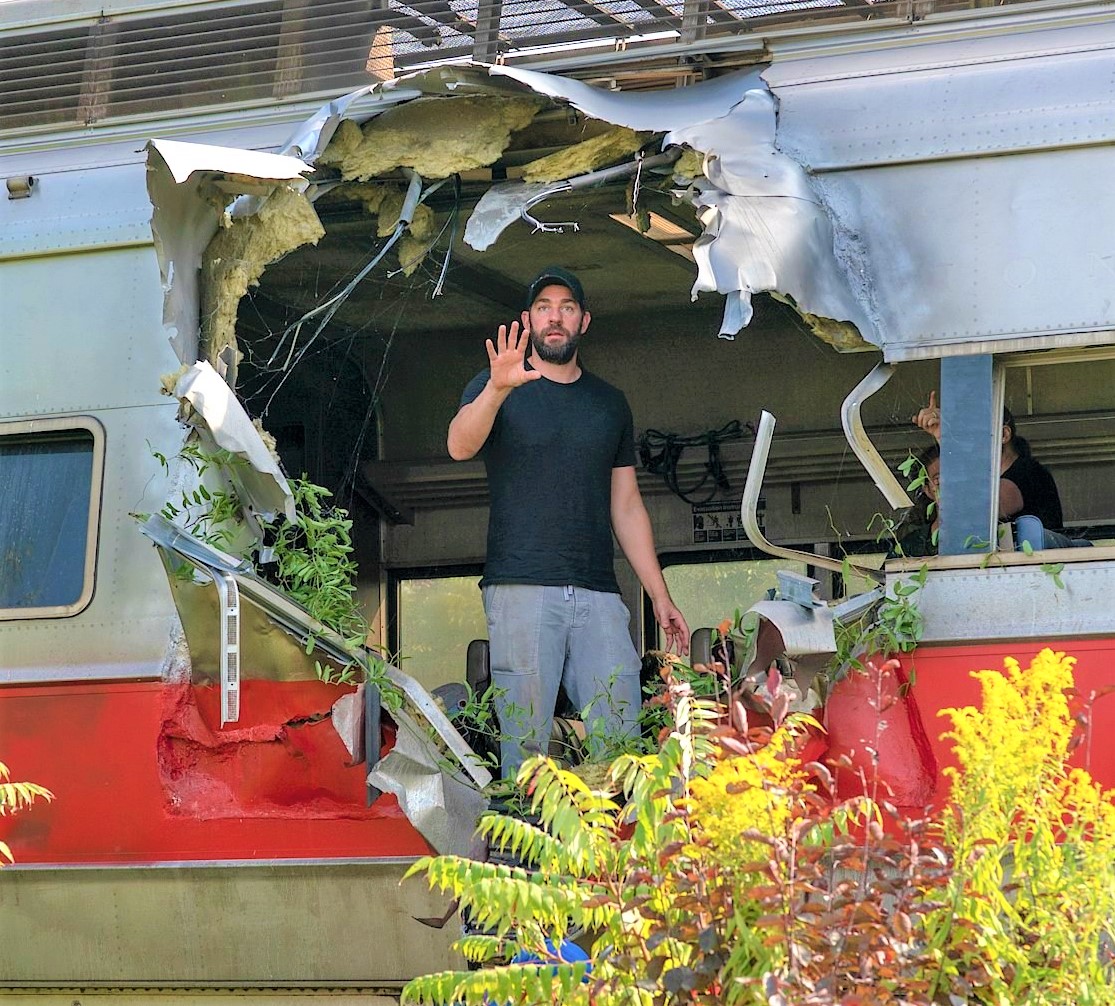 Asked for apres-work details on the whiskey moments in the Krasinskis' abode, the star obliged with, "I really like the ice cubes that are, you know, the big squares. I feel like the British and the Irish tend to drink whiskey if they have a cold. Whiskey actually has a lot of the same properties as cough medicine."
"I feel like it's a great equalizer. I remember even as a teenager, if I'd have a shock or something at school, my mom was, would you like a little nip of whiskey?"
"I'd drink from my grandfather's whiskey. I have this nostalgic relationship with whiskey. John's much more of a connoisseur with whiskey than I am."
"When you've had a day that's been nonstop, high octane, and emotionally quite draining, a whiskey is your best bet."
Laughing again, the star of The Devil Wears Prada, Sicario, Edge of Tomorrow, Into the Woods and Mary Poppins Returns (she used her singing voice in the latter two), joked, "I'm drunk right now."
Asked if, let's say the fireplace is on, as she and John unwind after a long day of shooting, Emily – one of the most humorous actresses around – cracked, "I thought you were going to say, and you've slipped into something… No, I'll tell you what it looked like."
"It was me coming home covered in mud and blood and my feet were filthy and sitting looking like I've been dragged through a hedge backwards. And drinking whiskey – it was really romantic."
How do the two creative, fiery spirits handle it when one of them is having, um, an artistic temper? "Do you think we brawl over Macallan 12?" she riposted, her soulful blue eyes twinkling in bemusement. "Who's smashing plates, John or me?"
"You have to consider that we work apart a lot as well," she stressed. "It's a rarity for us to do a project together. John and I really allow for a very full life outside of each other."
"We really implicitly trust each other. We adore each other but we have to cope with a lot of time apart as well. But I like that image you have of us maybe smashing a few plates," she said, laughing.
"No, not really," she answered when asked if they ever get on each other's nerves. "I wouldn't share that, anyway."
On whether she ever thinks of the serendipity of them ending up with each other, Emily, who was in a relationship with singer Michael Bublé for three years, replied, "Yes, John and I do. Actually one of my favorites is this book by Kate Atkinson called Life After Life. I recommend it. There is a sort of sliding doors-esque element to it."
"There are interweaving narratives over this central character that if she'd taken this crossroad or that one, where would her life had gone, for better or worse?"
"It's really clever. Each chapter is a different element of, if she made that decision, it would have gone this way."
"I think about that, not just in terms of John and I meeting and weird serendipitous things that happen if you meet somebody who has an impact on your life."
"But I think about it in many other aspects as well – to do with my children, my family, to do with me doing this job."
"I just feel very fortunate because whatever happened in my life to lead me here, I just have to be so grateful because I love it, really."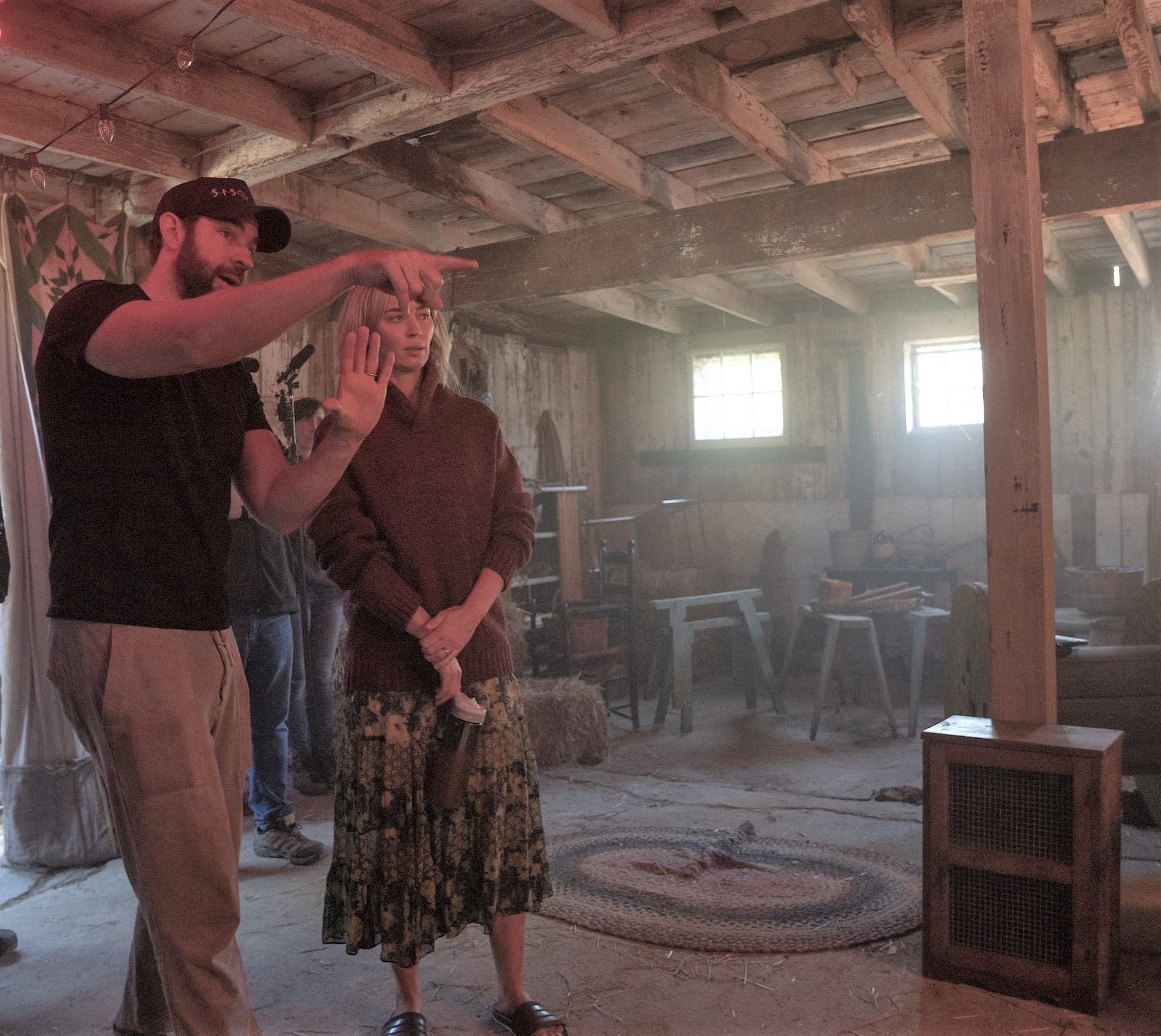 Emily, the daughter of a former actress and teacher, Joanna, and a lawyer, Oliver, struggled with stuttering, from seven to 14 years old. The actress, whose full real name is Emily Olivia Leah Blunt, is grateful to a school teacher for helping her overcome stuttering through acting.
Emily made a confession about John, whose early roles include Jim Halpert in The Office, which originated as a TV sitcom in the UK with a different cast, including Ricky Gervais.
"Hilariously, when I met John, I had not seen the American The Office so I then had to binge watch it for a couple of weeks."
They are blessed with two daughters, Hazel, 7, and Violet, 4.
In A Quiet Place Part II, Emily – one of the finest actresses of her generation – shines anew as Evelyn, effectively using just her eyes in a world where terrifying creatures hunt by sound. With John's Lee no longer around (although he makes a short appearance), Evelyn's mother character makes a major turn.
She has to be the sole protector of the three children, including Millicent Simmonds' Reagan and Noah Jupe's Marcus. But Millicent now has the crucial role. Cillian Murphy and Djimon Hounsou also star.
This cast delivers under John's deft direction.
"I do feel that Evelyn's maternal ferocity is stretched to the limit in this film," Emily admitted. "She operates with a sort of biblical maternal fierceness to her. She defines herself by how far she'd go to protect these children."
"That very much comes into its own, more so in this film because we've lost the patriarchal figure. She has lost her partner, lost any element of a safe haven."
"And so with no home, no husband, with a newborn baby, three children, where does she go? Who's going to help her?"
"And the people who are going to help her, can she trust them? I admire the character so much because she's also completely grief stricken in this film and everything is on her to keep these kids alive."
"So it is a deeply personal character for me. It's very close to home for me – the idea of how far you'd go to protect your kids. You hear about women all around the world doing extraordinary things for their children."
"I hope I'm never put in a position like this character is (laughs). But I do understand that this film resonates with mothers in a big way."
She cited Millicent and Noah. "I'm so proud of our kids (the child actors). John and I always laugh because we are their fake parents but our pride is real."
"They have grown up and they are exemplary actors and people. They are extraordinary scene partners. They're so prepared."
"They save us time. Usually, the first take is in the movie. And it was very much the intention for John writing this that this should be Millie's film."
"It's the way it should be – that idea of the torturing past. She sort of becomes him really. She is him."
"And not only did we believe that Millie, as an actress, has the gravitas and the power to shoulder this movie but the idea of a child with a disability and a weakness becoming the weapon and the answer was just really interesting for John."
But the sequel was just as emotionally challenging for Emily. "It is very personal for me to play this part so certain scenes to do with the potential loss of a child or loss of a partner was quite painful at times to do."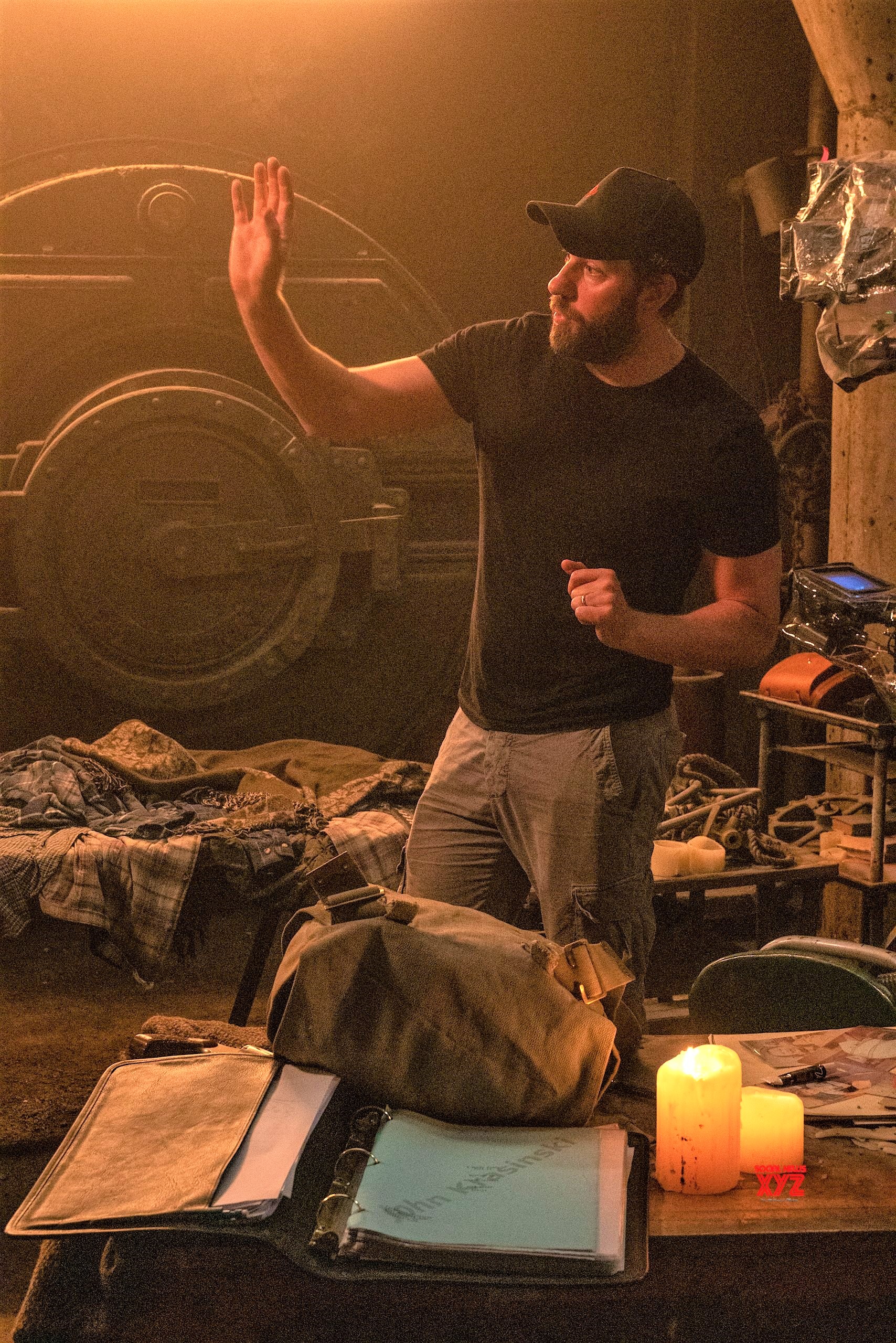 "Those scenes certainly take it out of you because you do have to go somewhere else and it's not a fun place."
"Thank God he's not with me in this one," Emily chuckled about not acting this time around with John, who was behind the cameras. "I was thrilled that he's closely matched for a scene partner by Cillian Murphy."
"So I feel in this one, and John agrees, that because of the film's scope, the set pieces get bigger and the world expands to a certain degree, he was being much more ambitious visually with this one. It was so necessary for him not to be in the scenes. I think it worked."
On John, who also co-wrote the two films' scripts, killing his father character, Emily jested, "He didn't think anyone would see the first movie. I'm certainly surprised that we're doing a second one."
One of the film's themes is female empowerment. Emily welcomes the climate in which her movie is coming out. "It's an exciting time for women because you can feel the tide is turning."
"You can feel that women now have the space and the platform. It's in the vernacular now that women can speak out, be heard and productive and things are going to happen."
"My girlfriends and I talk about it a lot in that the time has shifted. There's always more work to be done."
"I really respect Lulu Wang for what she said at the Independent Spirit Awards. She said it's not that we need any encouragement to go into the film industry."
"There's plenty of women who want to do it. You just need to give us a job. So that's really what still needs to happen. It's not about encouraging."
"We all want to do it, we all want great parts, we all want to do exciting, challenging work, whether you want to act or direct, whatever you want to do. But it's just that the opportunities need to keep coming."
She prefers to be optimistic. "I really do try to walk into most days with great hope. I've always tried to remain optimistic. I don't like a doom and gloom outlook on anything."
"And ultimately, as harrowing as what these characters experience in A Quiet Place II, it is hopeful. At the end, you are left with a feeling of empowerment or 'embolden-ment' that this kid's going to figure it out and she has and she is right. And you're right to be brave."
"I think that's what it's about – you are correct to be courageous. And that's Cillian's moment that he has with her at the end."
At 38, Emily is happy about her career choices. "I am feeling very fulfilled creatively. I continue to be very selective about what I do because I do want to keep stretching the parameters of what hypothetically I might be able to do or not do."
"I usually sign on to stuff that scares me a little bit and I'm unsure of how to approach it initially. Those projects are quite rare because of what's happening in the film industry."
"A lot of these mid-budget movies, the $35 million dollar films that I've built my entire career on – those are not happening anymore."
"It's these big budget movies which are, not all of them, but a lot of them can be quite derivative of numbers crunched or whatever else has worked at the box office on opening weekend."
"And you've got some fantastic little independent movies that are happening, that people really cling to because the stories are so extraordinary. So I found myself for a long time wanting to get into doing long-form storytelling, find a limited series."
"So the thing I am so excited about is this project I'm going to start called The English. It's a six-part western. It's the most extraordinary thing I've ever read in my career."
"Literally, in my head as I read my opening voiceover, I was like, I'm in. First page I was, I'm going to do this. It was so extraordinary."
Will there be A Quiet Place Part III? There's buzz that John, 41, is going for a trilogy. "I hope so, too."
Breaking into a laughter again, Emily quipped, "Bring John back from the dead." – Rappler.com