This is AI generated summarization, which may have errors. For context, always refer to the full article.
The story of short film 'When We Danced' follows a man who left the Philippines to pursue a better life and comes to terms with his unfulfilled dreams by teaching his grandson to dance
This story is published in partnership with SoJannelleTV, a magazine show about Filipinos in North America.
The red carpet was filled with some of the biggest names in entertainment at the 2023 Beverly Hills Film Festival, which ran from April 19 to 23 at the TCL Chinese Theater in Hollywood.
Amid the glitz and glamor, there was one film by a Filipino filmmaker that made its world premiere at the prestigious awards event. 
When We Danced, a 15-minute short film written, directed, and produced by Filipino-American filmmaker Ryan Moore, follows a man who left the Philippines to pursue a better life and comes to terms with his unfulfilled dreams by teaching his grandson to dance.
The film was well received by audiences, winning the award for Best Editing, as well as the Best Jury Short Film award.
Filipino-American media pioneer Jannelle So Perkins was there on the red carpet as the Filipino cast and crew enjoyed their time in the spotlight.
"The hardest thing was actually making the film because I wanted to use Filipino actors, Filipino crew, trying to find the right cast to use and to nurture was a journey. Also, shooting it during COVID was really challenging," shared Moore during a segment on So Jannelle TV, which airs US-wide on cable channels The Filipino Channel (TFC) and ANC, as well as on local Southern CA digital channel KNET 25.1. It is also available on social media platforms.
"Now it all paid off," he added.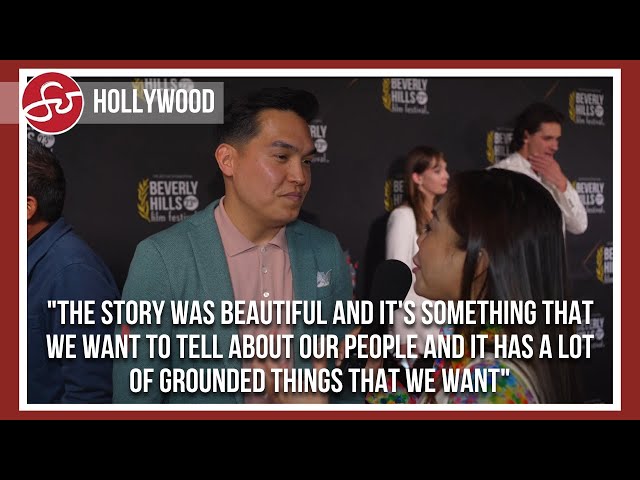 One of the features that made the short film unique was how much of the storytelling was done without dialogue, which co-stars Angelina Jara and Darion Basco said was a fun challenge to pull off.
"Darion was such a great scene partner, so it was really fun to just use my facial expressions and our body language as well," said Jara, who added that this was her first-ever red carpet experience.
"Dance was a really big part of it as well, so movement was important," added Basco. "The story was beautiful, and it was something that we want to tell about our people."
The film, which was previewed last November at the Asian World Film Festival, also featured production work from Anthony Francisco, who handled costume designs, art directions and storyboards, helping bring Moore's vision to life. He feels the true magic is in the story.
"Hopefully, people will think it's pretty emotional," said Francisco.
Moore, who previously directed and produced the Manny Pacquiao documentary Manny, was also looking forward to the reactions from viewers.
"I'm looking forward to actually watching it in a big theater together with all these other wonderful filmmakers and seeing how the audience responds to it," said Moore.
When We Danced will begin a one-week run at the Laemmle Theater in Glendale, California, starting Friday, April 28, and will be available to watch on YouTube on Saturday, April 29. – Jannelle So Productions | Rappler.com
Rappler is partnering with Jannelle So Productions Inc (JSP), founded by Filipino-American pioneer and Los Angeles-based journalist Jannelle So, to publish video and written stories from SoJannelleTV about the journeys, successes, and challenges of Filipinos living in America.
Check out So Jannelle TV daily for stories that make you pause, reflect, and appreciate who we are and what we are as a people.
Sundays, 4:30 pm PT / 7:30 pm ET on TFC
Mondays, 6 pm on KNET Channel 25.1 Southern California
Replay on Saturdays, 7:30 pm PT / 10:30 pm ET on ANC North America
Any time on YouTube.com/SoJannelleTV