With movie theaters reopening, our reporter Amanda Lago relays her first-hand pandemic cinema experience
After a year and a half of empty seats and dead screens, cinemas in Metro Manila finally reopened on Wednesday, November 10, and I was one of the handful of moviegoers who went to see what the experience would be like 
Of all the things we've been forced to give up due to this pandemic, going to the movies was one of the things I missed the most. I missed cinemas so much that every time I found myself near one, I'd look wistfully at all the old posters and time schedules – many unchanged since March 2020. I even snuck into one once as it was being cleaned, and languished over the fact that the chairs had been taken down and set into a pile.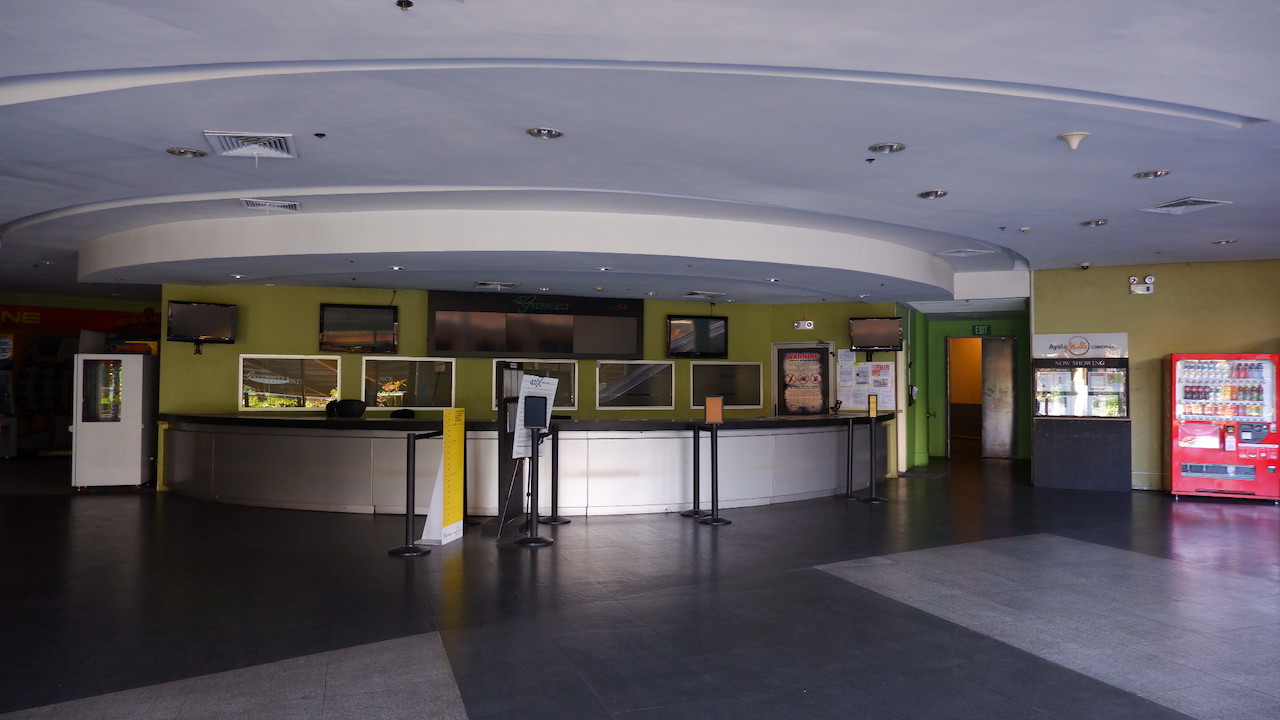 For me, and I'm sure for many people, the cinema was a weekend retreat or a mid-week treat, the holy house one could enter and come out of after a few hours feeling some type of way. Going to the movies wasn't just about seeing a movie, but the whole ritual of it: lining up, picking seats, buying popcorn, sitting through silly MTRCB advisories and anti-piracy shorts, the collective gasps and sighs and sniffles at all the right moments, and then debriefing over a meal after it ends.
No matter what movie I saw – whether it was good or bad or a Lav Diaz film I didn't understand – going to the movies was always a good experience, one that not even a dim room, aircon on full blast, and microwave popcorn could recreate.
This is why I volunteered to attend a screening of Dune at Bonifacio High Street Cinemas when we were invited, despite knowing the risk that comes with sitting in an enclosed space with a bunch of strangers. When the day came, I dressed in outside clothes, put on two layers of face masks, and packed my jacket along with my face shield. (READ: Cinemas are back: Here are the safety protocols required for PH malls)
The experience was pretty straightforward. Because it was a by-invite screening, I didn't have to line up for tickets or pre-select my seats. And with no eating or drinking allowed in the cinema, I didn't get to buy popcorn, either. 
At the entrance of the cinema, COVID-19 safety reminders were plastered alongside MTRCB ratings, reminding us to sanitize our hands regularly. I decided to enter the theater early, so I could take in the environment.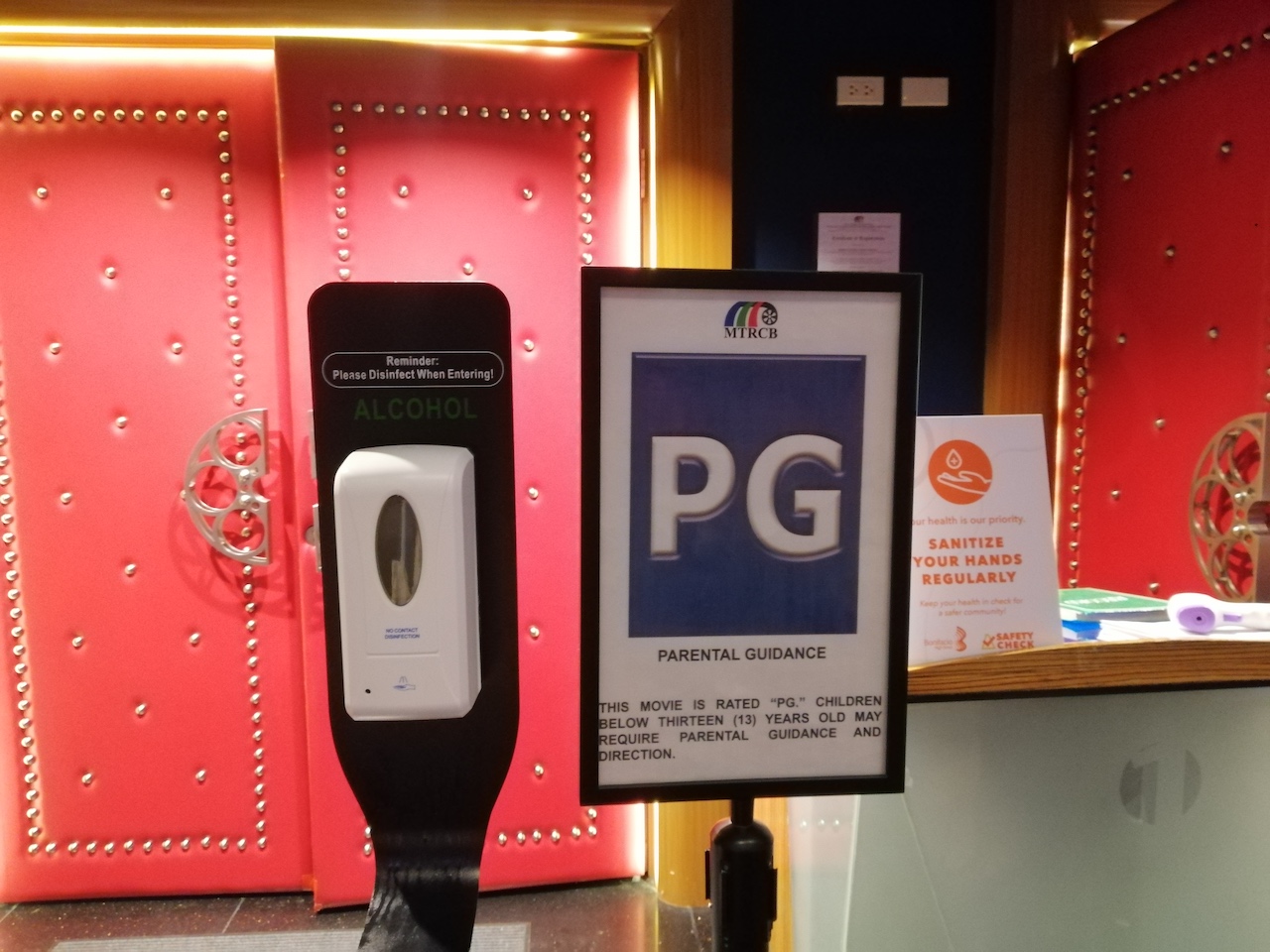 Ushers at the door took my temperature and asked me to fill in a contact tracing form via QR code and show my vaccination card – the first time I've had to present it since I got it. I'm not sure how they ascertain its authenticity, but I suppose, as with most things these days, we just gamble on the hope that the strangers we encounter are decent human beings.
Going in early meant I got the pick of seats, and I by-passed my usual seat of choice (middle, top row) for one that I thought might be safer – top row still, but the seat in the corner, which I correctly assumed would see the least passers-by.
That particular cinema had wide seats, so a one-seat apart rule was enough to keep viewers amply physically distanced. I placed my trusty alcohol bottle in the cup holder where drinks would normally go, like a little safety blanket.
Strangely enough, I felt as safe as I could be – maybe because this was an exclusive screening, but also because I felt more isolated in my seat than any other public place I've been to in the pandemic. Before the screening, my dad pointed out that sitting in a movie theater for a couple of hours takes not much longer than doing groceries, and you talk to less people, too. 
The lights dimmed, and the screen came alive. Safety advisories I knew so well rolled out before me, though they seemed archaic now – relics from a time when we thought the biggest danger at the cinemas was not knowing where the fire exits are.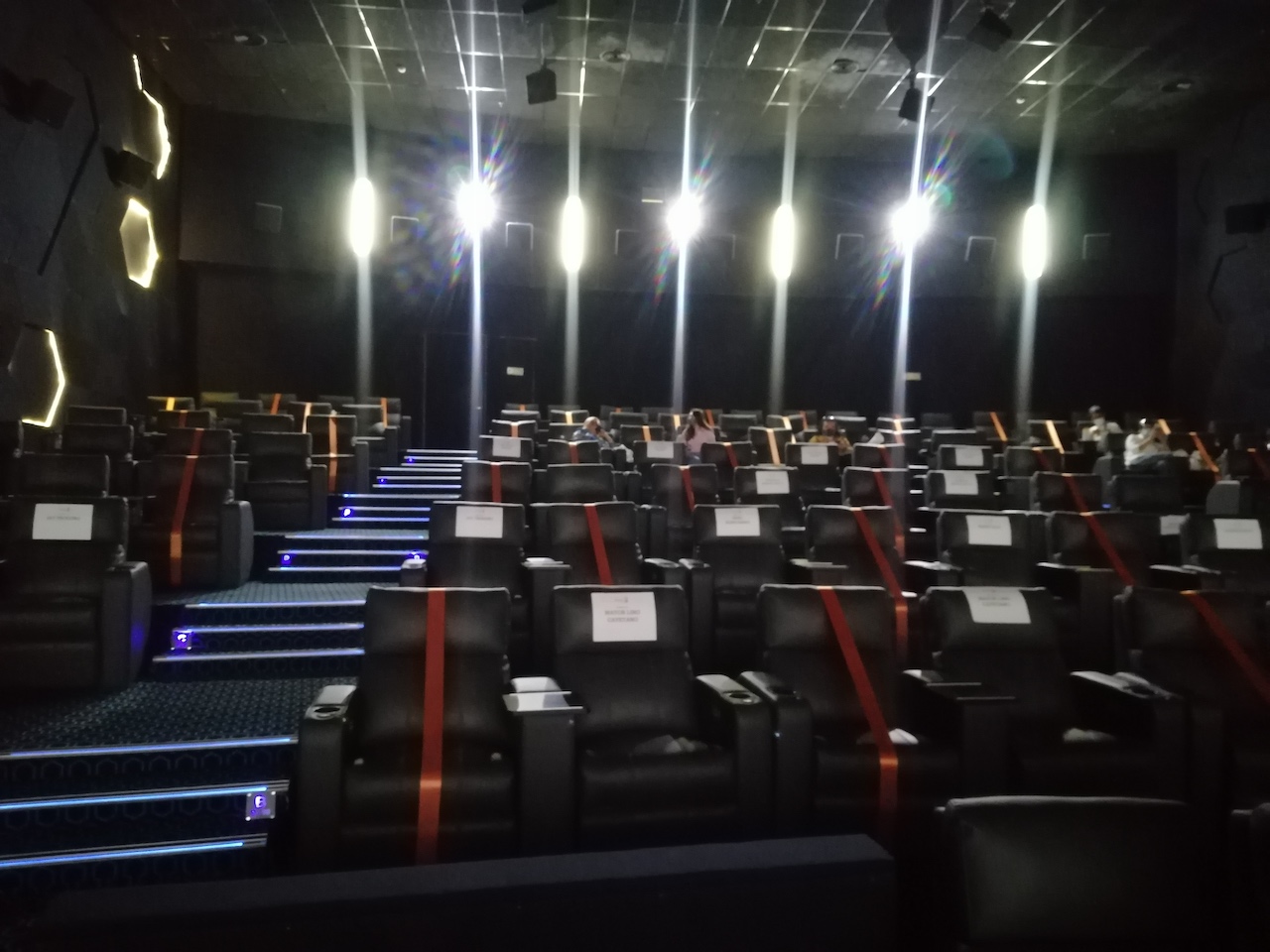 When Dune started, I snapped to attention without even realizing. After a year of watching movies at home, impulsively pausing the show whenever my dog wanted to play or when I wanted to Google the cast, I had almost forgotten what it was like to not be distracted.
Even watching the movie from behind a face shield wasn't as bad as I expected it would be (though I will admit to raising my face shield from time to time to get a better view).
As for the film itself – I can imagine how on a laptop or TV, its stark sandy backdrops and gauzy dream sequences might register as boring, but supersized on a big screen, you see all the nuances that make it visually stunning. I was also grateful for the surround sound that brought Hans Zimmer's epic score to life.
At the risk of sounding OA, going to the movies again after a year and a half is truly a core memory. From the moment I walked in to the moment I floated out in glee, I wanted to hug everyone – the ushers, the ticketing people, the strangers who shared the experience with me.
As I quarantine at home now before getting swabbed in a couple of days and preparing myself for a positive result (a post-cinema ritual that maybe we should all consider making a habit if we can afford it), I can't stop thinking about the film, the movie theater, and what I'll be watching next – considering the risks, "it better be good" has never been so relevant.  (READ: It's finally happening: Films to catch in PH cinemas in 2021)
My dad, another pre-pandemic cinema regular, also returned to his favorite movie house today. Before the show, he sent our family a selfie of him at the empty theater. "A semblance of normality," he said.
On the contrary, nothing about this is normal. Normal is sitting at home in pambahay, watching Squid Game while my dog sleeps on my feet. Going to the movies has always been magical, and I'm glad that despite the risks, we have a chance to experience it full-scale again. – Rappler.com