'Holy Emy,' featuring Filipino actors as leads, will have its American premiere on November 14 at the AFI Fest in Los Angeles
In 2017, my Greek colleague, Ersi Danou, excitedly told me that there is "a film project about two young Filipino sisters living in Greece. The film is titled Holy Emy and will be directed by a young Greek filmmaker, Araceli Lemos."
A Greek indie drama with a mostly Filipino cast and story? I could hardly believe it.
Well, four years later, Holy Emy (Agia Emy) is a reality. After a long time struggling to make her dream project come true, Araceli finished her feature directing debut.
Holy Emy, featuring Filipino actors as leads, will have its American premiere on November 14 at the AFI Fest in Los Angeles as part of the World Cinema section.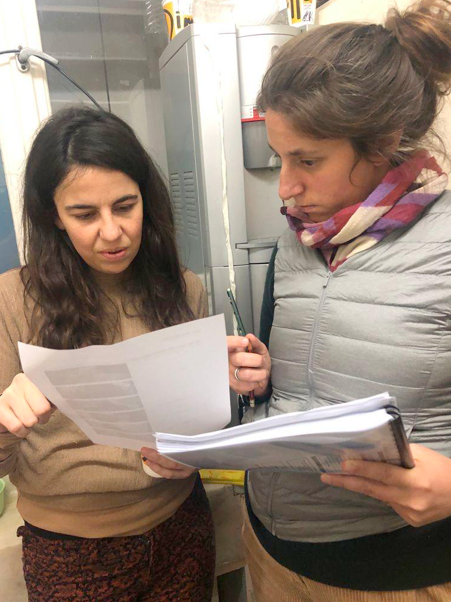 Written by Araceli and Giulia Caruso (who is also one of the producers), the production details the synopsis this way:
"When their mother returns to the Philippines, two young sisters, Emy (Abigael Loma) and Teresa (Hasmine Kilip), are left alone in Athens where they begin to forge separate paths in search of their own identities."
"Teresa, secretly pregnant with a Greek sailor's child, is embraced by the insular Filipino Charismatic Catholic church where Emy feels like an outsider. Emy is drawn toward the home of Mrs. Christina (Irini Igglesi), an elderly Greek woman who runs an alternative healing practice where the sisters' mother used to work."
"As Teresa's pregnancy advances, Emy explores the mysterious forces and abilities within her and must learn how to live a life of her own. Will she make peace with the gifts and curses of her body?"
I've seen Holy Emy, whose cast includes Angeli Bayani, Manuel Ku Aquino, Michalis Syriopoulos, Julio Katsis, and Elsa Lekakou.
Araceli, an Athens native who is based in Los Angeles, worked as a documentary film editor and directed several shorts, including Miguel Alvarez Wears a Wig. As a work in progress, Holy Emy was screened in this year's Locarno Film Festival and won the First Cut+ Award.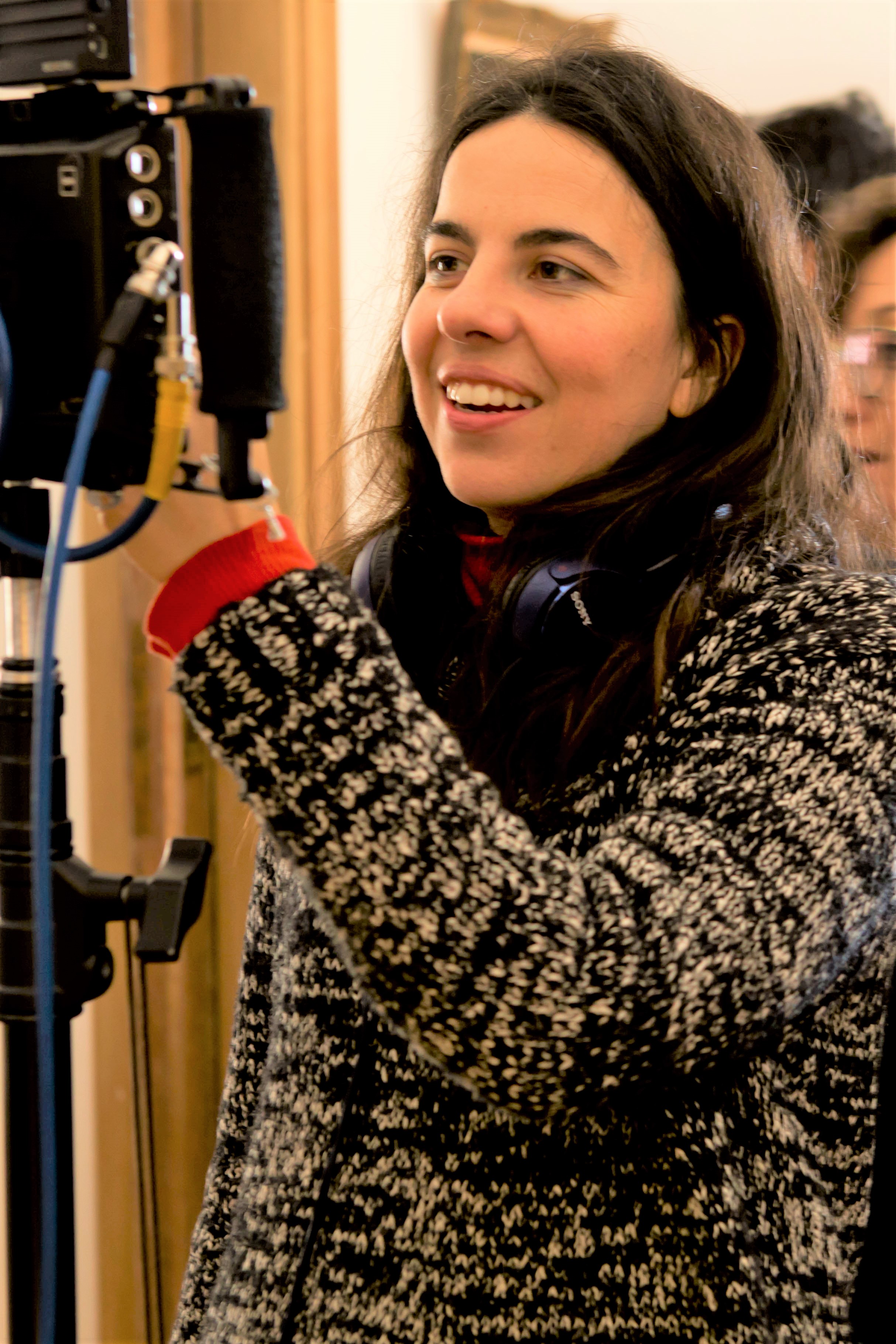 Finding an affinity for the Filipino community in Greece since she was young, Araceli went on to get her MFA in film directing at the California Institute of the Arts as a Fulbright scholar.
Holy Emy's story was inspired by Araceli's memories of healers coming to her house. I asked in our interview what that experience was like, as seen from her perspective as a young girl.
"It was confusing," she recalled. "I felt skepticism, hope, and fear at the same time. The thing I remember the most was a girl in a wheelchair, who was not communicative, and was brought by her mother. Over the months, I could see that there was a change in her and in her mother."
"The girl was getting calmer and her mother more joyful and optimistic. They kept coming and at times, I felt angry that they had access to something that I didn't really grasp."
"It was happening at my home," Araceli added. "The healers were not Filipinos but that was the first time I was exposed to healing. I was 17."
"The connection from that experience to how healing became part of the film is not straightforward."
"Years later, I was doing early research for the film, having the core relationship in my mind, that of two sisters who were outsiders in an immigrant community that was an outsider to the Greek mainstream."
"That led me to a Filipino church and when I witnessed a healing ceremony, it resonated with me. That was how I decided to set the sisterly relationship within this spiritual/ medicinal space since it brought up memories from a time that was scary and formative to me."
To research the script she was writing with Giulia, Araceli "went to the Catholic Church of Piraeus, where a large part of the Filipino community goes to attend the mass."
"After the mass, the parishioners go to a community space next to the church where they stay until late in the evening eating, singing songs, sharing stories."
"I was warmly invited to join and after that, I kept going. In one of the sessions, people stood in line to be prayed on by some elders."
"While being prayed on, a woman fell flat on her back. That was the first time I saw, with my own eyes, a healing ceremony. I didn't know at the time that there is a rich tradition of healers. I was in awe."
But Araceli's affiliation with the Pinoys in Athens began much earlier.
"I lived in Ampelokipi, which is the Filipino neighborhood," she recounted. "On Sundays, many of the basements get filled with Filipinos who belong in self-organized fellowships or small churches."
"Sunday is most Filipinos' only day off and they spend the day at these small churches. The worship is joyous and full of music, mostly pop. Many churches have their own bands."
"There are invited guests from church annexes in other countries. Every week, it is different."
"But if you weren't invited, as a Greek, you would never know what is going on in these basements. There are thick papers or curtains on the street level windows."
"There are very few non-Filipinos who attend – maybe a Greek boyfriend, or an elderly Greek employer who is there with his Filipino caretaker."
Araceli being able to find in Athens her lead actress, Abigael, who has never acted before, is remarkable.
"I had spent many years looking for the right person to play Emy," Araceli recalled. "The casting team found Abigael Loma at the Philippine School in Greece."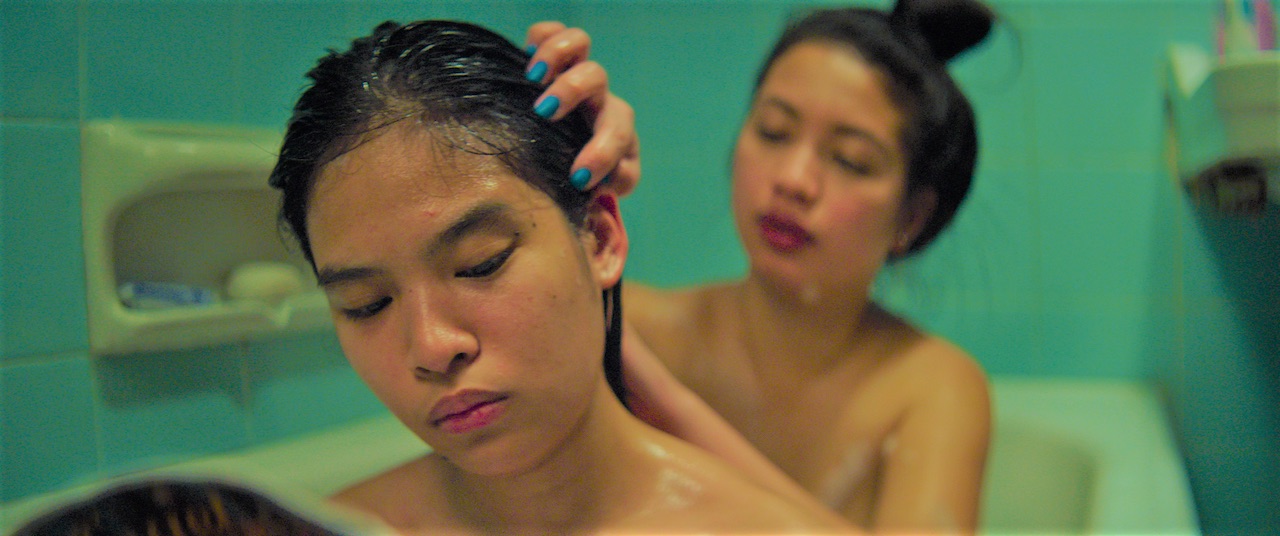 Born in Quezon City, Abigael and her family immigrated to Greece in 2008.
The debuting filmmaker described what she saw in Abigael: "At 19, she was a real force of nature. She had no acting experience but she had all the actor's instincts."
"At the auditions, she was bold, took risks, was emotionally open and available. I was very impressed."
"She hadn't done it before but she was ready and eager. She had a natural understanding of what I wanted from her and also understood Emy's character."
"She never read the script. I withheld it from her as much as possible in order to keep her performance present and fresh. Every day, Abigael entered into a new challenge, without holding back, always a perfectionist and very professional."
As for her other lead actress, Araceli narrated, "I first saw Hasmine Kilip in the beautiful short film, Junilyn Has. I knew she would be a perfect Teresa."
"I went to York, in England, to audition her. She was a young mom and I saw some elements of Teresa in her. But in many ways, she is the exact of opposite of Teresa."
"When things clicked was when Hasmine and Abigael met. From the moment Hasmine and Abigael got together, they were like real sisters. Hasmine helped Abigael open up, and their chemistry was special to watch."
"Abigael shared with Hasmine her real life experience as a second-generation Filipina living in Greece, while Hasmine shared with Abigael her acting and cinema experience, pushing Abigael to be as fearless as she could be. I was a lucky director to be working with two women of such strength and courage."
Aside from Junilyn Has, a short directed by Carlo Francisco Manatad, Hasmine starred in Eduardo W. Roy, Jr.'s Ordinary People (Pamilya Ordinaryo), for which she earned best actress honors from several award-giving bodies and film festivals, including Asia Pacific Screen Awards, Cinemalaya Independent Film Festival, Hanoi International Film Festival, FAP and Gawad Urian.
Araceli shared how she cast the other Filipino actors in the cast. "During the process of making the film, I met many Filipino producers and filmmakers who guided me and gave me ideas about the cast."
"Bianca Balbuena-Liew connected me with Angeli Bayani and Manuel Ku Aquino and the rest is history."
"I had actually imagined Angeli for the role of Linda while working on the script. It was such an honor to direct her in the film," the filmmaker said of Angeli, whose many credits include her acclaimed performance in Anthony Chen's Ilo Ilo, Singapore's best foreign language entry to the 2014 Oscars.
She is also a Lav Diaz regular, with a starring role in the auteur's coming Henrico's Farm.
As for Ku, Araceli said, "When I first met Ku, it was online. I had previously seen him in (Mikhail Red's) Birdshot, where his character also has a mentoring relationship with the protagonist."
"When we met, he showed me his hands and his ability to 'sell' magic tricks and I knew he was Luis. It was a great discovery and surprise to see the charm and complexity that he brought to Luis' character."
I learn in the production notes that Ku currently lives in my home province, Pangasinan: "Ku currently resides in his COVID-free beachfront villa, Mangas Point, at the Boundary in Sual, Pangasinan."
The Pinoy community in Greece, part of the continuing Filipino diaspora around the world, enthusiastically took part in Holy Emy in various capacities.
"I was embraced by the Filipino community in Athens from the beginning while making this film," Araceli pointed out.
"Most of the participants in the scenes were employed full-time, many as live-in caretakers or cleaners but they made time for the many auditions, rehearsals, wardrobe fittings, etc. that were required."
"Many had to fight their employers in order to be allowed to participate in the filmmaking process. They felt it was very important. I was moved by their dedication and trust."
"We spent hours after the auditions sharing stories about living in Greece, the many churches, their days off work, God, healing and evil spirits. Many of the things from the research and the auditions became part of the film."
Araceli estimated that "there are over 7,000 Filipinos living in Greece at the moment. But it is hard to tell because many are undocumented."
I asked Araceli if she discussed the healing practice and tradition depicted in Holy Emy with some Filipinos involved in the film, and if there was any concern expressed that the film may portray Pinoys as practicing voodoo or engaging in witchcraft.
"Yes, we spent endless hours discussing these elements," Araceli replied. "Each person has his own beliefs and superstitions or faith. The elements that I used are what worked for Emy's story."
"At the end of the day, the film is Emy's tale, not any type of documentary or based on specific healing traditions. Because there are so many."
"Some are denounced completely, some people believe in them and some are still in practice. What drew me to the idea of healing as a superpower is the idea of something inside us that we are scared of but at the same time is our power, something we carry, something that we don't understand."
"Maybe a generational trauma that will always be part of our narrative and once we can control it, it becomes a gift. With the people involved, we discussed their faith and practices and yes, for sure, some people interpreted it as witchcraft."
"Depending on where you come from, you experience Emy very differently and that is an essential part of the film. That Emy is being constantly interpreted and misunderstood in the various cultural spaces that she occupies."
"In Greece, I don't think people are very open to alternative medicine," Araceli added. "Western medicine is prevalent."
"People go for massages but even that is not very common. Alternative medicine like homeopathy, acupuncture, reflexology, etc. exist, but they are not very popular."
"I think people in general are dismissive. There are people like Mrs. Christina (Irene Igglesi) who were exposed to these practices abroad and imported them but the majority of Greeks did not embrace them. This has been my experience."
Due to the pandemic restrictions, Araceli screened Holy Emy to only a limited group, including some of the Filipino cast and crew.
"We did a small screening for the crew and some of the cast in Athens. It couldn't be too big due to COVID restrictions. Abigael has watched the film once."
"She was terrified seeing herself on the huge screen. Her little 6-year-old sister got very scared. But the rest of the Filipino actors and the community haven't yet had the chance to watch it."
"If you can believe it, I haven't been to the Philippines yet," the promising filmmaker answered my question. "I always thought that I would come during the casting but now with online tools, it wasn't necessary. I couldn't convince my producers to send me."
"My hope is that my first trip to the Philippines will be for the premiere of the film there. I will definitely attend. I have watched so many Filipino films that I feel like I will recognize a lot of things."
Looking back at her experience making her first feature, Araceli said, "It was, of course, exhausting. Long hours, many challenges, big scenes with crowds, with special effects, many characters."
"But overall, I had great collaborators who shared and reinforced my patience, stubbornness and persistence. That made me feel inspired and challenged and alleviated some of the stress."
As for the challenges, the director cited, "It took a long time to make my first feature film. I started writing it in 2013 and it was completed in 2021."
"I definitely faced difficulties – delays, rejections, uncertainty about whether we'd ever make it and if the story would continue to be important to me over the years. Fortunately, Emy and Teresa's story still moves me and I kept discovering things."
But now, with Holy Emy in the can, she remarked, "The most fulfilling aspect was seeing this big endeavor through. Every film is such a large undertaking."
"I wrote the screenplay for years. My producers and I persisted in trying to get the film made and there were long periods of nothing moving forward."
"Now that the film is completed, it feels like a big chapter has closed and I can move forward to other projects, other questions to wrestle with."
On Holy Emy's United States debut on November 14 at the famed TCL Chinese Theater in Hollywood, Araceli said, "I can't wait to share it with the American audience but also with longtime friends and collaborators in Los Angeles. The lineup of the festival is incredible."
"It's so great to see our film next to films by Pedro Almodovar, Jane Campion, Apichatpong Weerasethakul and Celine Sciamma."
"I hope that Holy Emy will get distributed in many theaters worldwide and the audience will get to experience it on a big screen," Araceli said as she looked forward to her journey with her first feature.
"I want it to travel, to get shown in the Philippines and Greece. I would like it to be seen by the Filipino diaspora and diasporic communities."
"The film is mostly about them and especially about the second generation of immigrants who are far away from their country of lineage and the feeling that there is a broken link between their home and the legacies they carry." – Rappler.com