The 'Crazy Rich Asians' filmmaker talks about bringing the Tony Award-winning musical to the big screen
On my way to the New York set of In the Heights in June 2019, I noticed a lot of people carrying beach or pool towels in the streets. It turned out they were going to be extras in director Jon M. Chu's film adaptation of Lin-Manuel Miranda and Quiara Alegria's Tony Award-winning musical.
The towels came in handy because the extras from the Washington Heights neighborhood ended up at the Highbridge Pool, a large community pool at the corner of Amsterdam Avenue and W. 173rd Street.
Jon, then fresh from the success of Crazy Rich Asians, wearing a polo shirt and shorts, directed some of his main cast and extras, some of them synchronized swimmers, in a joyful number on the pool. At one point, the filmmaker even jumped into the water, the better to supervise this exuberant scene.
In the Heights stars Anthony Ramos, Corey Hawkins, Leslie Grace, Melissa Barrera, Olga Merediz, Daphne Rubin-Vega, Lin-Manuel, Jimmy Smits, Marc Anthony and Gregory Diaz IV.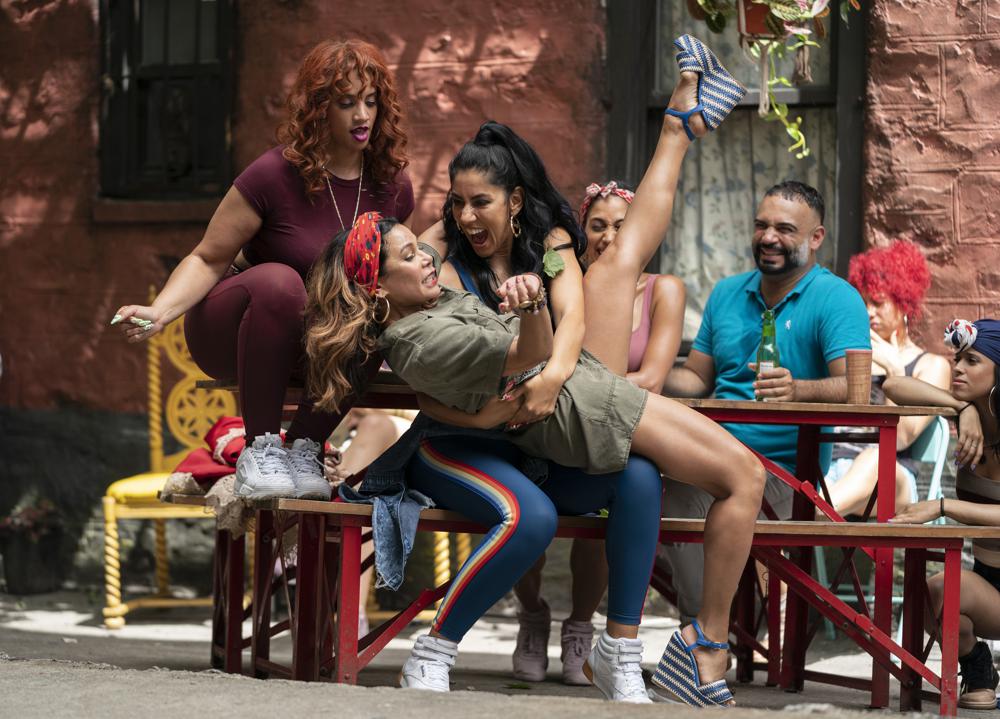 "It's called '96,000,'" said Jon about the title of the song his cast was singing while also dancing on the water. He joined the visiting journalists in between shot set-ups.
"There is a lottery ticket that has been bought. Someone has won this lottery ticket but they just don't know who. So they're getting the information that somebody in this neighborhood won $96,000."
"So, everyone's imagining, did I win? And what would I do if I won this $96,000? You'll see each person dream in it. You're just seeing the dance part and there's also a visual element on top of it."
"You'll see every character. The first one is Sonny (Gregory). He's a little 14 or 15. I don't think he has even started high school. He is trying to fight the system."
"He's going to dance next with younger people and they sing about protesting and trying to make their voices known. Other people have different ideas of that."
The 41-year-old director added about the scene: "This one has 500 extras, with 75 dancers, maybe 85, something like that. It's a huge pool. So it looks like 100 people, but it's actually 500."
As we sat huddled around Jon, he shared more details about today's location. "This place was one of the first places I visited here. I did not have a scene at a community pool at all. Quiara (Alegria Hudes), who wrote the script and the original book with Lin, gave me a do you know how awesome it is to have a tour of Washington Heights."
"They took me here and they're like, this is one of our favorite places growing up. I was like, we gotta do something here and we're in this this number of talking about winning $96,000. And we get to see the community dream."
"So it seemed like a perfect place. To me, honestly, I feel the Heights in my heart. You feel the community."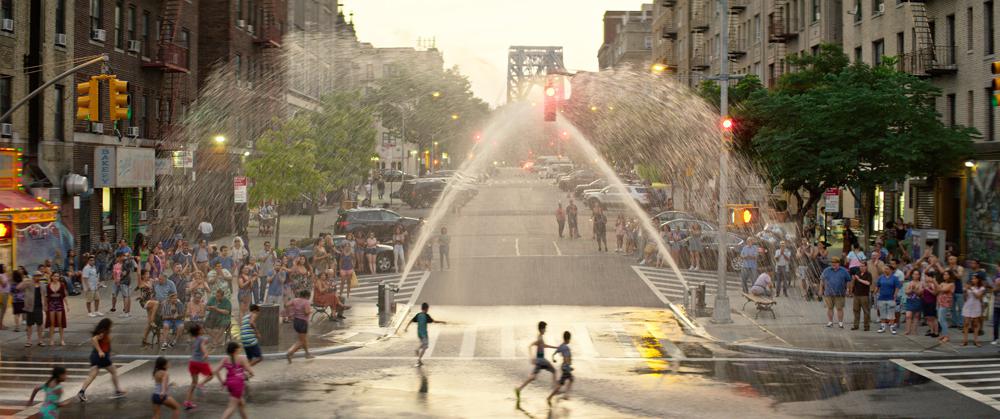 I teasingly reminded Jon that when Lin-Manuel first handed the script, which he also penned with Quiara, he wrote, "Don't f*** it up," with a smiley face emoji.
"Oh yeah," Jon said with a smile. "But I know that one, he did it in jest. And two, of course, I know the importance of what we're trying to do. I love the pressure."
"And it only makes me listen more, to be honest, to the community that we've now been adopted by. And by the dancers, extras, even the actors who come from here. I feel like I'm more of a steward of how do we express in the same way I work with dancers in the past."
"I'm not from where they are but how do I express what they are trying to do in their dance? You know the camera, how we edit stuff can contradict those things and can accentuate those things. So, I'm using what I know to help reflect the joy and sacrifice being made here."
Contrary to what some people think, the Palo Alto, California native landed the In the Heights gig even before Crazy Rich Asians became a critical and commercial hit.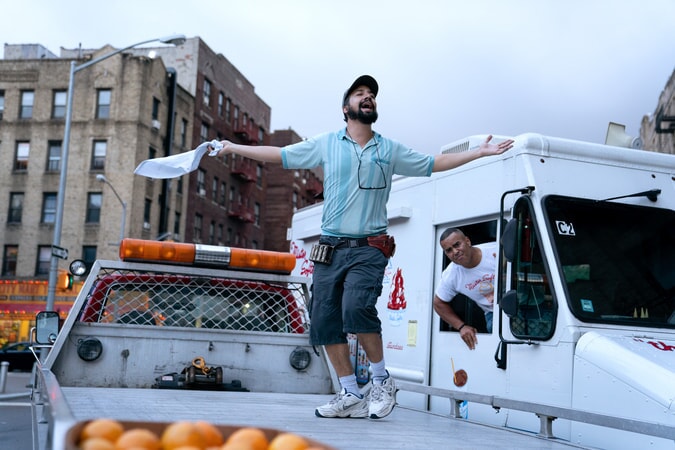 "I was attached to this before Crazy Rich Asians," he confirmed. "I thought I was actually going to do this first. But I did Crazy Rich Asians first. So it's been around. I've been on [In the Heights] probably for like three or four years now. And it was at a time when I just finished Now You See Me 2."
Asked how he, Lin-Manuel and the rest of the team expanded the story from the Broadway show and made it more cinematic, Jon replied, "The expansion comes from more internal conflict. The plot is a little different actually, from what we're doing."
"We went more internal, we went more of everybody choosing their path forward. The question was, what makes a home? Is it the people who are around you or is the place where you come from? Is it the place where you are headed to or is it where your dreams are?"
"You think, they are all these different things. The thing that spoke to me most especially was about just listening to the music itself because its very potent lyrics, words and melodies."
"This idea of everyone has to make a choice in their life at some point – our parents came over. They made the most rock star decision to check out and move somewhere else with nothing."
"We often skip over that – oh, my parents came over here from China and whatever year. That's the beginning of the story but actually that decision is emotional. You have to get to a certain point and make that decision."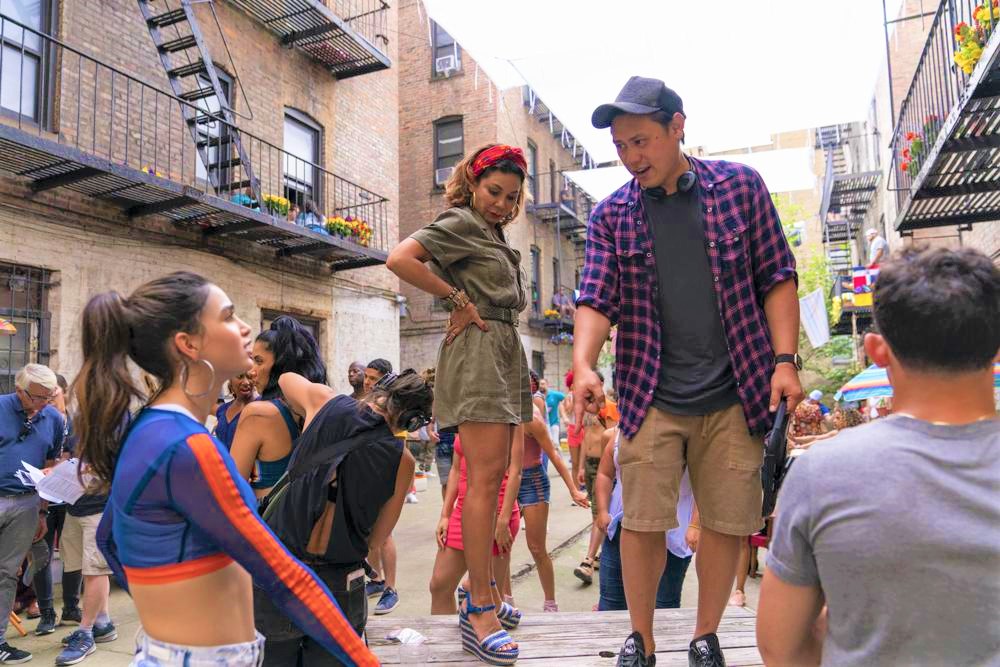 Jon himself is the son of Chinese immigrants – Lawrence, a noted chef, and Ruth, own a popular restaurant, Chef Chu's, in Los Altos, California. The youngest of five children was reportedly not encouraged to work in the family restaurant because his folks predicted he had another calling. The mom's video camera gift to Jon proved to be fortuitous.
"This generation, especially now, and we are 12 years after the original show, has a different struggle," Jon explained. "Gentrification is happening. It's not a fight. There's not some Mayor trying to buy out these blocks anymore, like it happened."
"So what is it that's most important to you as an individual, from your family, from your culture, from your friends at school to where you want to be, what is it that moves you forward – we went much more."
But Jon stressed that the story's still has a Latino perspective.
"Yes, Puerto Rican-Dominican," he said. "We have also changed some, like Melissa [Barrera], who is Mexican, to Mexican. So it's much more about searching for your place in this world. Everybody has different approaches to that."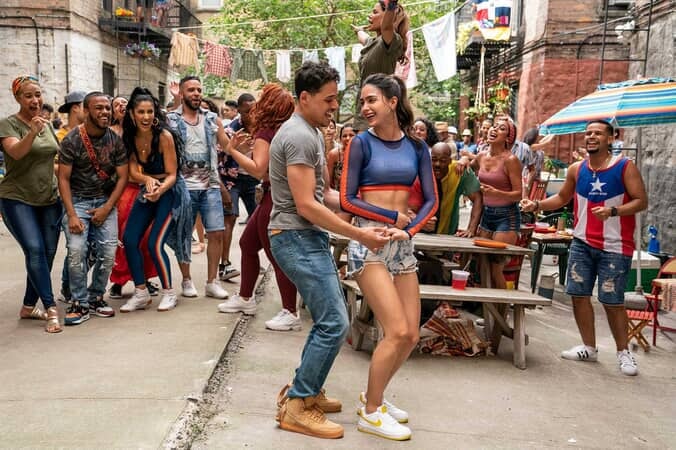 "Some people are trying to fight it. Other people just go with the flow. Some people look at where their parents came from and want to go back. I think what we wanted to paint a picture of wasn't just the picturesque American dream that we were taught."
"But that even this next generation has struggles and things to fight in order to find their home and be comfortable in their home. So we really wanted to target what is the new American dream? But that wasn't some fantasy that was painted for us."
"But that it's this hope that still exists. But how to get there, everyone has a different way. So tell our audience, young people, older people, whatever path you take, it may be different than some of our characters."
"But we tried to paint a palette of everybody having different decisions. That it's okay that your decision is your personal one."
"Winning a lottery – to me that that negates a lot of the issues if you suddenly win the lottery. You're like, you can use the money for this or for that."
"So we tried to remove the easy out and we have the storyteller elements, where older Usnavi (Anthony Ramos) is telling the story to his daughter. I don't know if I'm supposed to say or not but whatever (laughs). And the story of this community that he grew up in. And we get to see through her eyes."
"That's why it's a musical because if he says the streets were made of music, in her eyes, we literally show the cans on the shelves rattle to the music. We tried to extend the idea of expression, even beyond music itself to dance."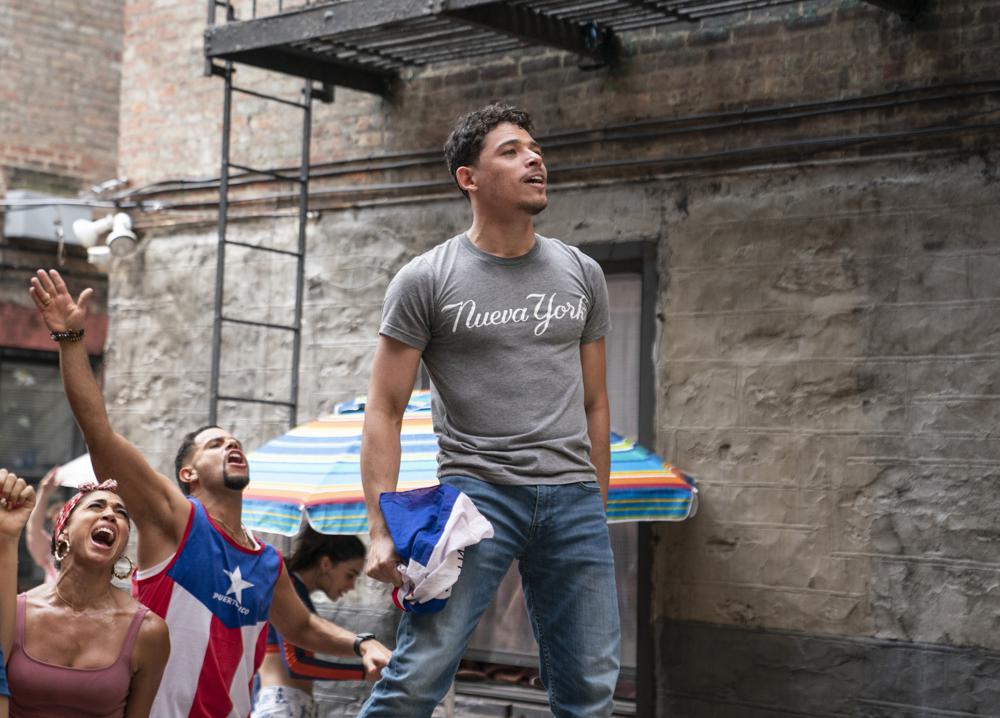 On whether In the Heights – with its Asian director, a predominantly Latino cast and a female cinematographer (Alice Brooks) – is a major sign that Hollywood is truly going diverse, Jon answered, "For me, we've worked for so long it isn't that weird. But Hollywood in general? Yeah."
"It's nice to have consciousness of that. There is an active pursuit of that. But there's in no way any compromise of who we're choosing or how we're choosing."
"It's just the idea that there's no prejudgment on that. Alice Brooks is not a loud, rowdy DP who is yelling at people. She is this under force and you can feel when she walks in, the earth rumbles and everybody follows. It's a cool thing to witness."
"And yes, it's a very exciting time. There's a lot more to do but I feel privileged to be a part of that movement forward. It's not just the right thing to do."
"It is the better thing to do for the future of cinema. We need new voices, new ideas on how to present worlds, especially real places."
Jon elaborated on his collaboration with Alice on a musical like In the Heights. "I love Alice so much because she understands. There's a way to shoot a musical where it can be poppy, loud and all those things."
"And there's a way to shoot from the inside out. Alice knows how to do that. She knows the honesty, the authenticity of where it comes from."
"How she lights, how she presents the frame. She's like my left brain but at the same time, she brings so much to this. I'm really excited that we get to do this together."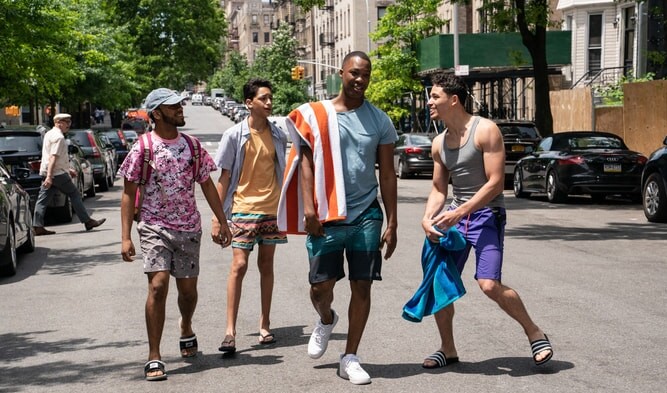 Jon played one of the beautiful songs in the soundtrack, "When You're Home," performed by Leslie Grace, Corey Hawkins, and the cast.
"The beginning was all live," Jon volunteered. "Sometimes we'll do live, sometimes we'll mix it. This one, just for my own edit, I just went with a recording except for that beginning section."
"That beginning section is them. They all have great voices. I don't think most people know that Corey (Hawkins) can sing and dance like that. Some people know. But everybody is like a rock star."
"This is a really exciting time and this cast feels so special to be in their life at this moment. They are going to charm the pants off the whole world, no doubt. They also put in the work the last two and a half months working together, really hard."
"This is not easy dance. They're not trained dancers. They got a lot of bruises on their ankles and their feet. And they have a lot of bandages right now."
The filmmaker credited his musical's studio backer for allowing him full creative rein in the casting.
"Warner Brothers let me cast the way we needed to. They weren't forcing any stars in this. We wanted to find the people who best represented these characters in the in the new way that we were painting them."
"We wanted to find actors who could express themselves in the language that we are doing in all those ways, in the most exposed, honest form. So that's what we really looked for."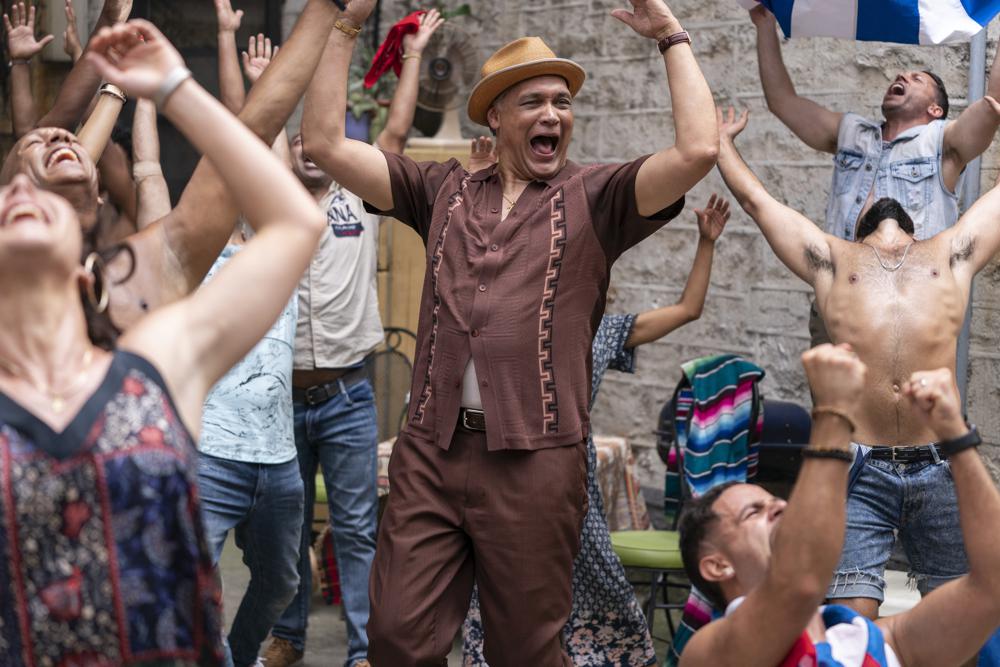 "Then when we got them together. It was like, alright, who matches up with who the best way. Jimmy Smits is amazing. Olga [Merediz], who plays Abuela Claudia, kills it. There's a number where…I don't know if I should say that."
"Well, I'll show you one thing (laughs) and then I do have to go. So, we're doing a number that two sing at the end of the movie."
"She [Nina, played by Leslie Grace] has come back from Stanford. She's left early, and she has to tell her father that she dropped out because there was pressure. It was too much for her. So she's come back home in retreat."
"Corey [as Benny], who's the only African-American person in this block – he's not even from the area – but he has chosen this place as his home. They used to have a relationship. It's very complicated but at a certain point, they get back into the relationship and they know that this is temporary and they have to say goodbye."
"So they have this number called 'When the Sun Goes Down.' They know it's the last time they're going to be together. And who knows what the future will hold. She's going back to Stanford. So it's a sort of goodbye."
"The song turns into a dance on the side of the building because they're singing on a fire escape. So we've seen the whirlwind where it goes inside to outside on fire escape. They're going to be physically doing that on the floor that we're building as a side of the building."
"In order to design the choreography on that, we had to figure out where the cameras should be, when it should be horizontal for our own sake, and when it should be vertical for the effect. So we actually got a previous area."
In the Heights may be Jon's first time to direct a full-blown movie musical but many of his earlier projects have dance or musical elements.
At the USC School of Cinematic Arts, Jon's two short films which won awards, Silent Beats and When the Kids Are Away, were musicals. He was going to direct a remake of the 1963 classic musical, Bye Bye Birdie, and a teen take of The Great Gatsby but those projects fizzled.
Jon himself had a dance crew, AC/DC (Adam/Chu Dance Crew). He honed his skills in helming music and dance-driven material with the films, Step Up 2: The Streets and Step Up 3D, and the web TV series, The LXD: The Legion of Extraordinary Dancers.
"I grew up going to musicals every weekend," he recalled. "I grew up in the Bay Area. My parents would take us to San Francisco for either opera, ballet or musical season. So, I was a big fan of musicals growing up. They didn't do this consciously."
"But all my films growing up were music-driven and are actually musicals. The student short that I did, called When the Kids are Away, was my calling card, as they call it, into the business."
"It's what Steven Spielberg saw that got me in. That was a musical. So it's been a long time coming. I always thought musicals was like my dream to be able to do."
"I was attached to Bye Bye Birdie for my first project back in the day. We never made it but I was 23 years old at Sony. It was with Amy Pascal and Lucy Fisher."
"I thought that was going to be my first movie. We spent two years developing that and ultimately never made it. This was 2002, 2003, something like that."
"And then I wanted to find the right musical. And this one just had all the elements that I felt it's time to do it. I've done a lot of stuff with dancers over the years. Our The Legion of Extraordinary Dancers was this online dance series."
"Alice shot all those episodes. We did three seasons, so 30 episodes. They're 15 to 20 minute-shorts. Each one was a different style of dance and different cinema style cinema."
"We did a film noir, Western, action, and comedy with dance. It was almost our laboratory to figure out how far can you take dance dramatically in a scene."
"We made mistakes and we made great calls. I love working with Alice because we've done the work for 10 years. Together, we've been playing around with movement."
"So when we talk about real people here in the community that we're trying to reflect, we get to use those lessons that we've learned and really tap into that for this."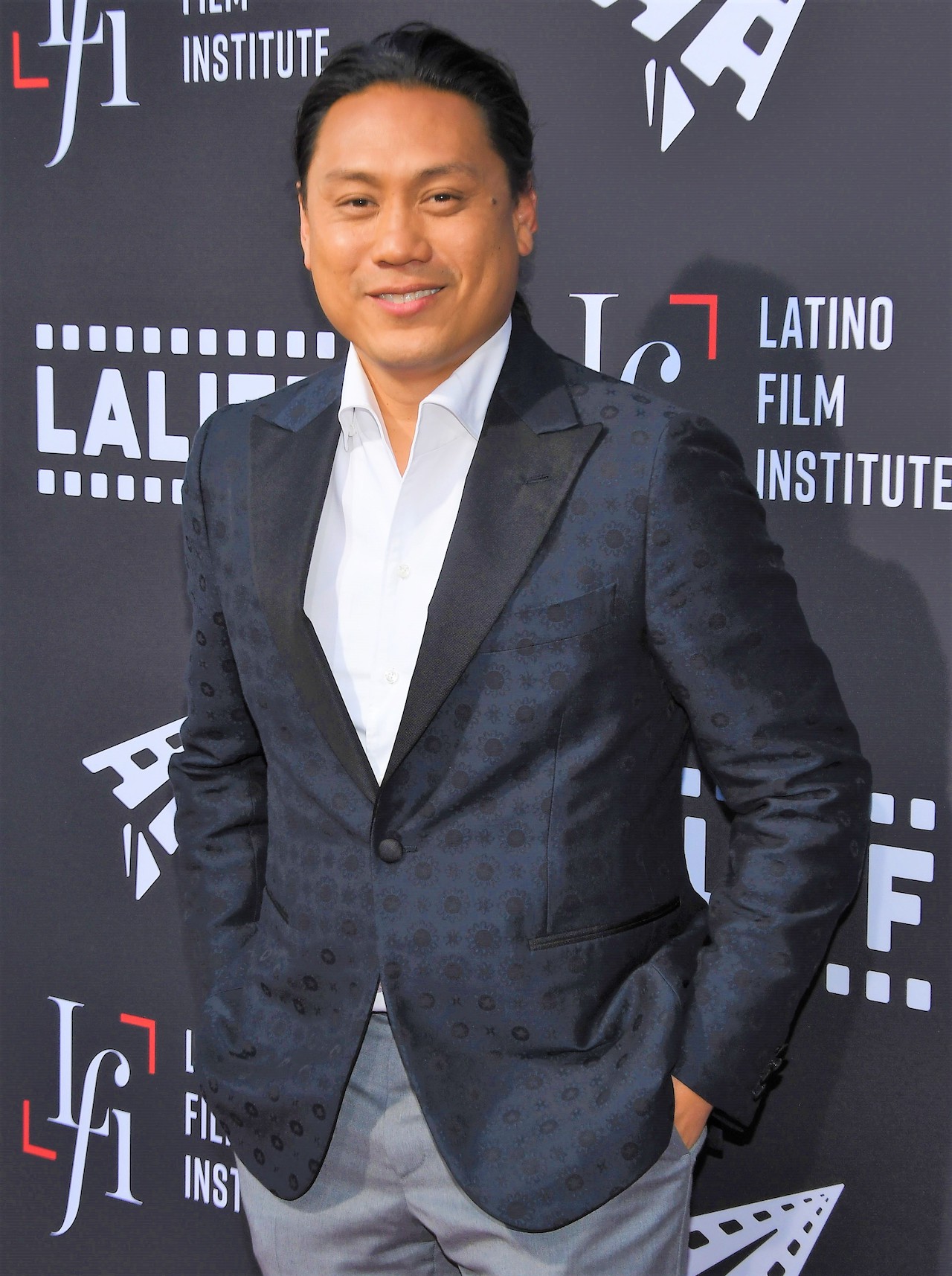 Jon acknowledged that In the Heights pays homage to music and dance icons. "We have lots," he enthused. "We have Fred Astaire, Ginger Rogers stuff on the bench. Michael Jackson. Even music videos that I grew up with. All those things."
"Whoever expresses himself in music and dance, that's what we have drawn from. So the show itself has a lot of homages from Rent to Disney musicals, all those things."
Jon's musical directing legacy will continue with his much-awaited take on Stephen Schwartz and Winnie Holzman's beloved Wicked, which is in pre-production.
Speaking of much-anticipated, Jon will also direct, with Kevin Kwan as writer, two films to complete the Crazy Rich Asians trilogy: China Rich Girlfriend and Rich People Problems. As if his plate wasn't full already, Jon will also helm an untitled project about the Thai boys soccer team which got trapped in a cave in 2018. – Rappler.com