The two stars talk about choreographing the scene and why it's important to describe it the right way
"Why do we sometimes use words like steamy or erotic when we're describing a scene of a same sex nature?"
Kate Winslet was talking about a sex scene between her and Saoirse Ronan in director Francis Lee's passionate drama, Ammonite.
"Why can't we use words like intense and powerful because those words describe the scene itself?" added the Oscar and Golden Globe-winning best actress, who appears to be poised to earn another nomination for her performance in the new film.
The sex scene is a denouement of a slow yet intense build up of forbidden love in the 19th century between Kate's real life paleontologist, Mary Anning, and Saoirse's Charlotte Murchison, who was a married woman and a budding fossil hunter herself.
Set in 1840s England, Ammonite is based on history but takes interpretive license on how the two women developed an intense relationship in those Victorian times. In often wordless scenes, Kate and Saoirse's expressive eyes convey their longing and emotions.
Kate, who made the Zoom call from Pennsylvania where she was filming a new movie amid the Joe Biden-Donald Trump presidential election hubbub, continued about the consummation scene of Mary and Charlotte.
"What I'm finding very interesting through talking about Ammonite is actually how often LGBTQ themes, particularly between two women, the way the intimate scenes are often described by the press – I'm not saying you."
"But sometimes certain publications might describe those types of scenes in ways that I realize make them controversial when actually they're just intimate scenes that happen to feature two people of the same sex. So it's the description of those scenes that somehow takes away from the intensity and the power, particularly if it's two women."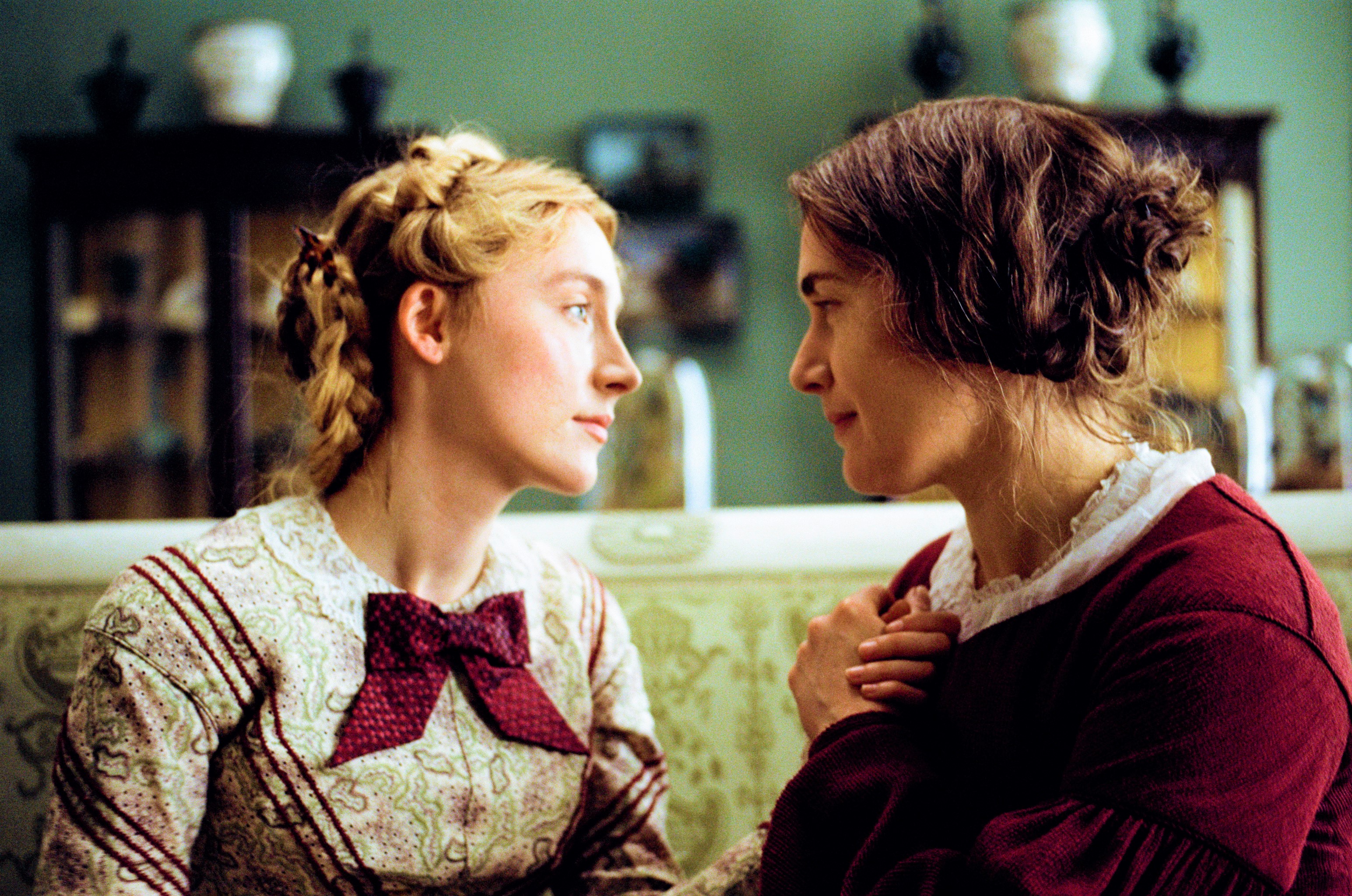 "It's important that we acknowledge that we have to be careful how we use our words to describe intimate scenes in same sex films. We have to be mindful that we aren't falling prey to a generalized description of the entire film because of an intimate scene that is subsequently described in the media in a controversial way."
In the crucial scene that happens toward the film's end, Kate and Saoirse refused body doubles and plunged into the climactic moment in the nude.
Kate was quoted as saying in an interview with The Hollywood Reporter, "I'm nearly 45 (she turned 45 last October), and Saoirse is almost half my age (26). And to have an opportunity to be my real 40-something self, post-children, you know? Women aren't really having the courage to do that. I was just excited to say, 'This is what it is, peeps. This is how I am now,' and it's very much not the body I had 20 years ago. And I also worked on maintaining that sort of heftiness to Mary."
"Well, it's true," Kate laughed when I brought up that quote. "I always try and be as truthful as I can in the roles that I play and also in the things that I say publicly. Now, more than ever, because young women crave integrity, leadership and strong role models, much more so than 20 years ago. So I feel a responsibility to those young women."
Kate confirmed that she and Saoirse took an active role in choreographing the love scene. "It was important to Saoirse and me to contribute to the construction of our scenes, to really use our voices as our characters and underpin the narrative with what we believe was right for these two characters. Francis Lee was very much a part of it with us."
"But Francis absolutely allowed us as women to decide for ourselves what we felt comfortable with. He supported all of our choices. But most importantly, it made us feel as though we were being true to the love story that we had created."
"It made us feel true to the intimacy between these two women, particularly at a time when public displays of affection for men or women, was not something that was seen, shown or even addressed. So for us to show how connected these two women could be behind closed doors in their most private moment, that was very important to us."
The power of the film is the nonverbal dynamism between Mary, a gruff introvert who'd rather be alone on the beach, looking for fossilized relics inside large rocks, and Charlotte, who is depressed from a miscarriage.
Kate said, "The most important thing to Saoirse, Francis Lee and me was that the physical intimacy underpinned the longing and the love that these two women feel for one another in a very truthful way that supported the narrative. So we discussed the structure of each intimate moment when we were in rehearsals."
"That was very helpful, just because often, as with any scene of an intimate nature, it's very important for each individual to understand exactly what's going on, just because you have to choreograph things, a little bit like a dance apart from anything else for continuity reasons. You can't just improvise each take. It's the same as any other scene in a sense that you really do need that structure."
"But you need that structure more so than in a love scene because you don't want to have to think about those details. You want to be able to stay connected to the individual. For Saoirse and me, not having words was a real reflection of Mary and Charlotte's relationship."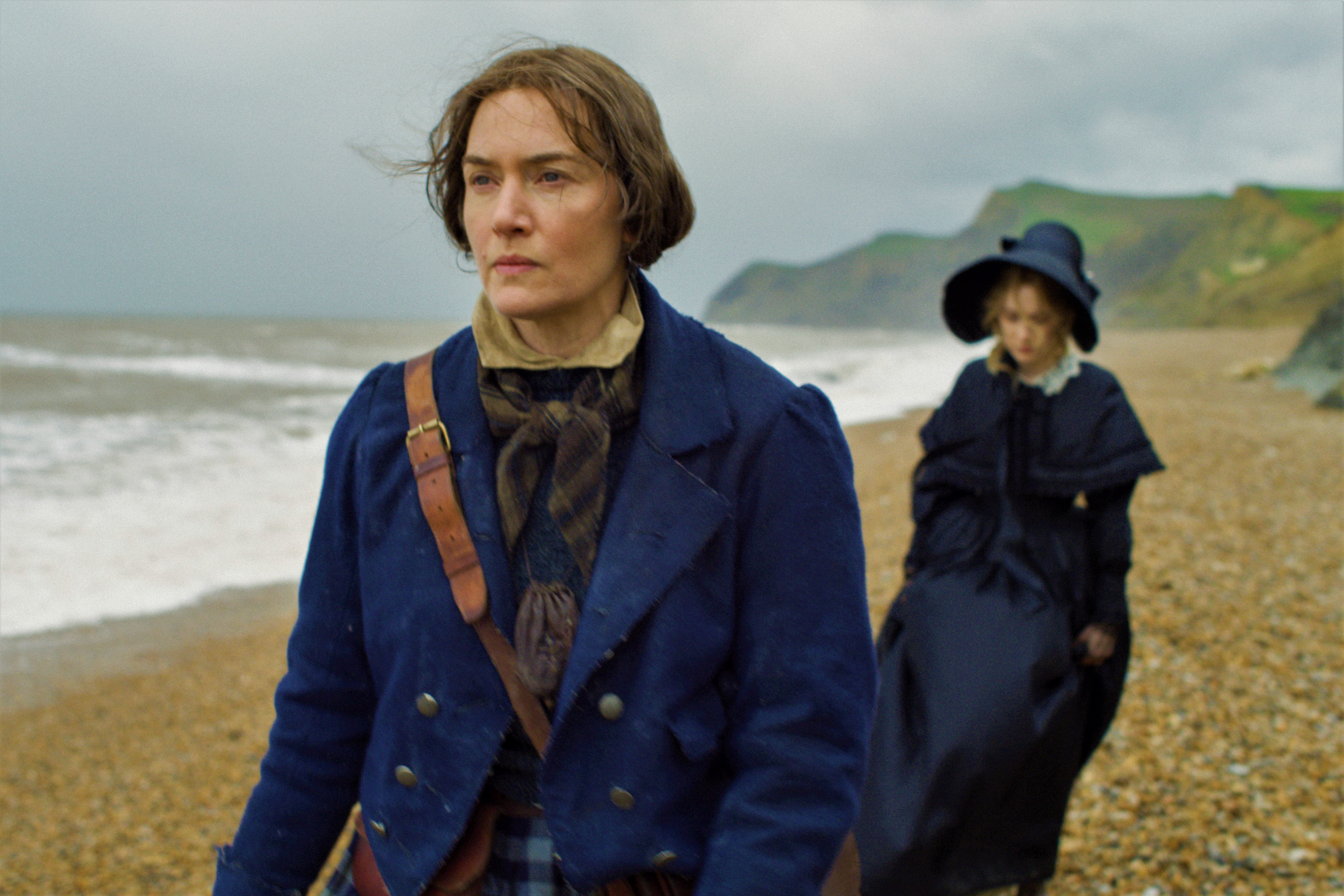 "The verbal communication between those two women is so sparse anyway throughout the story and in particular for Mary because she was quite an introverted shy woman. She was lonely and lived a very isolated life that was separate from society which was very accepting of the patriarchal environment."
"This was a world that was filled with a level of repression that was systemic of the time. Removing words from the intimate scenes really allowed us to explore the longing, desire and depth of the connection between these two women and to explore the femininity that comes with a same sex scene of that nature."
"It was really a privilege to take part in something like that. For me, in removing heterosexual stereotypes, I learned a lot. It felt very different because Saoirse and I were two women, and women know what women want, right? So that made a really big difference to us."
"It felt very equal and safe. We didn't feel objectified in any way. It made me realize that perhaps I have felt maybe a little objectified in the past and without really knowing it. It brought up a lot of really interesting stuff for me."
Kate pointed out that discussing Ammonite these days made her realize certain issues.
"One of the things that I learned and I'm still learning actually, having played a woman who falls in love with another woman, is that it brought up a lot of stuff for me in terms of how perhaps I may have been a little bit objectified in the past."
"I am not angry. I don't feel aggressively about this. I just feel assertive in my thoughts when I reflect on intimate scenes of a heterosexual nature that I have taken part in before. It has made me question, was I okay with that? Did I really allow my thoughts to affect my decisions? Did I really stand up for myself?"
"Did I really participate in decisions about the choreography of certain scenes in the past? This does then, of course, affect one's feeling of power as a woman. Of course, one's power as a woman is connected to what we say, how we feel about ourselves, how much we love ourselves. Yes, sexuality and all of those things."
Saoirse, for her part, said in a separate video call that she has "never really felt that nervous doing sex scenes. I've always been in good hands. I've been working with people that I trust, which is a massive thing. I know not everyone has had that but I've been very lucky that I have."
"But what set this experience apart from the rest is yes, definitely that Francis took a step back and allowed Kate and me to really hold the reins in terms of the choreography and where the scenes would go. Just having the authority to have that creative and technical control over something is incredibly helpful when you then go onto set to do a scene that can make you feel incredibly vulnerable. Instead, we felt quite empowered by it."
"I've always seen sex scenes as completely technical scenes anyway because they are, very much…you put your hand there and then I'll move here. It has to be that way in order for you to get through it and not be nervous. So there was a plan in place for us that we had created for ourselves. It meant that there were no surprises."
"There was nothing that was unexpected. We felt comfortable with each other. Kate and I very much feel like we're on the same wavelength. That made a massive difference."
Saoirse, who was calling from England ("So it's very dark and cold"), revealed, "We didn't have an intimacy coach. I'm sure we could have had one if we had asked for one. But there were like only six people in the room and as I said, Kate and I planned the whole thing out ourselves so that was really helpful."
On the lesbian relationship she and Kate portray in the film, the 2018 Golden Globe best actress-musical or comedy remarked, "In any film, whether it's a heterosexual or a gay relationship, I've always felt with any sex scene, it's an interesting thing to see two people wordlessly connect. That can give you a real insight into the characters."
"The thing that gives me a better scope of who these women are and what their relationship is, is when you see them working together. One of the things that I find interesting about what came out of those more intimate scenes was that weirdly, I felt this when we were doing it and I could see it in the scenes in the final cut, I felt like the roles reversed a little bit."
"So Charlotte went from being, all her life, this very vulnerable, reserved woman who didn't say very much and really felt like she was in chains, socially, emotionally, sexually, to really becoming the instigator, in a way, in these scenes."
"You see Mary – she's gone from being a bit more domineering and very much the boss in the relationship to showing her vulnerability and her kind of innocence that you don't see the rest of the time. So the intimate scenes serve a purpose in that sense that you get to see the more domineering side come out in Charlotte and the more vulnerable side come out in Mary, that they feel safe to do that with one another."
Francis, who also directed the acclaimed God's Own Country, enthused about his two actresses' total involvement in their roles. Both are excellent.
"What was wonderful with the way in which Kate and Saoirse worked together is that they really talked with each other. They really went through those things of, I am comfortable with this, I am not so comfortable with that, this would be good, let's try this."
"I then saw my job as to just facilitate all of that because doing intimate scenes is so difficult and complex. You want to always be fantastically respectful and open to them."
In the video call, the filmmaker talked about learning more about the environment women like Mary and Charlotte lived in.
"I did an awful lot of research into female relationships of the 18th and 19th century…It really made me think about how did those relationships operate in that society which was completely patriarchal. So sexuality wasn't defined at all until the late 19th century and then only for men, firstly with homosexuality and then latterly with heterosexuality."
"Because I think at the time, the medical profession believed that women didn't have any sexual pleasure organs. That two women would be together, in anything other than companionship or friendship, was an idea that this society never even thought through. There was an opportunity for women to live together. It's very well documented that women lived together in relationships within communities and societies."
"What's also super interesting is that there's no evidence whatsoever that Mary Anning had a relationship with a man. But there is evidence that she had friendships with women, like Elizabeth Philpot (played by Fiona Shaw) and Charlotte Murchison."
"What I found super fascinating is that there has been a couple of people who have said there's no factual evidence of what I am suggesting. But there are also a couple of fictionalized novels written about Mary Anning's life. In one of those novels, the author suggests that Mary Anning had a relationship with a man."
"Nobody complained about that. Nobody thought that that was a problem or an issue. It really made me think about where we are at in terms of politics around not just sexuality but women. It made me realize that we haven't quite moved on in the way in which I thought we might have done."
For Kate, playing Mary Anning opened her eyes some more to the inequality and discrimination that women experienced in those times, especially the repression of lesbian relationships.
"Often those close intense friendships like sisterhood would spill over into a more intimate connection, even though both women sometimes might be in marriages to men," Kate cited.
Mary did not get full credit for many of the fossils she excavated. Journals during that time did not even mention Mary's name.
Kate explained, "More often than not back then, women had to be married to a man in order to have some sense of social standing, finances, a roof over their head, clothes to wear and to live a life separate from their families."
"Women could only be married. It was very unusual which is why I have so much admiration for Mary Anning that a woman would not marry and that she would actually work and live for herself. It was almost unheard of so Mary was extraordinary in that regard."
"A formidable, extraordinary, intensely intelligent woman who had an amazing capacity to accept that she would never have any real scientific significance in the world that she lived and functioned because it was a patriarchal world. Now, yes, she is recognized absolutely by the Geological Society of London."
"Her first ever find that she found when she was 11 years old is displayed in the British Museum. It's still there today and yes, her work is being more recognized now. It's being more celebrated now and hopefully, with the film, will be even more so."
In 2010, 163 years after her death, Mary Anning was finally recognized as one of the 10 most influential female scientists in England's history. – Rappler.com