'For so many centuries, we have been made to dislike ourselves so much that it seeps into who we favor in terms of actors,' Chai muses
LOS ANGELES, USA – As if the breakthrough performances of Dolly de Leon in Triangle of Sadness and Soliman Cruz in To the North weren't enough, now comes Chai Fonacier starring with no less than Eva Green and Mark Strong in Nocebo.
Nocebo, a psychological thriller shot in Ireland, completes this year's windfall of major roles in European films copped by Filipino actors – who usually play supporting parts in the Philippines. What's especially remarkable is that Chai, Dolly, and Soliman have not only bagged big roles in significant international films, but they portray Filipinos, not other nationalities, in these movies.
Chai, whom I recently talked to in a video conversation, gets top billing alongside Eva and Mark in Nocebo. She plays a Filipina who enters the UK (Ireland subbed) household of Eva, Mark, and their daughter Bobs (Billie Gadsdon).
I still have to see the film directed by Lorcan Finnegan (Vivarium and Without Name), but like many others, I was hooked just by the trailer showing Chai's prominent role opposite Eva, whose many credits include Penny Dreadful, Casino Royale, and The Dreamers, and Mark, noted for the coming Tar, The Imitation Game, Sherlock Holmes, and the Kingsman movies.
According to the production notes of the thriller, written by Garret Shanley, it's about "a fashion designer (Eva) who is suffering from a mysterious illness that puzzles her doctors and frustrates her husband (Mark), until help arrives in the form of a Filipino carer (Eva), who uses traditional folk healing to reveal a horrifying truth."
When Variety announced the project last year, reporter Manori Ravindran wrote, "The film, which marks the first co-production between Ireland and the Philippines…(is) set between London and Manila. The film's themes explore consumerism, human exploitation, and the fast fashion industry, as well as the brain's power in deciding whether to harm or cure the physical body."
"'Nocebo' is the antonym of 'placebo,' and refers to the Nocebo Effect, in which negative thinking on the part of a patient results in a more negative outcome."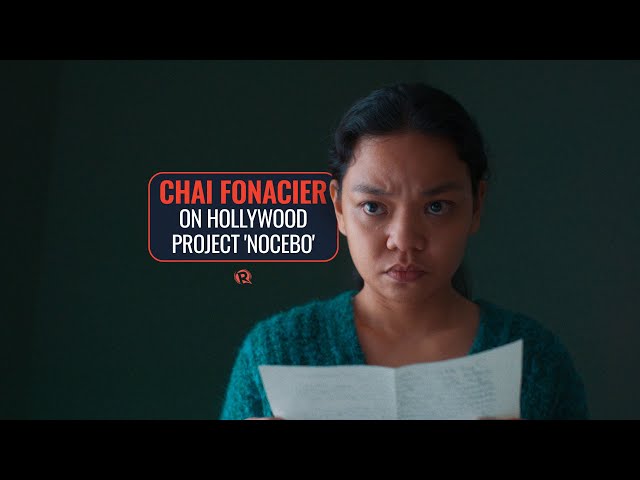 "I'm so sorry for waking you up so early in the morning," Chai said with the most engaging smile when I chatted with her via Zoom at the ungodly hour of 4 am in Los Angeles. It was early evening in Manila, where Chai has been based since moving from Cebu.
Born and raised in Cagayan de Oro, Chai studied at UP Cebu. She was always drawn to acting since she was a kid. But she is also a musician and belonged to several bands.
Chai's first big break came via Ara Chawdhury's Miss Bulalacao, a comedy-drama-fantasy in which she co-starred with Tessie Tomas and Russ Ligtas. She bagged the best supporting actress award from the 2015 Cinema One Originals Digital Film Festival.
Chai would go on to win another best supporting actress prize in 2017 from the Film Academy of the Philippines for Victor Villanueva's Patay Na Si Hesus.
"Oh, I love Bianca (Balbuena)," Chai said when she learned that I had met Bianca and Bradley Liew, who co-produced Nocebo (with Brunella Cocchiglia and Emily Leo), at the recent Venice Film Festival.
The actress added, "When Bianca invites me to audition for things, I usually have a huge feeling that the film's going to be really good."
Chai also starred as Lady Berry in an Asian film, Franklin, a four-story drama. Her TV credits include Maria Clara at Ibarra (as Lucia) and Ang Probinsyano (Cheche).
The following are excerpts from our video interview:
Congratulations on landing this role. How did you get the part?
Ah, interesting story. Bianca Balbuena, one of the co-producers of the film, asked me to audition. It was the height of the pandemic. There were no vaccines yet and everything so we were all locked inside the house.
And I didn't have a job at that time because the pandemic affected the film and TV industry so much. But interestingly enough, the week before I got the invite, I was looking at YouTube videos of Eva Green in the series, Penny Dreadful, because there was this one scene that was just really beautifully done by her.
I was geeking out on it with my friends, "Look at what she did, look at how she did it," etcetera. And then the week after, I got the invite. But at that time, I didn't know that Eva was playing the other character.
I'm like, "I don't have a job. Of course, I'm going to audition." I did an audition video. My friend was reading with me online. Then the next day, I had more questions about the character so I asked Bianca more information about who my character was, where she's from, how old she is, etcetera.
Then Bianca reveals to me that Eva was playing the other character in the script that I was given. So, panic attack! Because of that, I was so nervous. I didn't finish my audition videos up until five in the morning.
My boyfriend and my friend were up with me the entire time. But eventually, about a couple of weeks later, if I remember correctly, Bianca told me that I bagged the role.
Where were you and how did you get the good news?
I was just here at home really. I can't remember anymore because my memory about it is fuzzy now. This happened in late 2020.
If I'm not mistaken, Bianca was the one who messaged me on Facebook because she was also trying to set up a meeting between Lorcan and me. I think they wanted to see a few more variations of the audition.
And so that's when the collaboration really started, the back and forth and the forming of the character before the shoot happened in early 2021.
What are you looking forward to about watching the completed film?
I'm very nervous about it but it's really just a normal reaction to every film that I do. I normally do get nervous before watching the entire thing. But I trust it a lot because I've worked on the character for a long time.
I've collaborated with the people involved in this project so much that I feel a little confident about what I did with the character. I feel confident about the story and especially knowing how much they researched for it and how much respect they have for our culture, which is very much in the film.
Without giving everything away, can you describe your character, Diana? And can you clarify if your character is a nanny or a caregiver?
The film is set in the UK but we shot in Ireland. It's so hard to describe Diana without giving out spoilers. But she does enter the household as a househelp/nanny and I think it has already been mentioned in other articles.
She's also there to help Christine, Eva Green's character, with some of her physical ailments. So, she uses folk healing to do that.
Did you find out from the film's writer, Garret Shanley, how he came up with the idea of a Filipino help or nanny in his story?
I think they told me but I forget now why they chose our culture to be a part of their story. But I do know that it's a commentary on consumerism and fast fashion and as a result, labor.
So, regardless of which country you're from, if you watch the film, you can understand what the film is trying to comment on because I think it's happening everywhere.
And what is your relationship to the folk healing traditions and practices in the Philippines?
Not very deep but I did grow up with some of it, like how Filipino parents, when their children get sick, we'd be given paracetamol, but at the same time they'd call the local albularyo or hilot just to make sure that it's not because of the white lady at the mango tree.
So, I did experience the ritual things. I don't know what she (healer) was doing because I would sit there and she would just tower over me. She would whisper some stuff over my head over here, rub some stuff, and do that (blow).
I just sit there. I don't know what the hell she's doing. And then she'd go, "Okay. Your child is just sick. It's just plain flu."
Or she would say, "Oh, because they were playing somewhere and they disturbed something. So, tell your children not to play there anymore." That kind of stuff.
Can you share which province you grew up in?
I was born and raised in Cagayan de Oro before I moved to Cebu for college (UP Cebu) and worked eventually there. And then I moved here to Metro Manila in 2017.
Did you have rehearsals first before shooting began? And if so, was that how you first met Eva Green and Mark Strong?
Rehearsals were a little difficult, being that it was the pandemic. So there was a lot of Zoom calling and discussion. I like that they did that because in some of the films that I've done, we barely have time to do those kinds of things.
Normally, they would rehearse (in person) but because it was the pandemic, we could only do it on Zoom. Plus, the discussions on how we form the characters and the relationships between those characters.
While I was in quarantine in Ireland before the shoot, because quarantine was a requirement at that time, that's when I first met Eva. We did the table read for our scenes and some character work.
I first met Mark Strong on set. I was already on day two, I think, of the shoot. And he was there for costume fitting. So, one of the ADs brought me over to his trailer because I also wanted to say hi and I wanted to meet him. I was anxious.
I've seen some of his work and for some reason, he attracts focus. When I watched his films, I go, who is that character? Who is that actor? What's his name? So, I look him up.
So, every time he shows up in another film, I'm like, it's him again. Yes. It's the same with Eva. I have the same feelings with Eva. Every time I see her in any of her work, I'm like, yes, hello. I like to watch this.
But yeah, that's how I met both of them. They're both really nice to work with. They're both very generous with advice or with satisfying any curiosity I might have in terms of what's it like working internationally, acting, etcetera.
So, what was it like to shoot your first international film in Dublin, Ireland? And first of all, when did you work on the film? How many weeks or months did it take?
If I remember correctly, I think I arrived there sometime in mid or early February of 2021.
I was there for a good six weeks. So, we shot the Ireland scenes there, and then in June of the same year, the director, producers, and the cinematographer flew to the Philippines. We shot the Philippine leg of the entire shooting.
That was an additional two weeks, if I'm not mistaken. We wrapped in June of 2021. So, it took more than a year before the whole film was finished. And I'm very excited to see it.
How was that film experience compared with your experience acting in Filipino movies and TV shows?
One of the first things that I noticed was the work conditions. I'm sure they also have their own complaints there because I'm not fully knowledgeable about what it's really like working there.
But in my own experience in those short six weeks, it was wonderful. I would have a good 10 hours of work and then by the end of the day, I'd still have time to let go of the character and come back to myself and be ready for the next day.
Like any normal job, Monday to Friday. And then Saturday and Sunday, no work. And I had time to explore the neighborhood. Unfortunately, because it was the pandemic, many of the places were closed.
The pubs were closed so I would just take walks within a five-kilometer radius of where I was staying. If I remember, that was a pandemic-related rule that they had. You can't go beyond five kilometers of where you're staying unless you have a pass that says you work farther.
So, we were all within that five-kilometer radius and that was really just where I explored in my free time. But yeah, mostly it was the work conditions and how nice the people were, really. Just very warm, actually. They care a lot about each other.
One of the things that I also noticed was, because they have unions there, every time the shooting schedule goes over time, they start apologizing to everybody. And I'm like, "Okay, why? How long have we gone overtime?" And they tell me, "Oh, we've gone over time by 15 minutes. I'm so sorry, Chai."
And I'm like, "Have you tried shooting in the Philippines?" You can keep me for another hour.
There's already a debate on the internet, just based on the trailer, about why your character speaks with an accent. There's nothing wrong with having an accent. I have an accent. What are your thoughts on people making a big deal about your character's accent?
I understand where they're coming from. I am also of the belief that there's nothing wrong with having an accent. I myself have an accent. I sometimes even make fun of it. We're so used to making fun of it.
And also, with what little representation our culture has and our people have in the international scene, especially, I think they're coming from a protective space where they're tired of seeing our culture be exploited in storytelling or they're tired of using our accent as a butt of jokes.
One thing I can assure the people though is that our accent is not the butt of jokes here. And it would be very incongruent, with the background of the character, if I spoke in a different kind of English.
It was a creative choice based on the collaboration that I had with Lorcan, my co-actors, producers, even with the friends that I would ask their opinions about like, okay, how might she speak? Where does she come from? How old is she?
Based on all of those led to that choice. But again, I'm not very upset about people making a big deal of it because again, I understand that they're being very protective of what little representation we have. So, it's quite understandable.
But I can assure you, we are not the butt of jokes here. It's okay.
This year has been a wonderful one for talented actors like you in this film, Dolly De Leon in Triangle of Sadness and Soliman Cruz in To the North, making breakthrough performances in European films. Can you also comment on the delicious irony that actors like you, Dolly, and Soliman got their big breaks in Europe and not in the Philippines?
Aha. Interesting. A lot of people have been coming to me and saying things like, "Oh, my God. This opens doors to a lot of people."
But I don't think I'm the one who has done that. I am standing on the shoulders of, like you said, Dolly De Leon, Soliman Cruz, Jaclyn Jose, who won the best actress award in Cannes, and Mercedes Cabral who has done so many international films as well.
So many other actors and producers who go into co-productions with other countries open these doors for actors like us. I am standing on their shoulders, to be honest.
I'm just really grateful that I get to be a part of that. I get to enjoy what I have now because of these people that have come before me. These directors, producers, and these other actors that have come before me, the crews that have worked in other international films as well. Production designers, everybody, writers, etcetera.
And yes, the irony that we get a bit more recognition outside. I think it has a lot to do with the kind of celebrity culture that we have here. It's a long discussion on, let's say, colonialism.
For example, people's preferences for more Caucasian-looking people or maybe more now, more East Asian-looking people because of the fame of K-Pop, J-Pop, and similar things. It's saddening.
When I started thinking about this many years ago, it would make me angry. But as you grow older, you kind of understand better these issues and topics. And it is more saddening now than it is angering because it comes from a very pained history.
We have a huge collective pain about that. For so many centuries, we have been made to dislike ourselves so much that it seeps into who we favor in terms of actors.
So, our history actually affects us personally, even in our work. And this is because as a people, we have a lot of healing to do.
Can you tell me more about yourself and your journey from being born in Cagayan de Oro? Where did you grow up? And about being a contestant on Pinoy Dream Academy, being part of a trip-hop trio, Womb, landing roles in TV and film, and winning several best supporting actress awards.
Yeah, I was born and raised in Cagayan de Oro. And then I moved to Cebu for college. Back then, I thought I was going to be a musician. But I had been acting ever since I was a kid, joining theater guilds in school, all of those…
I didn't get a formal education in acting. It was really just the workshops, theater guilds, community theater groups that I would be in and then the music groups that I was part of.
I had a band in college and then I had another band, the one that you mentioned, Womb. We did a lot of music-making back then. Never thought I would land in film. I thought I was already satisfied with doing community theater because this was a really good group that I was in.
It was a huge part of, I guess, I would say cultural and creative awakening, really. Then one of my friends (Ara Chawdhury) from college made her first film. This was Miss Bulalacao, and it was an entry for Cinema One Originals.
She got me to play one of the main support roles. I won an award for it (best supporting actress). It just snowballed from there, exploring what it's like to act on screen. And it was a good transition because the community theater we did was very intimate. It was cafés and bars, it was dramatic and comedic improv, so the audience would be very near. Our acting would be very "small." So, it was a good transition from theater to film. Acting for film is generally "smaller."
And then people saw my work in Miss Bulalacao. They wanted to get me for another film. They got me to be part of the ensemble cast for Pauwi Na. That was my first Manila project. It was very memorable.
And then after that, Victor Villanueva, who has been a good friend of mine since college, did Patay Na Si Hesus. Eventually, along the way, I decided maybe I should move to Manila.
It was kind of a crazy story behind that. I was thinking about moving to Manila already but I wasn't really planning on it. The people from Patay Na Si Hesus were trying to buy me a plane ticket because there were promotional events here that they wanted me to attend.
There were some special screenings that they wanted me to attend. They asked me when I wanted my return ticket to be. I just said, "one-way," and that was it. I just dropped everything and moved here.
I was already staying at a place temporarily because I was filming Respeto at that time. And so, I continued renting out that place until I moved into a better place, which is here. I've been here ever since 2017.
What's next for you? Will you be traveling soon since Nocebo will open internationally in November?
Well, what's next for me? My most honest answer to that is, we'll see. I do not know yet where this is going to take me. I'm kind of anxious about it, actually. I've kind of been dealing with some fear.
When good things come, fear also comes along with it. That doesn't mean you're not grateful. I am very grateful for these things but at the same time, I am also kind of scared. So, I'm just kind of bracing for it.
But the film will be screened in Sitges Film Festival (ongoing in Spain until October 16). There's another film festival that I forget in LA (Beyond Fest, which opened with the film last October 2).
Then, as far as I know, it's going to open in the theaters in November in the US. I am uncertain yet when it's going to open here in the Philippines but it might be in November. – Rappler.com