'What you say matters, what you play, what you write, it matters,' 23-year-old H.E.R. says
Comments from the sublime to Pinoy Pride reflection to sassy ("I'm not a dog") by the Oscars winners backstage (well, they were physically there while us journalist were huddled individually over our laptops at home) kept me engaged Sunday night, April 25 (Monday, April 26 in the Philippines) at the 93rd Academy Awards.
After their acceptance speeches, the winners were led to the Oscars Virtual Media Center, where credentialed journalists raised their virtual hands if they wanted to ask questions. I raised my virtual hand many times but I was never called, unlike in previous years when the journos were actually backstage in the Dolby Theatre, the usual venue in Hollywood and Highland.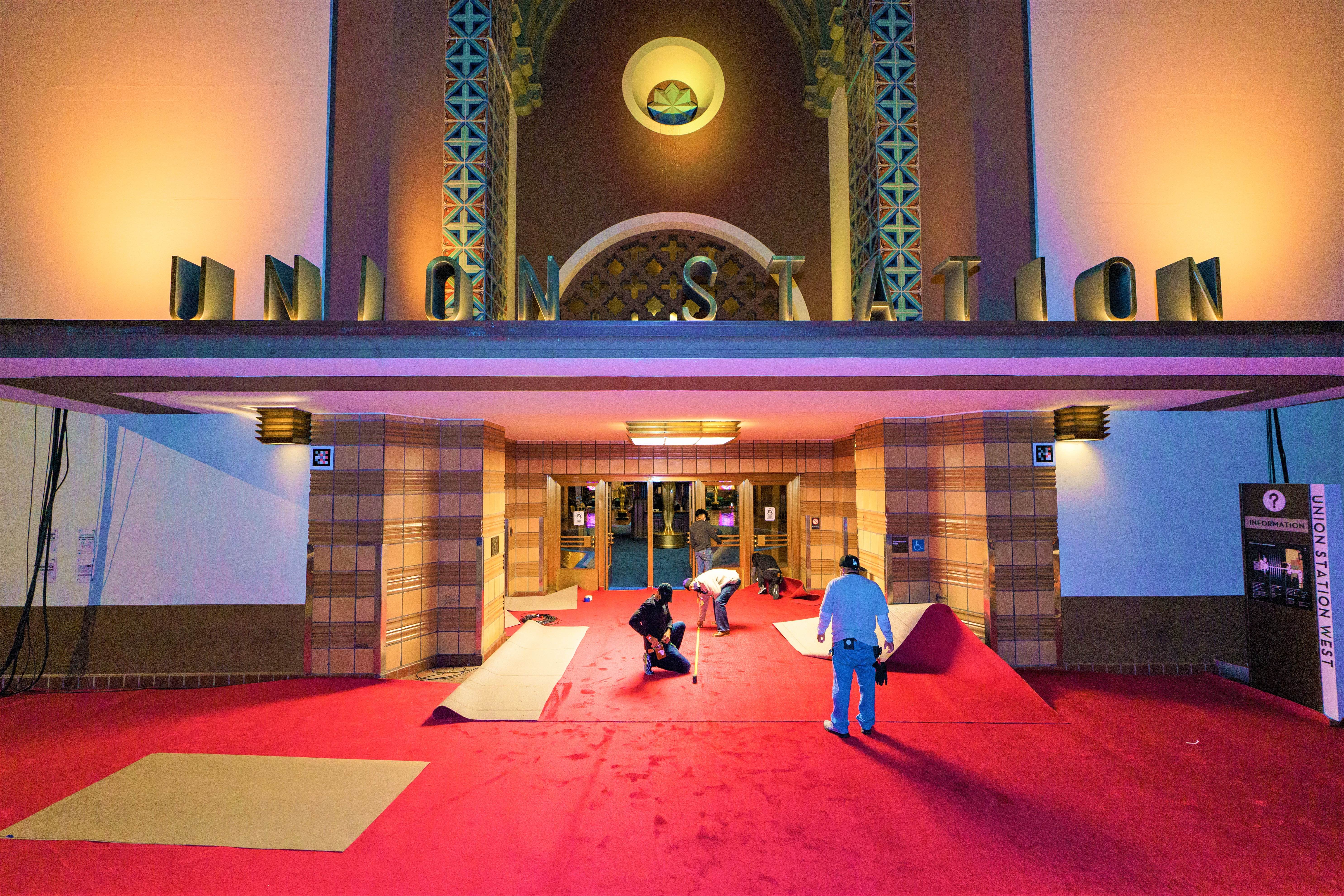 This year, the Academy Awards show was held for the first time in downtown Los Angeles' historic Union Station, the largest railroad passenger terminal in the Western United States, to better comply with coronavirus health safety protocols, especially social distancing.
The beautiful landmark, a combination of Spanish Colonial Revival and Art Deco styles, served as a perfect setting for Hollywood's biggest night.
The Union Station witnessed H.E.R.'s historic win as the first Filipina-American to win the Academy's best original song for "Fight for You," which she sang and composed with Tiara Thomas and D'Mile, for the film Judas and the Black Messiah. (Robert "Bobby" Lopez is the first Filipino-American to earn the same prize for "Let It Go" from Frozen which he won with his wife, Kristen Anderson-Lopez.)
"Mabuti!" exclaimed H.E.R. when ABS-CBN's Yong Chavez asked "Kumusta?" in the virtual press room. The Fil-Am was radiant in blue, a color which her Pinay mom, Agnes Sarmiento Wilson, has always wanted H.E.R. to wear on the red carpet.
The hooded jumpsuit and cape, designed by Peter Dundas, was H.E.R.'s tribute to her late idol, Prince, who wore a similar outfit when he won the best original score for Purple Rain in 1985.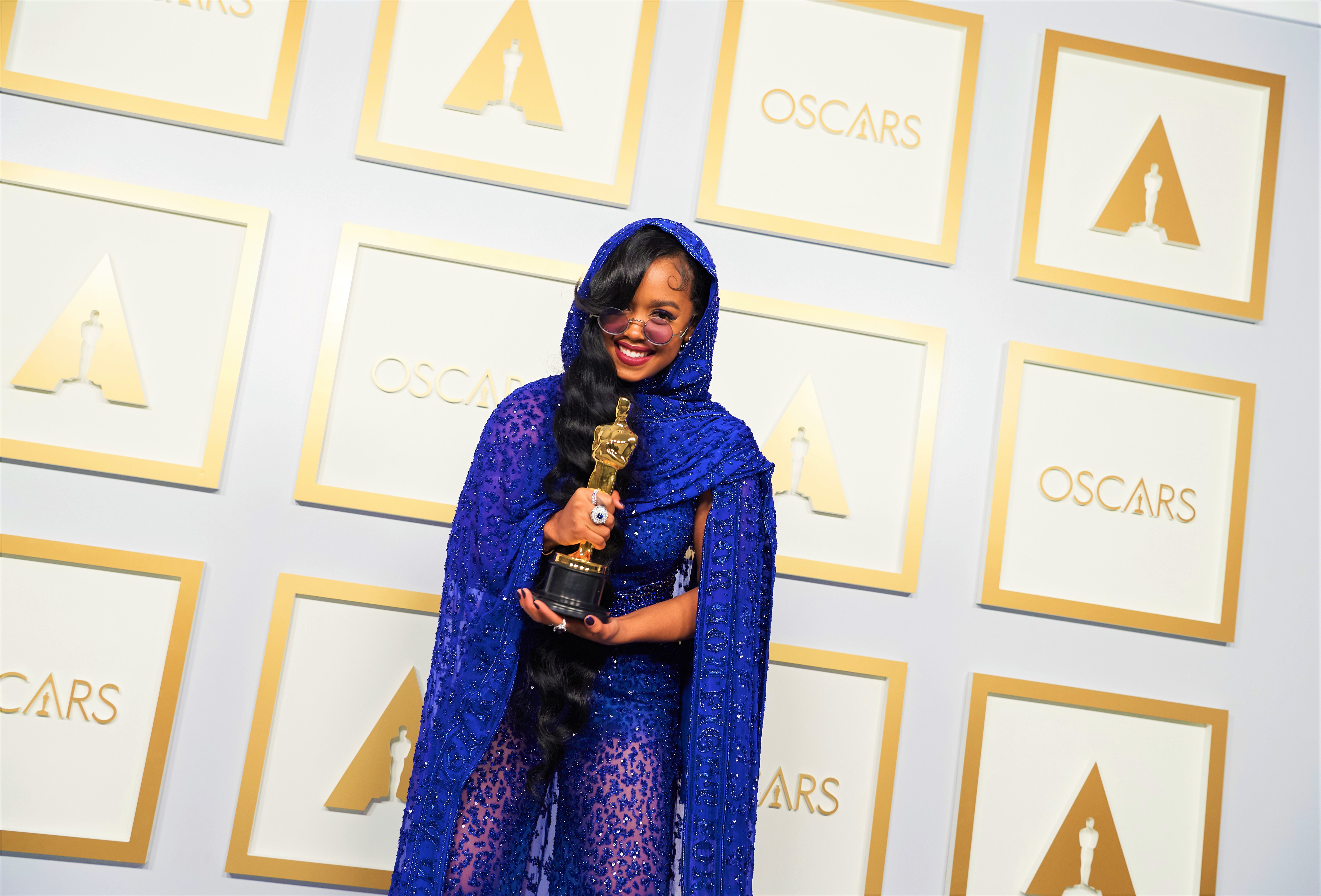 When asked by Yong what being an Oscar winner means to her as an Asian and black, the 23-year-old replied, "Oh, my gosh. Me just being up there is a message. It's a message to all the young black and Filipino girls, black or Filipino –  that you can be up here, too. What you say matters, what you play, what you write, it matters."
"It's a reflection of who we are and I'm just happy to represent. I can't believe I'm here. So I just hope there is another little girl out there, whoever, going, I can do that, too. I can be up there too, one day."
On the significance of getting an Academy Award for a song like "Fight for You" from the film about a Black Panther Party leader, amid the recent conviction of former police officer Derek Chauvin for the murder of George Floyd, H.E.R, said, "I couldn't think of a better timing to win something like this. I was just happy to be here at the Oscars."
"I was happy to be part of an important film. This film is educating people."
"I feel connected to my roots. I know more about the Black Panthers because of being part of this film. So the education and the history that the film gave me – nothing compares to that. And also, I feel like this is for the people."
"We are literally saying, as long as I'm standing, I'm going to fight for you. I have been given this platform and now an Oscars stage to share a message, to really speak my own truth and to continue to spread the word of our history, what is happening today."
"Pain and what we write is a reflection of what we feel. That is why I love collaborating with Tiara and D'Mile because their art speaks to who they are and what they represent. So this win means so much to me for all of us and for the people."
"Oh, there's absolutely going to be an EGOT in my future, hopefully," answered the singer-composer when told by another reporter that she is "halfway home to an EGOT," the designation given to people who have won all of these four awards – Emmy, Grammy, Oscar, and Tony.
H.E.R. recently won two Grammy Awards honors, including song of the year, and has now collected a total of 4 Grammies.
"I'm also super passionate about acting as well," she added. "So you may see me up here as an actress also."
And she harbors Broadway musical ambitions so hey, EGOT is indeed halfway near. "I love musicals. Brandy and I have been talking a lot. She inspired me since she did a musical."
"But, yeah, honestly, I cannot believe that we are here. I'm so thankful to be standing next to these two (Tiara and D'Mile). I'm still speechless. I feel like the Oscars are happening tomorrow and I'm dreaming right now. I'm still pinching myself.  So I have no words."
Leave it to Yuh-Jung Youn, who won best supporting actress and is the first Korean to cinch that honor for her portrayal of a sassy grandma in Minari, to dish, well, sassy replies.
Yuh-Jung, whose Oscar was announced and presented by Brad Pitt, was asked by a TV host what he smelled like. "I didn't smell him.  I'm not dog," she riposted.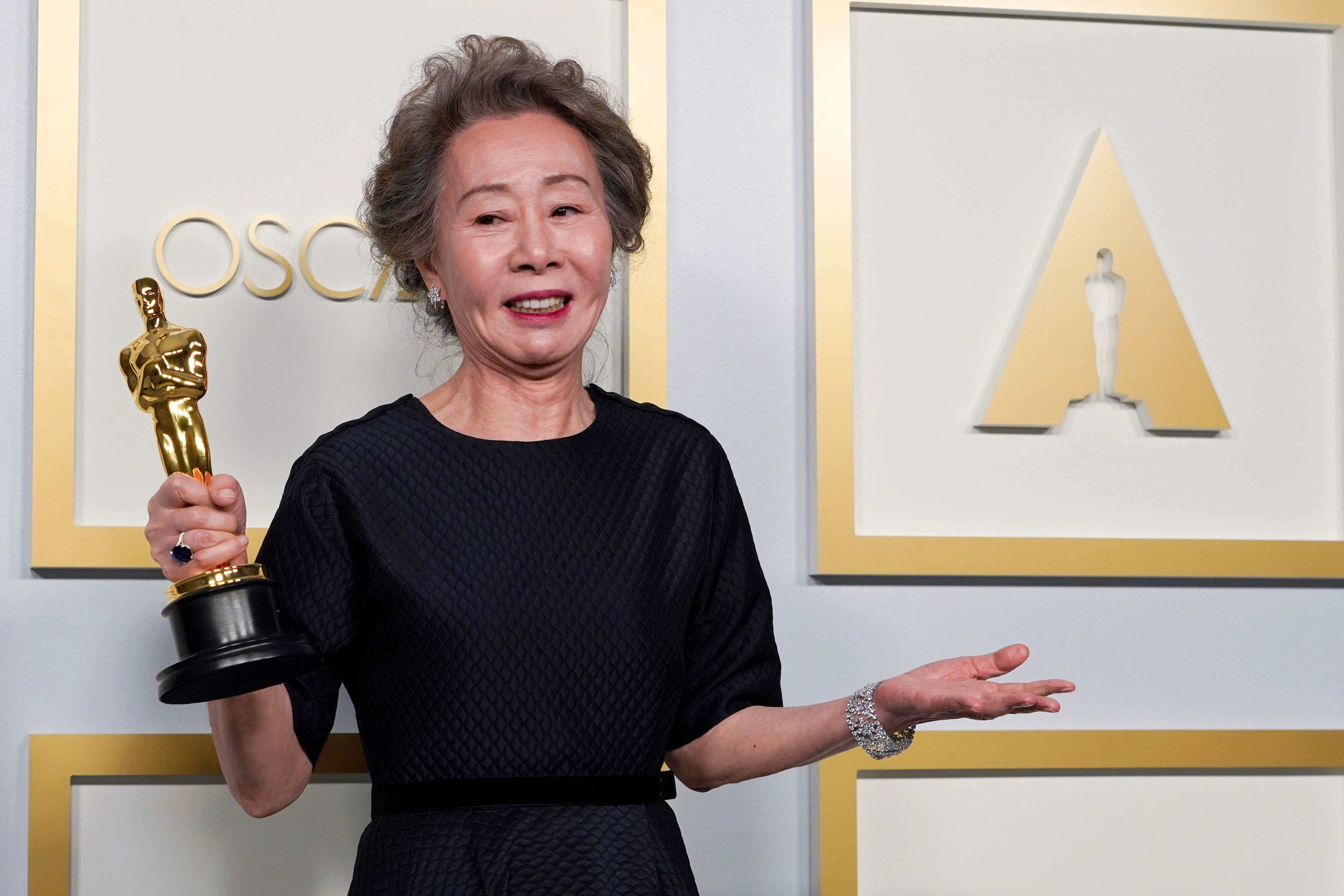 "I've been watching him since his first movie. He was young. He was a movie star for me. So I couldn't believe that he was speaking to me after he announced my name."
"Maybe I just blacked out, a couple of seconds or so. Where am I? Or something like that. I'm still not myself. So don't ask me too many questions, please."
"I saw him on the stage. Then he called my name. I could tell he practiced a lot. He didn't mispronounce my name. Then at that moment, when I got there (on stage), what was I supposed to say. Should I begin (the chat) or something?"
To the question, "If you could do a movie with Brad, what genre would you choose?"
She replied, "No. That will never happen with my English and age (73).  I don't think so."
On her career, the actress whose film and television credits span 5 decades in South Korea commented, "I had a long career. I'm trying to do my career, step by step. I'm just very happy when you get it (a role)."
"I don't believe in competition, especially in our field because we are comparing different movies. I'm just lucky tonight, just luckier than the other nominees. And maybe, who knows, it's American hospitality for the Korean actor."
On diversity in films and society, Yuh-Jung remarked, "I was mentioning about the different type of stories."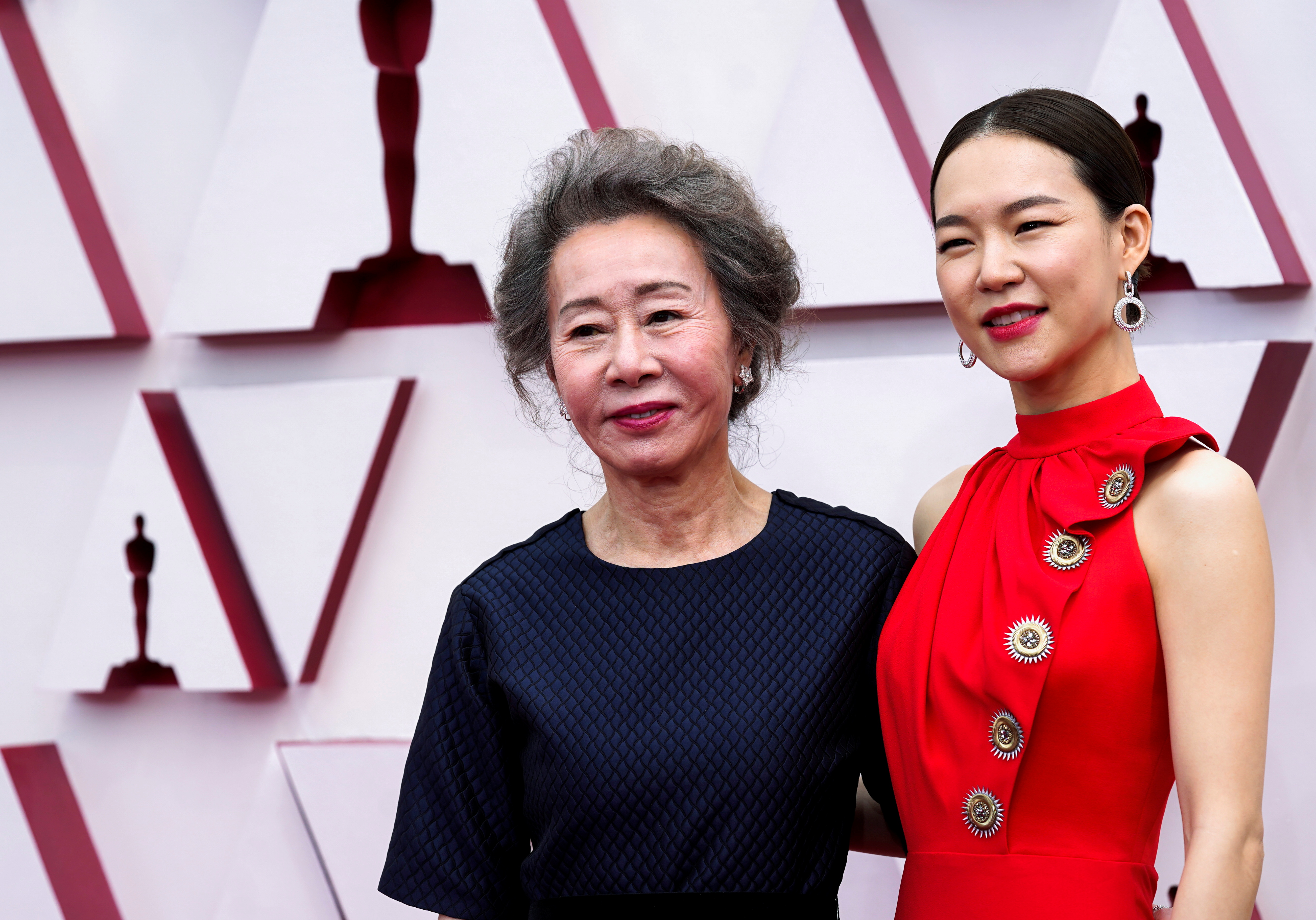 "We should embrace each other. People are categorized like black, white, yellow, brown. That is not a nice way to just divide like that. I think if we put our colors together, make it prettier…even a rainbow has seven colors."
"So colors don't matter. Gender doesn't matter. I don't know how to divide – divide like man, woman, or black, white, yellow, brown, or the gender, gay or straight. I don't want that kind of thing."
"We are equal human beings. We have the same warm heart. It's an opportunity for us to share in the story together."
Chloe Zhao made history as the first Asian woman, first Chinese woman and the first woman of color to win the Academy's best director honors for Nomadland. As one of the film's producers, she is also the first woman of color to win the Oscars best picture prize.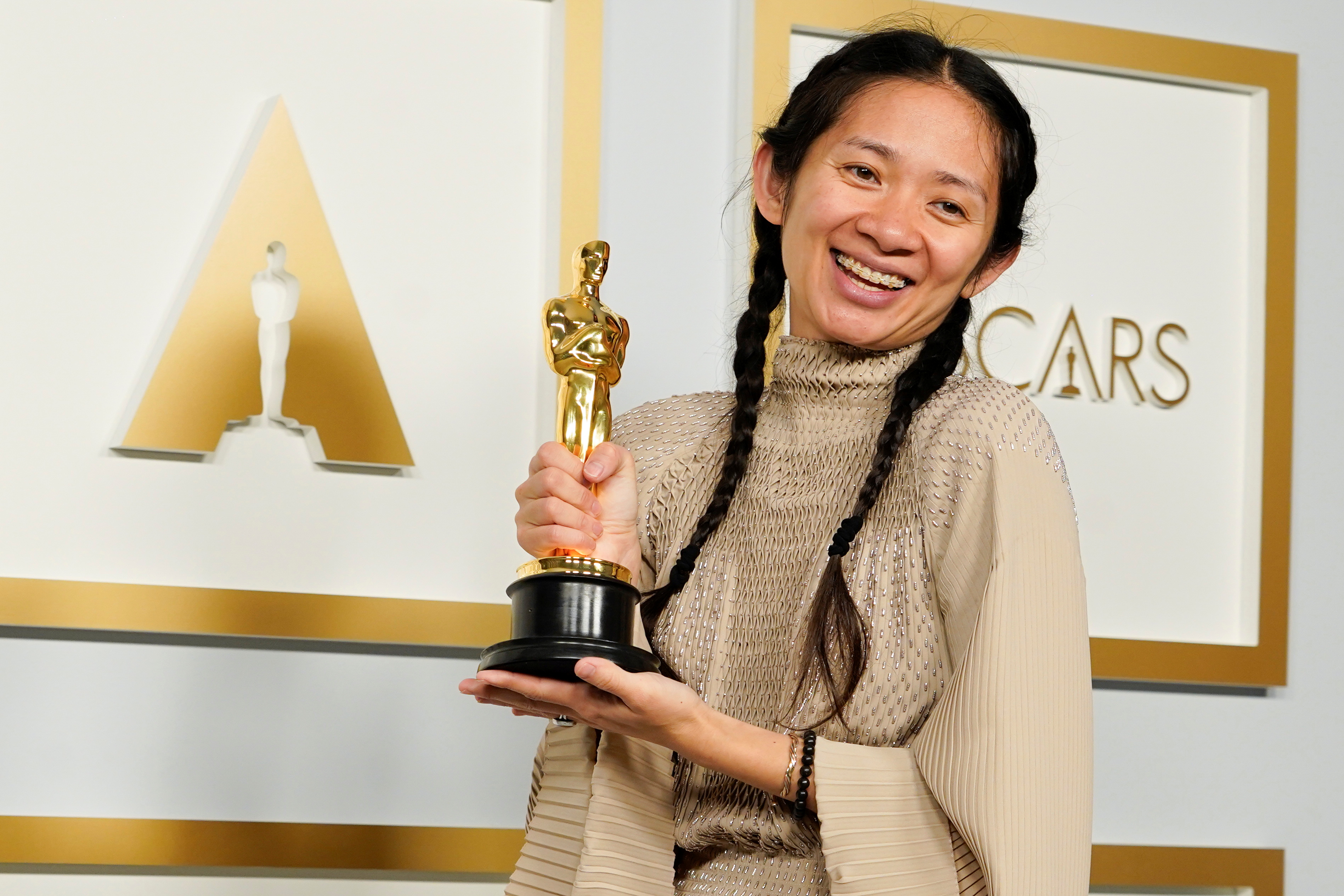 The immigrant filmmaker, a portrait of simplicity in beige Hermes dress, with her hair in two pigtails, explained why Frances McDormand howled in her acceptance speech as best actress for Nomadland.
"The howling was for our production sound mixer, Wolf, who you saw in the memorial," Chloe said about Michael Wolf Snyder. "We, unfortunately, lost him recently."
"He was the production sound mixer both on my previous films. He is part of The Rider family so that howl was for Wolf."
According to reports, Wolf, 35, who died by suicide, was found by his father, David Snyder, last March 31.
Chloe added about Frances, "My happiest time is now for the people who know what she (Frances) did out there as a producer and an actress, how open and vulnerable she has been and how she has been in this movie to help out the nomads."
"She really is Nomadland so I'm just really happy that she got that award."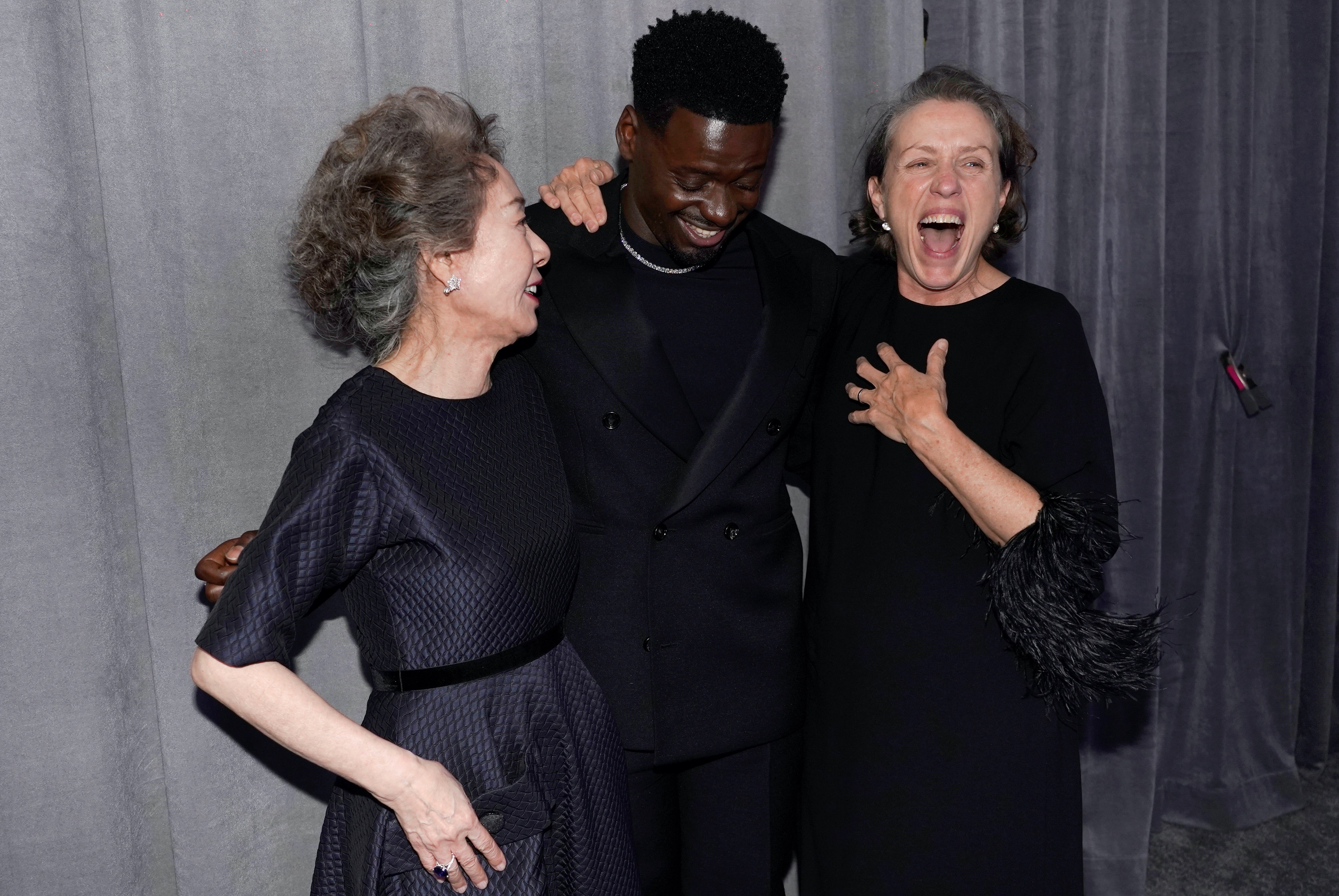 As for her glass ceiling shattering victories on this Oscars night, the New York University Tisch School of the Arts alumna, who studied under Spike Lee, Chloe commented, "I'm extremely fortunate to be able to do what I love for a living and if this win helps more people like me get to live their dreams, I'm so grateful for this."
Chloe is only the second woman to win the Academy's best director award. The first was Kathryn Bigelow for The Hurt Locker in 2010. "I have had a group dinner with Kathryn Bigelow and definitely fangirled big time."
While the world celebrated Chloe's historic Oscars wins, China reportedly censored or enforced media silence on news of her Oscars triumphs. It was said to be caused by the discovery of a 2013 article in which Chloe reportedly criticized China as "a place where there are lies everywhere."
"I feel I'm very lucky I have parents who have always told me that who you are is enough, who you are is your art," Chloe said in response to another question.
"So I always try to stay true to myself and be surrounded by really great, supportive, talented people, so I really share this moment with them."
She had this message to directors: "For Asian filmmakers, for all filmmakers, we have to stay true to who we are and we have to tell the stories that we feel connected to. We shouldn't feel like there is only a certain type of story we have to tell."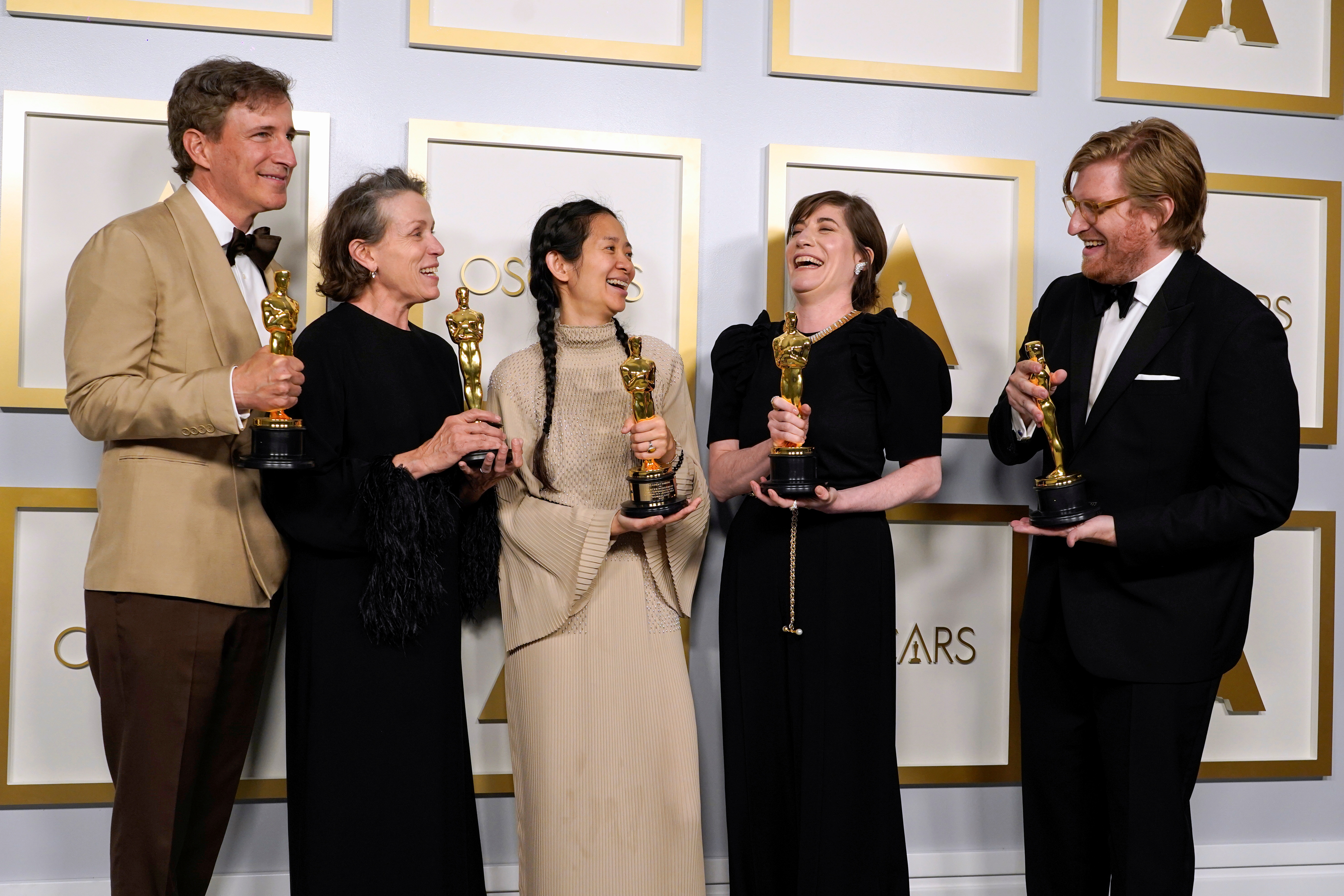 "But it's a way for us to connect with other people. That is why I love filmmaking. And hopefully, a lot of brilliant stories we tell tonight, like Tyler Perry said, that was a beautiful speech about let's get together, and let's stop hate for anybody."
As for how living in an RV for four months while filming Nomadland, a portrait of modern-day wanderers, changed her, Chloe answered, "I think there is a lot of things that changed. One definitely is that I think I need less stuff to live. For sure, I could have just a little, fewer things."
Asked if the definition of being a woman in 2021 changed, the filmmaker replied, "Probably not.  But it's pretty fabulous to be a woman in 2021." – Rappler.com