'The Boy Foretold By the Stars' is a refreshing treat
With the exception of its central lovers being both teenage boys, Dolly Dulu's The Boy Foretold By the Stars is far from novel.
In fact, the film abides by most of the elements of the genre.
Not so much of a liability
It is formulaic.
Interestingly, being formulaic, in this case, isn't so much of a liability. Dulu ingeniously pours both earnestness and sincerity over formula, coming up with a lovely romance whose affect renders it unique amongst its kind. 
It helps that Dulu chose not to populate his film with big names. Instead, he entrusted the roles of the two high school seniors who find love with the slight help of fate and amidst the prejudices of their all-boys Catholic school to Adrian Lindayag and Keann Johnson, who, while having previous experience in theater and television, do not have the manufactured chemistry that could have propelled their pairing. 
Nevertheless, Dulu goes through all the pains of conjuring faultless passion out of a school where both religion and spurts of machismo are mainstays, and carves a gay romance to root for. By the end of the film and even if all of its twists and grooves are both familiar and expected, it still erupts with emotions, all of which are earned.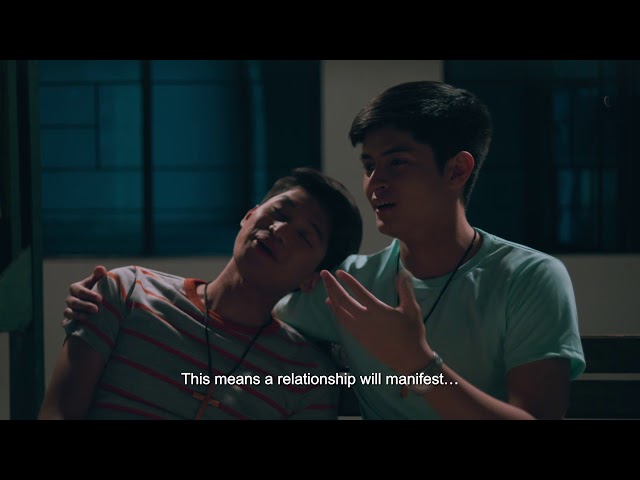 Unflinching depiction
Without being outwardly subversive and through a formula that favors tradition, The Boy Foretold By the Stars paves a way for escapist cinema to traverse the realities of coming of age.
What is most fascinating about Dulu's film is not the by-the-numbers love story, but its unflinching depiction of that love story within a landscape endemic to the Philippines – that of the all-boys Catholic high school, with faculty, leaders and a student body are clearly struggling to marry strict doctrine and the diversity of sexual identities. Without being didactic, the film courageously refuses to go for the safety and convenience of secularism and instead places the romance right in the middle of expressions of religiosity. 
What is even more impressive is how Dulu was able to avoid turning The Boy Foretold By the Stars into an argument against Catholic conservatism.
Sure, the film has scenes where the characters are scolded for being effeminate or debate about homosexuality being a sin, but it only does so to confront the confusion and not to pass judgment. Dulu never loses track of the film's goal, which is only to put onto a pedestal the purity of love, wherever and whenever it decides to exist.
Refreshing treat
The Boy Foretold By the Stars is a refreshing treat.
Sure, it isn't perfect. It could use a little bit of consistency when it comes to its visuals, especially since its few visually pleasing scenes are sandwiched in between prolonged unspectacular passages. However, it is truly pleasant, a much-needed dose of positivity in a world embattled by division. – Rappler.com