The in-demand director of photography collaborates with Ryan Murphy for 'The Prom'
"It was my first, and hopefully not the last, time to work with Matty," Meryl Streep, considered the greatest living actress, began about Filipino-American cinematographer Matthew Libatique, who lensed her and the cast of Ryan Murphy's The Prom.
"Because he was extraordinary," Meryl continued about the director of photography (DP), who is called Matty by his close friends and colleagues.
The son of Filipino immigrants earned two Oscar best cinematography nominations for A Star Is Born and Black Swan, and worked on various genres, from Darren Aronofsky's dramas to tentpole epics like the first two Iron Man movies.
In Ryan's film adaptation of the Broadway musical about a troupe of theater stars who travel to a conservative town in Indiana to support a lesbian high school student banned from bringing her girlfriend to the prom, Matthew complements the energetic song and dance numbers with his dynamic and lively camera work.
The New York-born DP, noted for his spiky hair, matches the energy of the cast, which includes Nicole Kidman, James Corden, Keegan-Michael Key, Kerry Washington and the two actresses who play the young lovers, Jo Ellen Pellman and Ariana DeBose.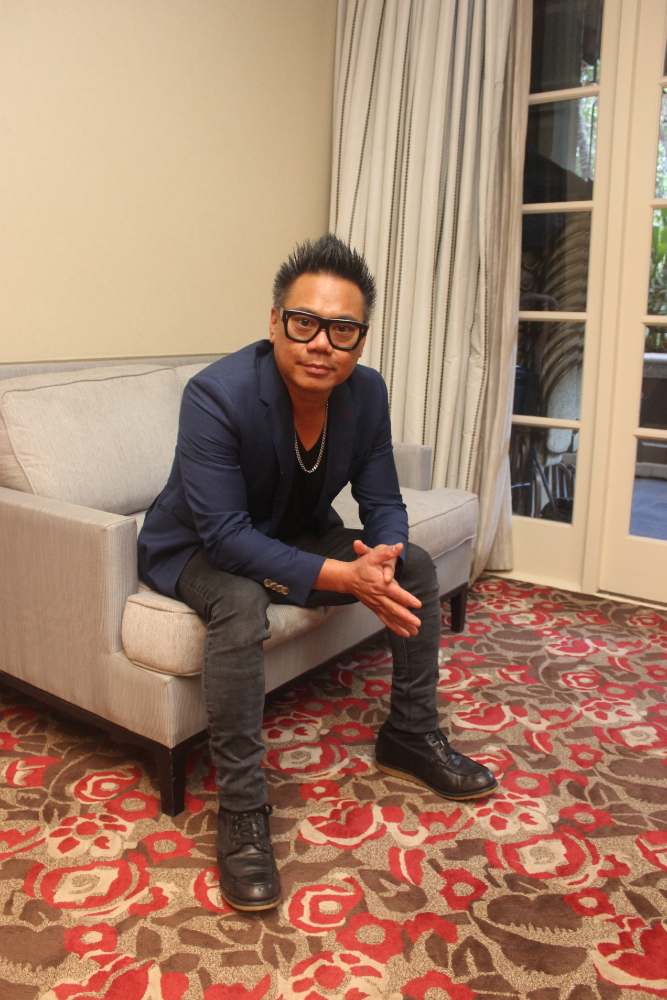 "Matty is someone who has worked on a scale of movie that many of the cinematographers that I've worked with do not," Meryl said. "He's done incredible spectacles and great dystopian worlds. He's a master of that."
"But what I thought he just captured perfectly in this film was the color of the human spirit. How he captured the two young girls, how he made them shine. I mean, the whole thing is so lustrous and rich."
"It reminds me of the great old movie musicals that we love, all the way back to The Wizard of Oz. It has real cinematic magic in it. I was so impressed with it when I saw the film."
"I'm in the Berkshires (Massachusetts)," said the preeminent actress in our video call. "I'm shooting a film with Adam McKay in Boston called Don't Look Up."
In separate Zoom calls, Ryan, James and Nicole also praised Matthew, whose late father, Justiniano "Johnny" Libatique, was from my home province, Pangasinan. His mom Georgina or Dina remarried and now goes by the last name, Porter.
Ryan Murphy
Ryan has been championing Filipino talent in recent years: Darren Criss and Jake Zyrus in Glee, Darren again and Jon Jon Briones in The Assassination of Gianni Versace, Jon Jon again in Ratched and now, Matthew in The Prom.
"I certainly feel that in my life, which is this idea of representation matters and if you see it, you can become it," the prolific producer, director and writer said about his knack for tapping Filipino talents. "I had that wonderful experience with Darren. I did Glee with him and I just thought he was so talented."
"But as Darren has said, not many people thought that there was this amazing dramatic actor burning inside of him, ready to come out. And I saw that."
"As Darren also said, there's not a lot of opportunities sometimes. So from that role, he introduced me to Jon Jon. And I loved Jon Jon in Versace."
"And in writing Ratched, that part wasn't written for a Filipino actor. It was not conceived that way. But I worked with Jon Jon one day and I was like, oh, he should play this part. Because what matters is talent and he is like Brando. We used to call him Marlon Brando because he's so talented."
"Again, another person (Jon Jon) who has said, I wish I had more opportunities and was seen in a different way. And the very idea that I get to do that (create opportunities) in my career, not just with Filipino actors but with many people, is an amazing gift. I work hard on that and I believe in that."
Ryan revealed, "I'm actually searching for something to do with Darren and Jon Jon together because I love them so much."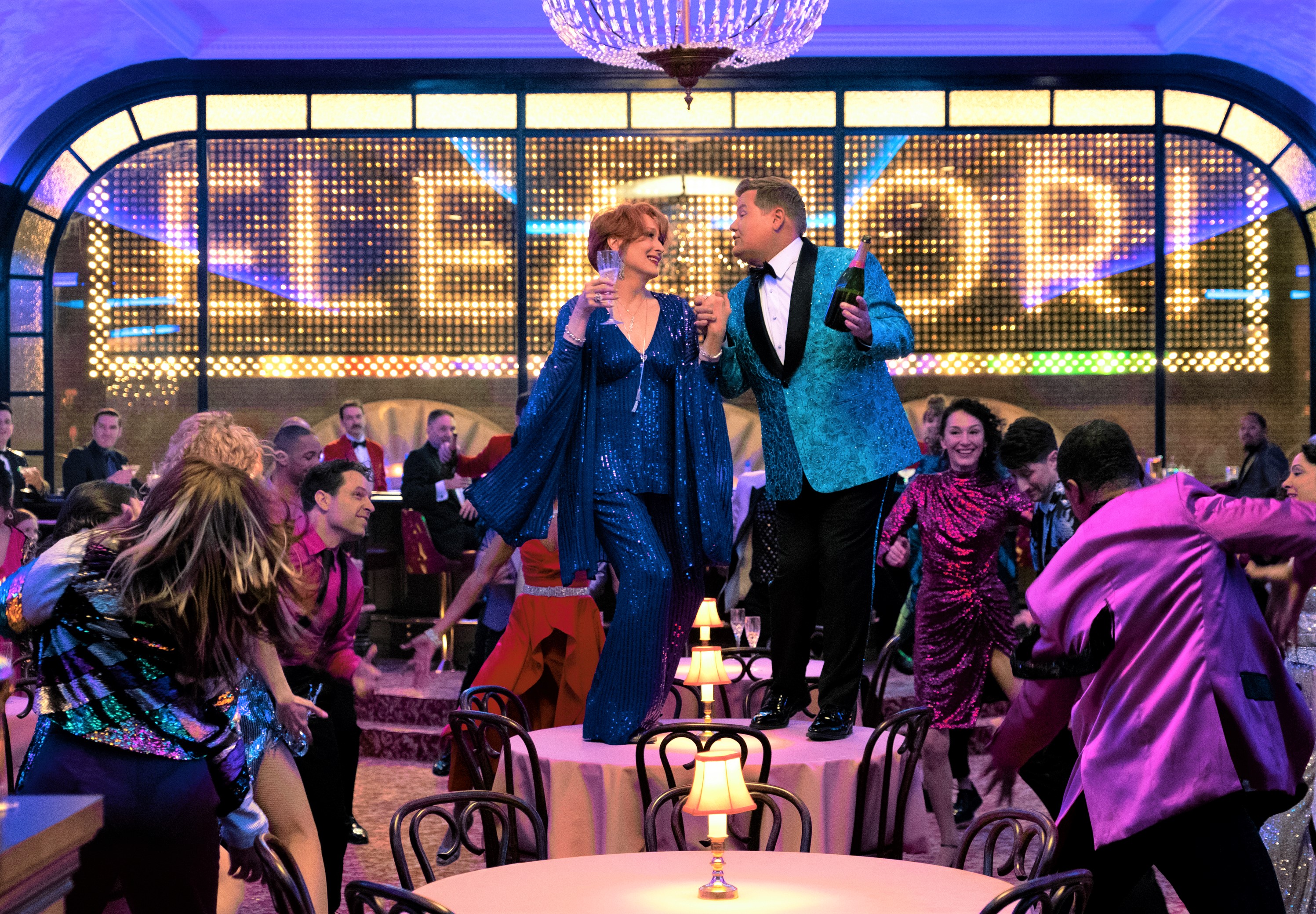 "In the case of Matty, he was one of my favorite DPs. He had just done A Star Is Born, and I asked him to lunch. He didn't really know what the lunch was about. I said, okay, I don't know if this is going to be your cup of tea, but it's Meryl Streep. He said, what?"
"He was so excited because like everybody in the world, he wants to work with Meryl Streep. When I talked to Matty about what I wanted it to look and feel like, that it was almost like a rainbow, a musical with very dynamic camera moves, he was very much into that."
"I thought I would never get him, to be honest, but after that first meeting, he said yes. Also, he said yes because of what the musical is about, which is a full circle moment here for our conversation."
"It's about inclusion, tolerance and a place at the table for everybody. That's why everybody signed up to do this musical. It's something that I believe in and try and do in my life and in the world."
May your tribe in Hollywood increase, Ryan.
James Corden
For his part, James gushed, "Matty is incredible, man. It's funny because you hear about people a lot. Certainly, as you're walking toward a production, you hear about the DP and everybody has a thing where everybody tells you, oh my God, he's just incredible!"
"To a point where you start thinking, well, he can't be as good as that. Like how can someone be this good that everybody's talking in this manner?"
"Then you spend literally five minutes in Matty's orbit and you go, oh, I just get it. The reason Matty is so unique is he is all about the story, the character, the tone. There is no ego in him whatsoever."
"Like he takes the work so seriously but it's never about him. It's never about what will make him look great, not about what will be the thing that people will go, oh, did you see the way that was lit?"
"It's all about telling the story. And I found his company to be just fantastic."
The lovable English actor, comedian and host of The Late Late Show with James Corden stressed, "I just loved being around him. I really did."
Nicole Kidman
"Matty is so hard to get," Nicole said about the in-demand director of photography whose other recent credits include Birds of Prey, Venom, Mother! and Noah.
"He is one of the greatest cinematographers working so I couldn't believe when they said, oh, he's going to be shooting The Prom. And Matty had never worked with Ryan before so I was like, wow, this is going to be really interesting to see what they do together."
The actress, who is also part of the thrilling The Undoing of HBO, added, "I was just so grateful that Matty was shooting this film because he was able to shoot us all with those colors, manage all the different sorts of primary colors and balance that light. Matty is an actor's cinematographer.  He relates to your performance. So we were incredibly lucky to get him."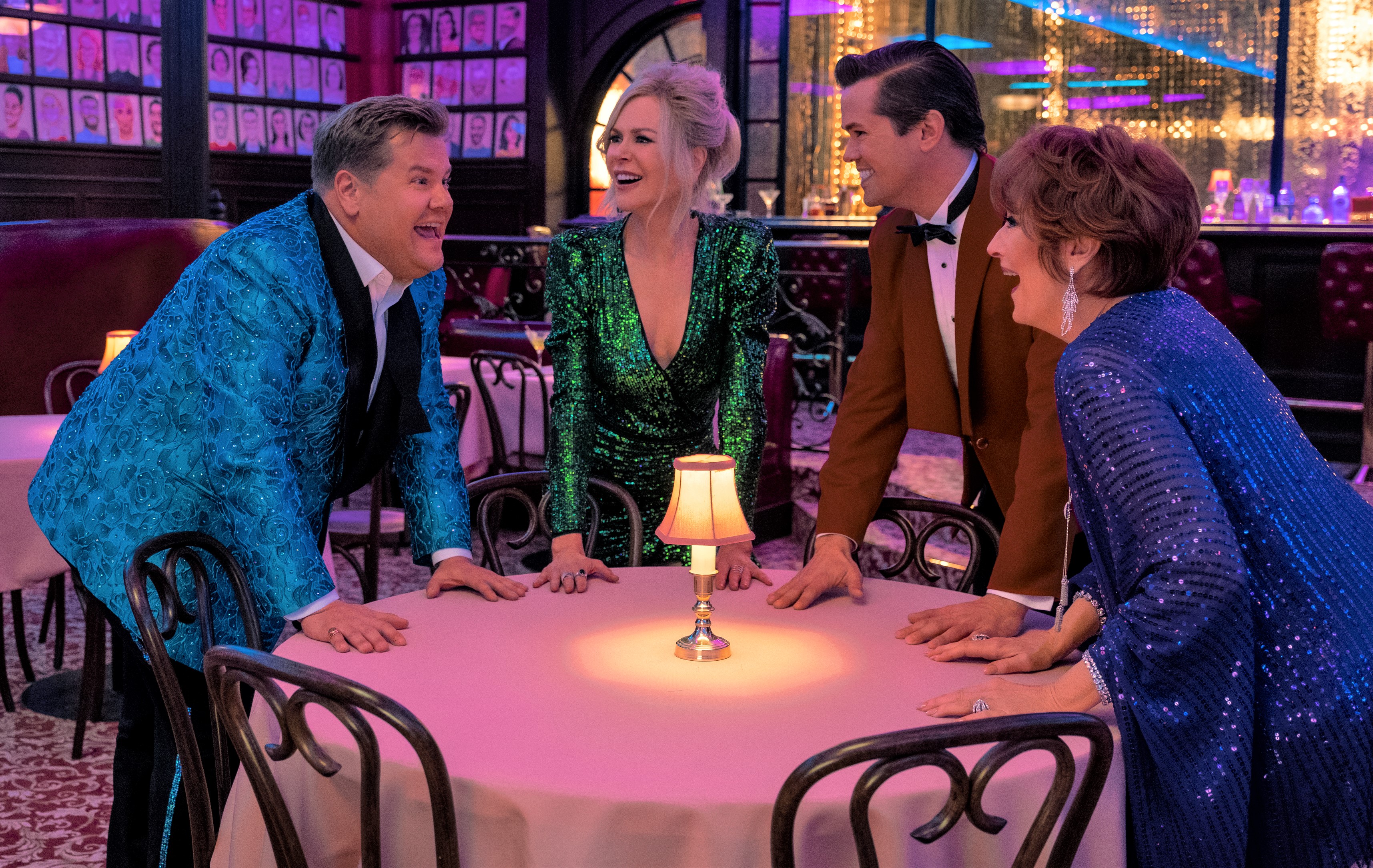 Some film critics share The Prom cast's enthusiasm for Matthew's work. IndieWire's Jude Dry raved, "Murphy's most inspired choice was in tapping revered cinematographer Matthew Libatique, Darren Aronofsky's frequent lenser who also shot 2018's A Star Is Born."
"Under Libatique's masterful eye, the camera circles effortlessly around thrilling choreography by Casey Nicholaw, the show's Broadway director, whose stage vision translates surprisingly well to the screen, thanks to the movie's visual flair."
Rita Moreno
Rounding out my reporting of my passion, ferreting out Filipino connection in Hollywood, is Rita Moreno and the latest on her gown by the late Pitoy Moreno, which she wore to the 1962 Oscars when she won the best supporting actress honors. An astonishing 50-plus years later, the veteran actress wore the black and gold gown again in the 2018 Academy Awards and made fashion headlines.
In a video call for her TV series, One Day at a Time, Rita said she was renovating her home and was therefore Marie Kondo-ing. I asked her about the fate of her Pitoy ball gown.
"Oh, you know where that is right now?" replied the icon who turns 89 this December.  "I gifted it to the new Academy Museum (set to open April 2021). That is my gift to them. So it's going to be on display when the museum officially opens. Yes, I love that gown. Throw that away? Unthinkable. No, no, no. That's a beautiful gown."
"Actually, I asked the Academy Museum. I said, I don't know what to do with the gown. I've now worn it twice. I cannot, in all good conscience, wear it a third time. I asked them, would you be interested? They said, oh my God, yes, we would love to have it. So I did. I gave it to them as a gift."
Rita, who shot several films in the Philippines, including Operesyon Stragglers, Mga Alamat ng Sandaigdig and Samar in the 1960s, was in Manila before that Oscars night in which she triumphed for her role as Anita in West Side Story. She asked around who in the Philippines can make her Academy show gown. That's how Pitoy ended up creating her memorable gown.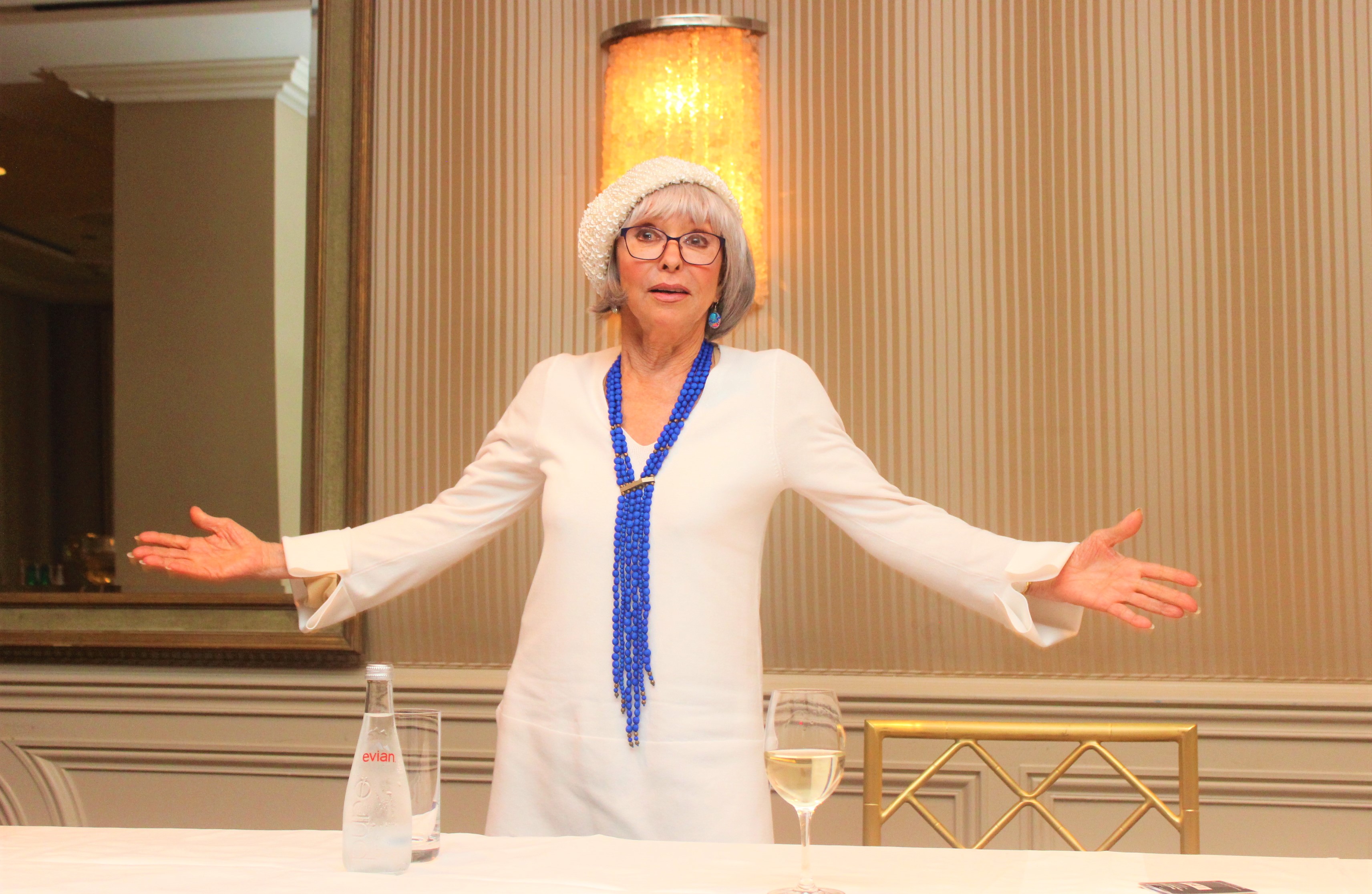 Talk of the Philippines prompted Rita, the first Latina woman to join EGOT, that elite group of artists who had won four top entertainment awards – Emmy, Grammy, Oscar and Tony – to suddenly say, "Guess what, listen to this." And she went on to sing a portion of Felipe de Leon's Magtanim Ay 'Di Biro:
"Magtanim ay di biro/Maghapong nakayuko/Di man lang makaupo/Di man lang makatayo"
I had goosebumps. More than half a century later, this icon still remembers how to sing the Filipino folk song and its lyrics.
"I've never forgotten the words," said Rita, who is in Steven Spielberg's 2021 version (60 years later) of West Side Story but this time as Valentina. "Isn't that interesting?" – Rappler.com