This is AI generated summarization, which may have errors. For context, always refer to the full article.
Ruben Östlund's Palme d'Or winner stays afloat thanks to its brash storytelling, critiques of third world labor, and Dolly de Leon's tantalizing ascendance into power
The first scene of Ruben Östlund's Triangle of Sadness sets the tone perfectly. An interviewer asks a bevy of shirtless, gloriously ripped male models in a casting room: "Is this runway casting for a grumpy brand or a smiley brand?" When one of the models named Carl (Harris Dickinson) correctly answers, they then play a game: the interviewer screams Balenciaga and H&M, while the models alternate between looking down at their customers and looking happy like their customers. The message is clear: don't take these things so seriously.
Except they are serious. While Carl is still struggling in casting calls and getting paid only a third of what female models earn, his girlfriend Yaya (the late Charlbi Dean) opens a luxurious fashion show, fabric billowing behind her as she struts in the way that only supermodels do. Throughout Triangle of Sadness, Östlund tests the strength of the pair like a mad scientist by putting their relationship in different environments — first, the world of fashion and social media where their beauty is currency; then, on a luxury megayacht in international waters where their beauty is dwarfed by old money and the desires of the ultra-rich; and finally, on a deserted island where such currencies are moot.
Östlund is hardly reinventing the wheel if one looks solely at the narrative and its social commentary. A.O. Scott of The New York Times calls it "a shaggy-dog art-house reboot of Gilligan's Island" and similar social commentary about the lives of the aristocrats have been perfected by Luis Buñuel in the '60s and '70s, notably through films such as The Discreet Charm of the Bourgeoisie and The Exterminating Angel. On the other hand, Filipino audiences may find an uncanny resemblance with Joey Gosiengfiao's camp masterpiece Temptation Island (1980), but constructed for the digital age, with Östlund exchanging the glamor and gayness of beauty pageants for the follies of white multi-billionaires and the influencers trying to attain similarly impenetrable status.
The brashness by which Östlund approaches his subjects and executes his critique is what separates it from other well-meaning work. From extended arguments about money between Carl and Yaya, to small talk about how yacht patrons earn passive income by selling hand grenades (they "uphold democracies around the world"), to delusional requests from mega-rich Russian tycoons who sell shit, Östlund pushes past any attempts at realism with his maximalist filmmaking.
The lack of subtlety has always been improperly conflated with a lack of nuance. But the deliberate excessiveness of Triangle of Sadness — especially through Josefin Åsberg's production design — creates a dream-like atmosphere and an absurdity that, once shattered by reality, becomes a comedic storm that breaks it open and floods the narrative. Given the state of the world (see Elon Musk's strained takeover of Twitter), Östlund's critique seems simultaneously prescient and tame when juxtaposed against reality.
Like the wealthy around them, Carl and Yaya thrive on the imbalances of power and the inequity that places a premium on god-given gifts like generational wealth and beauty rather than actual learnable skills. When such social power is stripped away, the inherent ugliness of each character — envy, greed, lust, and wrath suppressed by social dynamics and pleasantry politics — bubbles to the surface.
International cinema seems to be reckoning with labor as a whole, but moreso with Filipino labor. In the QCinema International Film Festival alone, there are three other films whose narrative and critique center on overseas Filipino workers (OFWs) caught in ethical entanglements — Chie Hayakawa's Plan 75, Lorcan Finnegan's Nocebo, and Mihai Mincan's To the North. These interrogations by foreign filmmakers are potent precisely because they address and navigate how they and their cinema are complicit in upholding the status quo of capitalism, colonization, and racial inequity that benefits individuals from developed countries at the expense and disenfranchisement of Filipinos.
Whereas Mincan, Finnegan, and Hayakawa keep the focus on their Filipino stars throughout, Östlund makes the decision to render the Filipinos onboard the yacht (including de Leon) nearly invisible throughout most of the film, their presence observed tangentially through the order they maintain.
When juxtaposed against the white front-facing laborers that live above deck, interact freely with patrons, and earn gratuitous tips in their attempts at wish fulfillment, Östlund stratifies the haves and have-nots and turns the megayacht into a modern slave ship, a creeping reiteration that capitalism has never solved problems but only rewards our ignorance. The cinematic replication of this erasure of Filipino characters, at least until the film's third act, mirrors the devaluation of Filipino life and labor, especially in locations where labor rights meant to uphold humanity are stripped away (see Hasan Minhaj's dissection of the human cost of cruises).
Regardless of one's feelings about whether the satire is successful, it cannot be denied that Triangle of Sadness cannot work without De Leon. The hypotenuse of the film's main triangle, De Leon has received universal acclaim for her performance as the toilet manager Abigail exactly because Östlund understands and utilizes her skillset and her screen presence.
It's easy to go into a religious litany about De Leon's performance and the indelible ways she peppers in the distinctly Filipino: the way she holds her hand on her hip as she reprimands those around her; the aggressive manner by which she refers to Carl as "cutie pie," causing the Filipino audience in the Gateway Cineplex to erupt into raucous laughter; the minute glances that she flings across the room, simultaneously flirtatious and dangerous. Östlund, along with cinematographer Fredrik Wenzel, frames her like a titan emerging from a sea of darkness, her presence dominating the screen despite her small stature.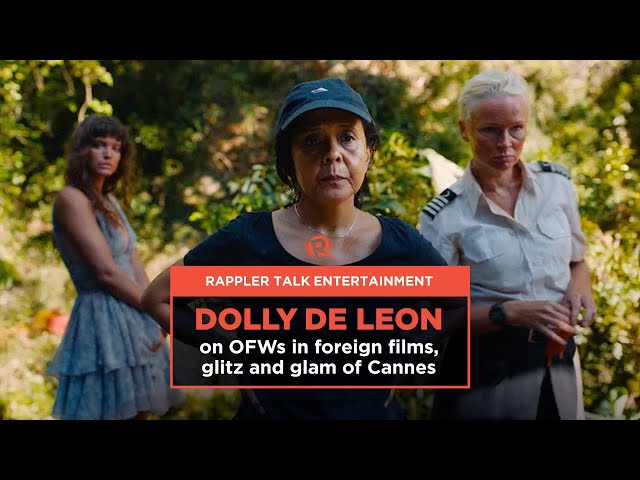 De Leon's Abigail is fascinating precisely because she cannot be caged into mere Filipino representation. She does not behave like a model citizen nor is she interested in being one.
De Leon embodies Abigail as a woman capable of desire and of being desired, even if others must bear the consequences. That hunger to be treated like a human being and not as one of the nameless functional cogs of the ship that can be owned and ordered around threatens to unravel her and those around her, but it is one which audiences around the world can deeply connect with. It is a performance that cannot be spoiled by any spoiler, that refuses to be reduced to binaries, that haunts the mind long after the credits roll.
If you don't believe me: take the plunge and go see for yourself. – Rappler.com
Triangle of Sadness had its Philippine premiere at the QCinema International Film Festival. It will be screening once more at the Powerplant Mall on November 21, 6 pm. Afterward, it will be available nationwide on November 30.