'This band was a blast to photograph and with such rip-roaring energy, there was never a dull moment.' Relive the explosive, high-energy evening with these amazing photos by concert photographer Stephen Lavoie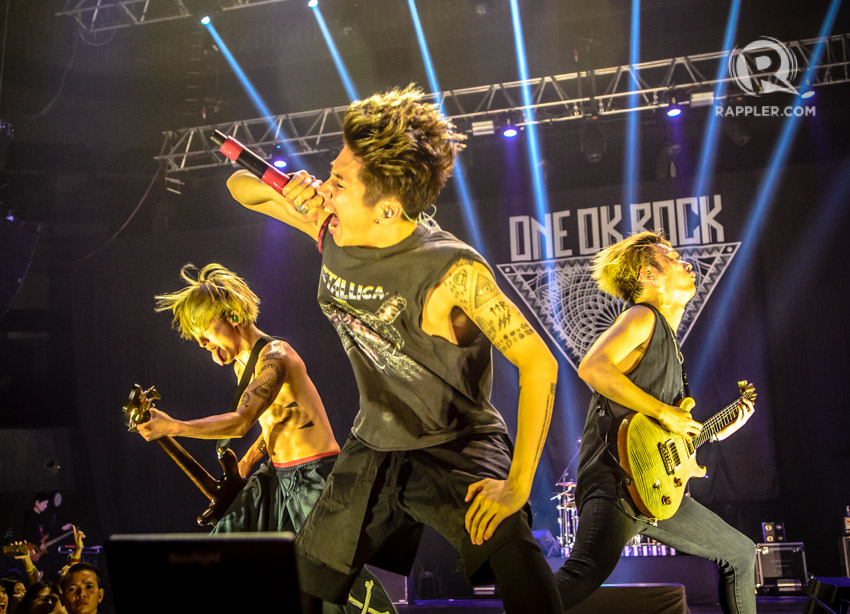 MANILA, Philippines – Did you ever go to a concert that you just didn't want to end? Well this was one of those, a thrilling experience for the entire crowd, myself included. (WATCH: One OK Rock thrills Manila fans) 
This band was unknown to me before their Philippine gig announcement so I didn't know what to expect. Hence, from my point of view, which is maybe closer to that of an innocent bystander, I can assuredly say that I was super impressed with this relatively young band, count me in as a fan.  
One OK Rock is a 4-member rock group, hailing from Japan with Takahiro "Taka" Moriuchi on vocal duties, Toru Yamashita on guitar, Ryota Kohama on bass and Tomoya Kanki on drums. With a huge following in Japan, most music fans in that country will recognize the name immediately, now just beginning to hit the international spotlight, and well-deserved. In many interviews, the band has said the name is derived from when they would rehearse, at one o'clock in the morning, which was when it was less expensive to rent the studio. (READ: One OK Rock: Their time has come)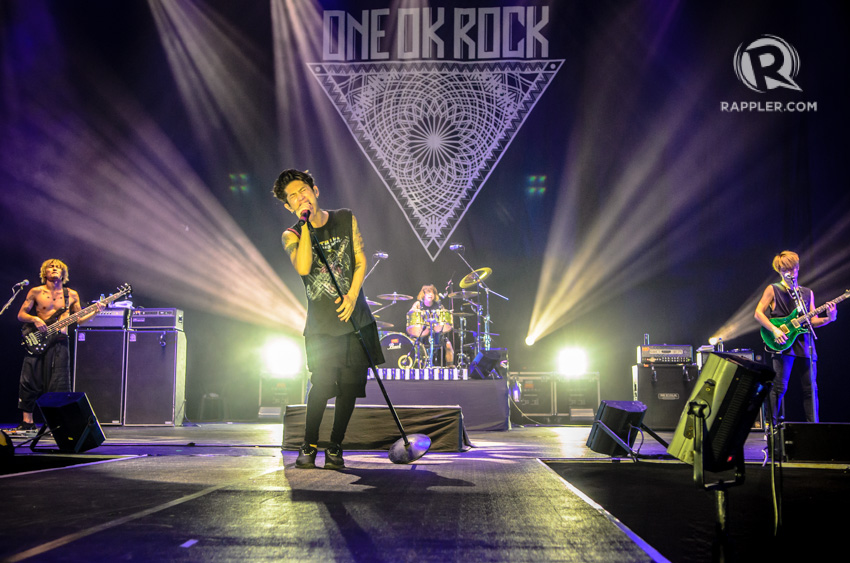 The setlist flowed with a natural ease and they hit the stage guns blazing. Taka, didn't stop moving for the first 5 songs. He bounded from one side of the stage to the other, at times catching air off a small platform placed in the center, constantly on the move.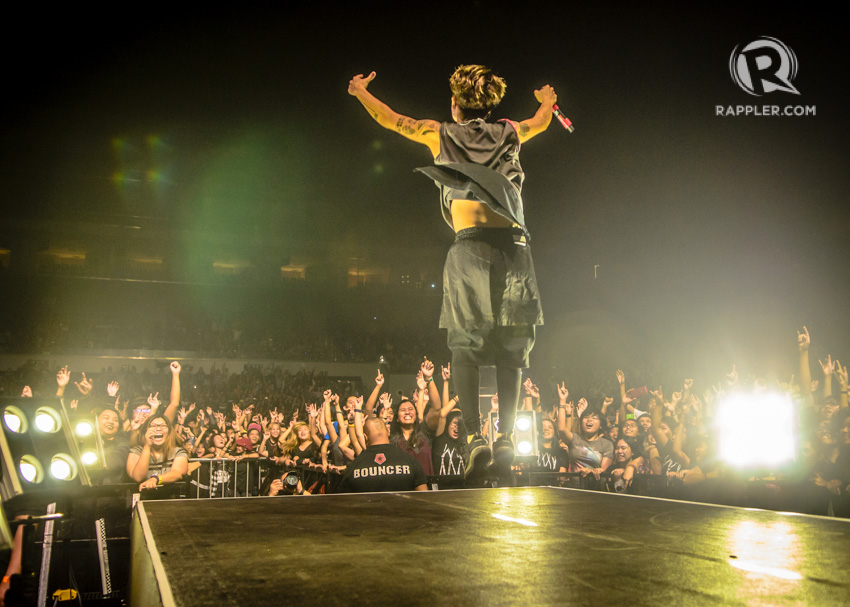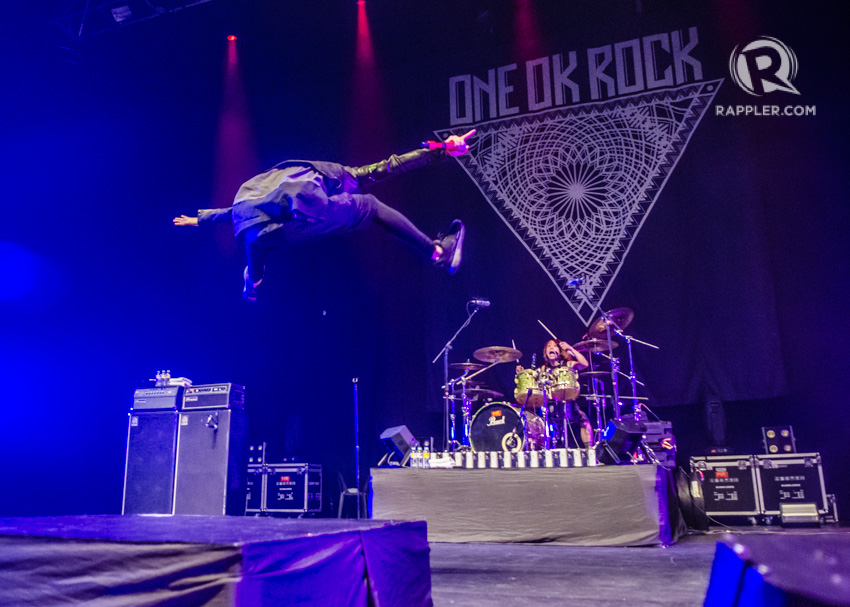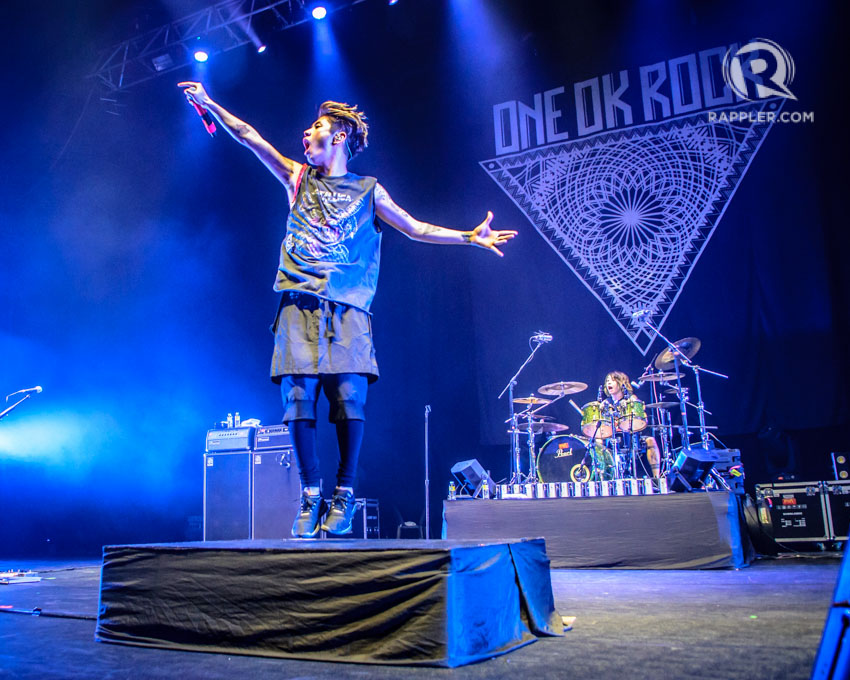 Listen to part of "Mighty Long Fall" here:
Taka sounded AMAZING! My fave number of the night. #mightylongfall @ONEOKROCK_japan @rapplerdotcom pic.twitter.com/x51SP52saO

— Wyatt Ong (@wyattcaraway) January 19, 2016
Some of Taka's mannerisms, especially when he would lean forward and belt out the high notes, reminded me of Chino Moreno, lead vocalist of the Deftones. To which, these guys have a similar rock sensibility, think Linkin Park with a blend of pop rock, something you might hear from Good Charlotte or Simple Plan. They've change their sound a bit as they have developed their own style.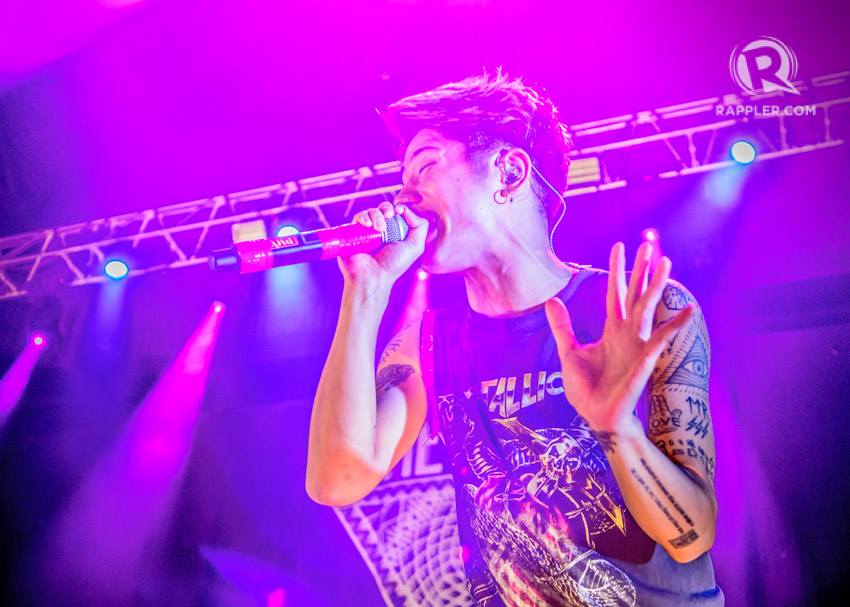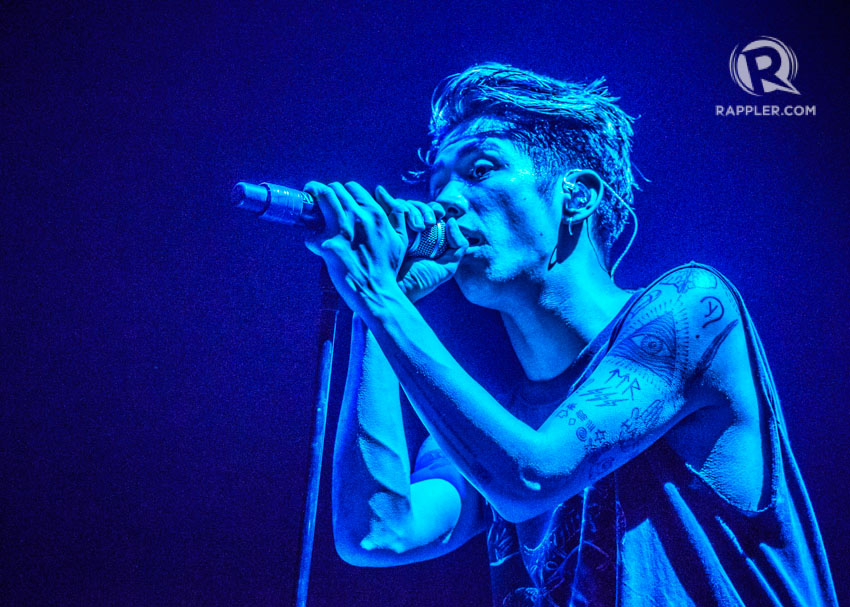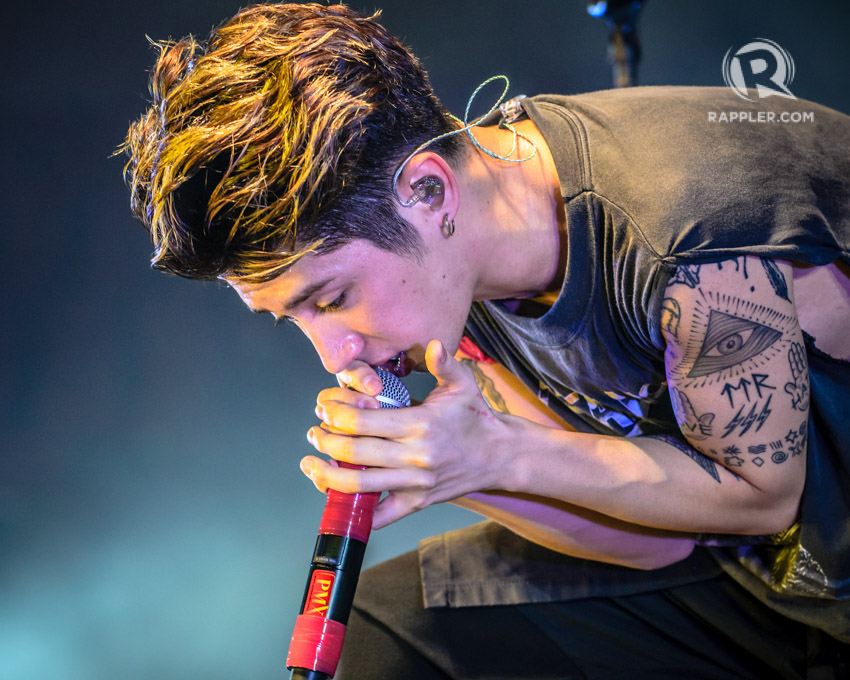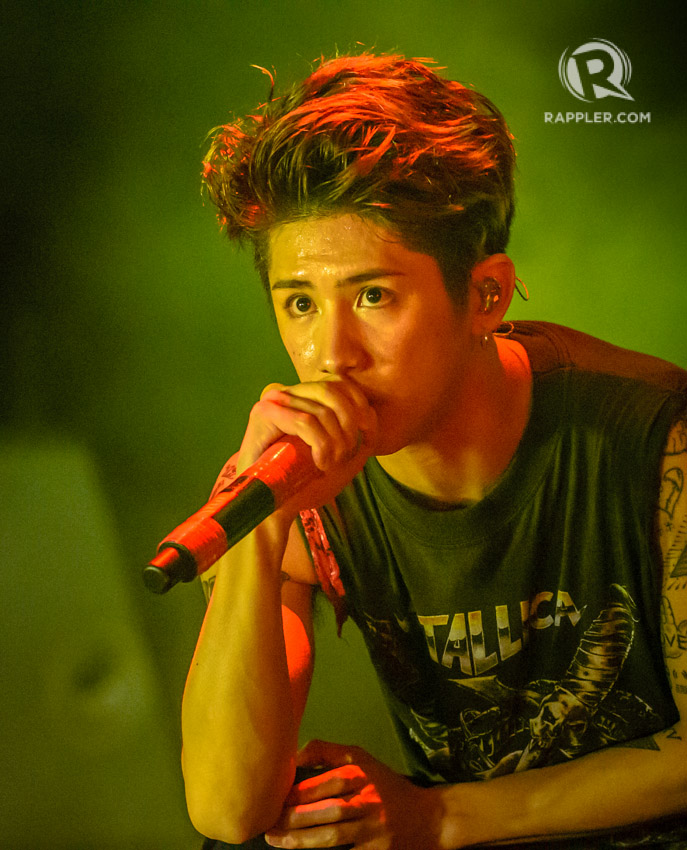 After 5 upbeat songs, they toned it down, with couple of slower tempo numbers, even busting out the acoustic guitar. They also included a short instrumental piece while Taka took a break, leaving the stage for a few minutes, letting his bandmates spotlight their skills. Then they followed with a couple of slower songs and began to ramp it up again about two thirds of the way through and finished with a high-energy encore.
What was notable, even with such dynamic physical activity, the quality of the singer's vocal performance was right on the money, he didn't miss a beat. At times, he would dash from one side of the stage to the other, or up and down the catwalk set-up. Showing no signs of being winded while singing full out – this is not a straightforward task, although he made it appear second nature.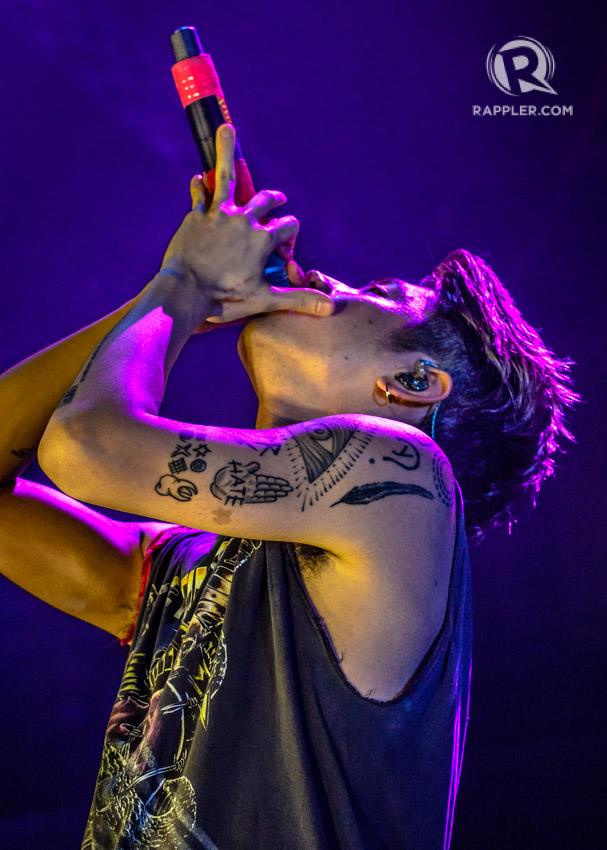 That's all well and good, except photographically, this creates a challenge with such an active subject and relatively low light. But if you catch them at the right moments, it makes for a sensational image.  
On top of all the activity from the lead vocalist, the guitarists also held up their end of the bargain. On a few occasions, the boys were more like a whirling dervishes, spinning frantically in tight circles, playing guitar in perfect time. Most bass players don't even move much, usually just swaying with the beat, but not so with the shirtless Ryota. He was constantly on the go, as he rocked out.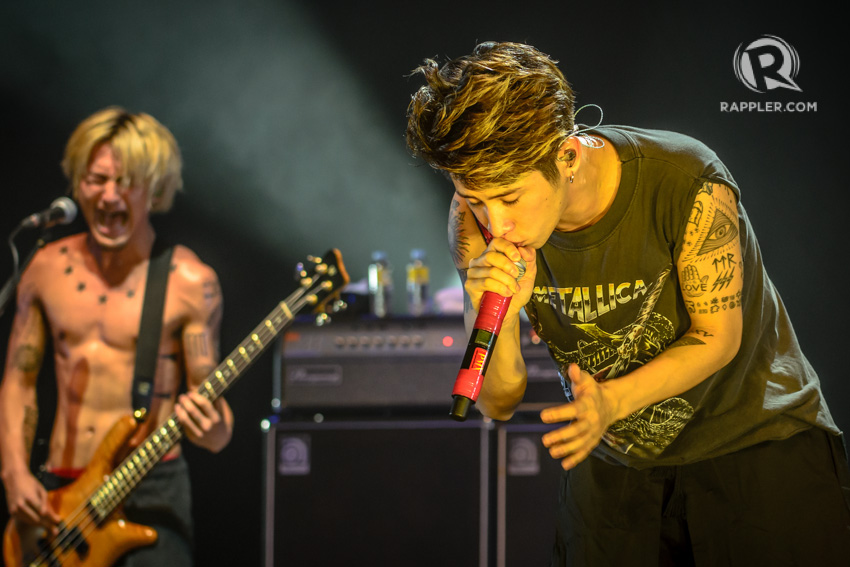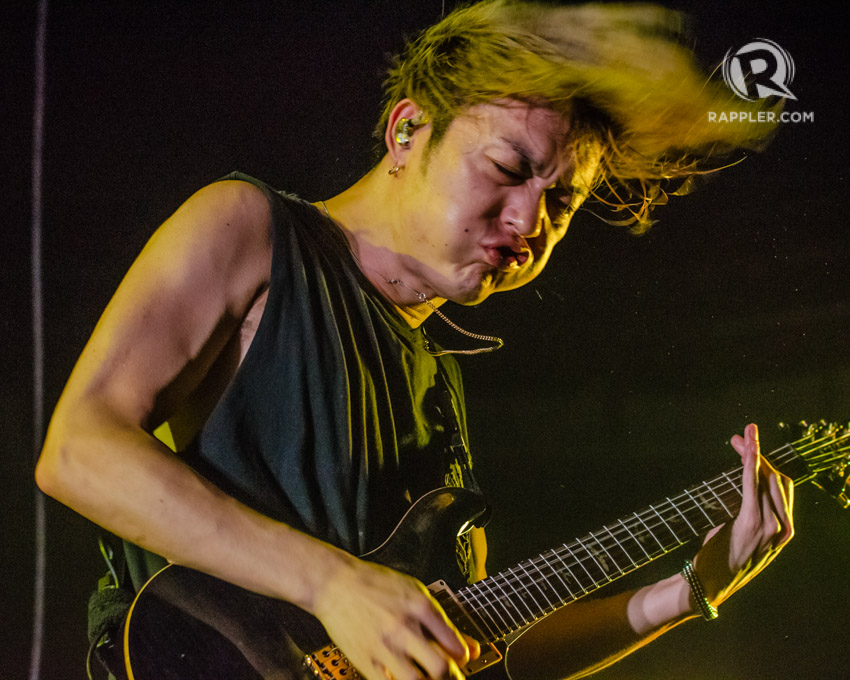 All this backed up by Tomoya on drums, also playing double duty on backing vocals, he was tearing it up.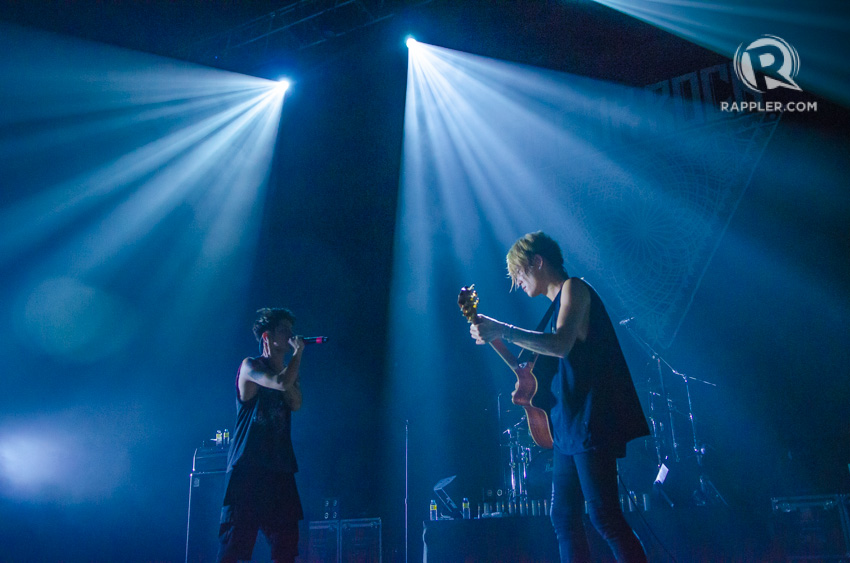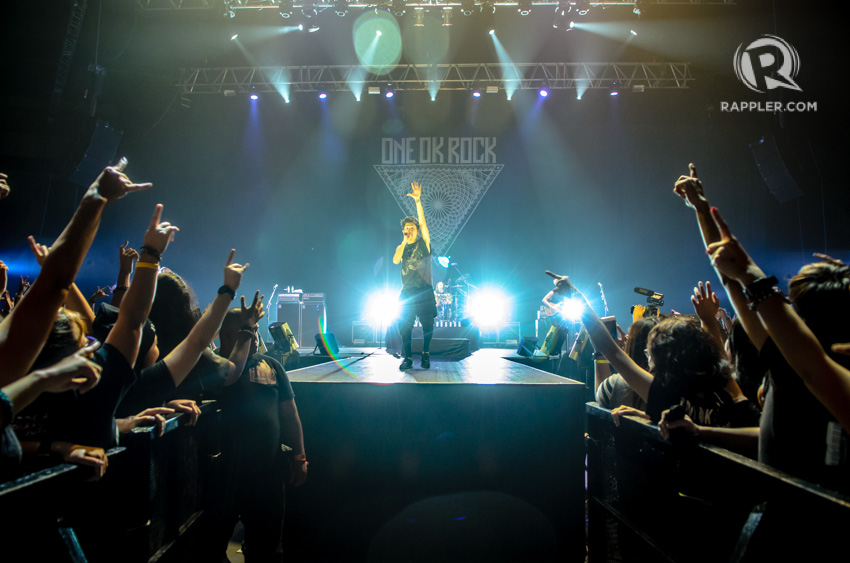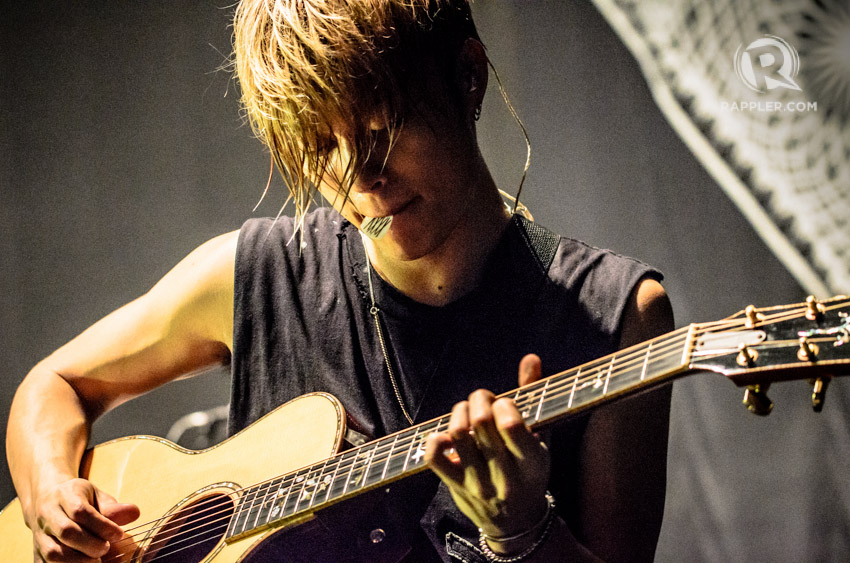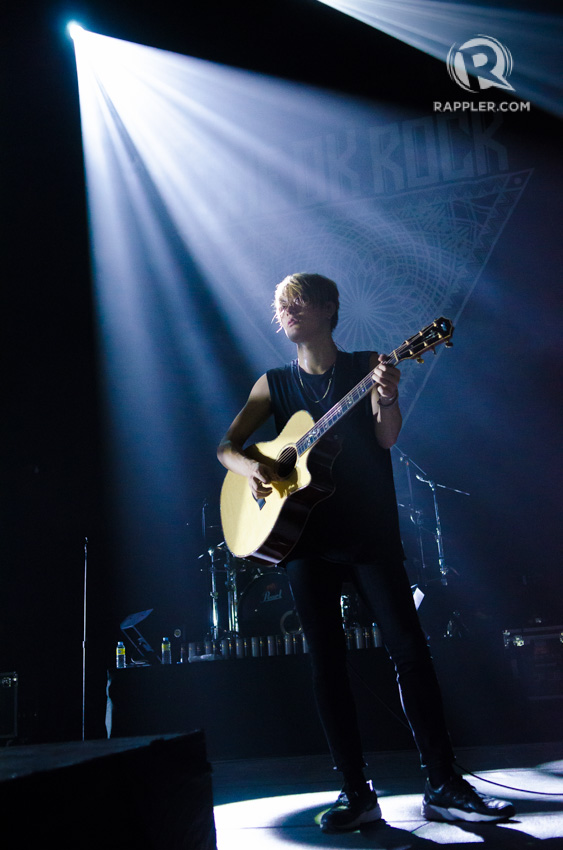 As usual, the Filipino audience did not disappoint, lighting up their cell phone lights at the appropriate time without even being prompted to do so and singing along in perfect tune for most of the night.
.@MOAArena lights up for @ONEOKROCK_japan as fans sing along to 'Heartache,' featured in @ruroken_movie pic.twitter.com/pFKuqRlDB4

— Wyatt Ong (@wyattcaraway) January 19, 2016
Much of their catalog of music is in English, but they did sing in Japanese, and astonishingly most of the crowd knew the words, too.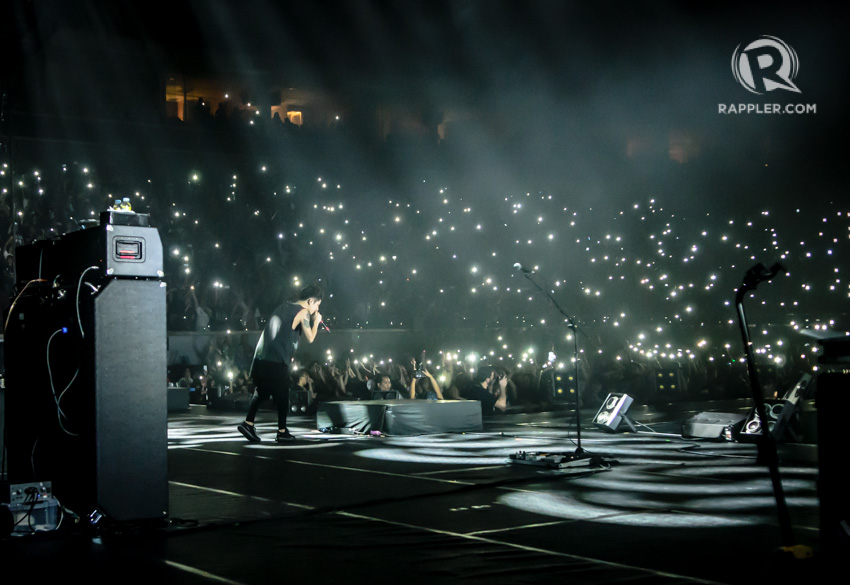 Taka was initially taken aback and gestured to his bandmates, you could tell they were all impressed, there were smiles all around, they were enjoying themselves as much as the fans and it showed. 
Yes, there was plenty of energy, competent young musicians, solid lighting arrangements and fantastic quality of the sound, things you'd expect from a worthwhile concert, but what made an impact on me was Taka's command of the stage.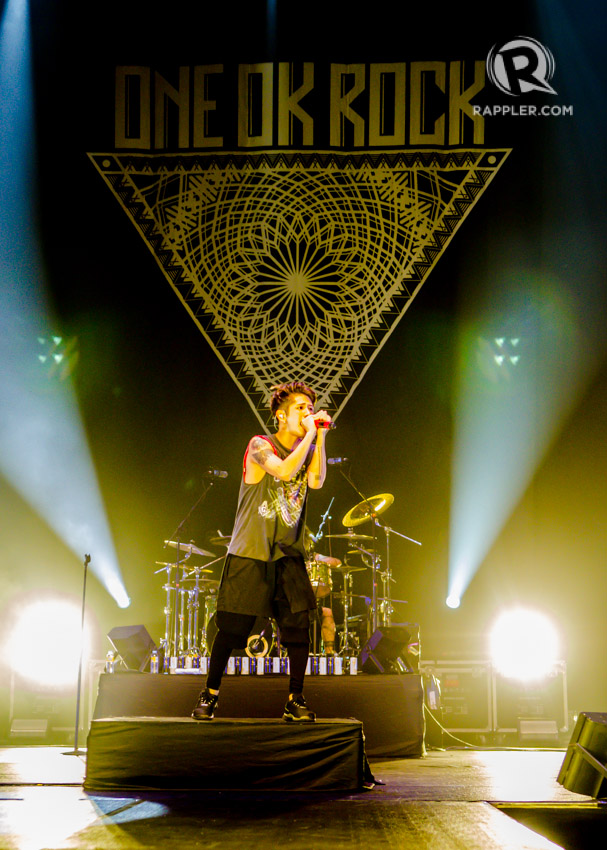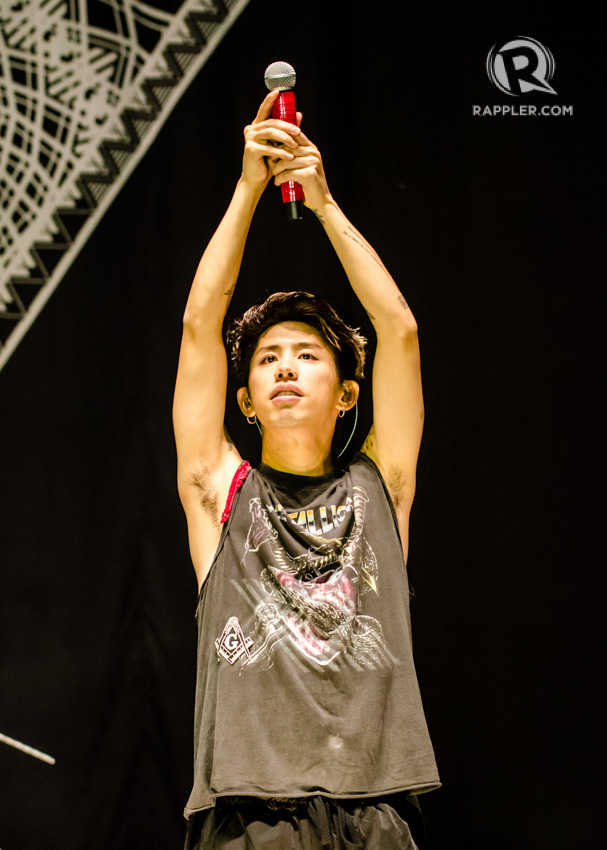 He's got stage presence beyond his years, attentive to the energy the band was exuding and managing the energy that was coming back.
Watch him talking to the crowd at the beginning of the concert:
One OK Rock!!!

Posted by Wyatt Ong on Tuesday, January 19, 2016
He wasn't just going through the motions.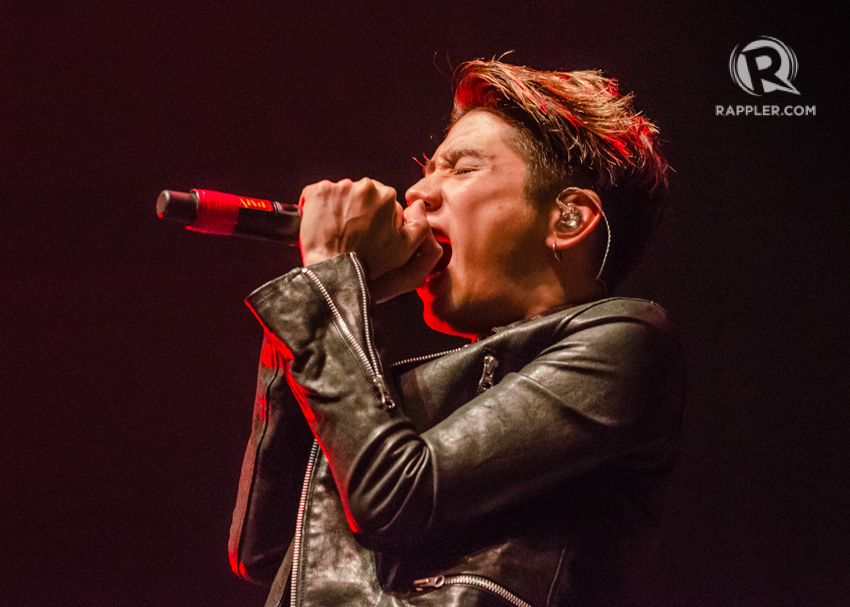 Dynamically paying attention to everything going on around him, instinctively knowing just when to coax the crowd into a frenzy or to tone it down a bit with a personal touch. Controlling the arena with a master's touch – many performers work on this skill for a lifetime, superb stuff.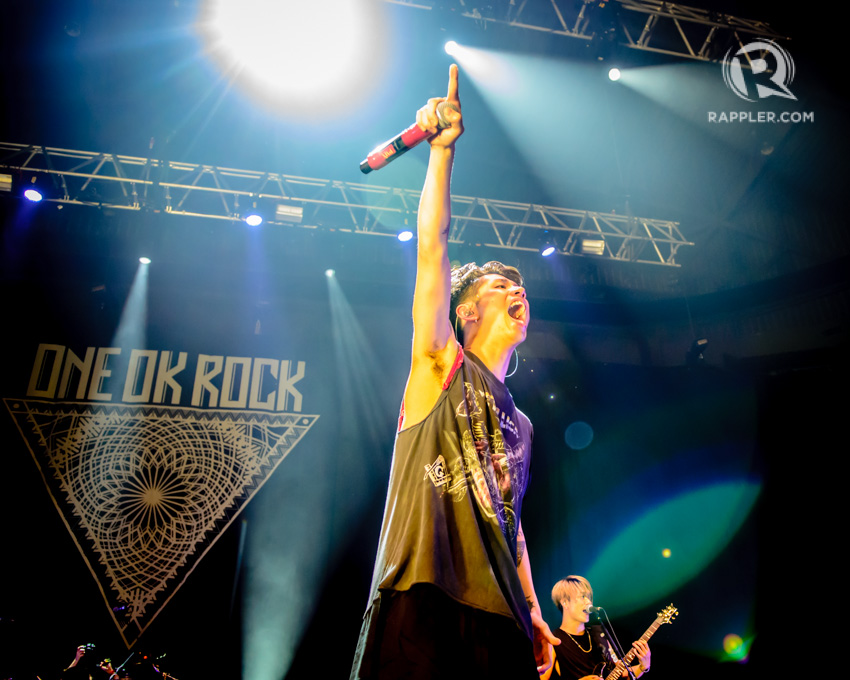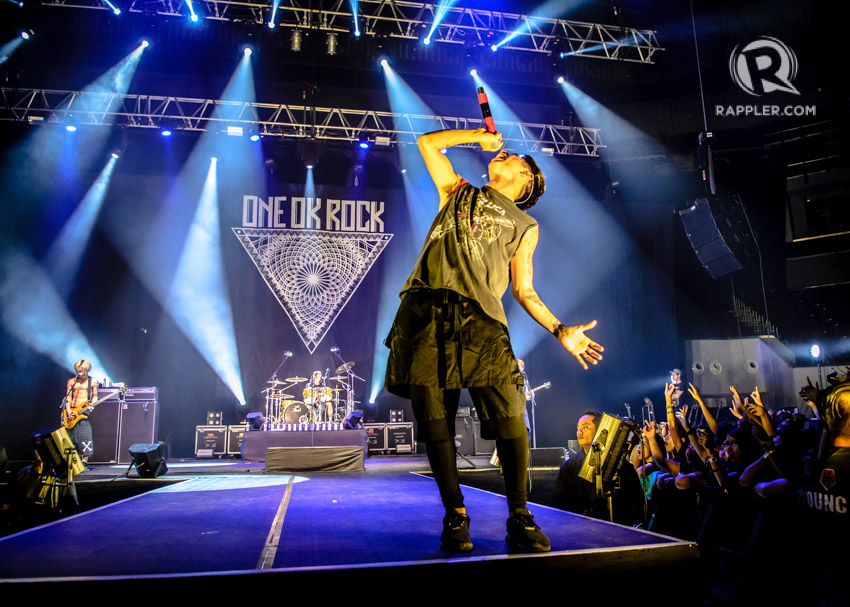 This band was a blast to photograph and with such rip-roaring energy, there was never a dull moment. A band on the cusp of a different level of stardom, one hit song should send them on their way, so keep and eye out for this name. They might just be back, which I think is a safe bet, so if you missed them this time – next time, don't.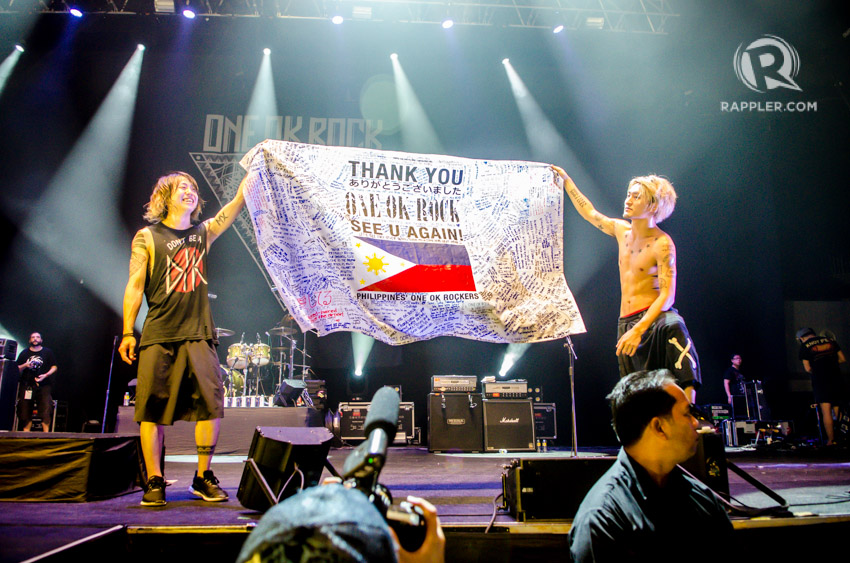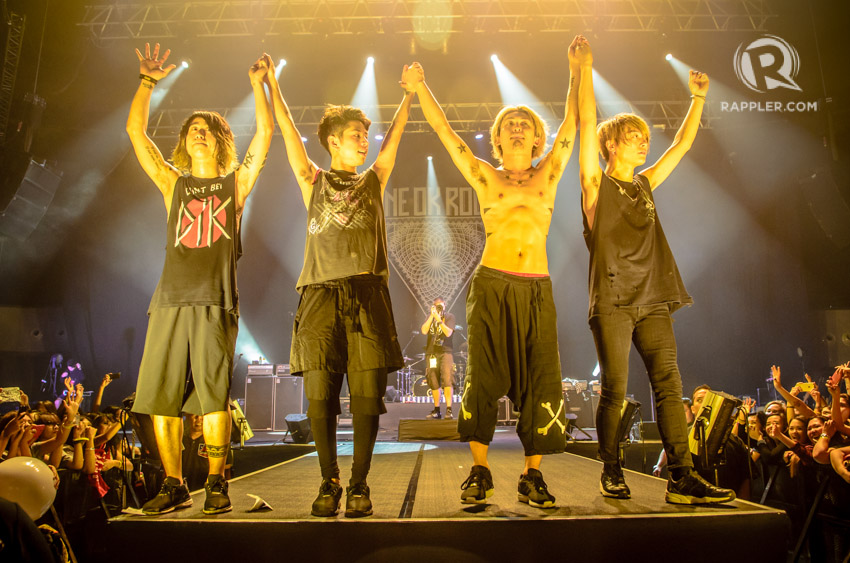 – Rappler.com