Watch Sponge Cola's mini-concert, live at the Rappler newsroom!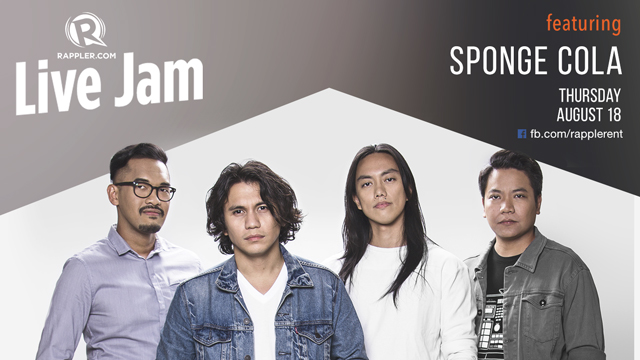 MANILA, Philippines – Whether it's rocking out to songs like "Bitiw" and "Tuliro," or swooning to songs like "Jeepney" and "Gemini," we've all made memories to Sponge Cola's many hits.
With the release of their double EP SinagTala coming up, Yael Yuzon, Armo Armovit, Gosh Dilay, and Ted Cruz are set to take their fans on a rollercoaster of emotions once again.
Three of the 4 – Yael, Armo, and Gosh – hit up Rappler HQ on Friday, August 19, for an acoustic session where they played two songs from SinagTala and a few throwbacks too.
They started the Live Jam with "Coda" and "Pag-ibig," songs from the new EPs.
"It's more like a post-breakup song," explained Gosh Dilay, who wrote "Coda." "The part where you assess if you did the right thing or not when you did the breakup."

A more uplifting song, "Pag-ibig" is on Sinag, and was written by Simon Tan and performed by Sponge Cola for for the soundtrack of the series Dangwa.

The band then took a few requests from their fans watching the livestream, playing "Gemini," "Jeepney," and "Neon."
"Neon" was was the song Yael played when he and Armo first met at their school's open mic night. "I was so moved by the melody and the song-writing, and I was like, 'Wow! Original niya 'yan?' Ang daring kasi, ang courageous eh." ('Wow! That's his original?' Because it was so daring, so courageous.)

Between songs, the boys shared a few stories too, including the time Yael kept calling a girl by the wrong name – then asked her out.

Sponge Cola's SinagTala double EP launches on August 26. – Rappler.com