Here's a look at Britney's first concert in the Philippines!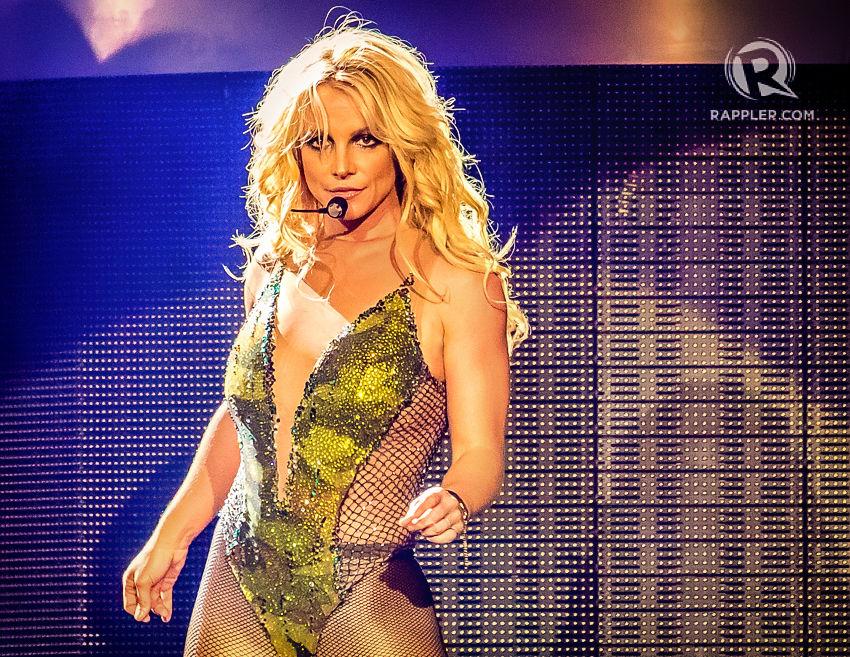 Britney Spears performed in the Philippines for the first time on Thursday, June 15, at the Mall of Asia Arena.
What impressed me at the concert was the spectacular massive production. Vocally, yes, Britney Spears lip-synched her songs for the night, but it really didn't matter. It can be controversial for many concert-goers, if they expected to view a live performance, but the audience couldn't have cared less. There was a full house in attendance to witness a pop princess, an icon in the industry, performing in Manila for the first time after she came off shows in Tokyo, Osaka, Seoul, and Taipei.
Smoke and mirrors are commonplace in the pop world anyway and this singer has been reported to have lip-synched in a fair share of the performances on this tour and in the past, so there wasn't much of a surprise there. It's also not an uncommon practice for any performer with an extremely physically demanding dance routine as part of their act.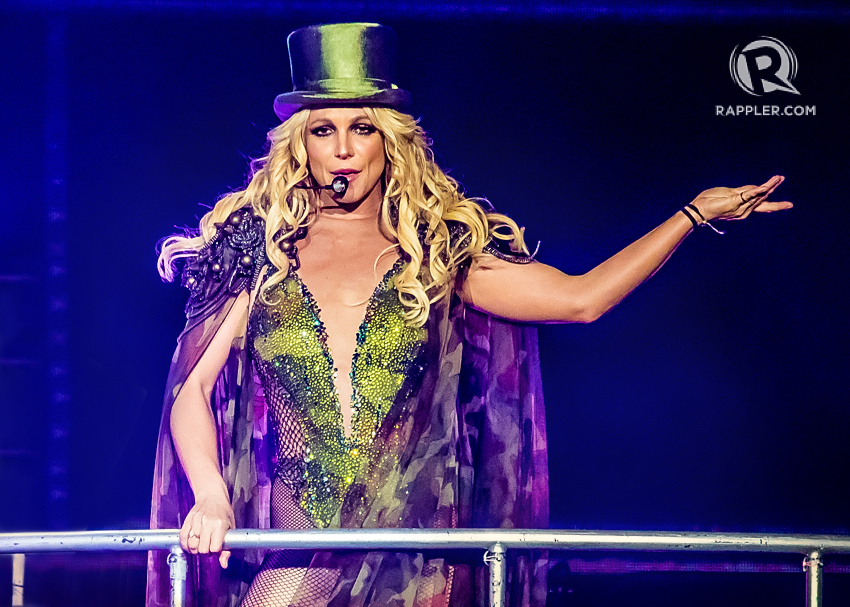 The '90s kids in attendance held her music in the highest regard, as it defined their world with unmatched pop anthems, whether sung live or not.  
A mother of two and in her mid-thirties, Britney made her ravishing performance look like a walk in the park. Her sassy dancing and physical condition is certainly more than admirable, and the skimpy costumes highlighted her athletic figure. She may no longer have that youthful spring in her step but her performance was still pretty solid as far as international superstars go. Her moves were more sexy and flirtatious, at one point even performing on a stripper pole on the center of the stage.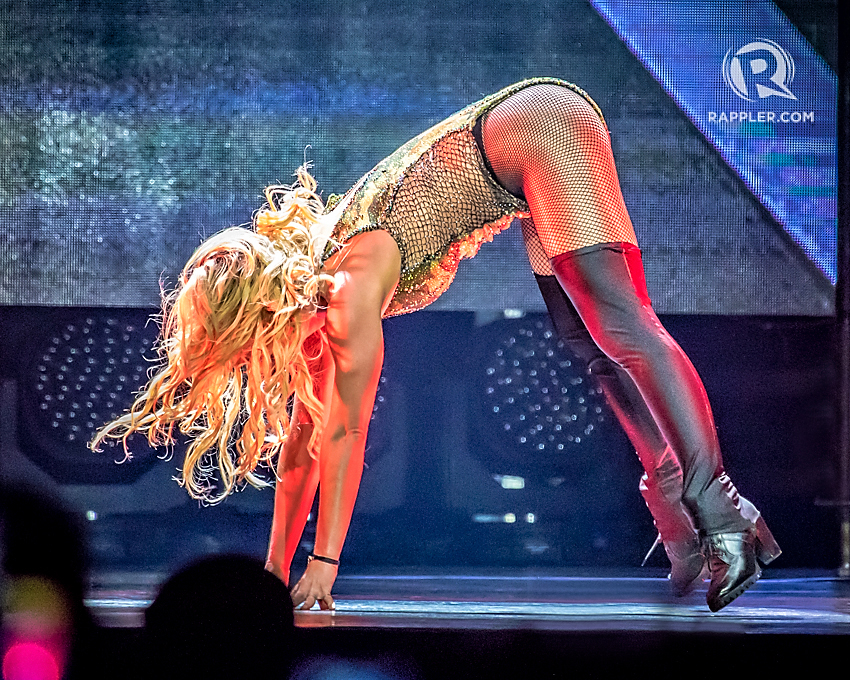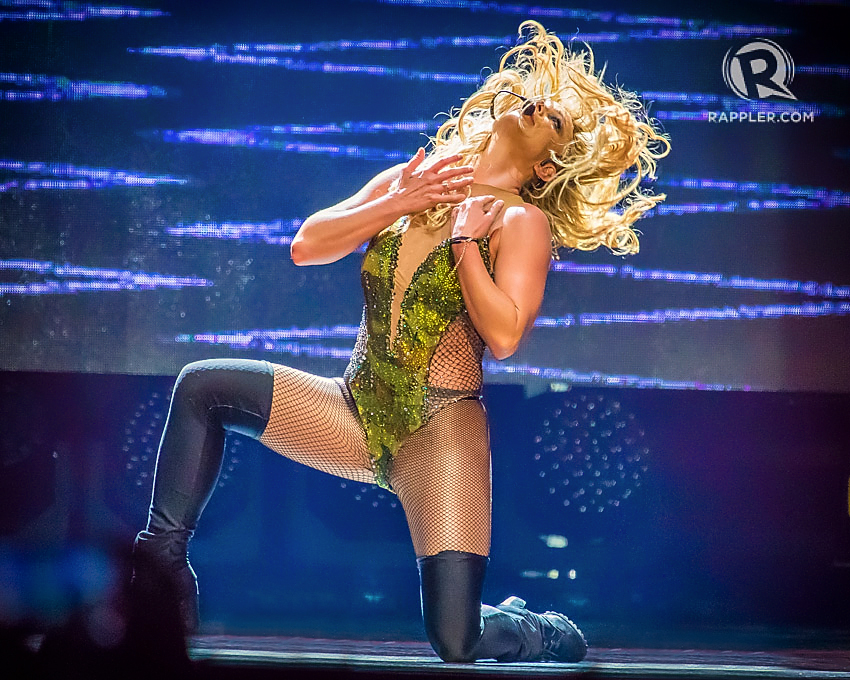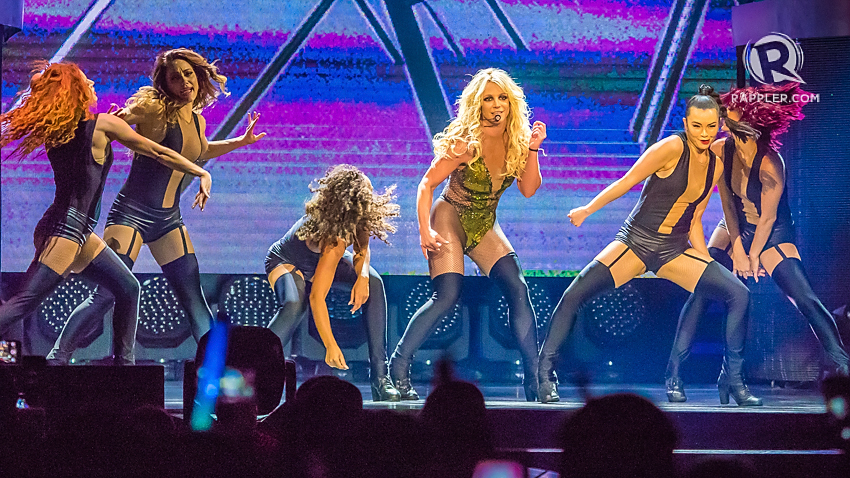 Britney started out as a child star and has since become a multi-platinum, Grammy award-winning megastar. She's gotten a fair share of bumps and bruises along the way. Now, she's focused on family, seems to be on the top of her game, and is obviously having fun and appreciating the energy level of her audience.
Britney did have her flaws though – she had knee surgery over a decade ago, and it showed occasionally, as she hesitated with particular movements or was super cautious going up and down the stairs. Sometimes, she lacked the fluidity and explosiveness of her outstanding 14-member dance crew, who were perfectly synchronized at all times.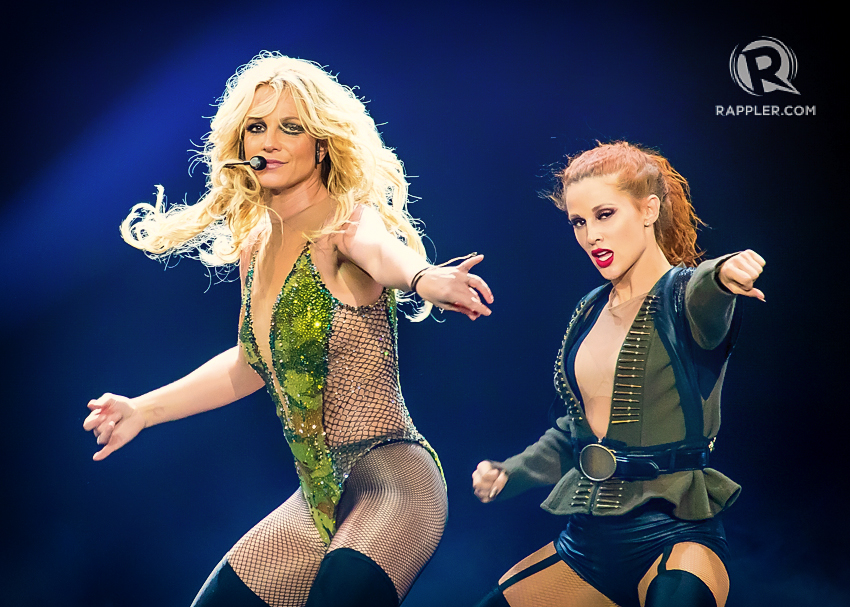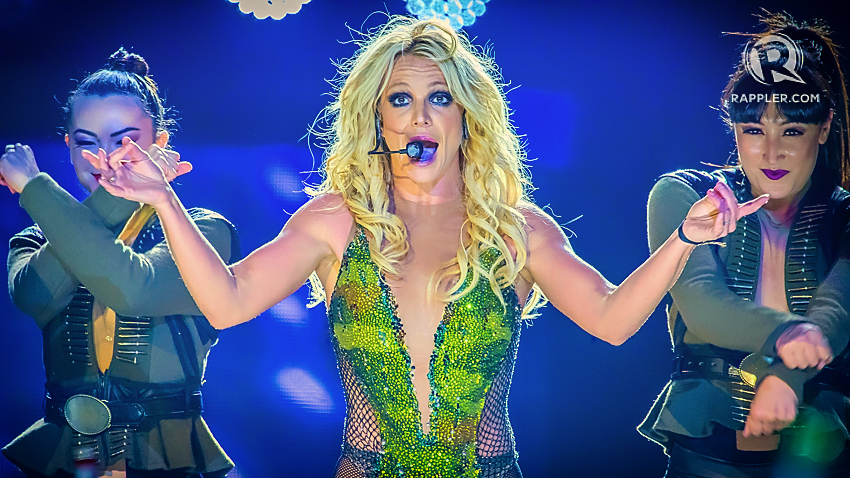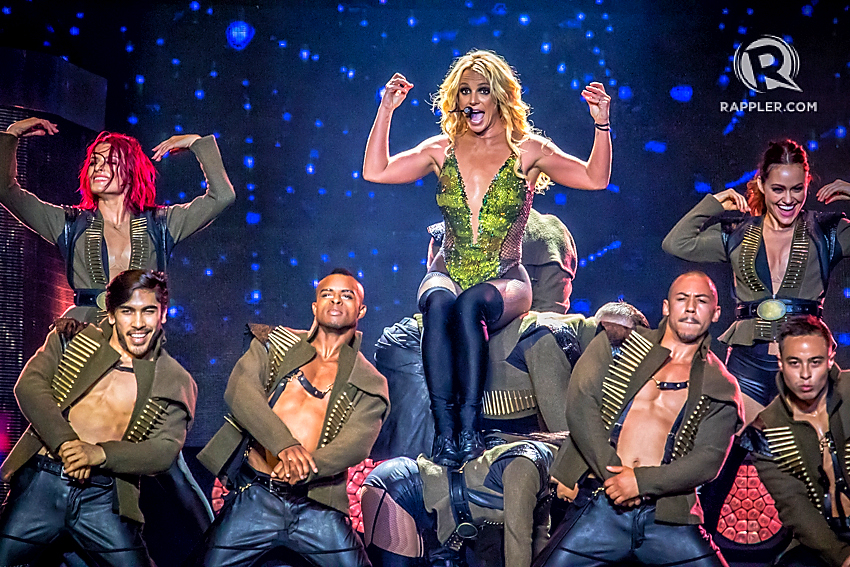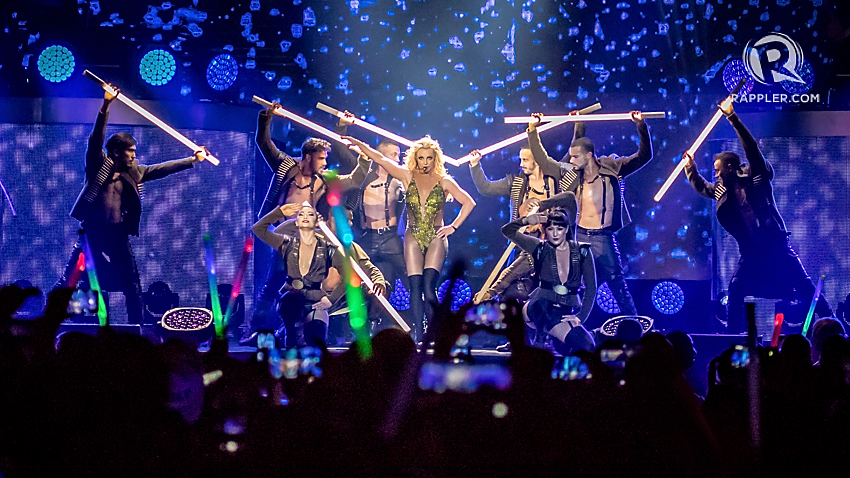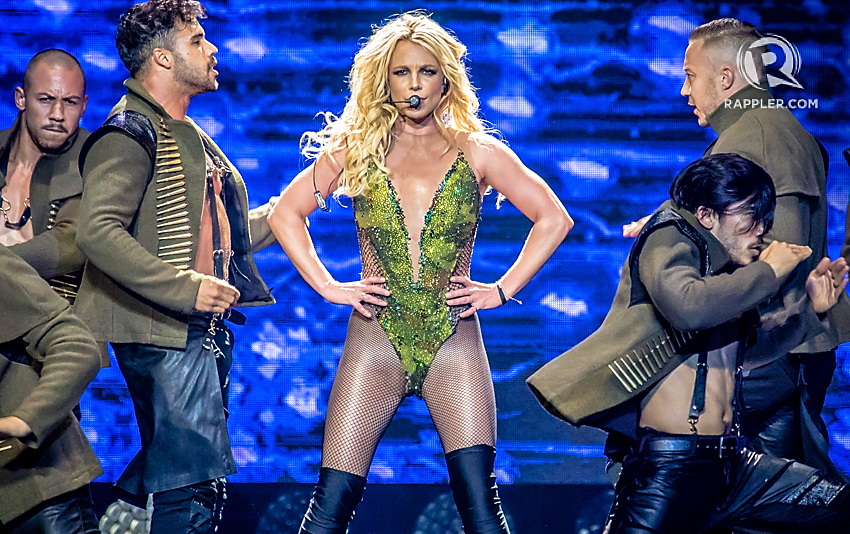 Still, it was a good show with impressive choreography that utilized every inch of the stage, with performers moving constantly across all sections, keeping your eyes busy. It was accompanied by a lights show that knocked your socks off and the T-shaped catwalk had Britney reaching out to the relentlessly exuberant crowd, who were on their feet from the first note. Not surprisingly, it stayed that way, and very few folks sat down at the Mall of Asia Arena on June 15, as everyone in the building was dancing to the beat.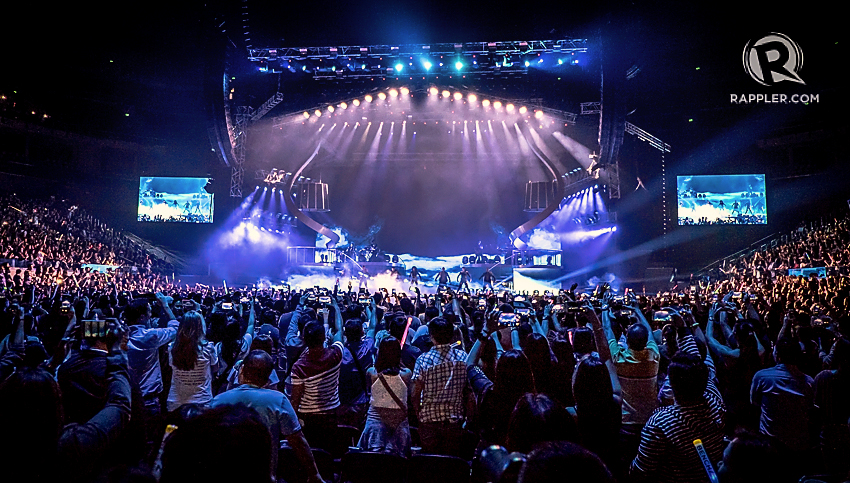 The banter in between songs was sparse; the visuals did the talking. At one point, before beginning the song "Freakshow," she asked for a volunteer from the audience to come up onstage and "play" with her. A man from Hawaii joined her and became her unwitting partner in a dominatrix-type role play, with Britney in a skimpy black lace number carrying a whip and walking him around on a leash on all fours.  
The concert certainly had that Vegas razzle-dazzle production feel, which is no coincidence, considering that Britney has residency in Sin City in Planet Hollywood Resort and Casino.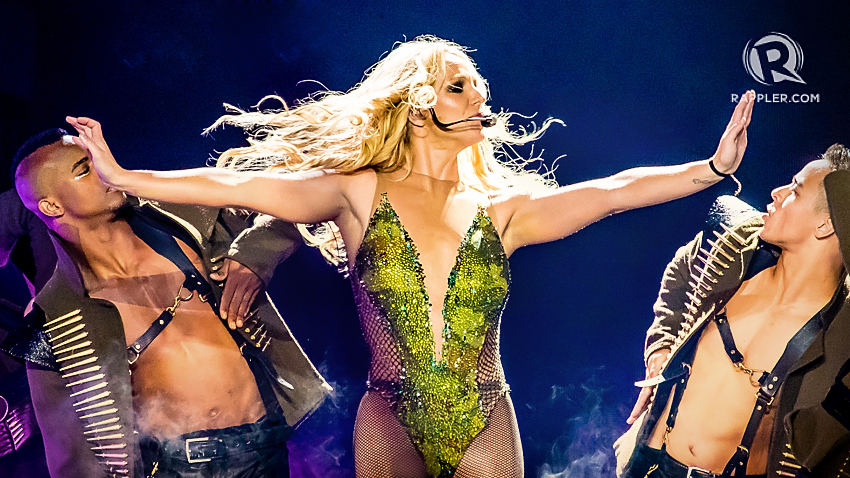 Appropriately, there were numerous lavish costume changes for her and the dance crew. Flashy high-value videos were on huge back-screen and LED panels that wrapped around stage risers. The show was broken down into 7 distinct "acts" with varied themes. Whether it be a circus, dance club, or a jungle, there were many elements involved and they all skillfully matched up. It was plain to see that there was a conscious effort and heart-felt planning that went into it all.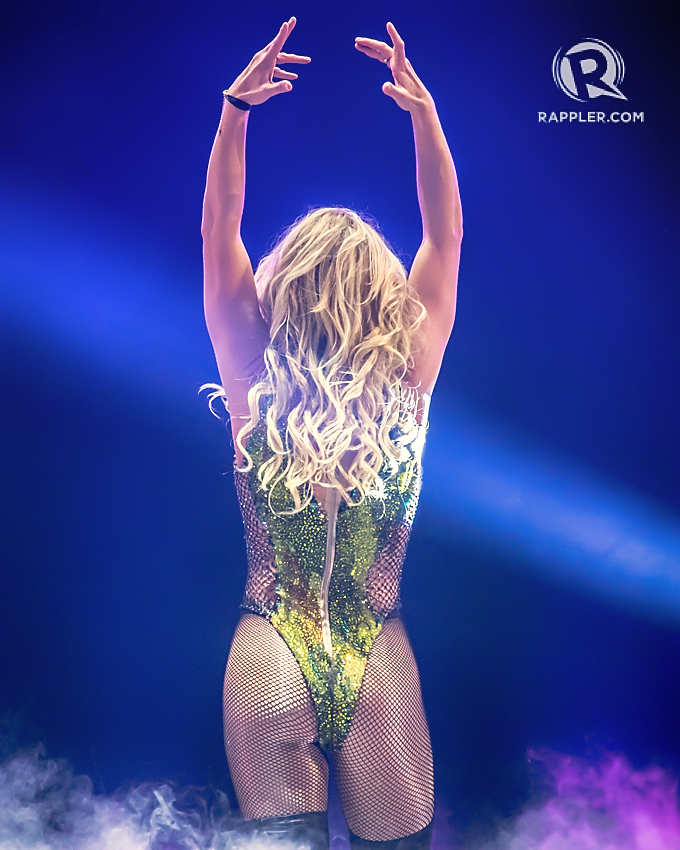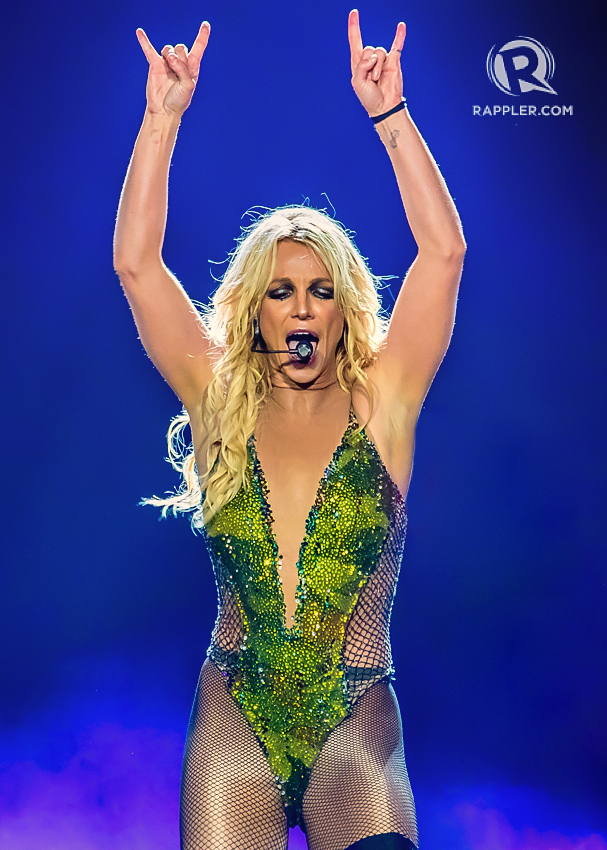 The well-received setlist flowed with ease, as it masterfully timed the breaks so the set and wardrobe changes took place seamlessly. There were about 23 songs, including a medley of her earlier signature songs like "…Baby One More Time" and "Oops! …I Did It Again" and many of her greatest hits like "(You Drive Me) Crazy," "Stronger," "I'm a Slave 4 U," "Toxic," "Gimme More," and "Womanizer." Britney ended with an encore of "Till The World Ends," capping off the concert with a ubiquitous confetti shower.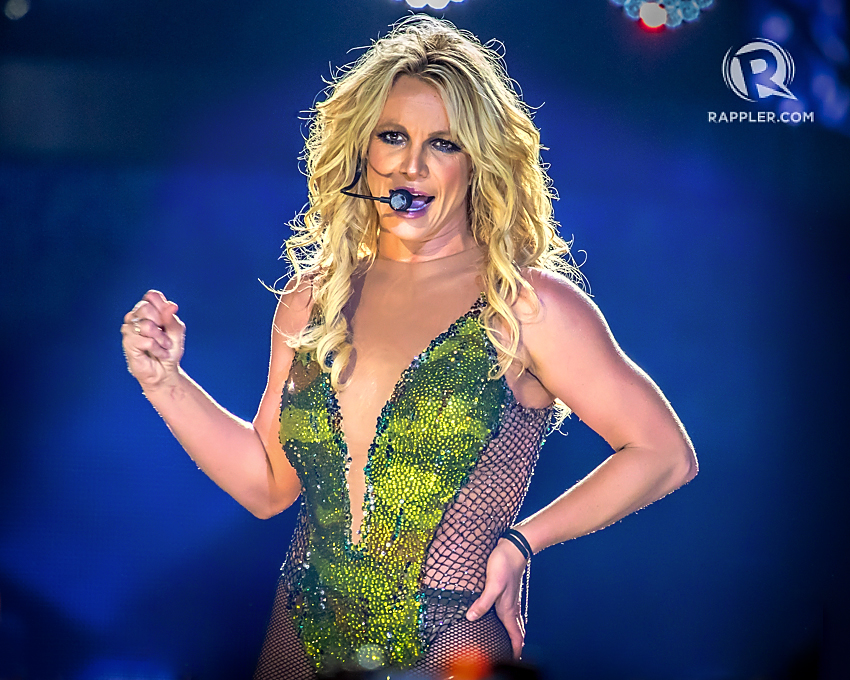 The production was purposefully executed, and many of the details were not left to chance. It was really something to experience, even if, like me, you're not a huge Britney fan. At 50-something, it was certainly not my cup of tea, but I appreciated the production quality itself, along with Britney's irresistible stage presence that only a rare few command.  
As the saying goes, perfection is nothing more than a series of small steps down well. There was an electric atmosphere, with all the factors blending perfectly. Britney looked happy and radiant the entire time she was onstage, often tousling her hair, strutting about with a power and confidence that only comes from numerous years of performing. The top-notch stage design and perfectly timed movements kept the audience engrossed the entire length of the show.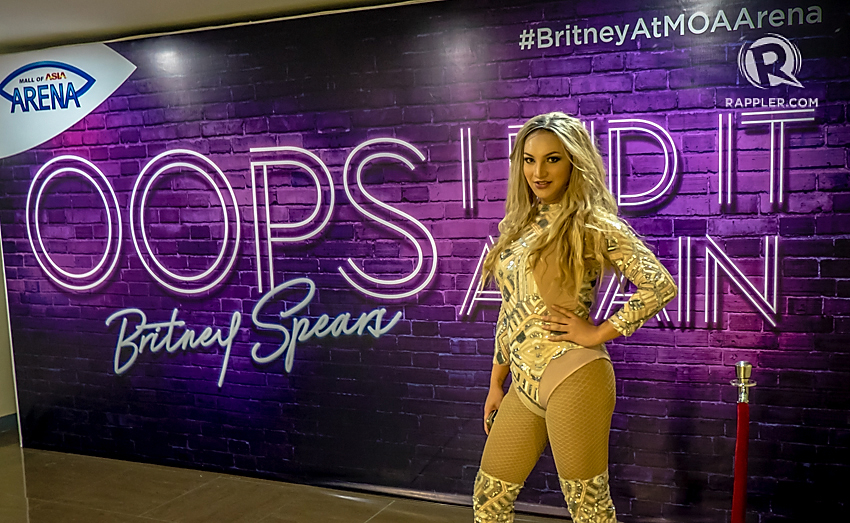 Throughout the concert and after, the fans' enthusiasm was unrelenting. Even on my way out the door, in the lobby, there were hundreds singing in unison, to "…Baby One More Time." It was the first time I've ever experienced such a thing – the crowd just couldn't get enough and will be high on this one for a lifetime. – Rappler.com