Julie Anne San Jose, Alden Richards, and Michael Pangilinan lead this year's music nominees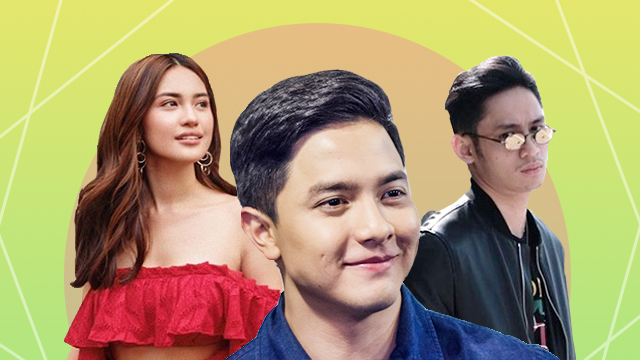 MANILA, Philippines – After awarding the top movies for 2017, the Philippine Movie Press Club (PMPC) announced the nominees for the 9th Star Awards for Music scheduled this year.
Leading the list is Julie Anne San Jose, who scored 6 nominations including Song of the Year and Female Recording Artist of the Year.
The male category meanwhile is dominated by Alden Richards and Michael Pangilinan who are both competing for Song of the Year alongside Julie Anne. Both Alden and Michael are also nominated for Male Recording Artist of the Year.
The Pilita Corrales Lifetime Achievement Award will given to Imelda Papin, while the Levi Celerio Award will be awarded to Freddie Aguilar. 
The list:
Song of the Year  
• "Chasing the Light"  Julie Anne San Jose  (GMA Records)
• "Dahil Sa'Yo"  Inigo Pascual (Star Music)
• "Hanggang Kailan" Michael Pangilinan (Star Music)
• "My Destiny," James Wright  (GMA Records)
• "Paasa", Yeng Constantino  (Star Music)
• "Rescue Me", Alden Richards  (GMA Records)
• "Sila," SUD (Warner Music Philippines)

Male Recording Artist of the Year  
• Alden Richards, Say It Again (GMA Records)
• Daniel Padilla, Greatest Hits and More  (Star Music)
• Gary Valenciano, GARY V @ Primetime  (Star Music)
• Lloyd Umali,Bakit Ka Pa Bumalik? (8 Trimedia PRO, Inc.)
• Martin Nievera, Kahapon… Ngayon  (PolyEast Records)
• Michael Pangilinan,  Michael (Star Music)
• Richard Poon , Richard x Richard- The Chinito Crooners (Star Music and Cornerstone Entertainment, Inc.)
• Piolo Pascual, Greatest Themes (Star Music)

Female Recording Artist of the Year  
• Angeline Quinto, @LoveAngelineQuinto (Star Music)
• Charice Pempengo/jake Zyrus, Catharsis (Star Music)
• Ima Castro, Ikaw Na Ba? (8 Trimedia PRO , Inc.)
• Jennylyn Mercado, Ultimate (Ivory Music and Video)
• Jona, Jona (Star Music)
• Julie Anne San Jose, Chasng the Light (GMA Records)
• KZ Tandingan, Soul Supremacy (Star Music)
• Vina Morales, VINA XXX (Star Music)

Album of the Year  
• Chasing the Light, Julie Ann San Jose (GMA Records)
• Michael, Michael Pangilinan (Star Music)
• Jona, Jona (Star Music)
• Pogi Years Old, Parokya Ni Edgar (Universal Records)
•Say It Again, Alden Richards (GMA Records)
• Soul Supremacy, KZ Tandingan (Star Music)
• Sukli, Gloc 9 (Star Music)

Concert of the Year  
• Birit Queens – Star Events and ABS-CBN Events
• Divas in Manila – Cornerstone Concerts
• Masquerade – Star Media Entertainment
• Queen of the Night, Jona – Star Events, Big Eyes Events and Creative Media Entertainment
• Pusuan si Vice sa Araneta – Star Events and ABS-CBN Events
• Something New In My Life – Twin M Productions International
• The Great Unknown Sarah Geronimo Live at KIA Theatre – Viva Live Incorporated
• Upsurge – GMA Network and GMA Records

Male Performer of the Year 
• Alden Richards – Upsurge (GMA Network and GMA Records)
• Erik Santos – Hugot Playlist (ATeam and PLDT Home)
• Gerald Santos – Something New In My Life (Twin M Productions International)
• Martin Nievera – Masquerade (Star Media Entertainment)
• Ogie Alcasid – Hugot Playlist (ATeam and PLDT Home)
• Richard Poon – Richard x Richard The CHINITO Crooners (Cornerstone Concerts and Star Events)
• Vice Ganda – Pusuan Mo Si Vice Sa Araneta (Star Events and ABS-CBN Events)
Female Performer of the Year
• Angeline Quinto – Birit Queens (Star Events and ABS-CBN Events)
• Jona – Queen of The Night Jona (Star Events, Big Eyes Events and Creative Media)
• KZ  Tandingan – Divas In Manila (Cornerstone Concerts)
• Kyla – Divas In Manila (Cornerstone Concerts)
• Lani Misalucha – Masquerade (Star Media Entertainment)
• Morissette Amon – Morissette Live At The Music Museum (Star Events and ABS-CBN Events)
• Sarah Geronimo – The Great Unknown Live in KIA Theatre (Viva Live Incorporated)
• Vina Morales – Vina XXX (DSL Events and Production)
• Yeng Constantino – Divas In Manila (Cornerstone Concerts)
Music Video of the Year
"Hoy" – Gloc 9 / Director: Paul Basinillo (Star Music)
"Hagdan" – Jennylyn Mercado / Director: TeyClamor (Ivory Music and Video)
"Hanggang Kailan?" – Michael Pangilinan / Director: Frank Lloyd Mamaril (Star Music)
"Kailan Darating Ang Ayoko Na?" Orlando Sol / Director: Maryo J. Delos Reyes / Star Music
"Narinig Mo Ba" Julie Anne San Jose / Director : Chris Librojo (GMA Records)
"Unli" Boy Band PH / Director: Peter Edward Dizon (Star Music)
"Your Guardian Angel " Alden Richards / Director: Miggy Tanchanco (GMA Records)

New Male Recording Artist of the Year
• Caleb Santos, Nakaraan (Viva Records)
• Inigo Pascual, Inigo Pascual (Star Music)
• Jc del Rosario IV, Mahika (Red Line Production)
• Kian Dionisio, Kian Dionisio (GMA Records)
• LA Santos, LA Santos (Star Music)
• Nick Vera Perez, I am Ready (Warner Music Philippines)
• Paul Michael, Istorya ng Buhay – Paul Michael (Homeworkz Music)

New Female Recording Artist of the Year
• Alexa Ilacad, To The Moon and Back (Star Music)
• Aubrey Caraan, Ang Bagal Mo Chong (Viva Records)
• China Gerona, China Gerona (Star Music)
• Ella Cruz, Sabi na Sa 'Yo Eh (Viva Records)
• Janine Teñoso, Can Love Find A Way (Viva Records)
• Natalia Moon, May Forever Pa More (GMA Records)
• Sassa Dagdag, Sassy Sassa (PolyEast Records)
• Ylona Garcia, My Name is Ylona Garcia (Star Music)


Pop Album of the Year 
• Alden Richards, Say It Again (GMA Records)
• Angeline Quinto, @LoveAngelineQuinto (Star Music)
• BOYBANDPH, BoyBandPH (Star Music)
• Inigo Pascual, Inigo Pascual (Star Music)
• Julie Anne San Jose, Chasing The Lights (GMA Records)
• Paolo Onesa, Handwritten (HomeworkzEntertainment Services)
• Ylona Garcia, My Name is Ylona Garcia (Star Music)

Male Artist of the Year 
• Alden Richards, Say It Again (GMA Records)
• Daniel Padilla, Greatest Hits and More (Star Music)
• Elmo Magalona, Elmo (Universal Records)
• Inigo Pascual, Inigo Pascual (Star Music)
• James Wright, Just Wright (GMA Records)
• Joaquin Garcia, Kahit Kailan (PolyEastRecords)
• Michael Pangilinan, Michael (Star Music)
• Piolo Pascual, Greatest Themes (Star Music)
Female Artist of the Year
• Angeline Quinto, @LoveAngelineQuinto (Star Music)
• Jona, Jona (Star Music)
• Jennylyn Mercado, Ultimate (Ivory Music and Video)
• Julie Anne San Jose, Chasing The Light (GMA Records)
• Myrtle Sarrosa, Now Playing Myrtle (Ivory Music and Video)
• Solenn Heussaff, Solenn (Universal Records)
• Ylona Garcia, My Name is Ylona Garcia (Star Music)

Acoustic Album of the Year  
• I Love Acoustic 10.1., Sabrina (MCA Music, Inc.)
• Kaye Cal, Kaye Cal (Star Music)
• Kahit Kunwari, TJ Monterde (PolyEastRecords)
• Kian Dionisio, Kian Dionisio (GMA Records)
• Migz and Maya, Migz and Maya (Star Music)
• Salubungan, Johnoy Danao (Universal Records)
Acoustic Album of the Year  
• Johnoy Danao, Salubungan (Universal Records)
• Kaye Cal, Kaye Cal (Star Music)
• Kian Dionisio, Kian Dionisio (GMA Records)
• Migz and Maya, Migz and Maya (Star Music)
• Sabrina, Love Acoustic 10.1 (MCA Music, Inc.)
• TJ Monterde, Kahit Kunwari (PolyEastRecords)

Compilation Album of the Year
• A Love to Last, the Official Sound Track (Star Music)
• Daniel Padilla Greatest Hits and More (Star Music)
• Gary V @ Primetime (Star Music)
• Life Songs with Charo Santos (Star Music)
• Mga Awit Mula sa Puso Vol 7 (GMA Records)
• PHILPOP 2017 (Viva Records)
• Piolo Pascual – Greatest Themes (Star Music)

Dance Album of the Year  
• BoybandPH, BoyandPH (Star Music)
• Enchong Dee, EDM ( Enchong Dee Moves) (Star Music)
• GIMME 5, Sophomore (Star Music)
• HASHTAGs, #Hashtags (Star Music)
• Myrtle Sarossa, Now Playing: Myrtle (Ivory Music and Video)

Duo/Group Artist of the Year
• Boyband PH, BoyBandPH (Star Music)
• GIMME 5, Sophomore (Star Music)
• HASHTAGs, #HASHTAGs (Star Music)
• Migz and Maya, Migz and Maya (Star Music)
• PAROKYA NI EDGAR, Pogi Years Old (Universal Records)
• Rash Juzen and Aries Concepcion, R and A Brothers Zodiac Duo (PolyEast Records)
• Sponge Cola, Sinag Tala (Universal Records)
• The Juans, The Juans (Viva Records)

Rock Album of The Year  
• Catharsis, Charice Pempengco/Jake Zyrus  (Star Music)
• Pogi Years Old, Parokya ni Edgar  (Universal Records)
• Sinag Tala, Sponge Cola (Universal Records)
• Y10, Yeng Constantino (Star Music)

Rock Artist of the Year 
• Charice Pempengco/Jake Zyrus, Catharsis (Star Music)
• Parokya ni Edgar, Pogi Years Old (Universal Records)
• Sponge Cola, Sinag Tala (Universal Records)
• Yeng Constantino, Y10 (Star Music)

R and B Album of the Year 
• Michael, Michael Pangilinan (Star Music)
• Soul Supremacy, KZ Tandingan (Star Music)
R and B Artist of the Year
• Michael Pangilinan, Michael (Star Music)
• KZ Tandingan, Soul Supremacy (Star Music)
Rap Album of The Year
• Sukli, Gloc 9 (Star Music)
• The Hybrid Project, The Hybrid Project (GMA Records)
Rap Artist of the Year
• GLOC 9, Sukli (Star Music)
• The Hybrid Project, The Hybrid Project (GMA Records)

Album Cover of the Year  
• Alden Richards –  Say It Again (GMA Records)
• Angeline Quinto – @LoveAngelineQuinto (Star Music)
• Gary Valenciano – Gary V @ Primetime (Star Music)
• Charo Santos – Life Songs with Charo Santos  (Star Music)
• Martin Nievera – Kahapon Ngayon (PolyEastRecords)
• Richard Yap and Richard Poon – Richard x Richard  – (The Chinito Crooners) Cornerstone Entertainment and Star Music
• Yeng Constantino – Y10 (Star Music)

Pilita Corrales Lifetime Achievement Award: Imelda Papin
Gawad Levi Celerio: Freddie Aguilar
–Rappler.com