Alesso, Deniz Koyu, and Helena headlined this crowd-sourced summer party on April 5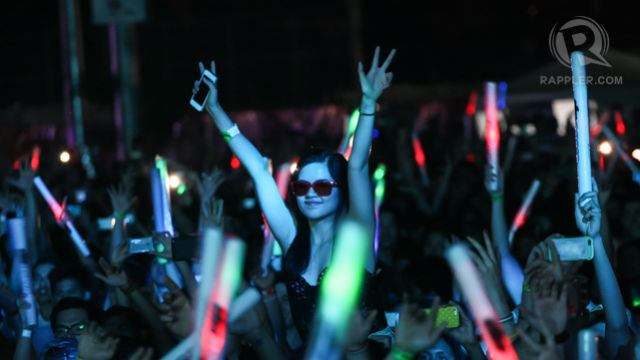 MANILA, Philippines – On April 5, revelers from all over the country flocked to the Globe Circuit Events Grounds to participate in Closeup Forever Summer. 
The event was the first ever crowd-sourced party in the country, as netizens chose the artists who would play for the event. 
View photos from Forever Summer here: 
All photos by Manman Dejeto/Rappler
International artists Alesso, Deniz Koyu, and Helena were chosen as the headliners, and local DJs Marc Naval, Ace Ramos, Martin Plugar, and Mars Miranda rounded out the lineup. 
Partygoers rung in the start of the summer season with the latest EDM (Electronic Dance Music) and house tracks from some of the biggest international and local DJs. 
EDM is characterized by the use of synthetic sounds like samples, thumping bass lines, and the quintessential "drop." 
From neon bikinis to light-up sunglasses, to outrageous headgear, it was "go big or go home" for the partygoers at Closeup Forever Summer. 
The party really got going when the international lineup came on to play their sets. British-Australian up-and-comer Helena played her set before headliner Alesso, this being the Philippine leg of her Levity tour. Turkish-German DJ Deniz Koyu closed the night and served up an impressive set list that included his hits "Bong" and "Tung." 
The crown jewel of the event was undoubtedly 22-year-old Swedish DJ/producer Alesso's performance. The event marked Alesso's second time in the Philippines, after he opened for David Guetta in 2012. He played a 2-hour set to a fired-up crowd and spun incredible renditions of his hits like "Years," "City of Dreams", and "If I Lose Myself." He also premiered two new tracks at the event and came out for an encore.
Strobe lights, psychedelic graphics, and pyrotechnics augmented the pulsating sounds and created an atmosphere of pure euphoria. Gimmicks – like the Universo Robot and special strobe lights – were unlocked after a certain number of #CloseupForeverSummer tweets.
From the music, to the visuals, to the throng of people pushing and pulsating to the same beat, there was so much going on that it was impossible to think about anything else but that moment. 
At the heart of the story: Peace, Love, Unity, Respect (PLUR).
Concertgoers left the event with ringing ears, wobbly knees, smiles on their faces, and enough PLUR vibes to last them until the next big party. – Rappler.com
Editors' note: An earlier version of this article said that Alesso opened for Avicii when he performed in Manila. He actually opened for David Guetta. The correction has been reflected. We're sorry for the error.