This is AI generated summarization, which may have errors. For context, always refer to the full article.
'It's really exciting seeing APO through the eyes of kids, bringing it to the students in the youth string ensemble who will be performing one of APO's songs,' says Bobbie Sanchez, director of the Youth Strings FASO Educational Outreach
This story is published in partnership with SoJannelleTV, a magazine show about Filipinos in North America
Fifty years after the APO Hiking Society first burst onto the music scene, founders Jim Paredes and Boboy Garrovillo are finding new life for their work.
The group, which laid the foundation for Original Pilipino Music with classics like "Panalangin" and "When I Met You," got to enjoy their music from the audience at the Walt Disney Music Hall in Los Angeles as the Filipino-American Symphony Orchestra paid tribute to the group with a one night only tribute concert on July 29. 
The group's two remaining members sat down to discuss the concert and their enduring legacy with Jannelle So-Perkins for an interview on her Filipino-American lifestyle magazine show So Jannelle TV, which airs US-wide on cable channels The Filipino Channel (TFC) and ANC; as well as on local Southern CA digital channel KNET 25.1; and is also available on social media platforms.
"It's 70 people trying to play something that I wrote in my head. So parang, OK, how did you engage with this song? Let's see," mused Paredes as he pondered the enormity of the project.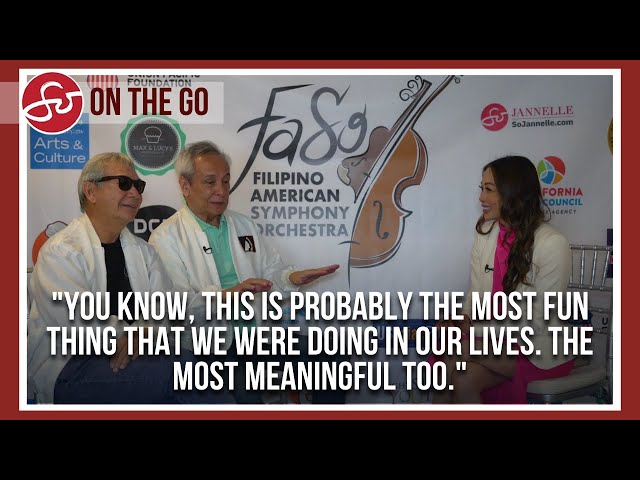 Garrovillo's thoughts turned to Danny Javier, the trio's lead singer who died last Halloween at age 75 following a long illness.
"He would have loved this. FASO, why are you a year late?" Garrovillo joked.
The original plans for the concert were to hold it in 2021, when Javier was still alive, FASO musical director Maestro Robert Shroder shared, but the COVID-19 pandemic sidelined all plans until 2023. The concert's timing instead aligned with the 50th year anniversary of the group's two-night "farewell concert" at Meralco Theater, which kickstarted their mainstream success, and with the orchestra's 15th anniversary.
"It's really exciting seeing APO through the eyes of kids, bringing it to the students in the youth string ensemble who will be performing one of APO's songs," said Bobbie Sanchez, director of the Youth Strings FASO Educational Outreach. "I get to conduct it so it's really so exciting."
APO Hiking Society has had plenty of milestones to look back on. In October of 1987, APO Hiking Society became the first Filipino pop group to perform at Carnegie Hall in New York City.
"I still remember playing that piano that had the picture of [Niccolò Paganini] on the back and Liza Minnelli and Frank Sinatra and I said, 'This is it, we're in the big time,'" remembers Paredes.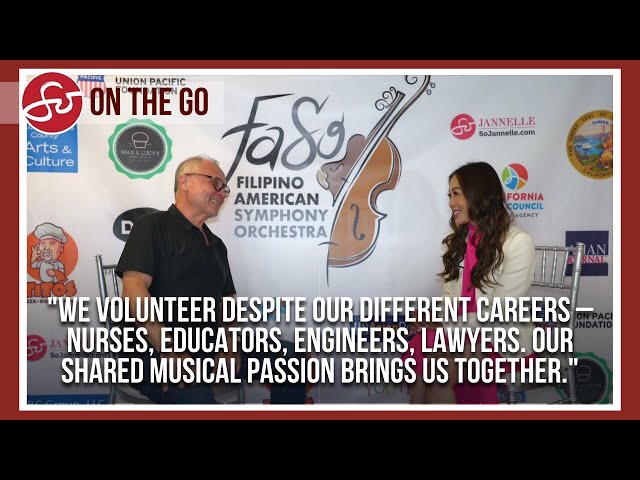 They were also the first Filipino artists to perform a public concert in the Kingdom of Saudi Arabia.
Through the years, their music has endeared, because it became part of peoples' lives.
"I'm sure our songs were the soundtrack of their lives so it was very touching for them," said Paredes, who adds the duo is considering recording new material. "As we remembered our 50 years, they remembered what happened during the 50 years. We probably wrote the song for people who just met each other, people who went on a relationship, people who got married, people who got divorced."
So-Perkins agreed, recalling their classic "Saan Na Bang Barkada" as the soundtrack of her high school days. "It's not just songs, it's something that connects," she said.
One surprise that the Apo Hiking Society has enjoyed is seeing younger audiences connecting with their music decades later, thanks in large part to their parents playing their songs for them as kids. When So-Perkins asked how the group would have fared if social media was around, Garrovillo joked, "Maybe as big as BTS, I don't know."
For a group that admits their primary goal for making music initially was to meet women, Paredes and Garrovillo have grown to understand that their impact was far greater than that.
"I just feel that this is probably the most fun thing that we were doing in our lives, probably the most meaningful too. Writing the soundtrack of the citizens of your country," said Paredes.
"What did I want to be when I was young? We wanted to be the way the Beatles were in England. And I think we did that." – Jannelle So Productions | Rappler.com
Rappler is partnering with Jannelle So Productions Inc (JSP), founded by Filipino-American pioneer and Los Angeles-based journalist Jannelle So, to publish video and written stories from SoJannelleTV about the journeys, successes, and challenges of Filipinos living in America.
Check out So Jannelle TV daily for stories that make you pause, reflect, and appreciate who we are and what we are as a people.
Sundays, 4:30pm PT / 7:30pm ET on The Filipino Channel (TFC)
Mondays, 6:00pm on KNET Channel 25.1 Southern California
Replay on Saturdays, 7:30pm PT / 10:30pm ET on ANC North America
Any time on YouTube.com/SoJannelleTV