The Journey frontman has a lot of projects lined up, including an interactive concert, new albums, and a Christmas single
Arnel Pineda's career journey has been a wild ride. He's gained recognition in the local and international music scene, playing for various bands – including the rock band Journey in 2007.
While the quarantine has been a drastic change of pace for the singer, he sees it as a chance to focus on what he sees as "food for the soul," music.
Making music in quarantine
Busy schedules filled with long hours of recording and touring were the norm for Arnel. Other commitments often prevented him from spontaneous writing sessions. The singer told Rappler, "It would take a month to go back to the [songwriting] idea…bago mo maharap ulit na uy, mayroon pala akong idea (before you recall that you had an idea)."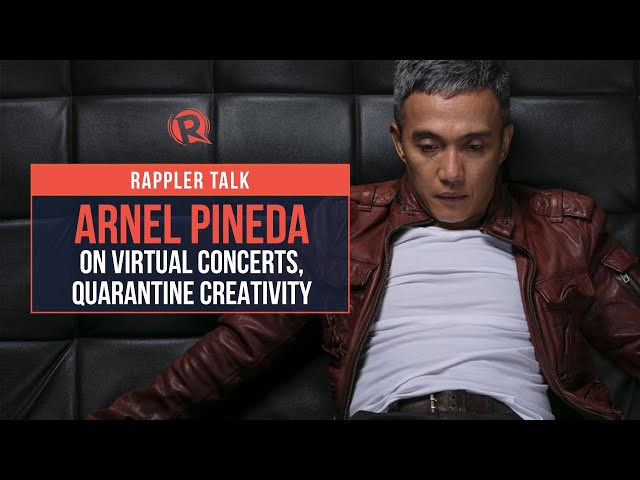 "I needed to do shows, and then I would come back here, and I'm so tired," he said, talking about the tumultuous routines that come with being a musician. "I think this pandemic gave me a chance to be closer to my family, and to focus on my songwriting."
Despite being thousands of miles away from his Journey bandmates, Arnel remains in touch with them. The band's 64-date concert tour was canceled due to the pandemic, and they are currently recording an album from their respective homes.
"I have this laptop that's really loaded, and a microphone I bought a few years ago. It's really reliable and good enough for me to record my voice and send it over to them [his bandmates] in the states," Arnel explained.
The band is aiming to finish 12 songs for their next album, with 3 songs already in the can. "Once they've completed it [a demo], they send it to me, and then I just study it," he added.
"We talk, we text," he said about his communication with the rest of the band. "They're lucky, because they get a chance to really be together."
Working on a solo album
Besides the new Journey album, Arnel is also preparing a solo record. He said that the structure of the album is finished, and that he expects to begin the recording process in January or February.
"I want to finish my solo album," the singer said. "The pandemic has really improved my songwriting. Mas nagiging seryoso ako (I'm more serious)."
When asked about how the record will be different from his work with Journey, he said that there is still a hint of the band's sound. "'Yung melody ng Journey, unconsciously naiimpluwensyahan na (The melody of Journey, unconsciously influences [the solo record]."
"Before I became a singer, I'm a huge fan of the band. Along with other bands like U2, Led Zeppelin, Scorpion's Heart, Queen," Arnel added, talking about his influences. "Pero iba 'yung style ng music na gusto ko (But the style of music I want is different)."
He also added that lyrics of some songs may still change, saying that "it has to blend with the music. It has to sound like it's really meant for the song."
Arnel said he is just waiting for his musical collaborators to come to the Philippines, so they can begin to record songs for the project.
Turning a 5-year old Christmas single into something new
While the quarantine may have given the singer time to focus on his family and music, he said that the pandemic has dealt a huge blow to the music scene. "The other side of me is also saddened by what's happening in the world," Arnel said about the pandemic.
"Walang bars, walang concerts…it's dead," he said, referring to the state of the gig scene.
"I talk to a lot of my colleagues. They really tell me how hard it is. 'Di sila makatugtog, naghahanap talaga sila ng paraan just to survive everyday." (They can't sleep, they really find ways just to survive everyday.)
Arnel's view of the current situation prompted his decision to re-record his 2015 Christmas single "This Christmas." Talking about the process, the singer said "The difference is the empathy and sympathy I feel for our fellow men in the world."
"I changed the lyrics to adapt it to our present situation," he added. Arnel hopes to have the new version of the song out sometime in November, with sound engineering being the only aspect unfinished.
An upcoming concert with brand new technology
Arnel hopes that Journey can return to touring next year, but briefly talked about plans for a solo concert. It will be a 90-minute live stream and will feature Arnel interacting with fans all over the world.
He said that the concert will be a mixture of traditional and digital techniques, and will see the singer perform in a geodesic dome. "We have to put interactive panels," he said. "I can interact with fans all over the world who want to see the livestream."
Arnel said that they are currently looking for a safe venue, but that the concert already has a set date of February 21, 2021.
"One thing's for sure, I'm going to sing a lot of new songs," he added.
Inspiration and love for music
Besides recording new music and planning a futuristic solo concert, Arnel exercises every day. "Push ups, lots of stretches, meditation," he said about his routine.
He also values the time he has now with his kids and wife. "Family's everything for me. They inspire me, they humble me, they keep my feet on the ground," the singer said. "I'm really inspired."
Arnel also thanked fellow musicians who continue to find ways to make songs despite the pandemic. "I want to give thanks to our fellow musicians, fellow singers, who keep on writing and singing," he said.
"Without music, I think one half of our humanity will die," Arnel said. "You're so inspired, you're so moved. It takes you to a place where it's just you and the music…hindi siya pwedeng mawala (It cannot disappear)," he said. – Rappler.com