As the Christmas season in the Philippines begins, get to know this holiday icon
It's September 1 and Jose Mari Chan is making his yearly comeback.
Invariably, the beginning of the Christmas season in the Philippines – the "longest in the world" – is heralded by his immortal song "Christmas in our Hearts," played on repeat in homes, on radio stations, on the internet, and pre-pandemic, in jeepneys, in malls, and other public spaces.
It's a phenomenon that has earned Chan the unofficial title of "the king of Christmas," and while he shies away from it ("I'm just the Little Drummer Boy," he once said), his omnipresence during the season makes the title ring true.
As the memes imagine it, Chan lies dormant for the rest of the year, only to emerge bright and shiny on September 1 to sing our Christmas anthem.
In real life though, Chan is a businessman, an artist, and a songwriter whose work goes beyond the holiday ditties that Filipinos love him for.
Before you play "Christmas in our Hearts" for the nth time today, here are a few things you should know about Chan:
'First a businessman'
Chan's father was a Chinese immigrant who came to the Philippines as a teenager. Described by Chan as a "self-made man," the elder Chan started a sugar company in Bacolod in 1960 – the business that his son would eventually inherit.
Chan joined his father in the business in 1967, and now he is the CEO of the Binalbagan Isabela Sugar Company, which processes sugar cane. The company is based in Negros Occidental, and is a primary supplier for Pepsi.
"I am first a businessman, and second a singer-songwriter," Chan said in an ABS-CBN interview on December 2020.
Big break
Chan was a junior at Ateneo when he hosted the teen show 9 Teeners on ABS-CBN – a gig that he told Esquire his father allowed him to take for as long as they didn't pay him a salary (Chan said it was because his father didn't want him to stray from pursuing business).
Paid gig or not, he was able to introduce his original songs on the show, catching the attention of a producer. They then recorded his song "Afterglow," which would become his first single, released in 1967. His debut album Deep in My Heart would come two years later, in 1969.
Love songs
"Christmas in our Hearts" might be the song Chan is best known for, but it isn't his only big hit (though he would get asked to sing it whenever he'd go on tour – no matter the time of year). In fact, Chan already had a thriving songwriting career even before "Christmas in our Hearts" was released in 1990.
"It took about 46, 47 years before I got to my first Christmas song, because I started out writing love songs, jingles, commercial stuff," he said in a Rappler Live jam interview in 2016.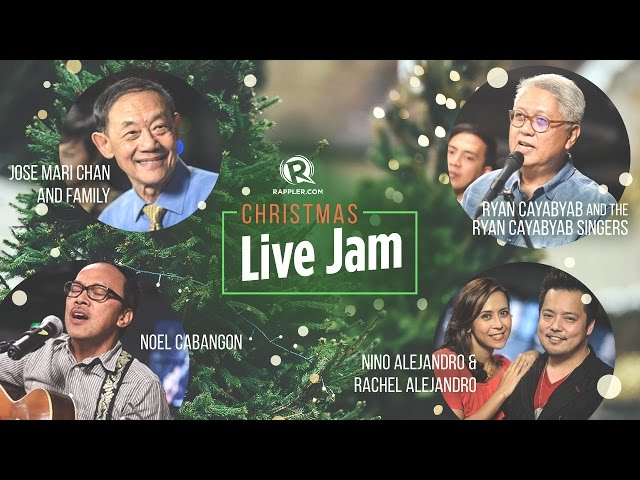 Growing up surrounded by music, Chan wrote his first songs when he was 13 years old. After getting his big break, he would become known for his love songs like "Beautiful Girl," "Can We just Stop and Talk Awhile," and "Please Be Careful with My Heart," – which have all been performed by some of the country's greatest singers (Regine Velazquez, Lea Salonga, Gary V).
"I consider my songs like my children, and my children, when they suceed in life, it gives me a sense of accomplishment," he said on Rappler Live Jam.
He also wrote commercial jingles for big brands, including the unforgettable "Wala pa ring tatalo sa Alaska" jingle for the milk brand and Philippine Airlines iconic theme "Love at 30,000 Feet," which was used by the airlines for nearly four decades.
Music in the genes
Chan has five children with his wife Mary Ann Ansaldo – Liza, Joe, Mike, Franco, and Angelica – and as he said on Esquire, "they take to music naturally." Liza sang "Christmas in our Hearts" with him when it first came out, and she would perform it with him often in venues around the world – including New York's prestigious Carnegie Hall.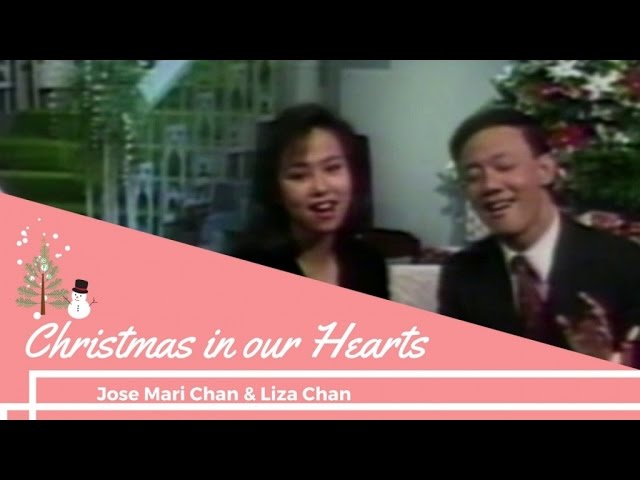 Joe and Mike were also part of a band called Generation together with other kids of OPM icons: Sampaguita's son Kowboy Santos, and Celeste Legaspi's son Miguel Gallardo. The two eventually released their own music as a duo, including a self-titled album in March 2019.
Aside from working on their music, his children are now also part of the family business.
'Christmas in our Hearts' origin story
It's no surprise that "Christmas in our Hearts" has become a Filipino Christmas classic. It has a simple melody that any one can sing along to, a rather dramatic instrumental interlude, an opening line that paints a most familiar image, and a wholesome, squarely Christian message of hope and loving Jesus.
Interestingly enough, the song started out as something entirely different. In 1988, Chan was contacted by a friend, Chari Cruz-Zarate, presenting him with a poem she wrote for her high school Silver Jubilee at Assumption College. The poem, called "Ang Tubig ay Buhay," was for their class' water resource advocacy, and she asked Chan to set it to music.
"That melody was the melody that I eventually used for Christmas in our hearts. So after their Jubilee, we shelved the song aside," he said on Rappler Live Jam.
"Two years later, when Universal Records asked me to come up with a Christmas album, I thought of that melody, and so I pulled it out from retirement, and I promised myself I would turn it into a Christmas song," he said.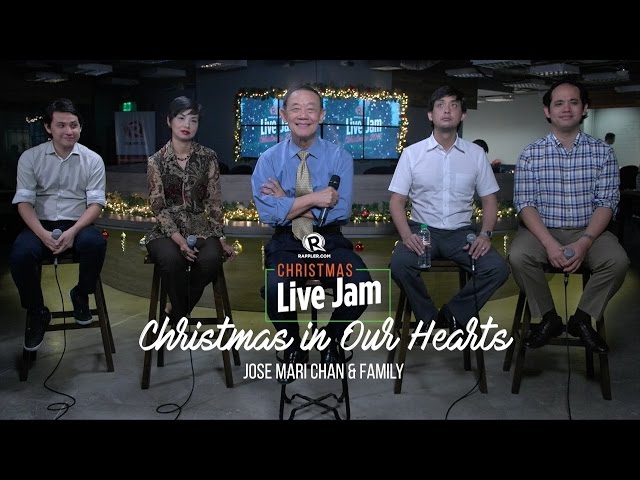 As for the song's indelible lyrics, Chan co-wrote them with songwriter Rina Cañiza, who gave the song its title.
"One Sunday morning, coming out from Mass, there was a young lady who rushed up to my car and gave me her card and she introduced herself as a budding songwriter and she was hoping that one day we could collaborate," he said. "And so after a few back and forth, we came out with a full song and we released it in October or November of 1990…It's a gift from God that the song has lived on all these years."
In September 2020, Chan reworked the song's lyrics to reflect a more silent and subdued pandemic Christmas.
Indeed, the song has been played by generation after generation, and Chan's voice, the melody he wrote, and his face on memes and ads has heralded the Christmas season for many years now – a true Filipino Christmas tradition. – Rappler.com