'Dear Filipino ARMY, I hope my heart can reach you and thank you for always supporting us. We look forward to seeing you soon,' says Jimin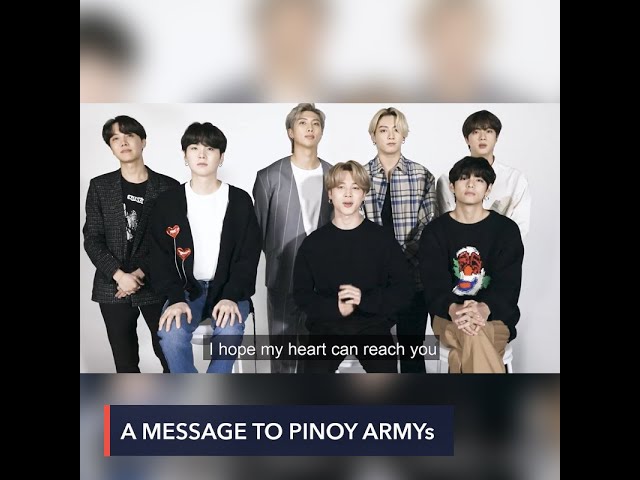 BTS is looking forward to meeting their Filipino ARMYs (BTS' fandom name) once the COVID-19 pandemic is over, the Korean boy group shared in a video greeting posted by local telecommunications brand Smart on Wednesday, April 21.
"Wouldn't it be smart if you put your heart into something every moment? It's been a while since we met ARMY and everyone in the Philippines. Let's meet soon after this long winter is over. I miss you a lot," group leader RM said.
Jin shared that as a group, they knew the importance of making smart decisions and would like their fans to do the same so that they can be happy. "Smart decisions have always been important to us and it seems to have produced good results for us. Let's be happy everyone. I will encourage you so you can only walk the path of happiness," he said.
Suga echoed the sentiment, "It's a smart decision if you think about it carefully when you make a decision. The year 2021 has started everyone. I hope that everyone stays healthy this year so we see you at the show."
J-hope also emphasized about having a sense of purpose in life. "The simple fact is that when you have a purpose, you will have a reason for life and it will become your driving force." He also reminded the fans to stay healthy and happy "until the day when COVID-19 ends soon and we come to see you in person."
Meanwhile, Jimin left a message to their Filipino fans. "Dear Filipino ARMY, I hope my heart can reach you and thank you for always supporting us. We look forward to seeing you soon," he said.
For his part, V encouraged their fans to challenge themselves. "No matter how many times you fall, don't give up. Keeping yourself going without giving up will break one of the big walls in your life." He also said that he's looking forward to meeting their fans with good music and performances as soon as possible.
"It would be nice if you had a clear purpose but I hope that you will think about and judge your realistic environment and do what you need to do, one by one," Jungkook advised ARMYs. The youngest member also shared how happy they are to be Smart's brand ambassador. "I hope your life will be a smart life in the future like Smart. I'll be rooting for you. Stay healthy," he said.
Apart from this video message, BTS has been using their music to uplift their fans amidst the COVID-19 pandemic. "Everyone in the world is going through times right now," Jimin said during the release of their first English song "Dynamite" in August 2020.
Since then, the group continues to hit milestones one after another – their historical first Grammy nomination and "Dynamite" music video being the fastest Korean group music video to reach one billion views. – Rappler.com