Musicians and LGBTQ+ organizations condemn the rapper's homophobic rant, which he said in the middle of his set during the 'Rolling Loud' music festival
Rapper DaBaby is receiving backlash for the homophobic remarks he said to his audience while performing at the Rolling Loud music festival last weekend.
According to a short clip first released by TMZ, DaBaby, during his live set, encouraged his fans who "didn't show up today with HIV, AIDS, or any of them deadly sexually transmitted diseases that'll make you die in two to three weeks," to put their lights up.
The video has since made the rounds on social media, with international LGBTQ+ publications like Gay Times calling DaBaby's remarks "disgusting" and PinkNews describing his homophobic rant the same way.
AIDS/HIV charity Terrence Higgins Trust (THT) also released a statement to NME, saying that remarks like DaBaby's comments "perpetuate HIV-related stigma and discrimination, as well as spreading misinformation about HIV.
"It's wrong for people living with HIV to be made to feel lesser or excluded because of their diagnosis – it should be unacceptable in the music industry and in society at large," THT campaigns director Richard Angell said.
Singer Dua Lipa also spoke out against the rapper's words on Tuesday, July 28, sharing on her Instagram stories that she was "surprised and horrified" with DaBaby's comments. She assured fans she stands completely with the LGBTQ+ community. She also said that we all "need to come together to fight the stigma and ignorance around HIV/AIDS."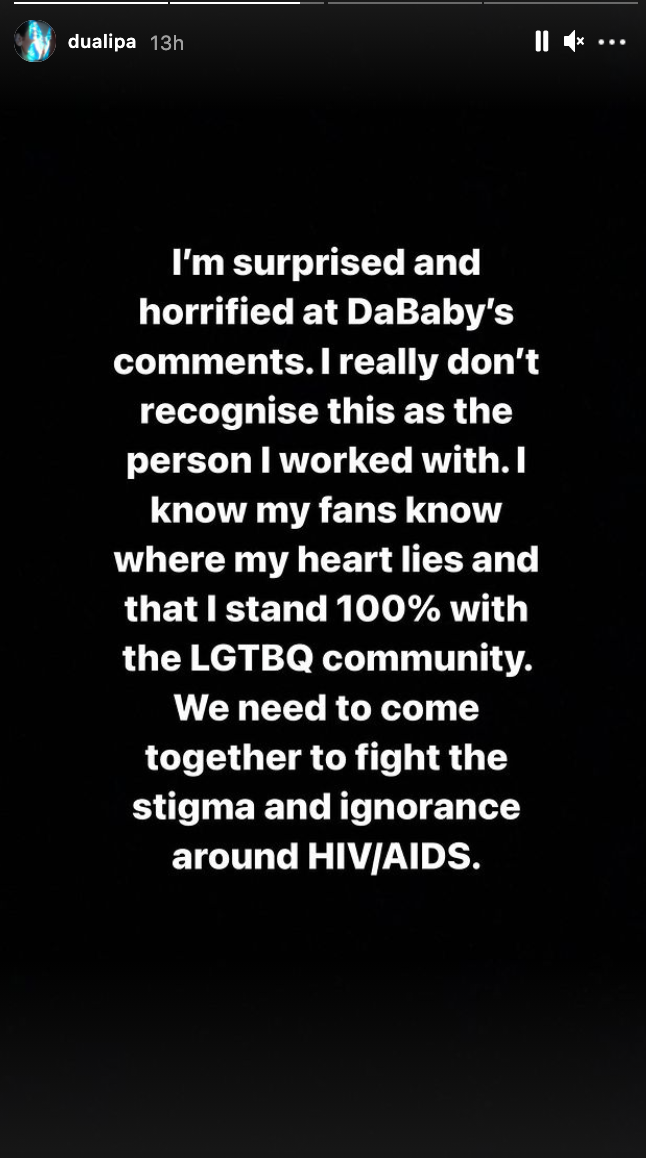 The pop star featured DaBaby in the remix of her hit single, "Levitating."
Members of the hiphop community, like Charlamagne Tha God, have also expressed their disappointment with the rapper. Charlamagne, on his radio show The Breakfast Club, questioned the rapper's motives and added: "Leave people alone. Folks not bothering you so why (are) you bothering them?"
On the other hand, rapper T.I., came out in support of DaBaby's comments. In a video posted on Instagram, the rapper applauded the LGBTQ+ community for, "having the courage to live their truth," but also compared DaBaby's remarks to openly-gay Lil Nas X, saying that, "If you have a Lil Nas X video, and him living his truth, you gone damn sure have people like DaBaby who are going to speak they truth. There ain't nothing wrong with none of that. It ain't got to be no hate, it's all honesty."
DaBaby faced even more backlash after going on Instagram Live to defend his initial statements, saying that his gay fans don't have AIDS/HIV and that his gay fans weren't "nasty gay n****s" and that they had "class".
On Wednesday, July 28, rapper apologized on Twitter, saying that anyone with AIDS/HIV had the right to be upset and that he had no intentions of offending anyone.
DaBaby, whose real name is Jonathan Lyndale Kirk, is a rapper and musician who rose to fame in 2019 with his first album Baby on Baby, which debuted on the Billboard 200 list at number seven. His sophomore album Kirk debuted on the same year and at the number one spot. His singles include "Suge," "Intro," "Rockstar," and "Bop."
He has also lent his voice to numerous hit songs, like Post Malone's "Enemies," Dua Lipa's "Levitating," and Lizzo's "Truth Hurts," among others. – with reports from Adrian Soriano/Rappler.com
Adrian Soriano is a Rappler intern.