You can be part of it, too
Filipino musicians – and music fans – are among those who are actively helping out in rescue operations and relief efforts following Typhoon Ulysses.
Ben&Ben launched Puhon Luzon to raise funds to rebuild destroyed shelters in Isabela, Cagayan, and other affected areas in Luzon.
Members of the band's fandom Liwanag showed the same giving spirit, spearheading several fundraising drives.
Martin Riggs and his label O/C Records are leading online rescue operations, gathering data on those in need of rescue, and getting them in touch with rescue teams on the ground. They are still open for volunteers.
Jim Bacarro and Saab Magalona pledged to donate 100% of proceeds from their Patreon account to relief operations.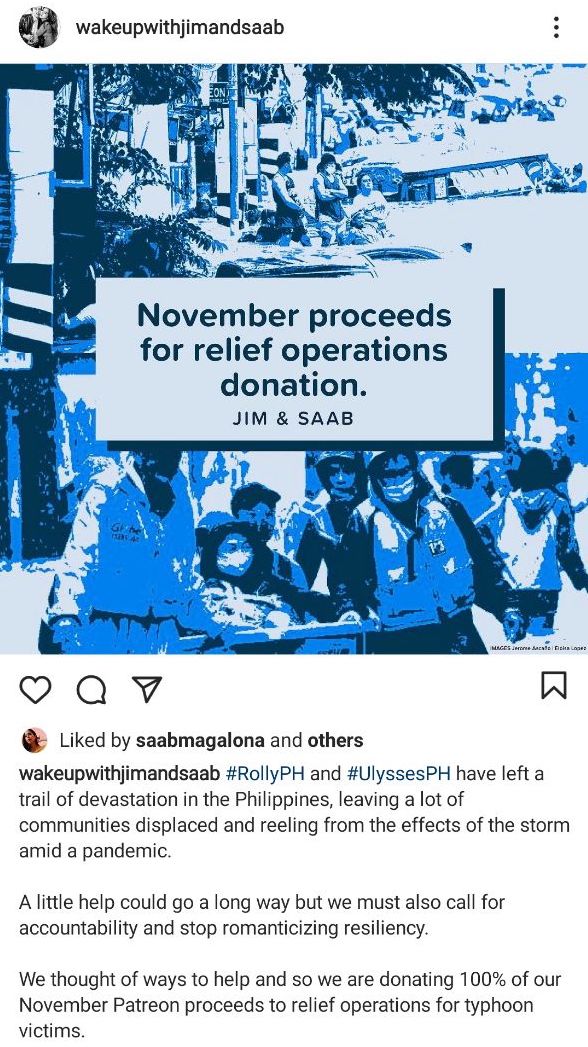 Munimuni drummer Josh Tumaliaun helped gather funds and distribute food, water, and basic necessities to evacuation centers in Tuguegarao.
Moonstar88 and 6cyclemind guitarist Herbert Hernandez, through his ad agency Gigil, organized the donation drive amBag, where donors can wrap goods and necessities in shirts to be distributed to families in Tumana, Marikina.
SB19's fandom A'TIN Philippines marked their first anniversary with a donation drive, Babangon Tayo, PADAYON! which is open for donations in cash and kind for typhoon victims. As of November 16, they've raised over P300,000.
BTS' Filipino fans have raised over P3 million through various donation drives, fundraisers, and raffles for a cause.
Fans of BLACKPINK also started their own donation drive, Blinks As One PH, to support relief efforts in Albay, Camarines Norte, Rizal, and Bulacan. They are also holding a merch raffle, with proceeds to be donated to victims of the typhoon.
Typhoon Ulysses crossed Calabarzon. Bicol, and the National Capital Region on November 12, leaving many families homeless as entire towns were submerged in floods. – Rappler.com