It's the group's first reunion since their disbandment in 2017
Korean girl group I.O.I reunited on May 4, Tuesday to celebrate their 5th debut anniversary. 
Members Lim Na-young, Chungha, Kim Se-jeong, Jung Chae-yeon, Kim So-hye, Yoo Yeon-jung, Choi Yoo-jung, Kim Do-yeon, and Somi were present for the live broadcast. 
Two out of the original 11 members were not able to attend the reunion in person. Kang Mina had a prior schedule for her drama while Kyulkyung is in China. Both joined the special event through a video call. 
The group watched their old videos and danced to their past choreographies. After the broadcast, the members took to social media to commemorate the event. 
"Thank you to everyone who has congratulated us on our fifth debut anniversary. Thanks to the fans who have waited for us, today's miracle was possible. I love you," Nayoung wrote in the caption, as translated by Soompi.
Yoojung also said, "I want to say thank you to everyone who consistently waited and supported us so that we would be able to keep this promise. I'm so glad that we were able to be happy together today."
"I'm so thankful and happy that I have such precious relationships. We were able to reunite thanks to you all. Thank you so much to our fans who have waited for us," said member Chaeyeon.
Several I.O.I-related hashtags #TheDownpourHasPassed and #I51_YesILoveIt were among the top trending hashtags during the live broadcast.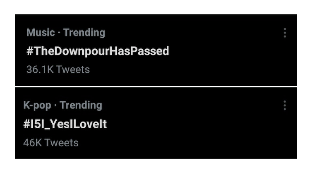 I.O.I is a project group that was formed in May 2016 following season one of Produce 101. Only eleven members were chosen to debut from a pool of 101 trainees from various Korean entertainment companies. The group officially disbanded at the end of January 2017. They are known for tracks "Dream Girls," "Very Very Very," and "Downpour." – Rappler.com