From her thought process to her inspirations, the Philippines' queen takes us on a personal journey in her upcoming album, 'Wildest Dreams'
Nadine is known for many things. She's an award-winning actress and model with a global fanbase that helped catapult her career. She consistently trends on social media, garnering a reputation as the internet's queen (or president, if you're more democratic). 
This time, President Nadine is set to conquer new horizons – the music industry, and in her own terms.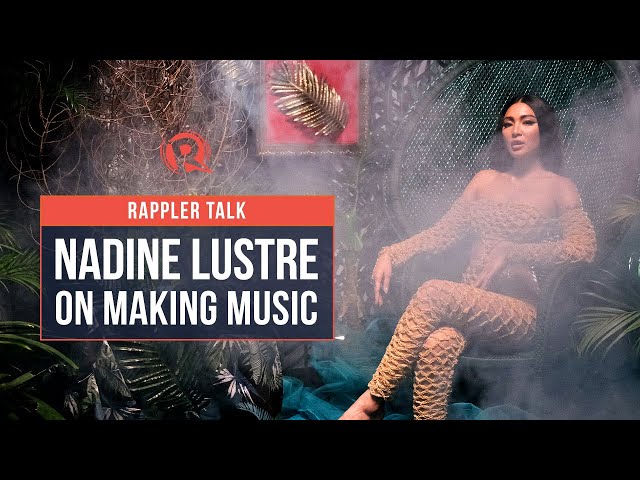 From actress to musician
2020 was a whirlwind for Nadine's fans – from her separation from long-time management company Viva and calling it quits with long-time boyfriend and on-screen partner James Reid. But even before the year began, Nadine told Rappler at the contract-signing of record label Careless that it was the year she wanted to go back to music.
"This year, I wanna explore more on that side, I wanna go back to where I started," she said, recalling her time as a Pop Girls member when she was 16.
That's exactly what she did. After months of writing and recording, the star is now gearing up to release her debut album, Wildest Dreams. The title track dropped earlier on October 16
Writing during a pandemic: Treading unknown waters
Nadine's first love was music. The star recounted that as a 90s kid, she listened to Michael Jackson, Daft Punk, and the classic Disney Princess songs. The artist told Rappler, "I've been in love with music since… since…. I don't know, since I can remember."
Back then, she didn't know that she wanted to be a musician. (WATCH: Rappler Talk: Nadine Lustre on making music)  
"I think performing was really something I wanted to do before, but I really didn't see it as a profession," said Nadine.
2020 brought clarity to Nadine. The star said the lockdown allowed her to write everything she was feeling, pulling her further into music. According to the actress, it was "like opening up to [herself]" and "getting to know [herself] as well." 
Nadine explained her creative process. "Usually I would think of a topic first, and then write all the ideas down," Nadine said. She would then incorporate these into the beats and melodies from her producers.                                                                     
The process wasn't easy. "This is my first time writing an album," said Nadine. "There would be times na I would doubt myself," the actress said. She'd also have a hard time with words because she's "more of a visual kind of person," she explained. 
Experiences, after all, are what drives the album. She recalled that a Sagada hike in 2017 was the inspiration behind the single "Wildest Dreams." 
"I have a photo where the sun is right in front of us," she said as she explained how hiking through the beautiful sceneries in Sagada opened new doors for her to self-explore.
Vision turned reality
Wildest Dreams is a story of Nadine's personal journey thus far.
"It's really a journey through introspection eh" the star said, explaining how her album tackles mental health, family, and what makes her vulnerable. 
Having been through a lot, she said she wants people to understand her experiences through her music. "I really poured my heart out into the album," she said. 
"This album is personal. It's my story," said Nadine, adding that 6 music videos are set to launch on October 31.
"We're releasing all of it at once, cause it's kind of like a short film," she explained. The album itself took between 4 to 5 months to complete. 
Like every other person, the star fears being judged. "Kahit maliit lang, they usually make a big deal out of it," referring to what people might think about what's written in her album. 
(People tend to make a big deal out of small things.)
"One of the reasons why I'm so open in the album – why I was able to show vulnerability – is because the mental health thing was really going through my head," she said, adding that a lot of people have asked her about her experiences on dealing with her mental health. 
"That time, a lot of people would message me and ask me 'how do you get through it?'" Nadine explained.
"With the album, I wanted to show everyone na you know na you can really go through anything – anything at all. You just have to keep pushing," she said. 
A journey into her inner world 
Nadine wants her album to inspire others to grow. "In a way, it's my contribution to that advocacy," she said, referring to mental health.
 "Hopefully, they see my album as a ray of sunshine," she said. – Rappler.com
"Wildest Dreams" is streaming now. The album will be available on Spotify, Apple Music, Soundcloud, and Youtube on October 31.
Winona Castelo is a Rappler intern