The song, produced for Ramona Diaz' documentary of the same name, is a product of both hard work and serendipity
It took all of 5 days for rapper Ruby Ibarra to produce "A Thousand Cuts," a song that accompanies the credits to Ramona Diaz's documentary of the same title.
Diaz was about to finish editing the documentary, which follows Rappler's Maria Ressa and explores the challenges of journalism under President Rodrigo Duterte's administration, when she reached out to Ibarra, in search of a song to close the film.
The documentary filmmaker wanted to use Ibarra's anthemic "Us" – but also wondered if she'd be able to produce an original.
"And of course, here I am talking to the greats, talking to two legends and I'm like 'Of course! I can make that happen,'" said Ibarra.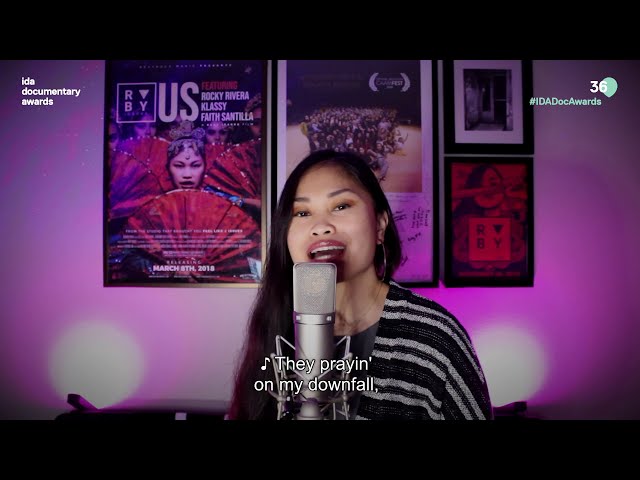 That Ibarra was even in touch with Diaz for a documentary about Rappler is thanks, in part, to serendipity. The rapper first met Diaz and Ressa on the sidelines of their 2019 guesting on Rappler Live Jam.
Even that guesting was fate – Ibarra and her band, the Balikbayans, just managed to squeeze enough time for an early morning recording before they had to fly back to the US.
"I think meeting her [Ressa] that day, meeting her and Ramona [Diaz], was just a blessing because since then I think they remembered my name and remembered my music," the rapper and biotech researcher said in an interview on Rappler Talk.
An anthem of resistance
"A Thousand Cuts," produced by LASI with vocals by Anne One, arguably gathers all the best of Ibarra. An opening of swirling, dreamy synths reminiscent of her collaboration with Filipino artist Nadine Lustre in "No 32" melt into electric guitar chords and a grooving baseline.
Ibarra's lyrics feel like a fist clenched in defiance.
Over an unceasing beat, she weaves her own story as a Filipino-American artist with the struggles of journalist Maria Ressa, the subject of Diaz's documentary, swearing to never back down despite the fervent attempts of those seeking to silence them.
"They try to pressure me, press me 'til I stumble down / But not this time, I go zero to a hundred now / They'll never silence me, my voice won't be denied / I am challenging the system, no it won't be televised," she raps.
With Ressa's trial and subsequent conviction for cyberlibel alongside researcher Rey Santos Jr. on June 15, 2020, Ibarra's lyrics now carry a chilling, prescient inflection.
"A Thousand Cuts" is inseparable from the personages of Ibarra and Ressa, but is simultaneously a unifying anthem for other Filipinos who continue to fight against the slow death of democracy through writing and art.
Voices from beyond the archipelago
Ibarra's defiance in "A Thousand Cuts" is not new. Those familiar with Ibarra's oeuvre know that she has never been afraid to discuss the political and material conditions that Filipinos deal with daily.
"Us," one of the most recognizable tracks off of Ibarra's debut album, for example, celebrates the role of militant Filipinas in the fighting for justice in the United States and in the Philippines.
In Filipino and English, Ibarra and fellow Fil-Am artists Rocky Rivera, Klassy, and Faith Santilla drop razor-sharp critiques such as "Hacienda like Aquino, right? / Rodrigo vigilante type / Kill my titos left and right / When smoke and mirrors fill the night."
Ibarra does not mince her words online, either. "I do want to make a note that I do recognize that the artists in the Philippines are under different circumstances than I am," she said, when asked about why she believes it is important for artists with platforms like hers to be outspoken at all times.
But she is also humble enough to admit her shortcomings, like when she apologized for her ignorance about Indigenous People (IP) of the archipelago and for her previous use of IP aesthetics in her work.
Yet the fear of having to publicly correct her course has not deterred Ibarra from speaking out.
"I am not afraid to be political because I think the mere fact that I am Filipina, the fact that I am Filipino, is already a political identity. My very existence is born out of Spanish colonization, US colonization, and imperialism, and the list goes on. And coming from this sort of history, it is only necessary for me to talk about these things. You know, being Filipino, is complex. And being Filipino-American specifically brings another layer of complexity to that identity," she said.
"I feel like I would be doing my platform and my music a disservice if I didn't use it to tell mine and my people's stories." – Rappler.com