The Ecuadorian beauty queen shares how she spreads the message of hope on social media and the qualities she looks for in her successor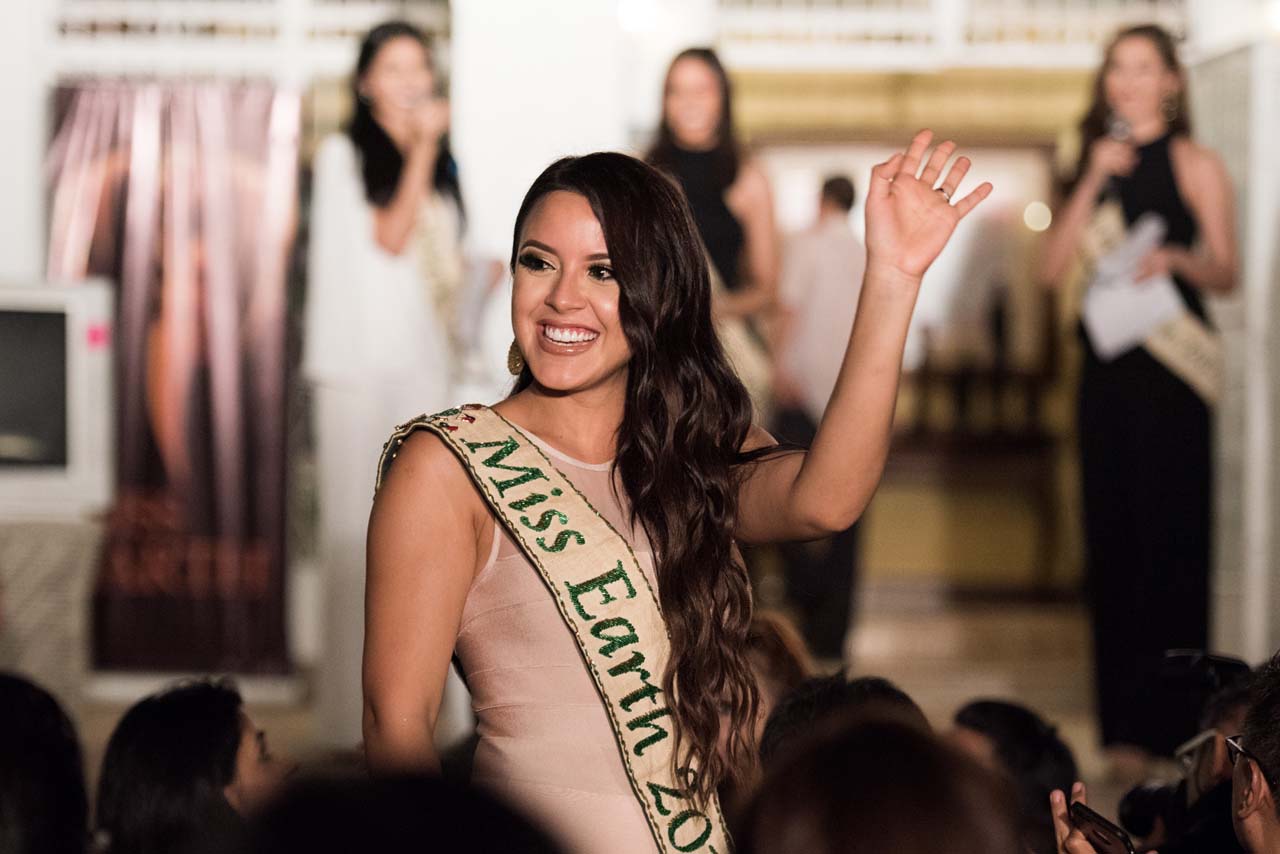 MANILA, Philippines – Miss Earth 2016 Katherine Espin has been one busy queen bee. After winning the Miss Earth crown last year, she has been traveling non-stop around the Philippines and other countries such as her native land of Ecuador, Chile, USA, the Middle East, Puerto Rico, and the Reunion Islands.
"Aside from visiting places, I actually committed myself throughout the whole year is to work for the environment and do the environmental activities that I have been invited, and regarding education, I continue with my school tour. I have been promoting eco-tourism in the countries I go to. And somehow, also give messages to women to go reach for their goals and other than that, really advocating renewable energy, all because I really believe that it's an important thing right now," she told Rappler at the welcome party for the Miss Earth 2017 candidates. 
With the recent series of catastrophic events, such as the earthquake in Mexico and hurricane damage in Puerto Rico, Katherine said that she has been very active in her social media accounts, reaching out to those in need.
"With all that's happening right now around the world, I've been active in social media. First of all, giving hope to people you know whether they lose their belongings or their families, giving them hope to keep praying because I'm a very religious person keep praying; that actually there can be hope for our planet and hope in our hands. And I ecnourage if we start actions in our homes, we can actually make a huge impact in the world by avoiding all of these disasters happening, which are caused by human hand."
Katherine's life has done a complete 180-degree turn since winning the Miss Earth title, and she has been counting her blessings "I've become a thankful person because I believe that this year has been a blessing to me throughout all this months that I have been given an opportunity to go to other countries and meeting so many great people. And also advocating for the environment, you know it has made me a much more responsible woman and thankful and absolutely I never lose my humbleness and who I am. I never forgot where I came from and basically keep on going and what's next that inspires me to be better."
Passing the title and standing up to bullying
As she prepares to crown her succesor at the Mall of Asia Arena on November 4, Katherine said that like the queens before her, she is looking for someone who will be committed to doing the job.
"Well I'm really hoping that she can be a very committed woman, very responsible. Because this is not a very easy world. Becoming a titleholder around the world also means a lot of responsibilities.
"So she must not be only a beautiful woman but also very smart, very intelligent, being able to face any obstacles that she will have on the way like I had throughout social media, throughout bullying, alot of things that I had to face throughout my reign. It really takes a very courageous woman to take this title."
As for the critcism and bullying she endured during her reign, Katherine said, "I have been criticized regarding my physical appearance because I gained weight. And for people like it was the worst thing that could happen… the message I always want to spread out because seeing all that, being cyberbullied a long time in different pageant pages really made me stronger…
"Later on I just stood up and went there and I  never never really say anything bad to those people, actually give a good message on how we must act and how we must forget about about physical appearance and what actually matters is what's in our hearts and how we think." – Rappler.com
More Miss Earth on Rappler