Former Bb Pilipinas Universe and now beauty pageant expert Joyce Burton-Titular shares her top picks for the Bb Pilipinas 2013 crown
MANILA, Philippines – After much hemming and hawing I finally have my list of golden favorites in Bb Pilipinas 2013. This was a particularly difficult batch to study, not only because there were 50 of them, but because they are all so competitively beautiful in varied ways.
VOTE! Bb Pilipinas 2013 on Rappler
This time around, I put less emphasis on height (although that's still important) mostly because last year saw not-so-tall girls doing well in beauty pageants, a development that I'm happy about. So here goes…
Adventures of a Beauty Queen's Top 15: My golden favorites in Bb Pilipinas 2013
1. For the Universe crown
I am torn between Charmaine Elima and Parul Shah. Charmaine has my brains while Parul has my heart. To me, both are "Universables"!
If people were like coffee, then Charmaine Elima would be a perfect blend of Venus Raj and Janine Tugonon with a South American undertone. The angles on her face give her that undertone; angles that also make me think of beauty queens from Venezuela and the Dominican Republic.
However, the very same angles on her face could come off too strong so she needs to go softer on the jaw and cheekbones, especially when face-to-face with judges. As for her communication skills, Charmaine Elima is fluent in English (can speak continuously without grasping for words) but the grammar is not so accurate.
Thankfully, foreign judges focus less on grammar and more on charm and making sense. As for her body, she's got that thin but curvy physique which God only gives to the select few. We just have to accept that. Lol!
Charmaine may not be so tall at 5'7″, but neither is last year's Miss Universe winner Olivia Culpo who is 5'6.″
If Charmaine Elima wins the Bb Pilipinas Universe crown, I believe the Philippines will be sending one of the strongest candidates ever to the Miss Universe beauty pageant.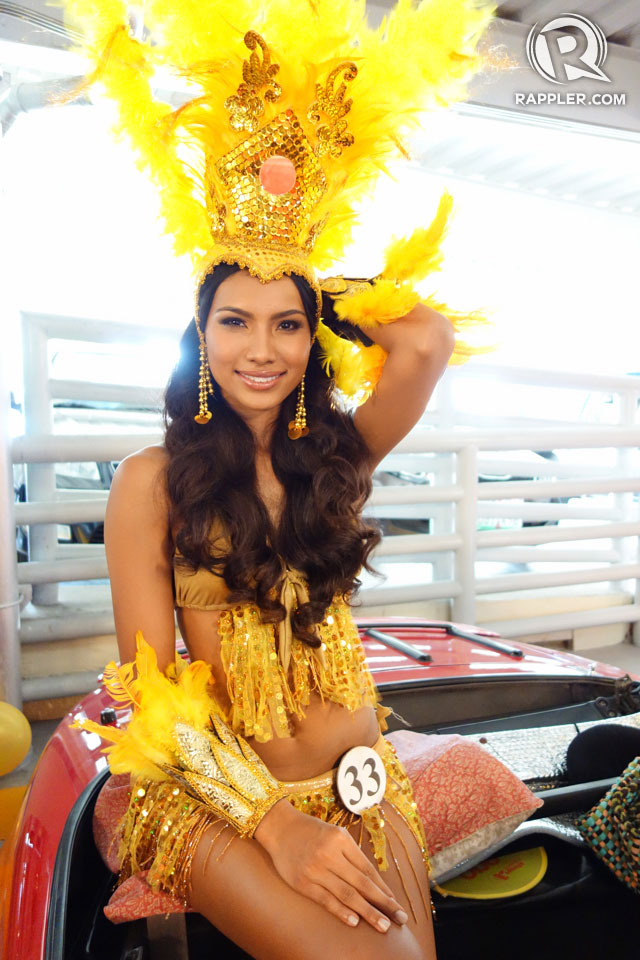 The first time I saw Parul Shah was late last year at the World Trade Center in Manila. The second time I saw this Fil-Indian beauty with Pangasinan roots, I knew she was a winner! She confidentially told me that she was planning to join Bb Pilipinas 2013 and — I know this was quite rash of me — but I said, "I think you'd be good for the crown, you have my support."
I had another chance to see her up close, without a smidgen of make-up, when we had lunch together. It wasn't a planned meeting; Parul just happened to be with a common friend. Her winning asset is her beauty queen smile. It's not manufactured; it's a sincere, beautiful smile that can light up a room.
Being gorgeous even without make-up is also a big plus because contestants have to meet the judges face-to-face. Being raised in Dubai and having lived in Baguio add to her dimension. Her 5'8″ physique is bikini-worthy, made even lovelier by her natural tan. If she wins Bb Pilipinas Universe, I can almost see Donald Trump going nuts over our Parul Shah!
AS IT HAPPENS: Bb Pilipinas Parade of Beauties
2. For the International crown 
Fantastic on stage! This Canadian-based backpacking Filipina has already been tried and tested on the international stage: Bea Rose Santiago entered the Top 10 of the Miss Tourism Queen of the Year International 2012 held in China last December.
That's a pretty mean feat considering China is our territorial adversary. A separate thought: If Bb Pilipinas sends a contestant to the Miss Supranational this year, I think this 5'9″ mestiza from Masbate would be perfect!
Mariel de Leon was initially my first choice for the Bb International crown simply because she looks like a baby doll, has a fabulous pedigree (her parents are award-winning actors Christopher de Leon and Sandy Andolong), and comes in a lovely 5'8″ package. However, I feel that this Batangueña needs to live up to the fierce Batangas spirit and ditch the sweet girl-next-door feel.
So if I were the goddess of beauty pageants, I'd give her a runner-up placement then groom her for next year. She is only 19 years old, after all. But just in case she wins a crown this year, my advice would be to work on the walk, lose the middle fat, get firmer, and keep on training in all aspects of pageant competition.
IN PHOTOS: Bb Pilipinas Parade of Beauties
3. For the Tourism crown 
This dusky morena has a Janine Tugonon vibe going on. Ria Rabajante also has a slinkier version of Janine's famous Cobra Walk and a body that I would kill for — a firm and muscular frame tempered by serpentine curves stretched out in a 5'7″ figure.
While I was initially not too taken by her, Ria's beauty has grown on me like fungus and I cannot get this Pasigueña's piercing after-image out of my head.
This is my second time to see Mutya Datul compete in a national-level pageant and she has leveled-up.
From being on the scrawny side, this Isabela native has gained muscle without losing curves. And I so love her face — she is my choice for Most Photogenic!
My concern with Mutya, though, has to do with her communication skills: have they leveled-up, too? Because if she has improved in that area, then the 49 other girls need to be quaking in their heels. Personally, I think she should just communicate in her own dialect. But whatever she chooses to speak, I'm confident Mutya Datul will "shine bright like a diamond" come coronation night!
VIDEO: Bb Pilipinas Parade of Beauties
4. Wild Card girls
My Wild Card favorites could pass for sisters!
This pastor's kid could easily snatch one of the 3 crowns; I'm thinking either the International or the Tourism crown. This Ilocana's looong legs and 5'7½" height give her that svelte look and her clean type of beauty could launch her into the Top 5.
I'm thinking that this La Salle Psych grad from Antipolo kind of looks like a cross between Solenn Heusaff and Gloria Diaz. One of her key assets is height: Cassandra Naidas stands a stately 5'10″. I can imagine her competing in Miss International.
Or if Bb Pilipinas sends a contestant to Miss Supranational, Cassandra would be a good choice.
AS IT HAPPENS: Bb Pilipinas press presentation
5. My other Top 15 favorites
Zandra Flores is on my list for two reasons: her chameleon-like ability to look so different depending on her styling and for being on the cover of the fantasy book "The Necklace of the Gods" by New York Times best-selling author Alison Goodman. This 5'7″ cellular pathologist traces her roots to Pangasinan.
One of the fiercest girls in this batch of Bb Pilipinas contestants, Maria Mustonen makes me think of a lioness on the hunt. Among the petite contestants, this 5'6″ stunner is my ultimate favorite!
Rising up from the ashes like a phoenix, actress Pia Romero returns to the limelight as Pia Wurtzbach, contestant number 15 in the Bb. Pilipinas 2013 beauty pageant. Pia Wurtzbach's stunning face, penetrating eyes, and sinewy 5'7½" frame cannot be ignored.
The Pinoy Big Brother housemate with a camera-perfect face has the most luscious set of smackers that make me think of Echo and the Bunnymen's 1987 hit "Lips Like Sugar." That song could have been written for this 5'7″ darling.
Bulacan's Merry Joyce Respicio with her toothy grin reminds me of Gem Padilla, Bb Pilipinas Universe 1990! And the height — wow, a clean 5'11″. No wonder she's been featured in Fashion Week, Cosmo Philippines, and Metro Wear — she's got the look of someone born for the runway!
Pert looks, burnished skin, and a mathematical mind make up this 5'10″ blogging beauty from Nueva Ecija. 
#44 Gabrielle Monique Runnstrom
The one quality that makes Gabrielle Monique Runnstrom stand out in a crowd is her ability to flirt with the audience. This 5'7″ Flamenco dancer who's part Swedish knows how to catch everyone's attention with her expressive eyes and vivacious smile!
That wraps up my Top 15! However, there are 3 girls on the low end of the height spectrum that I'd like to highlight mostly because I believe that we should never underestimate beautiful women that come in smaller packages.
VOTE! Bb Pilipinas 2013 on Rappler
6. My petite favorites 
Imelda Schweigart reminds me so much of our beloved Melody Gersbach, Bb Pilipinas International 2009, rest her soul. Although Imelda is only 5'6″, she exudes this sexy Marilyn Monroe aura that makes her larger than life. If there were a Bb Pilipinas Young title, this 17-year-old Filipino-German sweetheart would win it!
This is a face that belongs on TV reading me the news of the day! This 19-year-old bright-eyed Cebuana would give Imelda Schweigart a run for her money if there were a Bb Pilipinas Young title being offered.
#50 Maria Cristina Ann Pascual
Maria Cristina Ann Pascual is another beauty who seems to be channeling Melody Gersbach. What a way to end the Golden 50 of Bb Pilipinas 2013 — with a fair lady to win our hearts!
The Bb Pilipinas 2013 Coronation is just days away! Since it's the 50th anniversary pageant of Bb Pilipinas, you might want to get out of your comfort zone and come watch the pageant live at the Smart Araneta Coliseum on April 14. Tickets are available at Ticketnet. – Rappler.com
VOTE! Bb Pilipinas 2013 on Rappler
Joyce Burton-Titular is a Filipina beauty queen with two Binibining Pilipinas titles: Miss Young Philippines 1980 and Binibining Pilipinas-Universe 1985. She currently keeps a beauty queen blog called Adventures of a Beauty Queen.
Joyce has more than a decade of experience as a news presenter with her most recent job being the anchor of RPN News Watch which sadly closed shop in October 2012. But her main work is voicing — Joyce is a brand voice for beauty products like Dove and Pond's. She is the continuity announcer for cable channel 2nd Avenue, and hers is the voice that reminds you to fasten your seatbelt and turn off your cellular phone when you fly Cebu Pacific.
 Joyce is a mother of two, wife of one, and the slave of 7 dogs and 7 cats.