We put the taxi-finding app to the test in the mean streets of Metro Manila
MANILA, Philippines – I was both pleased and annoyed.
It was 9:30 in the morning and, from my bedroom, I could hear the familiar sound of knuckles on our iron front gate.
A second later, the voice of our house assistant rang through the house as she called out my name.
The cab I requested via GrabTaxi had arrived — more than 30 minutes early. 
GrabTaxi, a new smartphone application that seeks to help commuters find cabs and cab drivers find passengers, was launched recently. I decided to take the app out for spin in the streets of Metro Manila. 
READ: Need a cab? There's an app for that!
According to CEO and founder Anthony Tan, aside from helping people find a cab, GrabTaxi is also supposed to eliminate the all-too familiar commuter predicament of cab drivers turning down passengers, haggling over the fare and — of course — the constant worrying over the safety of the cab and its driver. 
Through the app [available on both Android and iOS], passengers' taxi bookings are blasted out to drivers within a 3 kilometer radius. Through smartphones used as dispatch tools, the taxis in the area are alerted of your request and can bid for the job. Once matched, both the driver and the passenger are given direct contacts to each other for better communication. 
I used GrabTaxi twice in the course of two days: first in the evening, and the second instance in the next morning. 
Here's how it went:
The app
My first booking was on a Wednesday evening. I was coming from a cocktail party in one of the establishments along Bonifacio High Street in Taguig City. It had been a long night and the party just happened to revolve around different types of alcoholic beverages. Suffice to say I was intoxicated, dazed and a bit drowsy. 
I opened the GrabTaxi app and it immediately determined my location with a dot on the map. In the first box, I indicated my exact location. In the second box I put in my home address. Within seconds, the app identified more than 10 cabs within a 3 kilometer radius of where I was. A few seconds later, a notice came up indicating a cab was already on its way to fetch me. 
All the driver's details were displayed on the screen: his name, mobile number, the car's license plate number and a countdown of how many minutes it would take him to get where I was standing. If I looked closer, I would have actually seen him inch closer and closer to where I was standing on the map.
For a first-time user, it was such a treat to stare at a moving taxi icon on the screen. I had a feeling the novelty was not going to wear off anytime soon.
Punctuality
It was 11:15pm. Based on the GPS tracking, my cab was less than a kilometer away. The app indicated that it would take him 5 minutes to arrive. A few seconds later, it said 4 minutes. It started to count down and then went back to 5 minutes. On the GPS, I could see he had gotten stuck somewhere in the Market! Market! area.
15 minutes later, at 11:30pm, Felipe Capion of Ultimax Transport pulled over in front of the curb where I was standing. 
My second GrabTaxi driver the next morning was a little bit too excited. He was Jophel Calipayan of 24/7 Taxi Service. I had expected him to arrive at 10am, but at 9:30am he was already parked in front of our house, ready to go. Our destination was Taguig [again].
On the road
We were headed to the South on a weekday morning. Taking EDSA was not an option. I asked Jophel to take C5 road instead. He agreed with my plan after asking for directions on how to get out of our village.
At this point, the meter was still at P0. It was only after I sat down and closed the door that the driver started the meter with a P40 flat rate. 
The cab was clean, had no suspicious stains on the upholstery and smelled of pine air freshener bought from the gas station. On both cabs, attached to the windshield was a mobile phone mount; in it sat a Cloud smartphone which was running the GrabTaxi app.
On the window of the right passenger seat was a printed, laminated brochure from GrabTaxi explaining how to download and use the application.  (Download Grab Taxi app for Android and iOS)
In the course of our journey along C5 that morning, my driver was in the perfect mood. He had an album of the Bee Gees playing in the background. As Robin Gibb sang, asking the perennial question of how to mend a broken heart, my driver used his turn signals properly, giving way to pedestrians and following traffic lights.
My only gripe was that he wasn't wearing his seatbelt. We spent the next 30 minutes talking about the app and how it has made finding passengers easier for him. 
Felipe, on the other hand [from the night before], was not a chatty cabbie. However, being as it was close to midnight, I understood. I asked him why it took him 15 minutes to get to me. He said there was a slight vehicular accident around the mall area that stalled him a bit. After clicking in his seatbelt and punching a button on the meter to get it started, we were off into the night. 
During the trip, passengers have the option of posting a message on Facebook or Twitter through the app. The message contains the car's license number together with a link to the GrabTaxi website which allows your friends to follow your journey in real time. It's an ingenious feature for those who make it a habit of texting people their cab license plate to a loved one. The GPS tracking makes it even better.
However, I was in no mood to declare to the rest of the world where I was, and found no reason to suspect my driver was taking me somewhere else. 
I arrived home some 20 minutes later. I paid the meter charge along with the additional P70 fee, and gave him a little extra considering the time. 
Feedback
Both my experiences were very successful. In the course of my morning ride with Jophen, though, he told me of an instance of double-booking: he arrived at the passenger's home only to find out that another taxi, also affiliated with GrabTaxi, arrived earlier than him and picked the passenger up leaving him wondering what happened. 
For most concerns, GrabTaxi has several lines of communication to receive passengers' feedback. At the end of your journey, there's an option in the app for you to send your feedback.
Or at your own time, you can send them a tweet [@GrabTaxiPH], a message on Facebook [Facebook.com/GrabTaxiPH], or an e-mail [passenger.mnl@grabtaxi.com].
GrabTaxi is an app long overdue. In a place as chaotic, crowded and unpredictable like Metro Manila, it's a concrete step towards creating a more organized, systematic and efficient way of riding public transportation — even if it is an air-conditioned cab.
One can only hope that more fleets in the city [and, perhaps, the rest of the country] will recognize the benefits of using the application, for both passengers and drivers.
Now if I could only pay for my fare with a credit card. – Rappler.com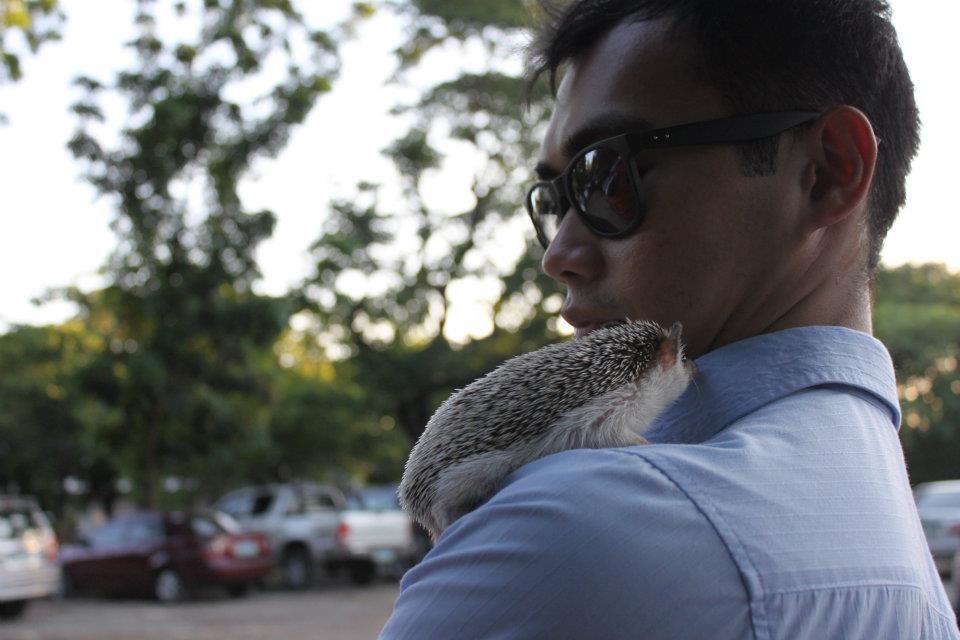 Peter Imbong is a fulltime freelance writer, sometimes a stylist; and on some strange nights, a host. After starting his career in a business magazine, he now writes about lifestyle, entertainment, fashion, and profiles of different personalities. Check out his blog, Peter Tries to Write.