Local organizers of the pageant say 'the show must go on'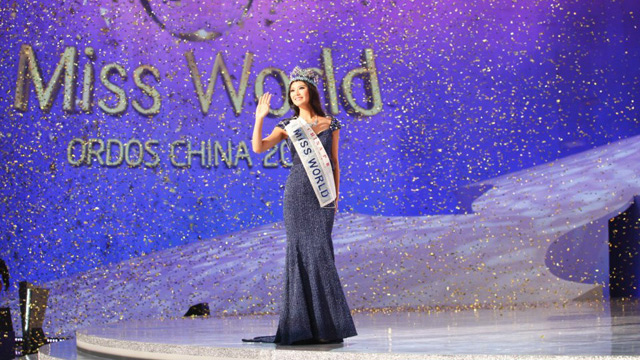 JAKARTA, Indonesia – Indonesia's religious affairs minister has called for the Miss World beauty pageant to be cancelled, as opposition in the Muslim-majority country mounts the week before the contest opens in Bali.
READ: Indonesian rights official rejects Miss World
Suryadharma Ali said that the organizers should follow the advice of the nation's top Islamic clerical body, which last week called for the contest to be scrapped even after organizers agreed to axe the bikini round.
READ: Miss World axes bikinis for Muslim Indonesia
"The Indonesian Ulema Council has expressed strong opposition to Miss World because it doesn't fit with Islamic teachings that say Muslim women should cover immodest parts of their bodies," the minister said in a statement late Thursday.
The minister is the first government official to publicly voice opposition to the pageant, dealing a fresh blow to the Britain-based organizers.
His statement came the same day a commissioner from the country's National Human Rights Commission said he opposed an event that "put women's bodies on display."
The local organizers were not fazed by the minister's comments however, saying the issue was not his domain and that "the show must go on."
VOTE: Megan Young 2nd in Ms World app poll
"This is not an Islamic country and this event is an issue of culture, not religion," Adjie S. Soeratmadjie, corporate secretary of broadcaster and local organizer RCTI told AFP, adding several other ministers supported Miss World.
While Indonesia is a Muslim-majority nation, its constitution is not Islamic and recognizes several religions.
READ: Indonesian Muslims vow to stop Miss World
The organizers revealed in June that the famed bikini round was being axed for the pageant in Indonesia in a bid to avoid causing offense, and contestants would instead wear Balinese sarongs.
Nevertheless, hardline group Islamic Defenders Front has not been appeased and still plans to hold protests on the outskirts of the capital Jakarta, where the pageant's final will be held on September 28.
The competition opens on September 8 in Bali, a Hindu-majority island known for its many beaches where female tourists from around the world sunbathe in skimpy bikinis with few problems.
Hardline groups in Indonesia have forced the cancellation of events deemed "un-Islamic" in the past. – Rappler.com
You can also read: