Here is Rappler's 2013 Miss Universe fearless forecast!
CHIANG RAI, Thailand – Now that the crucial Miss Universe prelims are done, here's our list of who's hot and — who's not. 
It seems the Latinas are grabbing most of the attention. They are a force to reckon with this 2013, with most of them resembling Barbie in the flesh.
The downside? Well…all Barbies tend to look alike.
The Europeans, meantime, pose the biggest threat to a Latina win; but don't be surprised if an Asian or Eurasian snatches the prize. The weakest group would be the blonde contingent with only two or 3 who fall into the "bombshell" category.
What about our girl — Ariella "Ara" Arida? What are her chances of winning or, at least, maintaining the Philippines' excellent performance in Miss Universe with the past 3 queens placing as runners-up? (Read — Ariella Arida: Tough contender in 2013 Miss Universe)
More thoughts on that below.
Here's a list of Top 21 girls to watch out for:
Top 5
Ariella Arida herself identified at least 3 girls that she believed were her main rivals for the win: Puerto Rico, Spain and France.
It so happens that all 3 girls and Ara are the hot favorites of Miss Universe's major sponsors, like Chef Nobu Matsuhisa (one of the pageant judges) who invited them plus 6 other contestants to attend a demo show at his Moscow restaurant.
Let's take a closer look at our favorites… (Note that the pageant will have Top 16 in the semi-finals.)
This statuesque 5'10" nursing degree holder is a classic beauty and one of the front-runners for the crown if we are to go by the lists of most pageant fans. Monic Perez' best performance was during the Evening Gown competition at the prelims, where she wore a yellow gown with her hair up in a high, queenly bun. Her advocacy as a nurse is caring for the elderly.
If you missed the November 5 Preliminary Competition, here's the Rappler live blog.
2. Spain – Patricia Yurena Rodriguez
An interesting beauty, this one. In spite of her angular jaw-line, Patricia Yurena Rodriguez has one of the prettiest faces in this year's collection of international beauties. Her performance in the prelims was captivating. However, this writer finds her a little too thin for comfort. This 5'8" Tenerife native is a volunteer fund raiser for Red Cross in Madrid.
3. France – Hinarani de Longeaux
Although her Official Miss Universe Web Interview seemed blah, Hinarani de Longeaux made up for it, trés beacoup, during the prelims where she finally let her oooomph ooze out. She's like an Arabica version of Hollywood actress Angelina Jolie or R&B singer Beyonce. This 5'10" Tahitian-French model works for SOS Village Enfant which helps place orphans in new homes.
Can you believe that this 5'10" porcelain doll grew up playing with cars? But there's no sign of boyishness in this elegant beauty now. Olga Storozhenko actually runs a local beauty pageant to raise funds for orphans. Her radiant beauty, which brings to mind actress Jane Seymour, was highlighted in the Official Miss Universe Web Interview and during her self-introduction in the prelims. Now, if only her stylist would stop making her look way older than her 21 years…
5. Philippines – Ariella Arida
Just because she's at the bottom of this Top 5 list doesn't mean she's the least in our eyes. While the above 4 will make it hard for her to win, Ara has a huge chance of bringing home the 3rd ever Miss Universe crown for the Philippines.
The 5'7" chemistry graduate from Laguna is one of the most in-demand contestants with major sponsors (like Yamamay, Tony Ward, Mercedes Benz and Nobu) always requesting for her to grace their events. Russian singer Emin also included her in a shortlist of 7 contestants to be featured in one of his MTVs.
While some felt she was too muscular-looking during the prelims' swimsuit competition, these critics may not know that Miss Universe tends to favor "lean, mean, fighting machines." Out of all the Asian representatives, it's safe to say that Ariella Arida is clearly number one!
Next 11 favorites rounding up the Top 16:
6. Czech Republic – Gabriela Kratochvílová
Gabriela Kratochvílová proves that not all beauty queens have voluminously long hair. She is, in fact, the first-ever Miss Czech Universe winner with a page-boy cut. In a pre-pageant show, Gabriela was also chosen as the "People's Bond Girl" by swimsuit sponsor Yamamay. 
Olivia Wells is the beautiful mind behind the blog The Procrasti-baker. But don't think for a second that you'll see cupcakes on her hips! The 5'10" Melbourne miss is fabulously fit. She is also passionate about her charity work and has once flown to Vietnam as a volunteer to help disabled children.
This feline femme consistently delivers in the Miss Universe beauty pageant. From her Web Interview to all her stage moments in the prelims, Alexia Viruez does not disappoint. The 5'8" South American beauty once volunteered to serve rescue workers during a building collapse in her town of Santa Cruz.
9. Haiti – Mondiana J'hainne Pierre
Delicate mahogany skin…Flawlessly chiseled face. The most beautiful among the dark queens, Mondiana Pierre evokes memories of a former Miss Universe winner — Leila Lopes of Angola who won in 2011. The 5'10" stunner founded Big Sister, an organization that encourages children to seek an education.
Could we see a back-to-back win for the USA? I'm sure Erin Brady wouldn't mind it at all! The best asset of this 5'8" accountant from Connecticut is her gorgeously perfect face.
What a sweet darling. This animal rescuer was happily laughing away on stage during the swimsuit competition of the prelims! Berrin Kekliker's smile is much like that of local actress Alma Concepcion, who was also a beauty queen once. I just hope that this 5'10" Turkish delight didn't lose any points for wearing a gown that looked more like a glorified swimsuit during the prelims.
Big eyes à la Anne Hathaway. Abs that belong on the swimsuit edition of Sports Illustrated. The 5'6" Lucia Aldana might be the shortest on this shortlist of favorites but she has big dreams of producing and directing a government-related TV show.
The only other stunning Asian — aside from Ariella Arida of the Philippines — is Carey Ng who grew up in Kuala Lumpur. She's got a sexy vibe and walks like water; but whoever is styling her hair, please, no big "bumpits" to make her seem taller than her 5'8" frame. She's simply "Malay-zing" just as she is!
14. Russia – Elmira Abdrazakova
Of course, the host nation has to be in the Top 16! The sultry Siberian is a spokesperson for Operation Smile in the Russian territory. Love her lips, but the 5'8' global economics student needs to keep off the red lipstick — it just makes her pouty lips look more swollen than sweet.
The only other full Pinay competing in Miss Universe aside from Ariella Arida is the representative from Canada, Riza Santos. The 5'8" Canadian queen is proud of her Filipino roots and in her Miss Universe bio, she mentions the work she's done in the Philippines. (Read: 3 Filipinas in 2013 Miss Universe)
The boot-shaped nation of Europe sent a 5'9" eye-catcher this year. Luna Voce (yes, even her name is unreal) is often mistaken for an actress. Love the eyes and the body. Viva Italia!
Dark horses: 5 beauties that pose a threat to all of the above
17. Israel – Titi Yitayish Ayanaw
Titi Yitayish Ayanaw, who is originally from Ethiopia, towers over the competition at 5'11". Although her Web Interview seemed flat, Titi was fabulous in the prelims with her upswept hair and cocoa-colored skin.
18. Croatia – Melita Fabečić
Melita Fabčeić has an odd beauty that keeps you wanting for more. It must be the tilted Asian eyes and sexy buck-toothed pout. This 18-year-old has jumpstarted a successful modeling career in Milan.
This 5'8" Caribbean queen has a Charlene Gonzales vibe going on. Because of her unique look, Eline de Pool is a stand-out beauty.
This one's a very pretty version of singer Charice Pempengco. The 5'6" Aigerim Kozhakhanova has a smile that can light up a giant stage. But I do hope her being skinny is a natural thing because thin is not always in.
Betty Omara is the most stunning among the African contestants, and seems to be chanelling the biblical Queen of Sheba. The 5'8" fashion model is the second on this list with short hair.
Here are Rappler's exclusive prelims photos of all the candidates on this fearless forecast:
We'll find out on November 9 (November 10, Philippine time) who the winner will be. Will it be one of the girls on this list or will it be a shocking upset?
Whatever the case, it promises to be another exciting edition for the Miss Universe beauty pageant! – Rappler.com
You can also read: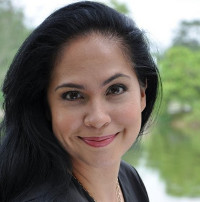 Joyce Burton-Titular is a Filipina beauty queen with two Binibining Pilipinas titles: Miss Young Philippines 1980 and Binibining Pilipinas-Universe 1985. She currently keeps a beauty queen blog called Adventures of a Beauty Queen.
Joyce has more than a decade of experience as a news presenter. Her main work today is voicing — hers is the voice that reminds you to fasten your seatbelt and turn off your cellular phone when you fly Cebu Pacific.
Joyce is a mother of two, wife of one and the slave of 7 dogs and 7 cats.