We review the 2013 Miss Universe pageant point by point
MANILA, Philippines – After Megan Young's historic Miss World victory last September 28 in Indonesia, Filipino fans hoped for another crown, this time in the 2013 Miss Universe (MU) pageant in Moscow, Russia, last November 9 (November 10, Philippine time).
If you missed the pageant, here is Rappler's live blog.
Pageant fans — especially those from the gay community — looked forward to seeing Russia host MU for the first time ever. But their excitement was dampened by the controversy surrounding Russia's passage of anti-homosexual laws.
While a boycott was called by LGBT groups, Thomas Roberts — openly gay and married — accepted the invitation to host the pageant. He said he wanted to give hope to Russia's gay communities who "were being oppressed with the passage of the law."
Here are Rappler's exclusive pre-coronation night photos:
The coronation night began on a sad but heartwarming note when Roberts and his co-host Mel B announced that the 2013 Miss Universe pageant was dedicated to the Philippines and Vietnam because of the devastation wreaked by Typhoon Yolanda (international name: Haiyan).
Announcement of the Top 16
The most dreaded moment in the Miss Universe pageant was the announcement of the semi-finalists. 15 girls were selected by the judges and MU owner Donald Trump. The 16th semi-finalist came from the fans' online votes.
The Top 16 announced in random order were:
Costa Rica: Fabiana Granados
Ukraine: Olga Storozhenko
China: Jin Ye
Ecuador: Constanza Baez
Great Britain: Amy Willerton
Indonesia: Whulandary
Venezuela: Gabriela Isler
Dominican Republic: Yaritza Reyes
Puerto Rico: Monic Perez
Spain: Patricia Yurena Rodriguez
USA: Erin Brady
Nicaragua: Nastassja Bolivar
Switzerland: Dominique Rinderknecht
India: Manasi Moghe
Brazil: Jakelyne Oliveira
Philippines: Ariella Arida
The announcement of the Top 16 was nerve-wracking for Filipinos, with Miss Philippines Ariella Arida called last. She won the MU online voting which worried some; it was like the kiss of death, because it meant that the winner won by popularity and not merit.
Watch reactions at the Star World viewing party in Bed Manila last November 10 when Ariella was called in 16th place (credit to Nikky Nicandro):
Several fan favorites did not make it to the Top 16:
Australia and France, whose semi-final streak dated from 2008 and 2009, respectively
Israel, who sent their first black MU reprsentative 
Poland, another hot favorite and who had the second most number of views on her MU web interview
Russia, the host candidate, who competed in Miss World 2013 
The swimsuit competition
Panic! At the Disco's music set the tone for the swimsuit segment, with the contestants sporting white fur shawls (faux, we hope) on a stage that resembled a snowy Russian forest.
Costa Rica's Fabiana Granados started the competition with a foxy walk. Fabiana had a great body but going first had never been ideal as judges tended to hold back. 
Ukraine's Olga Storozhenko, a favorite for her elegant face, followed. Olga had a simple approach which worked well.
China's Jin Ye was next and she commanded the runway. But just like Costa Rica, it was over for Jin Ye after the swimsuit round.
Ecuador's Constanza Baez followed. The curves on her body and in her walk guaranteed Constanza a spot in the next round.
Then it was Great Britain's Amy Willerton. Seeing a contestant from the British Isles make the cut after 30 long years (Karen Lesley Moore who represented England in 1983 was 4th runner-up) was great! She did a hair flip and looked like she enjoyed every minute of it!
Next was Indonesian Whulandary's turn. She wore a one-piece black suit and had powerful stage presence; however, her lower body seemed to lack tone, and this could have affected her chance to go further.
Venezuela's Gabriela Isler simply knew how to work the stage. Gabriela's awesome body combined with smooth moves must have reaped near-perfect scores from the judges.
Dominican Republic's Yaritza Reyes was a pleasant surprise. Yaritza, a coffee-colored and curly-tressed beauty, had a smile that lit the hall as she worked her swimwear big time.
Puerto Rico's Monic Perez, who was magnificent in the prelims, seemed off-tangent during finals night. Monic's hair was not as fabulous, and she seemed too reserved. Her night ended after this round.
Spain's Patricia Yurena Rodriguez came next. The world first laid eyes on Patricia in 2008 when she won Miss Spain, but due to Miss Universe's age requirement, she could not compete that year and went to Miss World where she placed in the Top 15. She was simply fresh and breathtaking; her walk and body were to die for.
USA's Erin Brady was the first Miss USA from Connecticut. Despite being one of the shortest in the semis, she knew how to work it. Her catwalk had massively improved and she delivered in this round.
Nicaragua's Nastassja Bolivar won Telemundo's Nuestra Bellaza Latina search in 2011. She clearly knew how to move on stage but seemed to have overdid it this time.
Switzerland's Dominique Rinderknecht was the only short-haired candidate to advance in the semis. She sported a red one-piece which did not seem to have worked on her. The somewhat puffy hairstyle could've also taken away points from her.
India's Manasi Moghe may have had a stunning face but her delivery in the swimsuit competition seemed to lack presence.
Brazil's Jakelyne Oliveira owned the stage. Jakelyne, who had one of the best bodies in the competition, is a samba dancer. She clearly knew the drill and did not disappoint.
Last but not least, the Philippines' Ariella Arida graced the stage. Her body had clearly transformed thanks to countless hours in the gym under personal trainer John Cuay. Her styling was on the mark: hair kept simple with a smoky-eye look. Her swimsuit delivery was spot on with two effortless twirls, one at the start and another at the end.
Ara topped the swimsuit event.
The Top 10 announcement and Evening Gown Competition
After the swimsuit round, The Top 10 were called (at random):
Spain's Patricia started the competition in a silver and white crystal-encrusted gown. She kept her hair simple yet delivered with an awesome walk and presence. It was obvious she would move to the next round.
Great Britain's changed to a sleek red and fuschia number from what she wore in the prelims. It was a good move but she seemed to struggle. Her night was over after this round.
India's Manasi followed in a blush gown which was beautiful; but just like in the swimsuit round, her walk could have been better.
Brazil's Jakelyne wore an orange gown with nice details on the bodice. It was one of the sexiest gowns of the night. Just like in the swimsuit round, she worked it.
USA's Erin wore a daring red gown which she carried nicely but it wasn't enough to propel her into the next round.
Ukraine's Olga wore an elegant white number with a sexy back detail. The gown's silhouette was simply elegant and the beading just right. She sported better hair and make-up this time compared to her styling at the prelims.
Ecuador's Constanza wore a feathery asymmetrical mint number which complimented her skin. We liked the color of the gown, and her simple hairstyle was just right.
Venezuela's Gabriela changed her gown from a Gionni Straccia creation to a long sleeved gown which, according to special anchor Jeannie Mai, Gabriela helped design with Alejandro Fajardo.
Dominican Republic's Yaritza also changed to another off-white and gold number with sheer detailing, which could have been too much. Her preliminary gown seemed better.
The Philippines' Ariella wore a structured and strapless canary yellow satin gown with a drop waist and simple beading. Ariella wore her hair down instead of the chignon she wore at the prelims, which seemed to be a good move.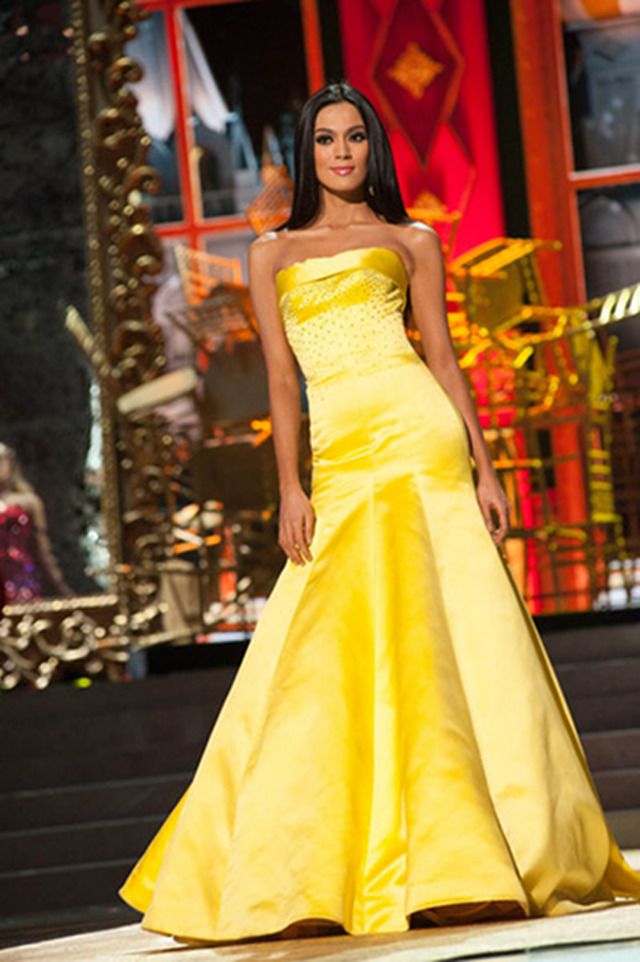 Filipino pageant fans felt sad that Ara's gown was made by Colombian designer Alfredo Barraza. It hurt that Canada's Riza Santos wore a beautiful gown by Filipino designer Francis Libiran, and special anchor Jeannie Mai wore an elegant red number by Dubai-based Filipino designer Michael Cinco.
When will Binibining Pilipinas Charities Inc. see that the current crop of Filipino designers are gifted and creative enough? Some designers that come to mind are Francis Libiran, Michael Cinco, Furne One, Eric delos Santos, Cary Santiago and Veejay Floresca. Any one of them could create better gowns for our girls.
The Top 5 and the Question and Answer portion
After the gown round, the Top 5 were selected:
Ecuador came first and was asked what she thought the world would be without the Internet. Her response about computers having [their] advantages and disadvantages and not having enough time for family [seemed] somewhat related, but she did not directly answer the question.
Brazil followed and was asked a question about women in countries who are not allowed to vote, hold elected office and even drive. Jackelyne noted that even if women have achieved independence [today], there are still problems. She referred to her country where the president is currently a woman. Perhaps Brazil could have answered this better?
Spain was next and her question was political. What more could be done for more women to be elected to public office? With the help of a translator, Patricia answered in Spanish saying that women "must possess good qualities in order to do a good job — discipline, knowing how to adapt…so she can fulfill her job." Spain seemed almost assured of the crown with this answer.
The Philippines was asked about what could be done about the lack of jobs for young people who are starting their careers around world. Ariella's answer:
We noted 5 things:
Ariella was the only one who did not require a translator
She gave an excellent answer delivered with confidence
She was the only Asian standing among the Latinas in the Top 5
She was the only one with who wore her hair simply by keeping it straight 
The yellow color of her gown made her stand out visually 
It seemed to the viewers that the country's 3rd MU title was in the bag.
Venezuela was the last to answer: "What is your biggest fear and how do you plan to overcome it?" She said in her native language, "We must overcome all our fears and this in turn would make us stronger. As soon as we overcome our fears, we can face any challenge."
Although she said it well, Gabriela took a different approach to the question by answering obliquely. The bigger question was: were the judges impressed?
(Joyce's note: Lex felt it was a 3-way fight between Spain, Philippines and Venezuela, while I thought it was Spain vs the Philippines.)
Brazil reaped the 4th runner-up placement for the second year in a row. Philippines was surprisingly 3rd runner-up (we expected a higher ranking). Ecuador garnered 2nd runner-up.
When Venezuela was announced as Miss Universe there was a moment of confusion. Neither of the two girls knew who won. Venezuela's reaction was priceless when she finally realized she was the winner. The announcement of winners seemed rushed; it was anti-climactic. Were they running overtime?
Venezuela collected its 7th Miss Universe crown while the Philippines placed in the Top 5 for the 4th year in a row, chasing Finland which placed in the Top 5 from 1965 to 1969. Brazil was in the Top 5 for the 3rd straight year, while Spain got its highest placement since 2000. Ecuador got its first Top 5 finish since they started competing in Miss Universe in 1955.
Ariella Arida of the Philippines is 3rd runner-up
Ariella matched Shamcey Supsup's 3rd runner-up win in MU 2011. Some said that "the yellow gown" prevented Ara from winning the crown.
If you missed the pageant, here is Rappler's live blog.
Here's a recap in video of the 2013 Miss Universe pageant. Ariella is one of the featured candidates:
Filipinos can still celebrate another great year in pageantry as Ariella Arida joins the ranks of Lalaine Bennett, Rosario "Chat" Silayan †, Desiree Verdadero and Shamcey Supsup who have placed 3rd runner-up in Miss Universe.
Congratulations to Ara on a job well done, to her training camp Aces and Queens and to the Bb Pilipinas Charities Inc for another victory #ForThePhilippines! – Rappler.com
You can also read: