2013 beauty queens share their experiences and insights about competing and winning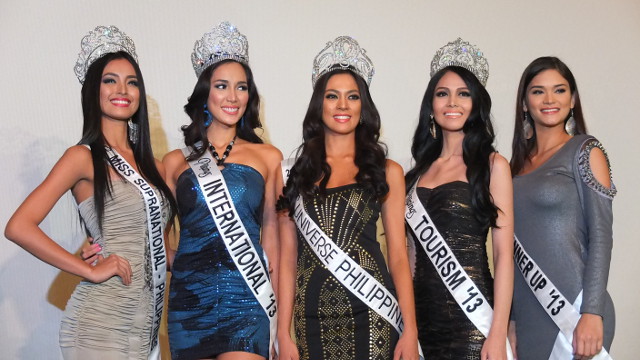 MANILA, Philippines – 2013 was indeed a good year for the Philippines when it comes to beauty pageants. The Philippines placed in every major pageant and even bagged the crown for Miss Supranational (Mutya Johanna Datul), Miss World (Megan Young), and Miss International (Bea Rose Santiago).
The Philippines was 3rd runner up (Ariella Arida) in the Miss Universe beauty pageant and was part of the Top 10 (Angelee delos Reyes) in the Miss Earth pageant.
With the new batch of pageant hopefuls newly announced, 2013 Bb Pilipinas Universe queen Ariella Arida and Mutya Johanna Datul share their experiences and offer advice for pageant hopefuls.
What was your journey like joining the Binibining Pilipinas and your respective international pageants?
Johanna: When I was a candidate, I was very quiet and it was a challenge for me to interact with other people because I was afraid to make mistakes. I was a promdi (provincial lass) who was new to the city and I didn't want to be judged. But slowly I opened up through the different training sessions. I learned a lot, gained confidence and found pride in my promdi roots and my story. 
When I joined the Miss Supranational 2013 pageant, I brought this confidence with me, I showed the world who is the real Johanna Datul and the world embraced me for who I am.
Ariella: I started late compared to the other girls. And the trainings were really challenging, especially the physical conditioning and the dieting. Joining the Miss Universe, you get to meet the most beautiful women in the world, and it can make you insecure at first. But if you're ruled by passion and your own confidence, you will shine. I may not have won the crown, but I am still happy to have brought honor to the country.
How has your life changed after joining? 
Johanna: Joining the pageant helped me a lot. It's not a secret that I came from a humble background. Before, I was a struggling model who relied on go-sees. I tried to make ends meet, surviving in Manila and sending money to my family in Isabela. Because of winning the pageant, I am now able to support my family, my siblings' education and my mother's medical expenses.
Ariella: It's like a 180-degree turn. From a simple girl to a beauty queen, everything has changed after joining the Binibining Pilipinas. I'm still not used to the attention. But on the personal side, I was able to find a sense of direction on what I want to do – I want to be able to inspire and help other people. 
What were the things you were able to do because you joined Binibing Pilipinas? 
Johanna: There were so many things I was able to experience! I was able to go to other countries, to Belarus for the pageant and then to Gabon and Panama for Miss Supranational duties. I was able to meet and work with local celebrities, and this may seem shallow, but I always dreamed of seeing myself on TV. 
Ariella: More than anything else, I was able to reach out to other people through charity. Before joining, I always wanted to help other people, but I didn't know how to start. But because of Binibini, I was able to help during the relief operations for Yolanda and I was able to inspire other people through simple acts of charity.
What is your advice for the upcoming batch of contestants? 
Johanna: I'm so excited for the new batch of Binibinis. My advice would be for them not to be shy and for them to be proud of who they are and their background. Be true to yourself. Have passion, determination and never lose hope because in the end, when you try your best, you can be surprised at what you can do and what you can achieve.
Ariella: Never doubt yourself if you want to join, give it your 100%. Don't be half-hearted. If you hear something bad, just work hard and don't be affected. You have to know yourself, embrace your weakness and that will make you a stronger person.
The Binibining Pilipinas Grand Coronation Night will be held on March 30 at the Smart Araneta Coliseum. – Rappler.com