Catriona is introduced as 'Australian by birth' – and her last name is misspelled – during the pageant program
Miss Universe 2018 Catriona Gray's stint as a judge on the Miss Universe Colombia pageant wasn't quite as smooth sailing as everyone had hoped for, with fans feeling slighted over her introduction during the program.
During the pageant on Tuesday, November 17 (Manila time), the host introduced Catriona as an "Australian by birth" who represented the Philippines in the Miss Universe pageant.
Her family name was also misspelled to "Garay" in the on-screen graphics for her introduction.
After the pageant, the Miss Universe 2018 titleholder posted on Instagram stories a photo of herself with the "Filipina." as an inlay.
We can't be sure if it was a response to her intro, but it sure is a statement from the beauty queen, who's always proudly carried the Philippines in all her activities.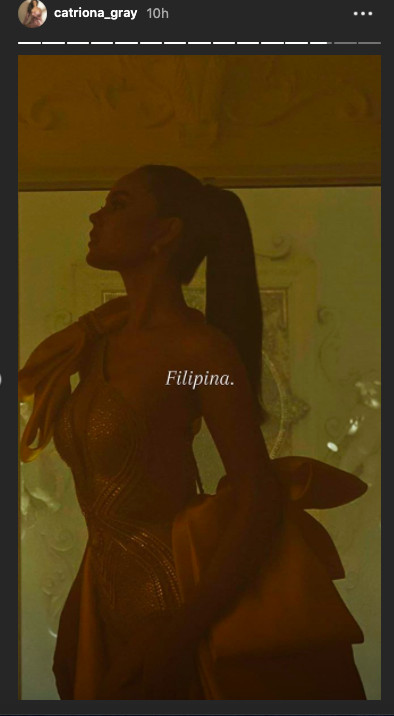 The host's introduction did not please fans, who said it was disrespectful to Catriona.
Catriona was born in Queensland, Australia to a Scottish-born Australian father and Filipino mother who hails from Oas, Albay. She is both Australian and Filipino.
It's not the first time Catriona's roots have made the news. In 2018, after she won Miss Universe, newspapers in Australia highlighted her Aussie roots in their headlines. .
Catriona has said in past interviews that she's proud to represent the Philippines and that she is a Filipino not only by blood but at heart. She was born and raised in Australia but moved to the Philippines in 2011 to pursue a modeling career. She's stayed in the Philippines since and has went on to pursue a career in entertainment. – Rappler.com