'Beauty queens are still human beings – we make a lot of mistakes and it is normal. I just want to show everything and not be afraid to show my true and authentic self to others,' says Miss Universe Philippines Celeste Cortesi
This story is published in partnership with SoJannelleTV, a magazine show about Filipinos in North America
Celeste Cortesi is the personification of glamor and confidence as she commands the stage at pageants. Still, the 25-year-old Filipina-Italian model never loses sight of who she is, which has helped her develop a bond with her fans, both in the Philippines and abroad.
"Somehow the public has to relate to you, and the only way for you to relate to the public is to talk about your vulnerable side, not just the perfect person you want to portray. Beauty queens are still human beings – we make a lot of mistakes and it is normal. I just want to show everything and not be afraid to show my true and authentic self to others," said Cortesi in an interview on So Jannelle TV, which airs US-wide on cable channels The Filipino Channel (TFC) and ANC; as well as on local Southern CA digital channel KNET 25.1.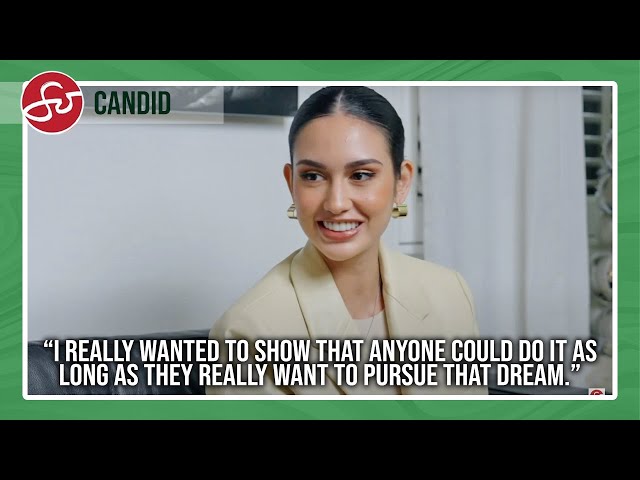 Even as she remains humble and self-effacing, it's hard not to be impressed by her.
"You have the perfect face though," Filipino-American media pioneer Jannelle So Perkins said to Cortesi in a moment of levity.
Cortesi's combination of beauty, integrity, and experience make her a compelling contender as she prepares to represent the Philippines at the 2022 Miss Universe pageant, which will take place on January 14 in New Orleans, Louisiana. (LIVE UPDATES: Miss Universe 2022)
Voltaire Tayag, celebrated pageant journalist and Director of Communications for Miss Universe Philippines, has been coaching Cortesi for this competition. Though cautiously optimistic, Tayag said Cortesi has as good a chance as anyone to return to the Philippines as the winner.
"Pageants are quite unpredictable but I really believe…. She has everything that it would take to be Miss Universe and somebody who would be great for the organization because she has that relatability and authenticity that they're looking for," said Tayag.
Cortesi's poise and experience have come after she learned hard lessons through her experiences. After beginning participating in pageants in Italy as a teenager, Cortesi found the pageant experience to be far more challenging in the Philippines. Being an international beauty queen means being subjected to constant scrutiny, from the way that she looks to the very question of her ethnicity.
Cortesi was confronted by this reality at the 2018 Miss Earth pageant, which was hosted in the Philippines. The hashtag presented to her during the question and answer portion was malnutrition, and the Philippines-born, Italy-raised Cortesi struggled to articulate her answer.
Instead of shying away from that experience, she confronted it head on, and became a stronger person as a result.
"First of all, I didn't speak English at the time, and second I was super young at the time – I was 19 years old," Cortesi said.
"After that happened, I was almost shy to show that part of me but now I'm like, you can go on YouTube and see it. I don't care, because you can see me now and you can see me as an inspiration to see that you can always improve as long as you're determined, [and] as long as you're committed to your goals. If I did it, anyone can," she added.
After the Miss Earth pageant, where Cortesi finished in the Top 8, she became more dedicated to improving her chances of future success. Despite being born in Pasay City, Philippines, she had been raised in Parma, Italy, having relocated there at six months old with her Italian father and Filipina mother. She began improving her English and learning more about Filipino culture. She also enrolled in classes at Lyceum of Alabang, where she studied real estate management.
Tayag related that among the weaknesses Cortesi has worked on is not overthinking matters, and making them bigger in her mind. He said that, while many see her as a symbol of beauty and perfection, he knows her as someone who enjoys eating sweets and is close to her childhood best friend.
Cortesi admitted that much of the criticism towards her had been hurtful, but she rose above it. It's that ability to adapt that will serve her well when she once again takes the world stage.
"I had to go through a lot of bashing before, honestly, when all of these people were hating on me. I could have went back to Italy and just stayed in my comfort zone but I decided to not do that," said Cortesi.
"It was not only for me but I really wanted to show that anyone can do it as long as they really want to pursue that dream. There is no such thing as limits that people can put on your capabilities." – Jannelle So Productions | Rappler.com
For more exclusive content, including a "This or That" game with Cortesi, follow So Jannelle on Instagram at @sojannelletv.
Rappler is partnering with Jannelle So Productions Inc (JSP), founded by Filipino-American pioneer and Los Angeles-based journalist Jannelle So, to publish video and written stories from SoJannelleTV about the journeys, successes, and challenges of Filipinos living in America.
Check out So Jannelle TV daily for stories that make you pause, reflect, and appreciate who we are and what we are as a people.
Sundays, 4:30pm PT / 7:30pm ET on The Filipino Channel (TFC)
Mondays, 6:00pm on KNET Channel 25.1 Southern California
Replay on Saturdays, 7:30pm PT / 10:30pm ET on ANC North America
Any time on YouTube.com/SoJannelleTV