'This feels new and to be honest, I'm terrified,' says the actress-model
Following the announcement of the top 100 delegates of Miss Universe Philippines 2021, actress-model Maureen Wroblewitz opened up on Tuesday, July 20, on why she decided to enter pageantry. 
In an Instagram post, the Asia's Next Top Model season 5 winner apologized to the public for lying in previous interviews about her plans of joining a pageant. "Surprise, I apologize for the white lies. As difficult as it was, I had to keep this as a secret," she began her post.
When Maureen signed with Star Magic last June 2021, she told the press she's "not so sure yet" about joining pageants but she's "not closing any doors."
She said that despite declining to give concrete answers in the past, her fans are still happy with her decision. "This is the new chapter I've talked about in a recent post and I humbly ask for your continued support. It's true what I've said in my interviews. I've always considered dipping my toes in pageantry and committing to it when I felt ready," Maureen wrote.
"It was not until I received my sign from the Universe, that I knew I couldn't wait for that feeling of readiness and that I'd have to take that first step in order to feel ready," she added.
The 23-year-old model also shared that joining pageants is taking a step outside of her comfort zone. "This feels new and to be honest, I'm terrified but I've come to realize that I just fear the unknown," she said.
Maureen added that she doesn't want to live a life full of regrets. "I don't want to grow old thinking that I should've joined, alternatively, I would like to say 'I'm glad I've joined'," she said.
She ended her post by encouraging her followers to chase their dreams. "I hope through this I inspire you to reach for the Universe. It's all up to you. You can achieve anything you put your mind to and sometimes, if you believe hard enough, the Universe will conspire in helping you succeed," she said.
Several Filipina beauty queens like Hannah Arnold, Katarina Rodriguez, Maureen Montagne, and actresses Iza Calzado and Maymay Entrata congratulated Maureen on her decision.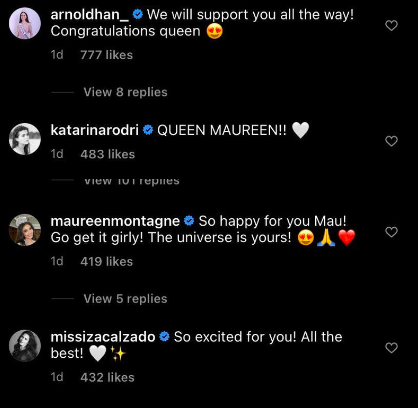 As part of the top 100 delegates, Maureen is set to undergo several remote challenges in the succeeding weeks. The delegates will then be narrowed down to 75, 50, and then 30. Only 30 from the 100 ladies will be chosen to compete live and in person as the official candidates for the coronation night.
The Miss Universe Philippines 2021 coronation night is scheduled on September 25. Rabiya Mateo, who ended her Miss Universe journey in the top 21, is set to crown her successor. – Rappler.com