Fashion design student Arwin Meriales and artist Paulo Pilapil Espinosa only had two days to make the memorable costume
Miss Universe Singapore Bernadette Belle Ong revealed on Friday, May 14 that her "Stop Asian Hate" national costume was made by a Filipino designer and artist in just two days. 
Ong said that the sparkly red bodysuit she wore during the national costume show on Friday (Thursday night, May 13 in the USA) was made by fashion design student Arwin Meriales while the cape was hand-painted by artist Paulo Pilapil Espinosa. 
Ong was born and raised in the Philippines and recently spent time back in the country to train for pageantry.
"Can you believe that this was made in only 2 days?" she wrote. "I reached out to Filipino designer Arwin Meriales to create a design of my own and he executed!"
"When he offered to get Paulo Espinosa to hand paint something at the back, I knew straight away that it had to be about the movement revolving racial spite and prejudice," she added. 
Ong, who was one of the top trending contestants after the national costume competition, considered it as a "huge win" that they were able to make a statement with the ensemble, given the limited time they had to make the costume.
"We got our message across loud and clear! Thanks for roaring back at us with love and praise," she said.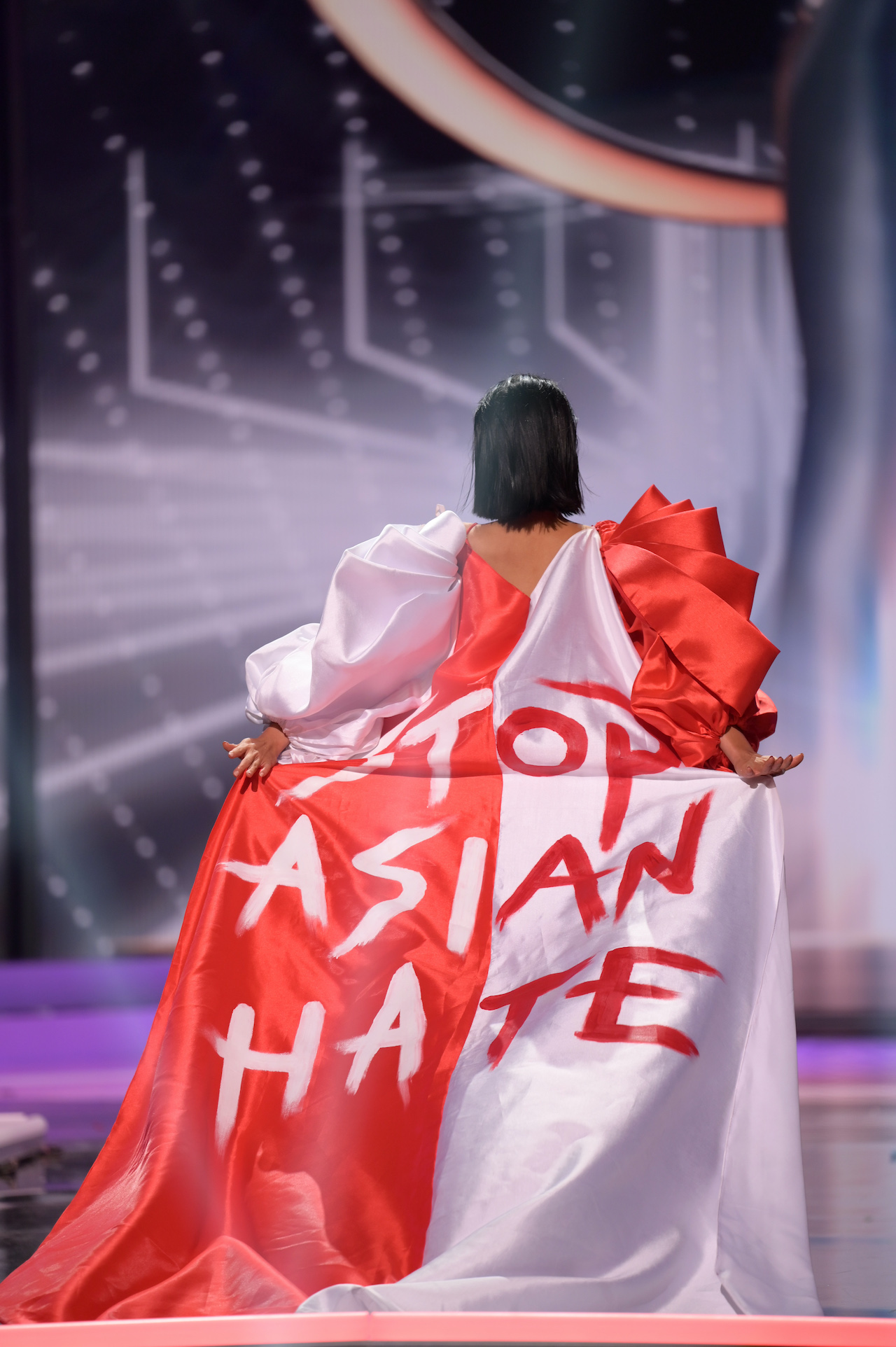 The 26-year-old beauty queen also praised Meriales for his "undeniably impressive work ethic" since he had to make two other dresses for Miss Universe while juggling his exams.
Meriales admitted that he was initially hesitant to accept the project due to time constraints. "I only had two days to make it. Considering that I'm still studying, I thought that it's not going to work so I was hesitant to accept it," he said. 
"What made me say yes? It's not just a national costume. It's a 'STATEMENT and PROTEST' to stop Asian hate. Who wouldn't want to be a part of such a cause?" he added. 
Meriales continued to thank the Miss Universe Singapore Organization for the opportunity and said he will considers the experience "one for the books." 
Espinosa, who hand-painted the cape, said the slogan was Ong's suggestion. "Bernadette is not just a candidate. She's a woman with a mission. It was her idea to make the NatCos competition a way to raise awareness for a very relevant cause," he wrote in his caption. 
"I think we can all agree that Bernadette was able to raise the message to the Universe, loud and clear," he declared.
The winner of the national costume show will be announced during the coronation night scheduled on May 17 (May 16 in the USA).
Filipino pageant fans can watch the competition live starting 8 am via free TV and streaming. – Rappler.com