This is AI generated summarization, which may have errors. For context, always refer to the full article.
'Thanksgiving will be the first week after I give up the crown and I'll no longer be Miss Universe, so I'm already anticipating the rush of emotions. It's a bittersweet feeling but I think it's gonna be a great time to reflect,' says Filipino-American Miss Universe R'Bonney Gabriel
This story is published in partnership with SoJannelleTV, a magazine show about Filipinos in North America
Thanksgiving is just one week away in the United States, and Filipina-American model and entrepreneur R'Bonney Gabriel has much to be grateful for. Gabriel, whose Cinderella story saw her win Miss Texas, Miss USA and then finally the 2022 Miss Universe title, has been living the whirlwind life since being launched to stardom.
The Houston native has been traveling the world, often doing three to four events in a single day as she advocates for causes dear to her, like ending human trafficking and sharing her love for sustainable fashion. Still, the 29-year-old Gabriel never misses an opportunity to be grateful.
"Thanksgiving will be the first week after I give up the crown and I'll no longer be Miss Universe, so I'm already anticipating the rush of emotions. It's a bittersweet feeling but I think it's gonna be a great time to reflect," Gabriel told Filipino-American media pioneer Jannelle So-Perkins in an exclusive interview for So Jannelle TV, a Filipino-American lifestyle magazine show which airs US-wide on cable channels The Filipino Channel (TFC) and ANC; as well as on local Southern CA digital channel KNET 25.1; and is also available on social media platforms.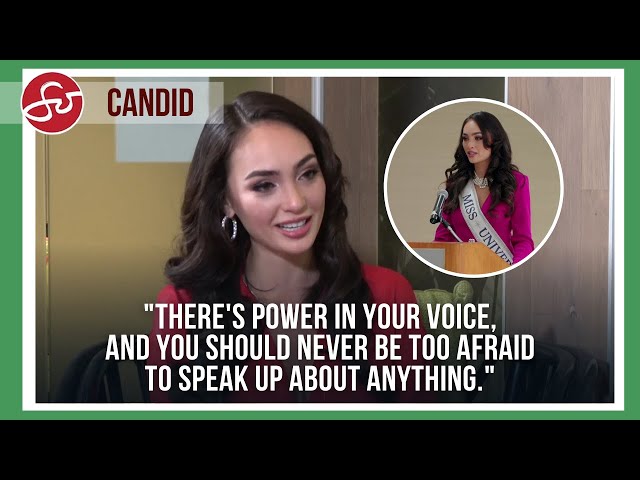 "Every day when I wake up I say, thank God for being alive and the same when I go to bed, it's something so simple but it's something I can so easily take for granted. We're so busy in life and maybe something does go our way and you can get all bent out of shape or a bad mood can set in. But I think if I thank God for another day here, that's a blessing," Gabriel said.
Moving at a mile a minute is a stark departure from her earlier life in Texas. The fashion designer and model had wondered when her big break would finally come, and dreamt of moving to a bigger city to pursue her goals. Still, she managed to find ways to make an impact on the world around her. Back home in Texas, she worked as a sewing instructor for Magpies & Peacocks, a non-profit organization which helps women who have survived domestic violence and human trafficking learn how to sew, giving them an opportunity to work in their sustainable design house or providing a springboard to work in the fashion business elsewhere.
Becoming Miss Universe has brought some larger than life moments to her world. Among them was when she brought her parents to the Philippines for the Miss Universe Philippines event this past May, and returned to her father's home street in Barangay 743 in Malate, Manila to feed the community and hand out school supplies.
"This is a street that I visited in the summers as a child so that was a full circle moment. Everything I do makes my parents proud so that was a very emotional day," said Gabriel.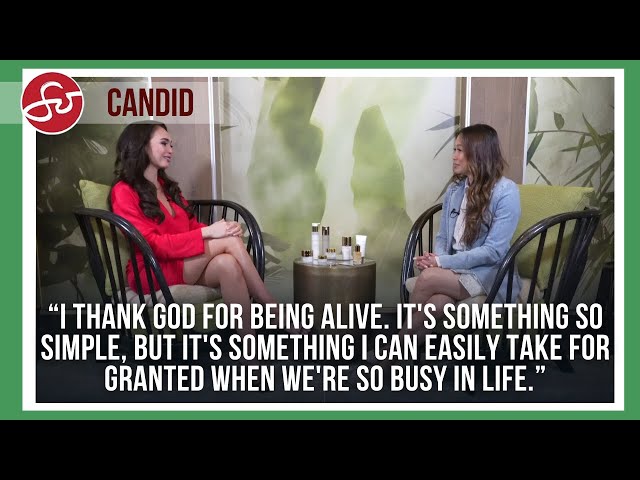 Another experience she enjoyed was traveling to South Africa to trade sewing tips with high school students at a vocational school. She says she keeps in touch with some of them through Instagram and hopes to remain "a light in their life."
Her reign as Miss Universe also gave her an opportunity to conquer her fear of public speaking. She walked the stage at Paris Fashion Week this past September, and gave a 15-minute speech about her journey at Miss Universe and passion for sustainable fashion.
"That to me was an honor because I used to have stage fright. I never knew I could hold a speech that long or hold an audience's attention," said Gabriel.
Her reign as Miss Universe may be coming to an end when the 72nd Miss Universe pageant commences on November 18 in El Salvador, but her work continues on. There are outfits to design, plus the final walk, and then some much needed down time for the holidays. And then it's back to pursuing the work that brings her fulfillment in life.
"I'm gonna continue building my sustainable fashion brand, continue doing public speaking, advocating for sustainable fashion and work with children," said Gabriel. "I would say the things that I've done this year, I just really wanna keep on doing." – Jannelle So Productions | Rappler.com
Rappler is partnering with Jannelle So Productions Inc (JSP), founded by Filipino-American pioneer and Los Angeles-based journalist Jannelle So, to publish video and written stories from SoJannelleTV about the journeys, successes, and challenges of Filipinos living in America.
Check out So Jannelle TV daily for stories that make you pause, reflect, and appreciate who we are and what we are as a people.
Sundays, 4:30pm PT / 7:30pm ET on The Filipino Channel (TFC)
Mondays, 6:00pm on KNET Channel 25.1 Southern California
Replay on Saturdays, 7:30pm PT / 10:30pm ET on ANC North America
Any time on YouTube.com/SoJannelleTV