'Drag Den has really put us on the map, gave the local drag scene the spotlight and now the world sees us,' says Drag Supreme winner NAIA Black
MANILA, Philippines – After seven chaotic, dizzying, fabulous episodes, homegrown drag reality show Drag Den Philippines arrived at its finale, where one contender went home with the title of being the Philippines' first Drag Supreme.
Out of the crop of eight contestants, three drag artists rose to the top three: seasoned drag mother Maria Cristina, and up-and-coming queens NAIA Black and Shewarma.
Both NAIA and Shewarma were shocked after making it to the top three, though both of them also knew they deserved it.
NAIA, who was eventually crowned the winner, said she had expected that a more veteran queen would make it to the finals.
"I was absolutely shocked because, you know, mga beterana kasama namin dito eh (we're surrounded by veterans here). I was just immensely grateful at the moment. It was overwhelming in the literal sense because I didn't know how to compose myself," NAIA told Rappler at a Drag Den press conference on Tuesday, January 24.
It was no doubt a proud moment for both queens. For Shewarma, it was even more meaningful, because it signified her mother's acceptance of her art.
"Sobrang proud ko sa sarili ko rin kahit nasa top three palang ako dahil proud sakin yung nanay ko, kasi before hindi siya proud sa ginagawa ko. Now, sobrang proud na siya. Dun palang, panalo na ko," she shared.
(I am so proud of myself because even if I'm just in the top three, my mom is already proud of me. Before this, she wasn't proud of what I was doing. Now, she's really proud. With that alone, I feel like a winner.)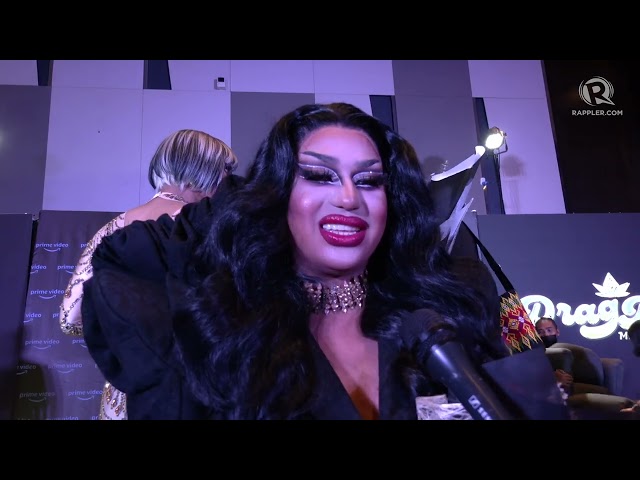 As young queens early on in their drag careers, NAIA and Shewarma had to go up against drag artists who had years of experience – no mean feat for those who have only been doing drag for a short period of time.
For NAIA, she drew confidence from knowing both her capabilities and her flaws.
"I think the confidence comes from trusting in your capabilities and knowing where you can improve upon," she said. "Kung alam mo kung saan ka nagfafalter (where you falter), work on it, or you're supposed to work on it, and that's what I learned on Drag Den."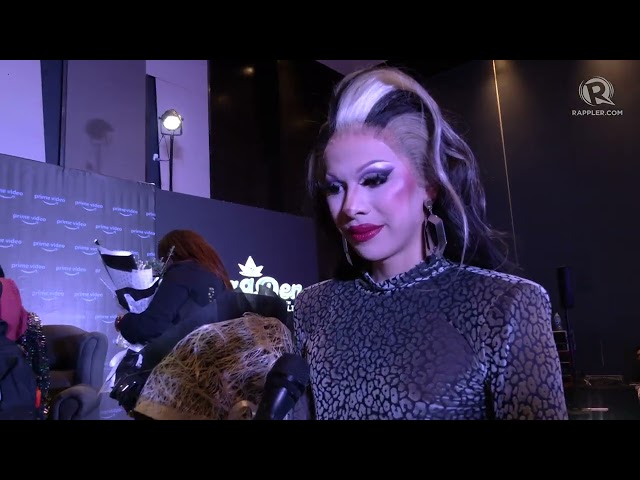 She also highlighted the importance of making mistakes.
"I'm not placing myself on a pedestal and saying ako lang may kaya nito (I'm the only one who can do this)…everyone can do this as long as you put in the work and believe in yourself and respect those who came before you. And don't be afraid to make mistakes cos I made a lot of mistakes on Drag Den that until now never ko na inulit (I never repeated)…you can't be afraid…cos you're never gonna put yourself out there, you're never gonna take that dive," she said.
As both queens shared, being confident and trusting one's self is applicable not only to drag queens or artists, but also to LGBTQ+ people in general, especially those who are still learning to embrace their identitiy.
"Maniwala kayo sa sarili niyo. Huwag niyong hahayaan kunin ng ibang tao yung gusto niyo gawin. Kailangan kayo muna magtitiwala sa sarili niyo bago yung ibang tao," Shewarma said.
(Believe in yourself. Don't let others take what you want to do. You have to believe in yourself first.)
Whether in drag or in life, NAIA also encouraged people to experiment, and not to limit themselves to one thing or brand.
"Don't be afraid to explore, because you can't define yourself agad (right away). That's my advice to baby drag queens. They try to brand themselves agad (right away)…when in fact, it's like sexuality, it's like your sexual orientation, where you have to experiment first only in the literal sense, right?" she said.
"Don't be too hard on yourselves when you're still trying to learn yourself. Cos that's me on Drag Den. I wasn't too hard on myself when I didn't know. I was just moving forward and trying to learn from my mistakes," she said.
As Drag Den puts the spotlight on Filipino queens yet again (something that Drag Race Philippines did in 2022), NAIA and Shewarma look forward to the growth of the local drag scene.
"Gusto ko maging masa yung drag here in the Philippines dahil for me, bago pausbungin yung drag ng Philippines sa ibang bansa, dapat pausbungin muna natin yung drag mismo sa Philippines," Shewarma said.
(I want drag to go mainstream here in the Philippines, because for me, before Filipino drag thrives internationally, it has to thrive here first.)
"Super saya dahil mayroon na tayong two shows in 2022 and 2023 and sana mas madagdagan pa…dahil deserve namin ng platform, dahil hindi biro yung ginagawa namin," she said.
(It's great because we've had two shows in 2022 and 2023 and I hope there will be more…because we deserve a platform, because what we do isn't easy.)
"Drag is only gonna get more and more popular here in the Philippines," NAIA added, explaining that drag has always been around, but only as a niche community before.
"But now you have a lot of women and their boyfriends coming to watch shows, and the spotlight is really on the Philippine drag scene, that it's a force to be reckoned with in the whole drag community sa buong mundo (around the world)," she said.
She likened the Filipino drag scene to the Filipino pageant scene, saying that Filipinos are becoming known for being "a force to be reckoned with" on the international stage.
"I think now that we have these shows, Drag Den has really put us on the map, put the local drag scene on the map, gave the local drag scene the spotlight and now the world sees us," she said.
The Drag Den Philippines finale, hosted by international drag superstar Manila Luzon, is streaming on Prime Video. – Rappler.com