The lesson is that all forms of love are valid – and we should keep telling our stories of love until society catches up to this truth
First off, I'm not into romance films or series in general, so I never thought I'd get into the Boys' Love (BL) genre. But here I am. Second, there are enough think pieces on why BL series popped off during this lockdown, so I'll spare you from any attempt to intellectualize that. But the point is I, too, fell into the BL rabbit hole, like I never thought I would.
After spending my time off work on a Thai BL binge, I decided to check out the new ones that were coming out of our very own country.
I heard of Gameboys when it first came out but was only compelled to check it out when a friend recommended it to me.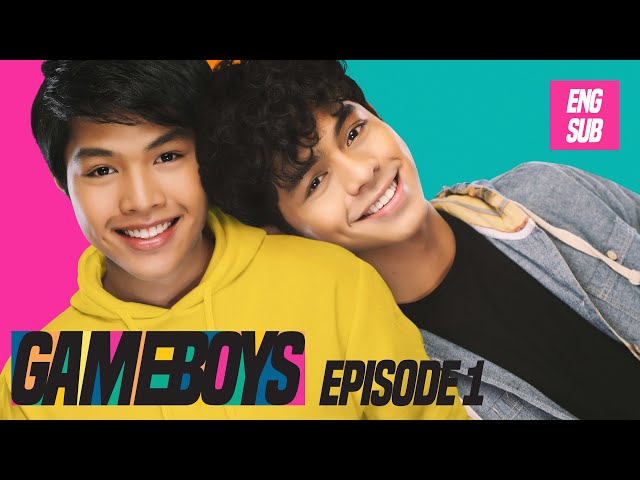 As a millennial, I didn't think I could relate to a Gen Z love story (wow, may ganoon?). I am also not a gamer.
Anyway, I realized, if I could watch something as light as 2gether: The Series, I should keep the ageism in check, and give it a chance. (READ: SarawaTine helped keep myself '2gether' during the lockdown)
Without giving too much away, Gameboys basically revolves around popular streamer Cairo Lazaro (Elijah Canlas) and the flirtatious Gavreel Alarcon ( Kokoy de Santos). The story follows how their purely online friendship developed into something deeper, with the help of Gavreel's best friend, the energetic and supportive Pearl Gatdula (Adrianna So).
While the first 3 episodes got me feeling like I might be too old for this show, by episode 4, I couldn't stop watching.
Here are 5 reasons why I became a fan of this show:
It's unproblematic
While I enjoyed the Thai BL shows recommended to me by friends, the enjoyment always came with a caveat. If the show was not entirely problematic, there was always an element of it that was.
In one show, for example, a male character commented on a female character's revealing clothes. That's definitely a no-no.
In another, the flamboyantly gay character was made the comic relief and was treated like a pest, while the conventionally attractive ones would get to live out their happily ever after.
In Gameboys, while Gavreel may be flirtatious and a bit pushy at times with the emotionally-guarded Cai, in the first episode, he asked for Cai's consent before courting him.
Consent is always important.
It's relevant to the times
Aside from the themes of coming to terms with one's sexuality and the struggle for acceptance in Filipino families – which have been tackled time and again in Filipino cinema – Gameboys also addresses the barriers in developing friendships and relationships in the time of coronavirus, when physical contact is not possible.
Can people fall in love without meeting first? How do people fall in love in the age of Zoom? What are families affected by COVID-19 going through right now?
The show not only gives the audience perspective into queer life under quarantine, but it also provides a window into many Filipino lives under lockdown.
The female character is powerful
In many BL stories, female characterization is often problematic. Many times, she is jealous and out to destroy the relationship of the boy couple.
That's not the case here. Pearl is the foundation, the glue, that holds Gav and Cai together. She is unfiltered and calls out the BS when necessary, but is there to lift her friends' spirits when they are down.
She's the best friend every queer person wants or is blessed to already have.
In short, a queen.
The performances are brilliant
I don't watch BL for the acting. I watch it to escape, for the flirtation, for the kilig. But this cast surprised me. They delivered all of that and more. I felt like I was watching theatre on screen.
Because there isn't much fancy camerawork that can be done while the cast shoots under quarantine in their homes, all eyes are on their performance.
The subtlety and thoughtfulness of Elijah Canlas' performance stood out for me. His performance as a young adult struggling to come to terms with his identity, along with uncertainty that comes with it, was both truthful and compelling.
The story is truthful
Before I tune in to any new BL series, I always remind myself that what I'm watching is fantasy and unrealistic. Basically, I tell myself to be quiet and just be distracted and entertained.
Aside from needing an escape from the darkness of the real world and a distraction from my loneliness, I wanted to feel emotions different from the ones I get from reading and writing bad news every day.
And if heterosexuals always get their cheesy, kilig, unrealistic fairytale stories with happy endings, then it's about time we have ours, too.
But this way of telling a BL story was much different. It was too real.
Somewhere, a gamer boy struggles with his sexuality, and is probably spending time making friends online to help him figure himself out.
There is a flirtatious Gav who wears his heart on his sleeve and is not ashamed to show the world his feelings and is willing to do anything to get the one he wants.
There is a woman out there with the heart and compassion of Pearl.
These are normal people that exist out there in the world. They are our classmates, our coworkers, and friends.
Their struggles are our struggles.
Over the course of this show, I found myself living vicariously through Cai. I saw myself in him, even. Cai is who I could have been if I had the same courage to confront my bisexuality when I was that age. (READ: [OPINION] The B in LGBT: The long journey to coming out)
The years I spent ashamed and hiding a part of my identity, I will never get back. But by supporting these kinds of stories that portray boy love as any other kind of love, maybe, just maybe, people will start to get it.
That love is love. Period.
While this is a difficult time for everyone, including those in the entertainment industry, it's also an exciting time for storytellers. And, in the future, I hope we go even further by telling stories of non-binary love, of girl love, of polyamorous love.
The lesson is that all forms of love are valid – and we should keep telling our stories of love until society catches up to this truth. – Rappler.com