This show is the 'healing drama' everyone needs after spending almost two years in lockdown
Warning: Spoilers ahead.
Another K-drama has taken the internet by storm. Not surprisingly, it is a feel-good, romantic comedy, following the story of Hye-jin, a dentist from Seoul, and Du-sik, a jack of all trades who charms with his wit, humor, and good cooking.
The show has humor, chemistry, and the great views of the Gongjin coast– a perfect weekend watch to cleanse a week's worth of work and worries. It satisfies the craving of something sweet and cheesy, making you smile despite yourself.
But Hometown Cha-Cha-Cha has given viewers more than slices of life.
Kkaennip jeon, Jesa, and grief
Unexpectedly, the show went beyond the kilig, and instead offered a journey of remembering loved ones, at a time when most of the public are unable to do so.
Since the pandemic hit, and thousands fell prey to the deadly disease, having a proper funeral or at least saying goodbye to a loved one have become luxuries. Most people are forced to come to terms with grief and loss in their literal isolation.
Hometown Cha-Cha-Cha was produced during the pandemic, but while the plot doesn't show the world as we know it now, how it tackles death gives viewers a chance to reflect on the losses incurred the past two years.
Despite its genre and idyllic veneer, the show didn't shy away from tackling the tedious work of forgiving and moving on.
The first time we encountered a death ceremony was in episode 4, when Hwa-jeong, the owner of Hye-jin's house and the lot of her clinic, and her son I-jun held a jesa in their house remembering Hwa-jeong's mother.
It was not a long scene, but in that episode viewers were introduced to the workings of the ceremony through I-jun's adherence to the traditions. Viewers unfamiliar with Korean traditions learn that "fish sits in the east and meat sits in the west" and "red fruit sits in the east and white fruit sits in the west."
A shrine is established inside the family home and a feast is prepared on the death anniversary of a loved one. There is a shinwi, or a memorial tablet, placed north of the shrine which implies the spiritual presence of the dead. The family says a little prayer and eats the food on the table.
A few episodes later, viewers witness a Jesa ceremony again, this time when Du-sik holds a memorial service for his grandfather. Almost the entire community of Gongjin arrived with packed food.
But death does not only come from these ceremonial scenes: viewers would learn that Jo Nam-suk, the village gossip, had lost her child A-ram. Ju-ri, the teenager fangirling over boyband DOS, grew up without a mother. Both Ju-ri and her father, Oh Chun-Jae, struggle to understand each other amid a mother figure's absence. Hye-jin herself is estranged from her father since his neglect after the death of Hye-jin's mother.
These backstories explain much of the characters' motivations and how their lives, entangled with each other, are both pulled and pushed by past loss and the love of those present with them.
It was not surprising then that the final episode started with the whole community mourning Gam-ri's death, and ended with the whole community celebrating the approaching wedding of Hye-jin and Du-sik.
From Seoul to Gongjin
But besides the enchanting characters viewers meet along the way, Gongjin stands out as a character in its own right. The place is more than a backdrop, but connects emotionally to all characters involved.
For Hye-jin, Gongjin holds memories dearest to her. Revisiting Gongjin is her way of reliving a time when her mother was alive. It was a place at a standstill, detached from her normal life in Seoul, before she decided to live in it.
When she moved to Gongjin, Hye-jin meant to start her career anew after a messy resignation from her work in Seoul. In the process of meeting its people, adjusting to their provincial life, and winning their hearts, Hye-jin builds a new life, welcomes change, and confronts some of her unresolved feelings about her mother's death.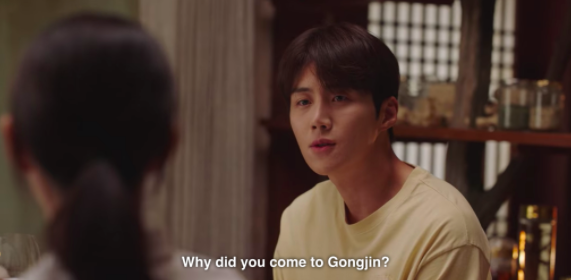 But it wasn't just Hye-jin who made Gongjin a place of transition. For the most part, the show gives viewers bits and pieces of Du-sik's history. In later episodes, it is revealed that Du-sik worked in an asset management company before. A security guard in their building had attempted to commit suicide in light of an economic meltdown. After that, Du-sik suffered a car accident that killed his friend, Park Jeong-u, who was driving him to the hospital to visit the security guard.
Heartbroken and empty, Du-sik tried to make amends by giving money to the grieving family. He was shunned away by Jeong-u's wife. Despite having witnessed death within his family many times, Du-sik admitted that he never gets used to grief. And next to grief, what can kill a person is the guilt of living in the aftermath of a loved one's death. It is, more or less, what people now are trying to negotiate with themselves as they live in the wake of millions of deaths around the world.
Coming back to Gongjin, Du-sik chose to live a simple and honest life, where the people who know him most are around him. It was where he was finally able to mourn fully as Gam-ri told him in a letter, and finally make peace with his past.
"Gongjin saved you," Hye-jin said when she realized just how much the ordinary seaside town gave Du-sik. And it was the same for her.
Snow crabs and other forms of love
But grief eventually finds calm, and love rises.
What happens after death? Amid the losses, there is always space for love. It happens within the daily motions of life. In Hometown, love, grief, and concern are expressed by eating a meal together or giving someone food. Nothing is as primal and instinctive as giving and sharing food.
In Gongjin, viewers shared Mi-seon and Eun-cheol's chicken, the braised potatoes of Hye-jin and her stepmother, Gam-ri's love of squid, and the family dinners of I-jun, Hwa-jeong, and Young-guk.
In the scene of the memorial service for Du-sik's grandfather, Hye-jin peels snow crabs for Du-sik, as he said he has always found peeling crabs too bothersome for him. This made him remember that his grandfather had always peeled them for him, to which Hye-jin comments unguardedly, "It takes a lot of love to peel a crab for someone."
Hometown Cha-Cha-Cha ends with Hye-jin and Du-sik taking wedding photos beside the boat with Du-sik's grandmother's name – an ode to the past and a hopeful look to the future.
In extraordinary times, there is comfort in a show that takes the world with much appetite, empathy, and the occasional flying butterflies. – Rappler.com