'I hope that the kids watching at home... realize that just because they don't see themselves in that role, that doesn't mean that the door is not open for them,' says the 'Blues Clues & You!' host
"What I want Filipino kids to know is that anything is possible. If you're willing to work hard, to put in the time, to be kind to the people that you encounter in your life and pay it forward, anything is possible."
Joshua "Josh" Dela Cruz, the first Filipino host of a mainstream U.S. children's TV show, replied when I asked him what he hopes Filipino children will get when they watch him host the popular Nickelodeon show, Blue's Clues & You!
Parents, especially Pinoy ones, are glad that, for once, they see a brown face their kids can identify with. I told Joshua in our recent video call that I have a Filipina friend, a mom of three girls, who wanted him to know, "We're all over the moon that he's the host and even my almost 13-year-old kid is excited about watching him."
"Wow!" exclaimed Joshua, who is as engaging, lively and affable in real life as he is on the popular reboot of the original 1996 Blue's Clues TV series. Until he landed the host gig of Nickelodeon's live-action/computer-animated interactive educational TV show, Joshua was known for having played the title role in the Broadway production of Disney's Aladdin.
As the son of immigrants who grew up in New Milford, New Jersey, Joshua is delighted that he is part of a growing trend of more inclusive children's TV programming that truly reflects the diversity of America.
"I never saw myself on screen in the way that I identified with, in a show like this, that's so important to so many people," recalled the boyish-looking actor. "But it happened."
"And now, I'm looking back at my life. I'm like, wow, it's like I'm standing on the moon. Because nobody ever thought that we would get to the moon without trying. So, it took hard work, teamwork, kindness, a lot of effort. But if it's something that you love and want to do, go out, get it and work hard."
Having been on Aladdin for 5 years, Joshua was looking for a new challenge. He went all out in his audition to be the new Blues Clues host which attracted 3,000 hopefuls, including John Cena, the pro wrestler turned actor.
"Thankfully, I didn't have to be in the same room with John Cena because if it were a fight, I don't know if I could have gotten the role from John," Joshua quipped. "All tricks aside, it feels amazing."
"I grew up watching the show with my little sister at my aunt's house when she used to babysit us. Never in a million years did I think that I would ever be on the other side of the screen, drawing that same clue of a cup that Steve (Burns, one of the original hosts) was drawing when I was watching the show with Elisa."
"I'm just so honored and I feel so blessed to have gotten this role, especially after learning that 3,000 people auditioned for this role. And that they chose me. It makes me feel so honored."
The significance of Nickelodeon's diverse casting choice is not lost on Joshua.
"I'm so proud of the fact that they cast me as a Filipino-American," he declared. But he clarified, "Not because they were writing for a Filipino-American. They weren't writing for the color of a person's skin. They were writing for a person's character."
"So for me, as an actor in the business, it makes me feel so much pride that I get to be myself and celebrate all of me, not just one part of me. What a ride!"
On his trailblazing path as a Filipino and Asian-American in children's programming, Joshua again cited his formative years. "It's so strange because when I was growing up, I never quite realized that I didn't see myself reflected on screen in the way that I connected. It was always a foreigner. It was always a caricature, a villain or somebody who knew karate."
"While karate is awesome – don't get me wrong – I would love to do karate. It's not who I am."
"So, to be in this role – to be silly and to be making mistakes, to ask for help – is so important to me. I'm so happy to be able to do this, share this with kids, including young boys out there, that it's okay to be silly, to make mistakes. It's okay to ask for help."
"It's okay to be vulnerable because when I was growing up, I never saw myself seeing that on screen. And to be able to be that person today, I hope that the kids watching at home, whether they be Filipino, Asian, Latino, African-American or whatever, realize that just because they don't see themselves in that role, that doesn't mean that the door is not open for them. Anything is possible."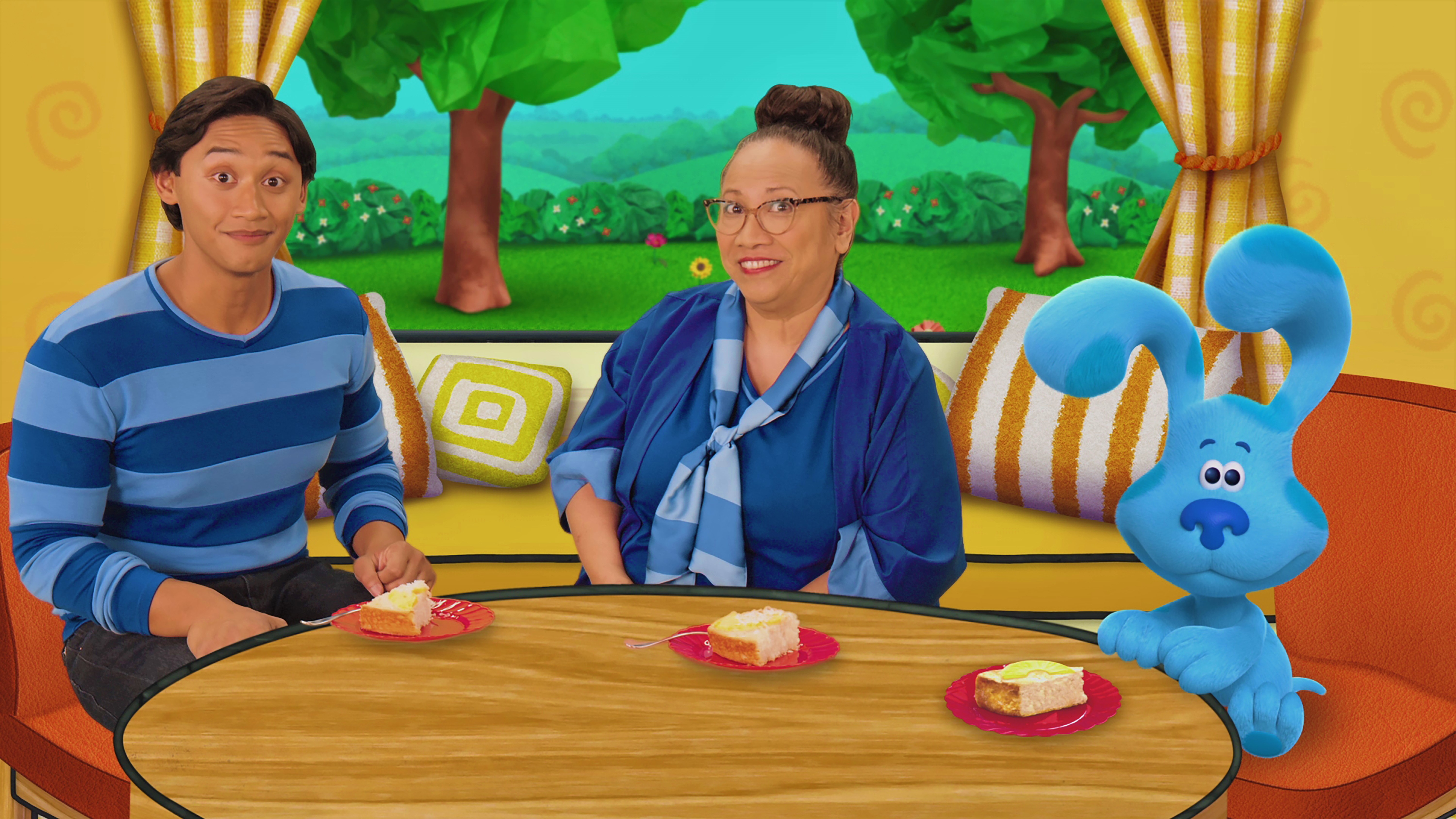 Joshua hopes to showcase more of Filipino culture, as the show did recently in a well-received episode where it introduced Josh's lola, played by Filipino-Canadian actress Carolyn Fe, the respectful mano gesture and bibingka, the Pinoy rice cake.
"I can't give away too much but I hope that we are able to (show more of Filipino culture)," Joshua enthused. "I'm filled with so much pride that we did it (the lola and mano episode) and that we did it so well. I think a lot of people agree as well."
"I was blown away when they said yes to mano. And because that's something that Filipino kids know and that it's not just a sign of respect. It's also a gesture of love. You do that for the people that you love. To be able to share that kind of love on screen…"
"So that people all over the world know, oh, lola is grandmother, mano means respect and love, bibingka is nourishment and again, love. I think that's an incredible thing. I hope that we can continue to do that."
Joshua narrated his journey from Dubai to the U.S. and now Toronto, where he shoots Blues Clues & You!
"My parents are from the Philippines, as you know," he began. "They met while they were working in the Middle East. So, that's where my older sister and I were born. I was born in Dubai but we were only there until I was about two. Then we immigrated to the United States where my mom's hospital employer sponsored us."
"My dad made the decision to leave his career and be a stay at home dad for us. So that he could be there for us and be that constant positive role model. We ultimately ended up in New Jersey. From there, I went to school in a suburban town."
"We were a small handful of Asian families in my town. It wasn't until I got older that the world got bigger and at the same time, smaller than I realized that we were not alone."
"My mom retired this past June after 41 years of being a nurse. We're so proud of her, so thankful for everything that she's done and everything that she and her father had to sacrifice in order to be here."
"Now, we're living half the year in Toronto because this is where we film and half the year in the States. It's a really amazing journey from the Philippines to the Middle East, the States to Toronto. I could never adequately repay my parents for everything they've done and the opportunities that they were able to give my sisters and me."
Joshua, who is married to Amanda Dela Cruz, also an actor, splits his time between New York and Toronto. The couple's pet dog, a maltipoo mix named Ollie, goes with him when he stays in Toronto to film the series.
On how much Tagalog he knows, the actor answered, "Oh my gosh, I'm actually learning Tagalog. I really want to talk to my lola (in real life) in Tagalog. I always understand when I'm getting yelled at. I know a little bit of Tagalog here and there but I really want to be fluent enough. I'm working on that so I can speak to my lola while she's still around."
He hopes to return to the Philippines and show Amanda around. "I've been to the Philippines when I was younger. When we were moving to the States, we passed through the Philippines and then when I was in high school. We were supposed to go to the Philippines this past July but then COVID happened. So everything got scrapped and went to the back burner."
"But I was really excited because I hadn't been back in over 10 years. I want to be able to bring my wife with me and show her the Philippines. Once we're over COVID and in a better place as a world, I can't wait to come visit and speak Tagalog while I'm there."
The actor, whose musical theater credits include Here Lies Love, David Byrne's musical on the life of Imelda Marcos, and the classic The King and I, said he misses the live stage.
"I do miss theater," admitted the musical theater graduate from Montclair State University. "There is nothing like theater because the audience is there. Everyone is making an effort to spend the time and the money to be in one place together with other people to watch other people perform. There's nothing like it."
"There's a relationship between the audience and the cast where they feed off each other and the cast is constantly playing. They're doing the same show, the same lines and the same music every night but it's never the same show. There's something exciting about that and the different discoveries."
"In the five years that I was in Aladdin, I was always finding something new. When I was in school learning theater, I remember performers saying that you always find something new. I could never understand that. Five years in a show and you're still finding things. But there are just little discoveries. I definitely miss that."
"The pace of film and television is so exciting and you make so many discoveries. But it's moving so fast that you don't get to sit with the role as long as when you are doing a theater show with an audience. I definitely do miss it. I hope to be back soon."
Joshua laughed when asked if he's now used to the buzz about him as a "thirst trap" in social media because netizens admire his biceps under his trademark blue striped shirt in the show.
"No, I will never be used to it," replied the vegan who wakes up early to go to the gym. "I'm going to hold on to it so that in my dark days when I'm old and my grandkids are giving me a hard time, I'm going to tell them, 'I was a thirst trap once.'"
Joshua's family teases him about being an Internet "hottie." "It's so funny. I go to sleep pretty early and I wake up pretty early. So, one time, I woke up. It was around 4:30 in the morning."
"I looked at my phone and there are all these texts from my sisters. I'm like, oh my gosh, is everything okay? What's wrong? The first thing to pop up was like, 'Did you see this?' I opened the tweet and I was like, oh my gosh, so funny. My family makes fun of me for it and there's no better way than to laugh."
Speaking of his "uniform" in the series, Joshua shared, "Fun fact – when we began season one, we only had two shirts. On the first day of shooting, there was an airbrush gun that exploded. And we only had one shirt. So we were riding with one shirt and then our costume designer had to furiously make another one."
"At that point, the fabric was custom dyed and so the shirt could only be washed in a specific way. The costume designer dyed the fabric, cut the fabric into stripes to make a sheet of a roll of stripes, and then make a shirt from that."
"Now, I have about six or seven shirts. They're no longer hand dyed by our costume designer which is a huge relief for her just because that's so much work and stress."
Looking into the future, Joshua said, "I love acting so much. I want to continue to act. I want to act in films and other TV shows. But there is that part of me that knows that I want to direct, produce and write. I would love to do that here in the States, to create movies and shows that reflect the things that are going on in our lives, in our diverse world."
"I would also love to go back to the Philippines, make movies and shows over there, work with actors over there because I think that's so exciting. I'm hoping that once this is over, I'll have time and the opportunities to direct and to write. Here and hopefully, in the Philippines." – Rappler.com