In his debut column for Rappler, Ruben Nepales talks to actor Jon Jon Briones about 'Ratched,' being part of the Ryan Murphy cinematic universe, and making space in Hollywood
I am excited and honored that my column of 15 years, "Only IN Hollywood," has found a new home on Rappler. Whether you're reading my column for the first time or you're a loyal reader who followed me here at Rappler, thank you!
---
Drop whatever you are doing when Ryan Murphy's Ratched debuts on September 18 on Netflix. Because Jon Jon Briones, who began as a member of a church boys' choir in Quezon City, is sensational in a major role in Ryan's new 8-episode drama series.
I finished watching the screeners in record time because the Filipino actor, who conquered both West End and Broadway as The Engineer in "Miss Saigon" revivals, and his castmates are all riveting to watch.
Ratched has been Jon Jon's "delicious" secret for some time now since the filming wrapped up early last year. If you have not yet seen One Flew Over the Cuckoo's Nest, the 1976 Oscar and Golden Globe best picture winner, now is the time to watch it because Ratched tells the origin story of Nurse Ratched, memorably played by Louise Fletcher.
Louise, as the Ice Queen nurse from hell, and Jack Nicholson, as the rebellious patient in a mental institution, swept the best actress and actor prizes, respectively, that year.
In the compelling noir-ish series set in the late 1940s, created by Ryan and Evan Romansky, a terrific Sarah Paulson plays the young Mildred Ratched who got herself employed in a leading Northern California psychiatric hospital run by Dr. Richard Hanover (Jon Jon).
As the head of the Lucia State Hospital where new and controversial experiments are being done on the patients, Jon Jon's doctor is desperate to get funding from the state government.
Jon Jon, as an immigrant doctor from the Philippines, commands the screen, by himself or when he shares scenes with these fine actors: Sarah, Sharon Stone, Judy Davis, Cynthia Nixon, Sophie Okonedo and Vincent D'Onofrio.
"I'm very excited, especially because my character is Filipino. It's always great to represent," the Quezon City native said about audiences finally being able to see Ratched in our email chat.
Jon Jon recounted the first time Ryan gave him a hint of how juicy his part in Ratched will be. "We were at the 2018 Emmys after party. I already knew that I would be in the show but I had no idea what part I'd be playing. I was talking to Ryan and he said, 'I wrote this amazing role for you. He's a brilliant doctor and you're gonna love him.' "
More viewers will discover Jon Jon in a role that finally showcases his talent to the max, after several critics noticed and praised him as Modesto Cunanan, the father of Andrew Cunanan (Darren Criss), in Ryan's acclaimed The Assassination of Gianni Versace: American Crime Story.
He first got a full taste of what Ryan promised when the Ratched scripts came in. "I was sent the first three episodes before filming which gave me time to study them. I got a better understanding about my character. He's a brilliant man and very charismatic. I also realized I had a lot of work to do because he had these long monologues.
"It's an actor's dream to play meaty roles and characters who are imperfect. The writers did a really good job of shaping the arc of the story," added Jon Jon, whose U.S. stage credits include playing the title role in a Tagalog production of The Romance of Magno Rubio, Lonnie Carter's stage adaptation of Carlos Bulosan's seminal short story.
Now part of what is called the Ryan Murphy Cinematic Universe – actors who are often cast in the prolific creator's shows – Jon Jon said he nearly missed playing the Modesto Cunanan role in the Versace TV series, which paved the way for him to be cast in American Horror Story and now, Ratched.
"That opportunity almost didn't happen," he revealed. "I sent in my audition tape for the Modesto Cunanan role. I heard that Ryan liked it and that they were going to offer it to me. The problem was, I was doing Miss Saigon on Broadway at the time. Figuring out how much time off Miss Saigon will be willing to give me was a very complicated thing.
"But it turned out okay and good thing, too, because a couple of other roles from his shows were offered to me after that."
On the major contribution of Ryan in creating more roles for actors of color, Jon Jon stressed, "Ryan has done more than that. He has been a champion for the under-represented for a long time now – LGBTQ actors, actors of color, with disability, and who are over the age of 40."
For his portrayal of Andrew Cunanan in Versace, Darren scored historic wins as the first actor of Filipino heritage to bag Golden Globe and Emmy trophies. In Hollywood, also by Ryan, Darren played an aspiring director in the 1940s, when passing for white was the norm. Darren's character's declaration in the show, "I am Filipino," was a significant line in that context.
Ratched, written by Ryan, Evan, Ian Brennan and Jennifer Salt, is sprinkled with references to "Filipinos," "Pinoy" and scenes set in Ormoc, Leyte (but shot in California). With my noted penchant for seeking "The Filipino Connection" in Hollywood, I was giddy when I watched the series directed by Ryan, Jessica Yu, Jennifer Lynch, Michael Uppendahl, Nelson Cragg and Daniel Minahan.
"Reading those parts made me happy," said the actor, whom we predict will break through when Ratched streams. "I'm sure a lot of our kababayan (countrymen) will appreciate it."
In one scene, a character says about Dr. Richard Hanover, "He may be short in stature but…." "I appreciate that the show acknowledged my ethnicity and my humble stature," Jon Jon reacted. "I represent thousands of Filipinos who are small but pack a punch."
On how he fleshed out Dr. Hanover, Jon Jon replied, "I didn't really draw on any particular person. The script was really well written that all I had to do was just study it and also do a lot of research on mental health, specifically during the 1940s."
Then he shared this bit about iconic Filipino actors: "Although I had the 1940s pictures of Rogelio de la Rosa, Pancho Magalona and Leopoldo Salcedo in my iPhone as inspirations."
"I remember that it was a very friendly and fun set to be in," Jon Jon recounted his first shooting day for Ratched. "I recognized a lot of the crew from Versace and American Horror Story so it was like working with old friends. I also remembered that my trailer was really nice."
Part of the joy of watching Ratched is Jon Jon getting to share screen time with a slew of terrific actresses.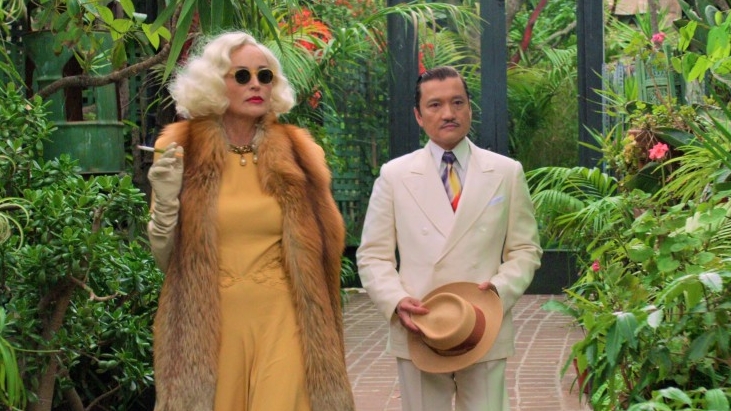 He recalled, "Ryan said that Ratched will be 'a gorgeous story championing feminism.' It is and he chose the perfect actors to make that a reality. Sarah, Judy, Cynthia, Sophie and Sharon are all amazing artists and very strong role models. I loved playing with them. They are queens."
He even has a dance scene with Judy, a Golden Globe and Emmy winner with two Oscar nominations, who also shines amid this cast who all give remarkable performances.
"That was a whole lot of fun!" he exclaimed. "Judy is such an amazing actor and a wonderful human being. She is also very funny.
"That dance scene was in episode five. We were still filming episode four but we were rehearsing with a choreographer during our lunch breaks. It was a lot of work but also a lot of fun. I'm not a dancer but I am a good mover which helped."
The drama also stars Finn Wittrock (another Versace alum), Amanda Plummer, Corey Stoll, Charlie Carver and Alice Englert. Aida Basco, the mother of the Fil-Am Basco actors in Hollywood, is also in the cast, along with child actress Sydney Mae Estrella.
As the doctor with a mystery in his past (who is Dr. Bañaga in his life?), Jon Jon gets to strut in dapper 1940s suits.
"Our costume designer Lou Eyrich is a genius at her craft," Jon Jon enthused. "Her vision and taste are just exquisite. There were racks and racks of shirts, two- and three-piece suits, ties, cravats, hats and shoes to choose from. It was a lot to try on but so much fun. Lou even played 1940s music during my fitting. I was Bogart, Stewart, Gable, Peck and Grant but just a tiny bit shorter."
I was pleasantly surprised to see Teo Briones, Jon Jon's younger kid with singer-actress Megan Briones (they met while appearing in a Germany production of Miss Saigon), in the series. Teo, who plays a young patient in Hanover's asylum, was memorable as Jeremy Renner's son in the drama, Wind River.
"Teo auditioned while we were already filming episode one," the proud dad said. "He joined us in episode two."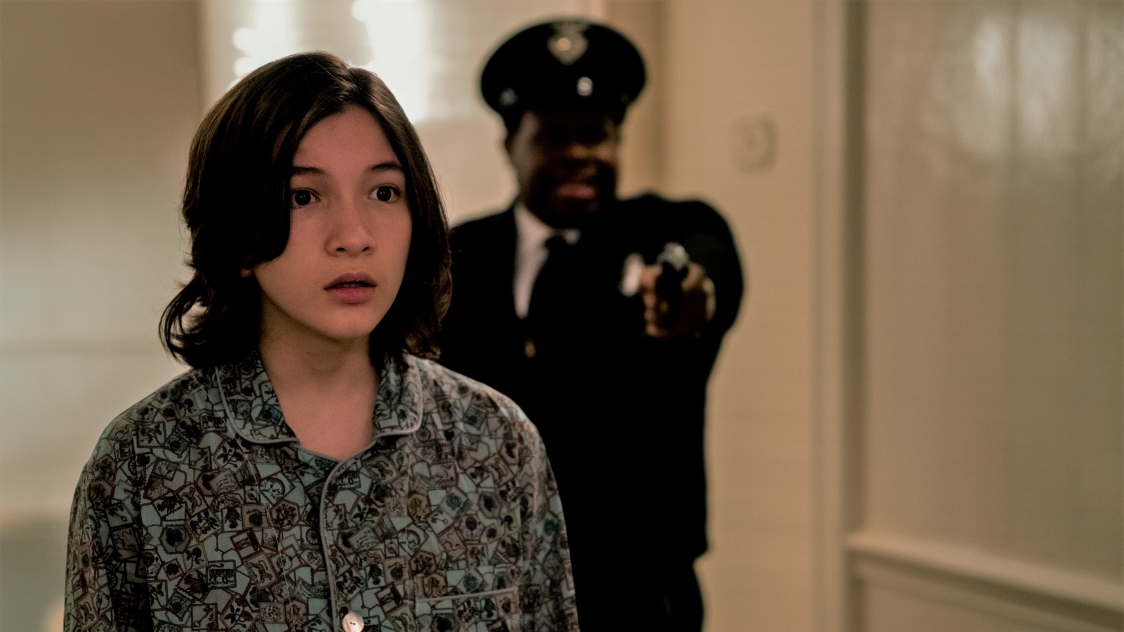 "I've worked with Isa in Versace and that was amazing!" the dad in Jon Jon gushed about her daughter, also an actor. Isa Briones, who played one of Modesto Cunanan's children in Versace, costars with Patrick Stewart as Soji/Sutra/Dahj in Star Trek: Picard.
"So working with Teo was just a beautiful thing. To share the same space with them on set… maybe someday we'll be on the same stage."
To my comment that I see the Briones acting dynasty on the rise, Jon Jon quipped, "I don't know about dynasty but let's start with the Von Trapp family. Megan and I are very proud of Isa and Teo and very thankful that they are doing what makes them happy. The fact that they are good at it is the icing on the cake."
Jon Jon's dad, Ernesto Briones, passed away before these recent big breaks came. He died as Jon Jon was about to make his Broadway debut in 2017. At 22, Jon Jon left the Philippines for the first time to be part of the ensemble of the original Miss Saigon in London, which led him to eventually play The Engineer, including in a production back home.
So the 2015 Olivier Award best actor-musical nominee for his performance as The Engineer in London is comforted to know that Ernesto witnessed his success with Miss Saigon.
He said, "I remember when I was in the Philippines for Miss Saigon and my parents were in the audience to see me play The Engineer for the first time ever. My mom (Eleanor Cloma Briones) told me that during intermission, the people around them were talking about me, saying how good I was."
"My mom said she was nudging my dad to listen to them. My dad shushed my mom and said, 'I am listening.' He had this big smile on his face. Yeah, I think my success would put a big smile on his face."
The amiable actor celebrates his birthday on August 7 (he turns 55) as his big break in Ratched is imminent. I asked him, "If you can talk to the young boy who grew up in a poor neighborhood in Quezon City, who was sent for schooling in the Santo Domingo Church to sing in the choir in exchange for free tuition, what will you tell him?"
Jon Jon replied, "I'd say, 'You wouldn't believe what's going to happen to you in the future so I won't tell you. Just enjoy the journey. It will blow your mind.'" – Rappler.com