Riordan says they're 'looking for the best person who can embody the character'
The highly-anticipated Disney+ Percy Jackson reboot is officially underway as author Rick Riordan announced a preliminary casting call for the titular role. 
On April 27, Tuesday, Riordan posted on his official website that they are looking for an actor who can "play 12" – Percy's age at the start of the series. An actor doesn't need to be actually 12 years old but "the goal is to stay true to the original story and have Percy's character age from 12 to 16 over the course of the TV series, assuming of course we are lucky enough to make all five seasons."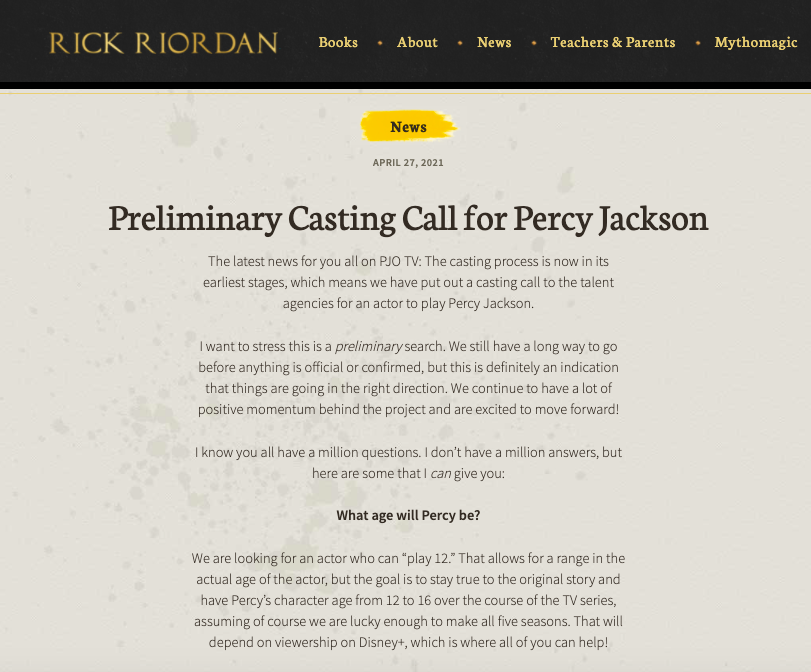 Riordan also said that the character is not limited to any specific ethnicity and that they're "looking for the best person who can embody the character."
Riordan asked fans to be patient for casting calls for other characters. "Percy is the title character, obviously, and a lot of the other casting choices will be informed by whoever we get for Percy. I'll let you know when we start thinking about those next steps," he said. 
Riordan stressed that production is only in its early stages. "We still have a long way to go before anything is official or confirmed, but this is definitely an indication that things are going in the right direction," he said. 
Based on Riordan's Percy Jackson & the Olympians series, the story follows teenager Percy Jackson, the demigod son of Poseidon who is sent to Camp Half-Blood. 
In 2010, a film adaptation of the first book The Lightning Thief was released, followed by the sequel Sea of Monsters in 2013. – Rappler.com