The former Negros Occidental representative dives into show business with shows top-billed by ABS-CBN's biggest stars
On October 4, Brightlight Productions released teasers of its upcoming shows on TV5. The company is owned by former Negros Occidental representative Albee Benitez.
Benitez, a businessman, made headlines in the entertainment industry when news came out that his company brought blocktime slots from the Kapatid network, chaired by Manny Pangilinan.
Blocktiming, according to the Center for Media Freedom and Responsibility (CMFR), is the "media practice of buying 'blocks' of air time to produce programs independent of networks and stations." To make a profit, the blocktimer sells commercial spots to sponsors and advertisers.
Just who is Albee Benitez and how did he find his way to the entertainment industry?
Foray to TV
Before entering show business, Benitez represented the 3rd district of Negros Occidental. During his last consecutive term as legislator in 2019, he headed the House's committee on housing and led the Visayan bloc.
In the Philippines, you're only allowed 3 consecutive terms in the House of Representatives – that means Benitez can only run for the same post again in 2022.
But before hitting his term limit, Benitez dabbled in hosting with the premiere of Game Changer Pilipinas in 2015. The show, produced by LGE Productions, aired on ANC.
According Benitez' official website, Game Changer "is a weekly, 30-minute docu-magazine program aired on ANC (ABS-CBN News channel) that showcases ideas, events, and personalities that have made significant contributions to the advancement of communities and Filipino society, from innovative entrepreneurs and cultural/environmental advocates to the latest trends and paradigm shifts in science and technology."
Its pilot episode featured budget airline Cebu Pacific.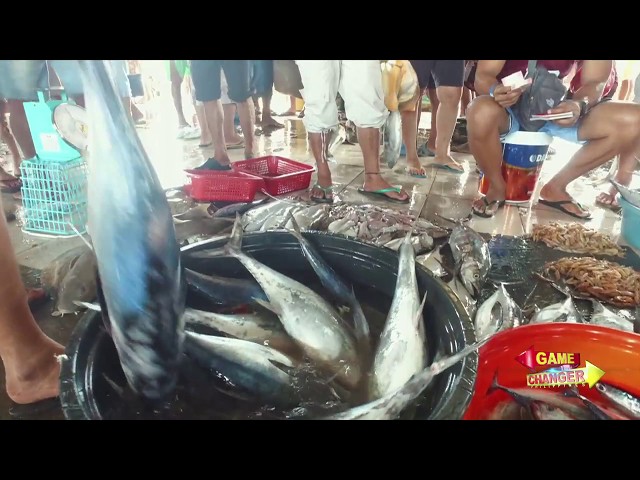 Benitez also has a number of friends in showbiz, such as Albert Martinez and Gabby Concepcion. In a 2018 Manila Times interview with Tessa Mauricio-Arriola, Benitez explained his interest in showbiz.
"I guess my fascination for showbiz came from a need to relax from all my other obligations. Besides doing sports, I watch a lot of movies to destress and unwind, and at some point, the process of making one just appealed to me," Benitez said, who is also the chairman of the gaming firm Leisure & Resorts World Corp (LRWC).
In fact, one of Benitez's dreams was to make a movie inspired by Ocean's 11.
It would have had all-star studded cast led by Sharon Cuneta, Richard Gomez, Aga Muhlach, and Piolo Pascual.
It's unclear if it's merely a plan or a project in the works.
Brightlight Productions
In September, news surfaced that Benitez was set to produce a number of shows under his company Brightlight Productions. ABS-CBN itself reported that Benitez presented a line-up of shows to advertisers following a deal with TV5 chairman Manny Pangilinan.
Benitez was not only able to secure blocktime slots – several of ABS-CBN's big stars would also be leading Brightlight shows.
Benitez sought the help and services of Star Magic chairman emeritus and director Johnny Manahan. Manahan helms Sunday Noontime Live, hosted by Piolo Pascual, Catriona Gray, and Maja Salvador. The show premiered on October 18.
At the press conference for the launch of Brightlight Productions' shows on October 12, Benitez shared how Manahan got involved in the production.
"Once we were given the timeslots, we assembled the creatives, we assembled the people who will be able to give appropriate content for those timeslots. And having a noontime show all the way from Monday to Sunday, the best person we could think of was really Mr. M," Benitez said.
"Mr. M was one of the instrumental figures that gave us the proposal, suggestion to get for our shows. Of course, it was not that difficult because Mr. M has been a respected figure in the industry."
Lunch Out Loud, a noontime variety show led by Billy Crawford and Alex Gonzaga, will air starting October 19.
Aside from Sunday Noontime Live and Lunch Out Loud, Brightlight also has the following shows in its lineup:
Sunday Kada, starring Ritz Azul, Miles Ocampo, Sunshine Garcia, and Daniel Matsunaga, premieres on October 18. The show is directed by Edgar Mortiz.
Oh My Dad, starring Ian Veneracion and Dimples Romana under the direction of Jeffrey Jeturian, begins airing on October 24.
Rated Korina hosted by Korina Sanchez, airs on October 24.
I Got You, starring Beauty Gonzalez, RK Bagatsing, and Jane Oineza premieres October 18, and is directed by Dan Villegas
Brightlight will be backed up by Corner Studios, a subsidiary of Cornerstone Entertainment. During the press conference on October 12, Benitez explained Corner Studios' participation.
"We had to assemble 6 shows in probably 2 months. So because of that, we had to rely on line production companies and Cornerstone is one of those line producing our Sunday Noontime Live and I Got You which airs right after that. So to meet the deadline given by Mr. Robert Galang (president of TV5), we had to get some support and help from line production companies," he said.
Brightlight Productions initial focused on producing movies. At the press conference, Benitez said: "Brightlight Productions has always been in films. We've done films in the past and in fact, we have 2 films in our inventory right now."
One of the movies, Magik Land, has been submitted to the Metro Manila Film Festival as an entry.
No to network wars
Benitez believes artists should not be tied down to a certain network.
In an interview published by the Philippine Star on October 11, he said: "What I am thinking is not to tie down stars to exclusive contracts. Dapat walang ganoon (There should not be such a thing). It deprives contract stars the chance to work for other channels if their mother network is not giving them projects. Lugi ang artista at ang industry ay hindi lumalago, hindi lumalaki, di ba?" (It's the artist's loss and the industry doesn't move forward or grow, right?)
"The network war should be stopped," he said. "It's not healthy for the industry. Dapat wala na 'yang network war na 'yan." (There should no more network wars.)
While he initially had no plans to venture into television, Benitez said it was the joy in being creative that pushed him into TV production.
"If you produced movies, you try to be creative and siguro the creative bug in me made the decision to go into TV as well," he said.
"I am very passionate about becoming creative and you can see the output, the work. And you collaborate with so many people who are equally creative or even better. So that's what excited me the most and why I entered into this venture."
Benitez said that a lot of things are in store for and from Brightlight Productions.
"I think the partnership with Cignal and TV5 is really more of a long term concept. We look at the partnership as not just for a season or two but really for the long term," he said.
"So there's continued discussions and talks on what we can do. These are exciting times and I just like to say that most of the people that are with us right now are people who really have been with the industry for a very long time. They are very very talented and they are so excited and [we] feel that passion they have with the TV shows we're going to launch."
"It's a good start and I like to tell that the morale is high, the people are happy, and I am sure that this would translate to the viewers in seeing how happy everybody is." – Alexa Villano/Rappler.com