This is AI generated summarization, which may have errors. For context, always refer to the full article.
On Wednesday night, July 6, DILG urges mayors of towns in Occidental Mindoro, Oriental Mindoro, and Palawan provinces that are highly prone to landslides and floods to take minimum actions under the Bravo Alert of Oplan Listo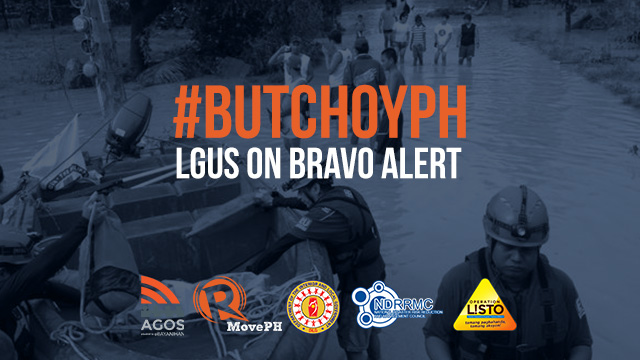 MANILA, Philippines – Following the Typhoon Butchoy (Nepartak) risk assessment conducted by the National Disaster Risk Reduction and Management Council (NDRRMC) Wednesday afternoon, July 6, several towns and barangays were placed on Bravo Alert level.
As of Wednesday night, the Department of the Interior and Local Government (DILG) released a list of towns and barangays that need to take the following minimum actions under Bravo Alert based on Oplan Listo (Operation Plan Alert):
Deploy teams for operations 

Secure power, water supply, and communications 

Start preemptive evacuation

Consider forcible evacuation

Tap the AFP, Coast Guard, and Marina for assistance 

Prepare listing/profile of the evacuees

Distribute relief packs and conduct mass feeding
These minimimum actions should be undertaken in the following areas in Occidental Mindoro, Oriental Mindoro, and Palawan that are highly susceptible to landslides and floods.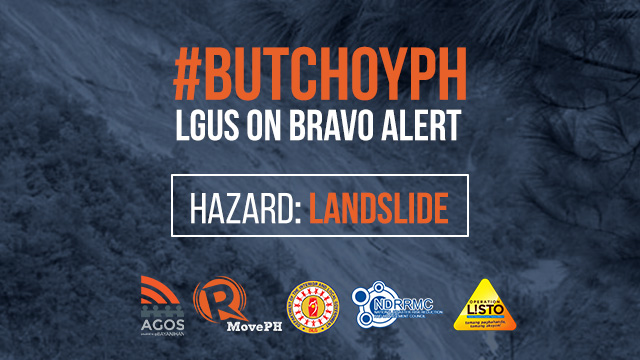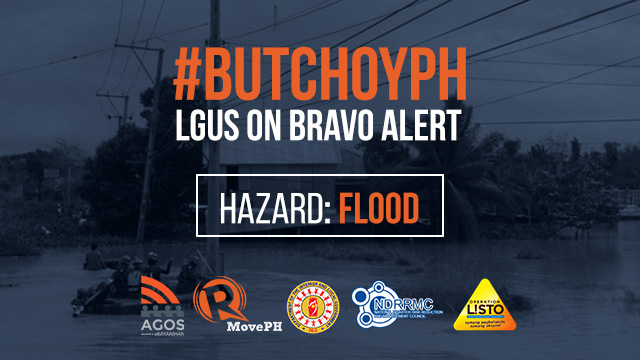 Oplan Listo (Operation Plan Alert) uses a disaster preparedness manual that provides mayors and other local government disaster management agencies with a checklist enumerating what should be done before, during, and after typhoons.
The manual includes flowcharts that correspond to 3 phases of critical preparedness actions: Alpha, Bravo, and Charlie. It also provides a checklist of minimum actions that mayors and local disaster managers are expected to undertake. 
Alpha Alert
Meanwhile, at least 10 regions had been placed under Alpha Alert as of Monday night, July 4, according to Director Allan Tabell, chief of the DILG Central Office Disaster Information Coordinating Center (CODIX).
Alpha Alert means that mayors should have at least issued necessary directives, convened Local Disaster Risk Reduction and Management Councils (LDRRMC), and prepared administrative and logical support.
The regions under Alpha Alert are the following: 
Ilocos 

Cordillera Administrative Region

Cagayan Valley

Central Luzon

Calabarzon

Mimaropa

Bicol

Western Visayas

Negros Island

National Capital Region
At least 107 towns in 7 regions in Luzon and Visayas that will experience 100 millimeters of rain were warned against possible floods and landslides, the National Disaster Risk Reduction and Management Council (NDRRMC) said on Wednesday, July 6.
The 1991 Local Government Code and the Philippine Disaster Risk Reduction and Management Act of 2010 mandate local government units to be at the frontline of emergency measures during disasters. – Rappler.com