It might just complicate the security situation and goods might not reach the target recipients, says Air Force spokesperson Colonel Miguel Okol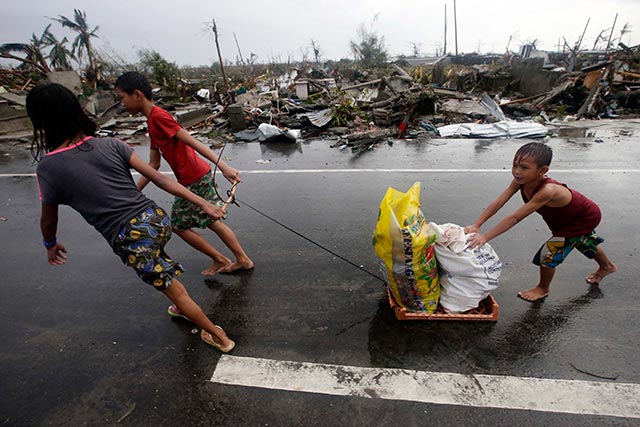 MANILA, Philippines — It was suggested during one of the planning conferences. Why not have Philippine Air Force (PAF) choppers airdrop relief goods in the devastated areas to speed up delivery of supplies to victims who are already hungry?
The risks outweigh the benefits, PAF spokesperson Colonel Miguel Okol told Rappler. 
It might even complicate the security situation since the goods might not reach the target recipients, he added.
"Number one. When we release the goods, it's free falling or to whom it may concern. Number two, wouldn't that effect more chaos and law and order issues?" Okol asked.
"It's faster but they might be wasting the goods in the end," Okol added.
The idea was eventually dropped.
Widespread looting has become a problem in Tacloban City and other areas, where typhoon victims are going hungry because of delays in the distribution of relief goods. (READ: Tormented typhoon victims scour for food)
Local problem
Secretary to the Cabinet Rene Almendras earlier said the distribution is a "local problem that they are trying to address."
The military airdropped relief goods before like in the aftermath of Tropical Storm Ondoy that submerged parts of Metro Manila and nearby provinces. (See photo here) Okol said they also stopped airdropping goods after a while.
Yolanda killed at least 2,275 based on the latest tally of the National Disaster Risk Reduction and Management Council (NDRRMC).
Initial estimates put the death toll at about 10,000 but President Benigno Aquino III downplayed this in a recent interview with CNN. He said the death toll is more likely to be around 2,500.
Yolanda's winds of up to 315 kilometers per hour caused storm surges as high as 20 feet submerging various towns and cities in the Visayas. — Carmela Fonbuena/Rappler.com