(3rd UPDATE) Damage to marine-rich waters is 'so intense you can see it from space,' says Liz Derr, co-founder of the US-based geospatial imagery firm Simularity
Hundreds of lingering ships off the Union Banks in the West Philippine Sea are dumping human waste and sewage into the resource-rich waters of the Spratly Island Group, causing environmental damage that can take decades to reverse, an analyst said on Monday, July 12.
Liz Derr, co-founder and chief executive officer of the United States-based geospatial imagery firm Simularity, said the impact of sewage runoff coming from hundreds of ships that were present in the area had been "so intense you can see it from space."
"Human activity in the Spratlys is damaging the coral reefs that supply food for millions of people in the region. The hundreds of ships that are anchored there are dumping raw sewage every day onto the reefs they are occupying," Derr said during a forum held on Monday, the fifth anniversary of the landmark Hague ruling.
Derr said Simularity tracked this by using satellite imagery that captured growth of plants and algae on what were once healthy coral reefs in the Philippines' exclusive economic zone. The growth of algae over the years had been spurred by high concentrations of Chlorophyll a formed from "excess nutrients" coming from ships' sewage waste.
"It's not just plants overtaking a few reefs here. It's not just a few leaks of sewage. Even small increasing in nutrients can tip the balance toward algae," Derr said.
Satellite images showed the toll of damage caused by ships' sewage in features like Johnson Reef, McKennan (Hughes) Reef, Lansdowne (Pagkakisa) Reef, as well as Ross and Collins (Roxas) Reefs in the Spratlys from 2016 to 2021.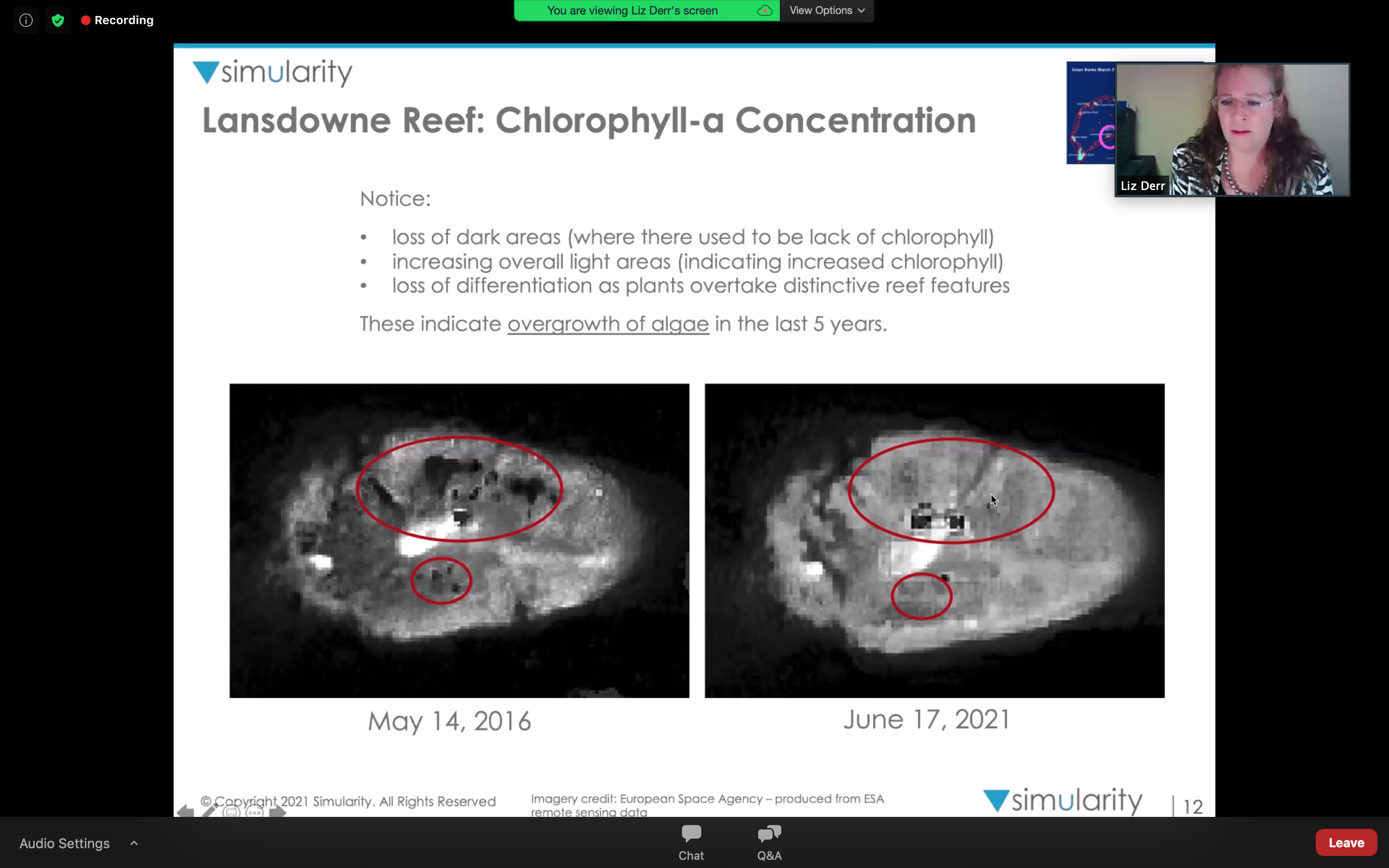 Derr said such harmful activities continued up until as recently as June 2021, when Simularity tracked at least 236 ships anchored in the Union Banks in the West Philippine Sea.
Showing satellite images of the ships, Derr said anchored vessels were creating damaging Chlorophyll a blooms in waters that would drift to nearby features, "leading to a cascade of reef damage that can take decades to recover from even with active mitigation."
"When the ships don't move, the poop piles up," Derr said.
In a reply to Rappler on Tuesday, July 13, Derr said she was "not able to verify that these ships are from China based on satellite imagery and data," but pointed out that "the Philippine Coast Guard has taken numerous photos of these ships since March, and they are clearly Chinese."
She added, "However, I can only say there is a very high probability that the ships in the images are Chinese."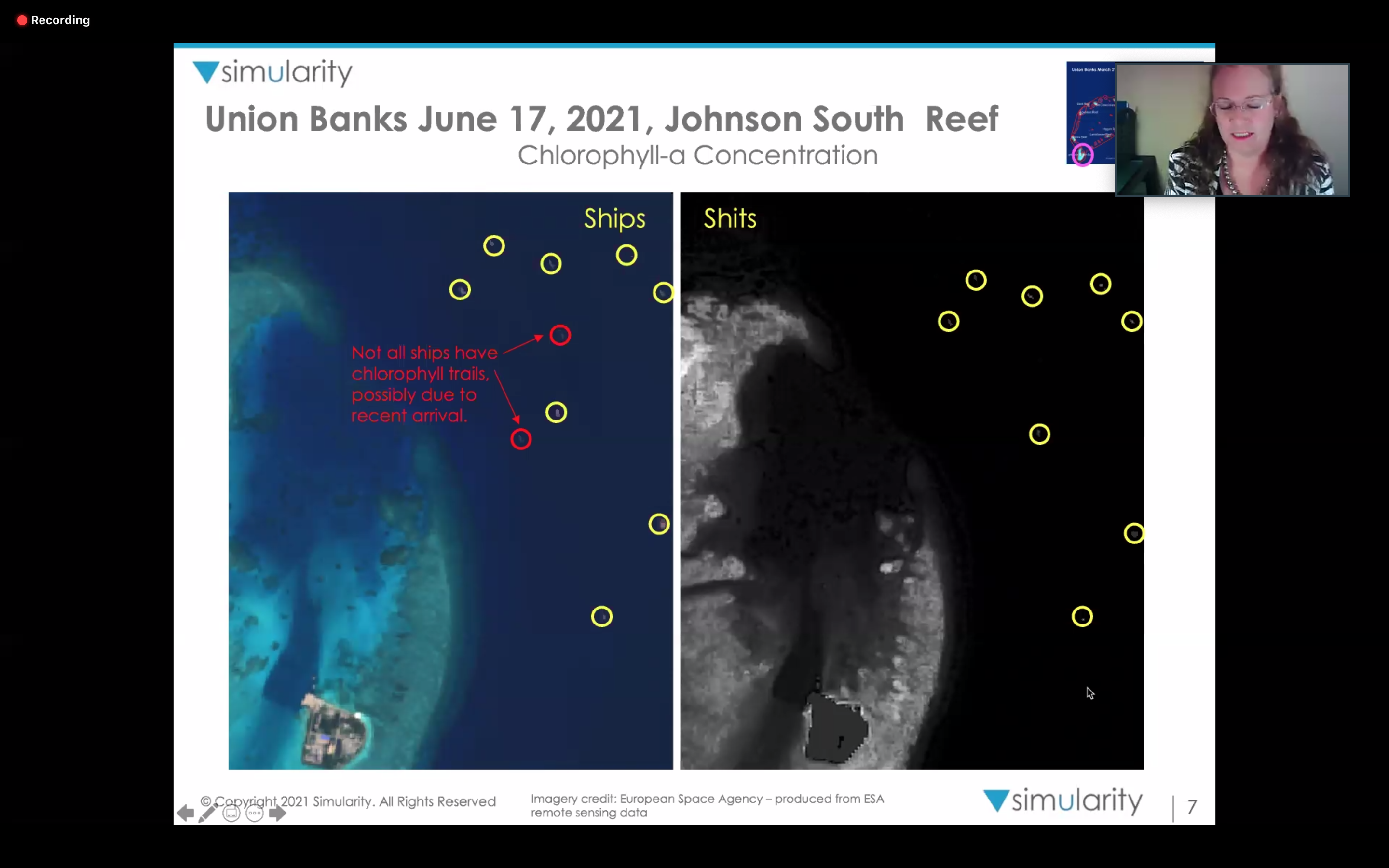 Despite this, Derr pointed out during the forum that the marine damage to reefs comes on top of other harmful practices, like overfishing as well as China's island-building and illegal harvesting of giant clams on the seabed.
Meanwhile, although fishing boats from countries surrounding the South China Sea routinely exploit its resources, Chinese vessels have had the most dominant presence in recent years, often edging out its neighbors, including the Philippines.
Derr warned that damage to reefs in the Spratlys could lead to a hunger crisis that would affect not only the region but the entire world. Reefs in the Spratlys have functioned as a source of food for migratory fish like tuna that travel through the South China Sea into the Indian Ocean, she added.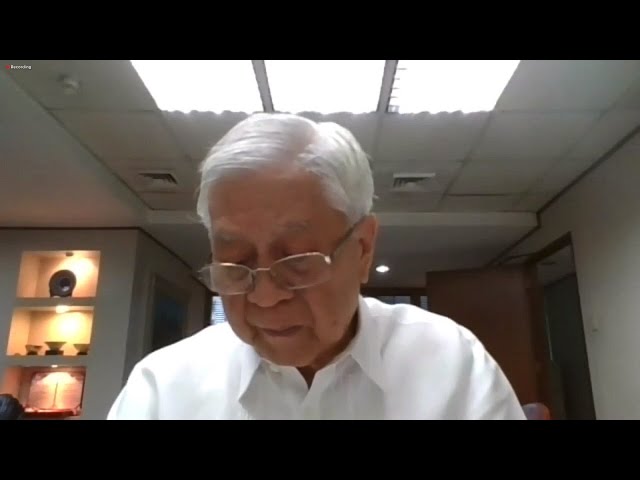 "This is not a problem for one nation and defending one economic zone. This is something we have to work to together to address," Derr said, echoing warnings that scientists and marine biologists made over the years.
"We are close to the point of no return," she said.
Duterte gov't urged to take action
On Tuesday, July 13, Senate President Pro-Tempore Ralph Recto urged the Department of Foreign Affairs to protest the ships' damaging actions. Recto pointed out that dumping waste into the ocean is prohibited by international law and the Philippines' environmental laws.
"By turning reefs into toilets, two man-made things are now visible from space: the Great Wall of China on land, and the Great Wastes of China at sea," Recto said.
The senator also called on the Department of Environment and Natural Resources (DENR) to probe activities of the ships and file cases in court, if warranted. 
"Decent human behavior commands civilized men not to turn rich fishing grounds into a cesspool of feces…. Government cannot fine sidewalk litterers while turning a blind eye to this," Recto said. 
Senators Grace Poe, Risa Hontiveros, and Francis Pangilinan raised similar calls and concerns, saying the government should at the very least investigate the state of reefs in the Spratlys and protect the resource-rich area.
Poe said it was "infuriating and disgusting" to hear that waste and sewage was being dumped into the West Philippine Sea. The senator called it a grave insult not only to the country's sovereignty, but to Filipinos who depended on the waters to make a living.
"China treating us as its toilet is a clear violation of both international and local environmental laws…. We can only hope that this comes as a wake up call to the administration on the stinking reality that China gives no respect to international law, whether it be our territorial or environmental rights," Poe said.
Hontiveros said the DENR must assess the state of reefs and confirm the extent of damage to determine how much China owed the Philippines. Hontiveros earlier estimated that at least P200 billion worth of environmental damage had been done by the superpower's activities.
"Tapunan ng basura ang trato sa ating bansa. Ganito ang isinusukli ng China sa mga sunud-sunuran, tikom ang bibig, at kaduwagan. Wala tayong utang na loob sa mga umaagaw sa ating yamang dagat at karagatan, sa mga inaalipusta ang ating mga mangingisda," Pangilinan said.
(Our country is being treated as a dumping site. This is what China gets out of our subservience, silence, and cowardice. We do not owe anything to those who are taking our resources and seas, and insulting our fishermen.)
Filipinos on social media also decried the government's inaction on environmental damage in the Spratlys. "China is literally shitting in our backyard and Duterte is allowing it," one Facebook user said. – Rappler.com